If you are on our Pro or Premium platform plans, this guide will cover how to hide your patron count and earnings estimations from patrons when they visit your page. 

In this guide we'll go through:
Hide my earnings and patron count from my page
---
The earnings number listed on your page is an approximation of your monthly, or per creation earnings. You can expect this number to fluctuate as patrons come and go. Use your 
Earnings page and Relationship Manager to find your processed payments. To hide your earnings, or patron count

go through

these steps:
Log in to your Patreon account and click the Page button from your navigation. Then click "Edit page" to open your Creator Page Editor.
Select Page Settings from the top menu.
Scroll down to where you find Earnings visibility and Patron Visibility. Change to your desired settings, and scroll back up to Save changes.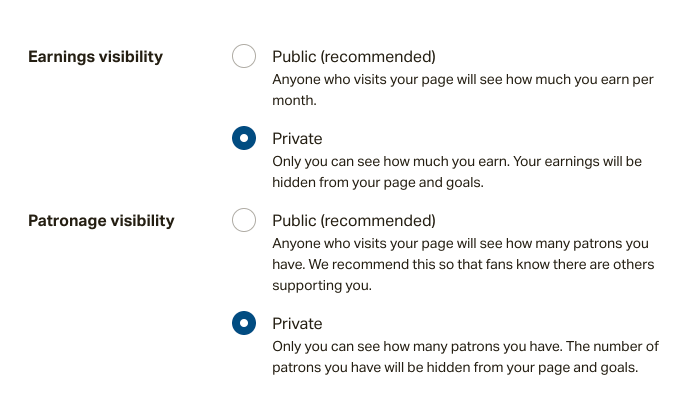 If you decide to hide your earnings,
your goals
will be re-worded to show the percentage of your goal that has been reached, instead of a monetary amount.
If you'd like, you can edit your goals to
community-based
now that your approximate earnings are private. Learn more on
how to edit your goals.
Should I keep my earnings and patron count public?
---
We know that not all creators want to display their monthly earnings, and we leave it up to you to decide what's best for your page. While publicly listing your earnings can be helpful to attract patrons when you're starting out, sometimes it's not right for your brand or creator image.
You'll know that your approximate earnings are publicly listed when you find "Public" under your profile image. If you've decided to keep your approximate earnings hidden, you'll detect "Private" here. You'll still be able to find your approximate earnings on your page while you're logged in, but patrons and visitors won't.