Founding creators are not eligible for Patreon Lite. Are you a founding creator looking to simplify your page? Learn more about retiring your Tiers here. 
Patreon Lite offers a clean, lightweight introduction to running your membership business. The cost for using Lite is 5% of a creators' Patreon income, plus payment-processing fees. Getting started is simple with minimal page maintenance, allowing you to focus more on doing what you love most – creating.
What's included in Patreon Lite?  
Patreon Lite includes essential tools to set up recurring support from your fans and run a membership business, including: 
Your Patreon hosted page
---
Creators using Lite get a page hosted on Patreon.com. With no Tiers and Benefits, you can get your page up and running within minutes. Lite pages feature a "Become a Patron" button, that allows patrons to enter any amount they wish (with a default suggestion of $5 USD) making for a streamlined checkout process.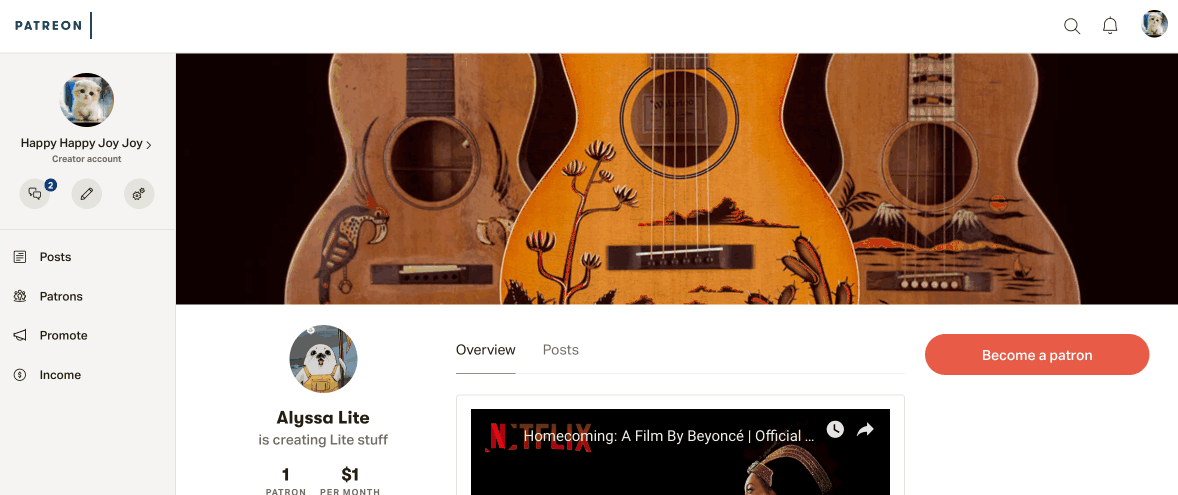 Google Analytics
With Patreon Lite, you can gain insights into your page traffic with Google Analytics tracking. Learn more about this feature in this Help Centre article. 


Payment

processing

with Lite
---
All creators in Lite will be on our charge up front billing system. This means that patrons will not have access to your patron-only content until their initial payment has successfully processed. Charge up front is a permanent billing system, so once enabled, it cannot be reversed. 
Patreon Lite payment processing rates are as follows:
| | |
| --- | --- |
| £3 and below: | Micro processing rate of 5% + 10 pence  |
| Above £3: |  Standard rate of 2.9% + 30 pence |

Additional 1% for non-US PayPal payments: 
| | |
| --- | --- |
| £3 and below: | Micro processing rate of 6% + 10 pence |
| Above £3: | Standard rate of 3.9% + 30 pence |
Posting for Patrons
---
Creators on Lite can post content directly to their patrons. Whether you create video, audio, or images, share your work with all of your patrons in a few clicks. 
Recommended reading: 
Custom RSS feature
Patreon Lite gives creators the option to offer patrons Custom RSS feeds of their audio posts – sharing exclusive episodes with your biggest fans has never been easier. With this feature, patrons have generated a custom RSS link they can subscribe to on their favourite podcast app. Simply upload your audio files as posts, and your patrons' feeds populate with your latest episodes. 
Livestream with YouTube

Communication made easy
---
Creators on Patreon Lite have full access to Messages with their patrons. Additionally, your Relationship Manager gives you the option to send direct bulk messages to select groups of patrons. 
With your Relationship Manager, you can filter patrons by charge status (paid, or declined), and based on payment amounts – so you can offer high paying patrons perks via messages with this tool. 

Patreon Workshops from our Creator Success team
---
We're in this with you – our Creator Success team is dedicated to helping you be more successful with your membership business. Creators in Patreon Lite will have access to workshops that our team has built to help you successfully manage your membership business.