This article will cover what it means to set a post to be visible by "all patrons" aside from selecting a specific tier. This will go over what a custom pledge ("no tier") patron means and where to locate them in the patron relationship manager. It will also go into detail around when to publish these types of post and who is able to view them.
While many creators choose to post their content for specific tiers, others prefer the simplicity of posting for "All patrons". So what exactly does it mean when you post content for "All patrons?"

To help you decide if posting for "All patrons" is best for you, we're going to break down the following: 
Please note that while these examples below show a US Dollar ($) amount, this can also show in any of our supported currencies, depending on the currency you choose to bill in. To learn more about our supported currencies, please visit this help centre article:  Patreon's supported currencies.
What is a custom pledge?
---
Every Patreon creator page has a default "custom pledge" option that patrons can choose. While the custom pledge suggestion defaults to $5 USD, the minimum amount a patron can give to a creator is $1 USD.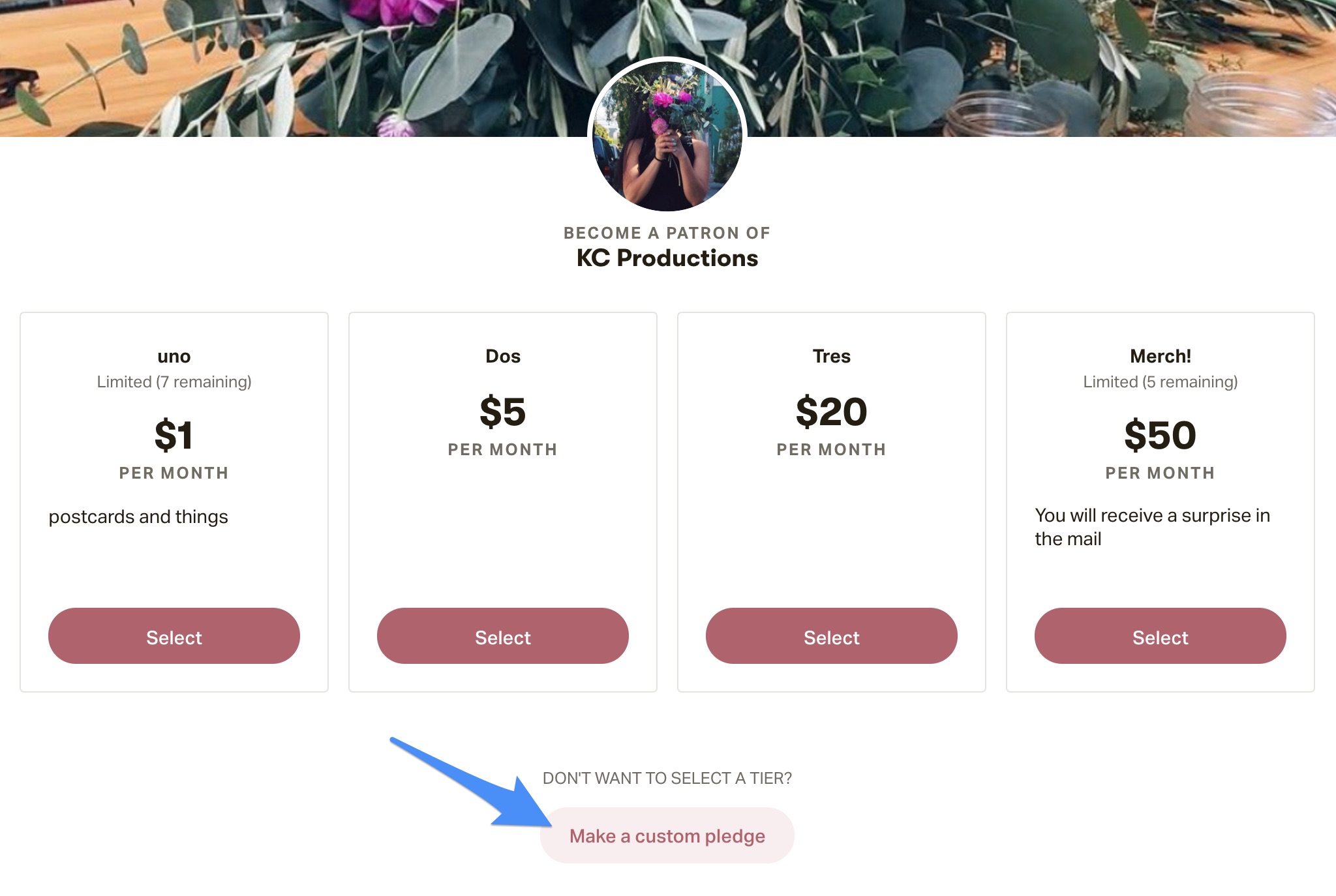 Patrons who pay you with a custom pledge are not tied to a specific
tier
(if you've created tiers). These patrons can be found with the status "No tier" in your
Relationship Manager
because their payment is not tied to benefits offered within a tier. 

Because they're not part of a tier, they aren't tracked for benefits and won't have access to certain benefits, like Discord roles. 

Why is £1 the minimum? 
Some patrons may want to support a creator, but tier minimum might be outside of their budget. The custom pledge, or "No tier" status exists, so patrons can still support creators even if they can't join a tier. As the name suggests, there are no benefits, or "tiers" associated with custom pledges – regardless of the amount given. 
For example, If patrons are paying £15 USD a month, but aren't in your £15 tier, whether or not you honour the payment amount given by patrons is entirely up to you. Many creators require patrons to be within a tier to receive benefits. Learn how to get a list of patrons who've created a custom pledge
here.
Who can see my "All patrons" posts? 
---
All patrons paying you, regardless of cash value, can see these posts. If you truly want all patrons to see something then making a post for "All patrons" is a great option. 
If you have your tiers set up in a "higher tier gets everything the lower tiers do" set up, posting for "All patrons" might not be the best option for you. This is because the post will be visible to patrons who've made a custom pledge (minimum of £1) and are not actually within one of your tiers. These patrons will appear in your
Relationship Manager
as "No tier" patrons.

If you don't mind who has access to your post, as long as they support you, then publishing for "All patrons" works. 

If you'd rather that posts be locked to certain tiers, we recommend posting for "Select tiers" and then selecting the tiers that will have access. 

Note
: When you publish posts for "Select tiers" any
new tiers
you create will not automatically have access to those posts. Once you've created your new tier, you'll want to edit your posts to grant that new tier access. We've created a guide to help you with repricing tiers, which includes introducing new tiers, here:
5 Simple Steps to Retire or Reprice a tier
.
When should I post for "All patrons?"
---
Each creator has their membership delivery set up differently. Here are situations that we've seen creators use the "All patrons" option for successfully:

Lite creators: If you're on our Lite creator plan, posting for "All patrons" ensures that your content remains locked to non-patrons. 
General announcements: If you have a message for all patrons supporting you. Posting for "All patrons" is a simple way to get the word out. It also ensures that the post is visible to patrons in new tiers without any editing on your end. 
Special offer announcements: If you're running a special offer and want to get the word out to patrons, posting for "All patrons" is a great idea. 
Changes to tiers or benefits offered: If you're retiring a tier, or restructuring your tier prices/benefits, it's a good idea to give ample time for patrons to be prepared for the changes. Posting a message for all patrons is a way to get the word out, and get them excited for the changes to come. 
Taking a break: If you plan on taking some time for yourself (and please do!) posting a quick note for "All patrons" is a great way to let them know. If you're pausing your billing, don't forget to let patrons know – it will help avoid any confusion. 
Polls you truly want all patrons to see: If you are thinking about updating benefits, or just have a question you want to hear from all of your patrons about – publishing for "All patrons" will do the trick. 
What if I want my posts to only be visible to certain tiers? 
You'll want to use the "Select tiers" option when creating your posts. You can choose exactly which tiers will have access to these posts. 

Patrons who've created a custom pledge will not be able to view these posts, regardless of their cash value.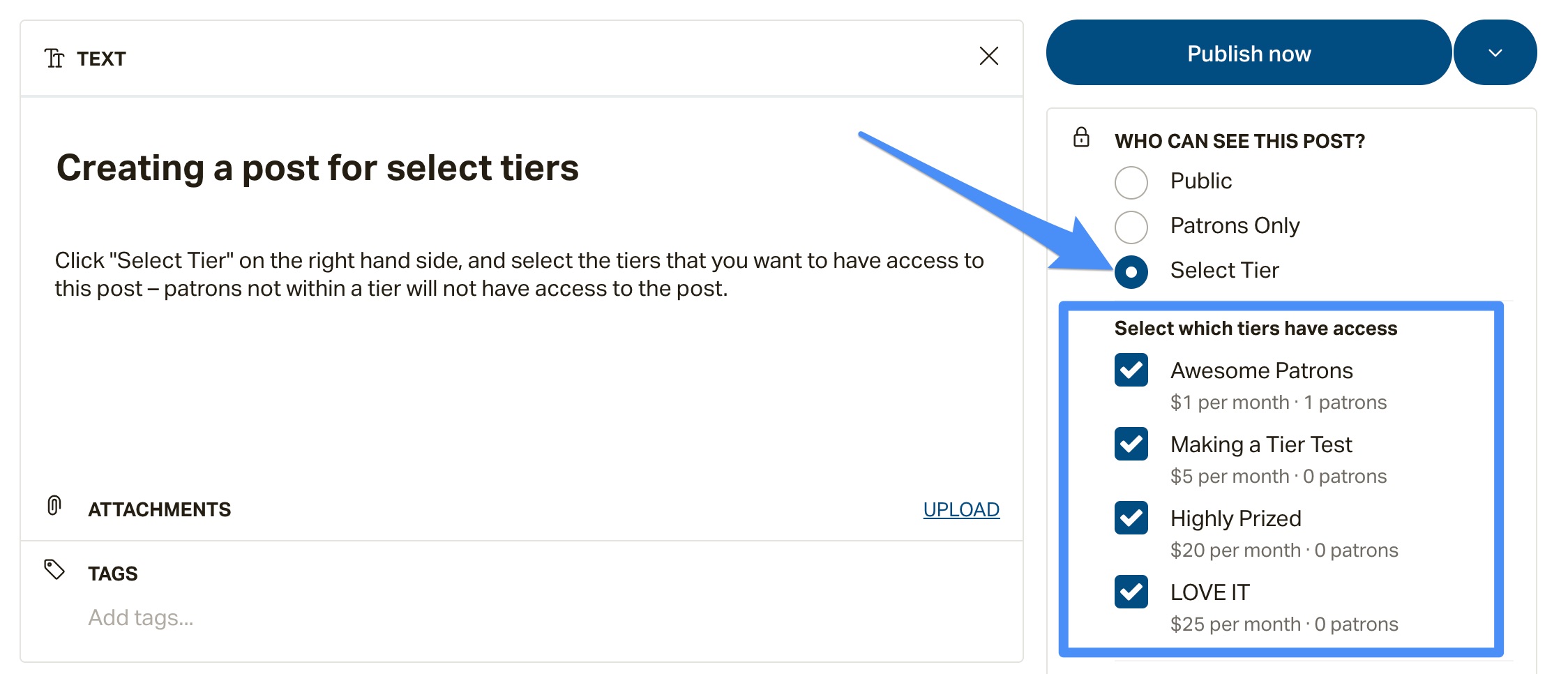 If you get reports from patrons upset that they can't see posts even though that's how much they're supporting you, check your
Relationship Manager
.
If they're marked as
"No tier" they made a custom pledge and will want to update to the correct tier. 
Many creators who publish posts for "Select tiers" proactively reach out to patrons who have made custom pledges. Learn more about communicating with these patrons,
here
. 
How do I find patrons who've created custom pledges?
---
You can find all custom pledge, or "No tier" patrons with a few clicks in your
Relationship Manager
. To get your list of patrons, set the following filters:
Active membership type
No tier
Paid status

Below is a sample message you can send to patrons who've made a custom pledge but may be eligible for benefits based on the payment amount: