Here at Patreon, we work constantly to develop our guidelines and to make our platform a safe place for our creators and patrons. We also want to empower our creators with the necessary resources so that they are able to self-manage their content without the need for the Trust and Safety team's intervention in the future.
As part of this commitment, we've recently launched a feature to warn creators about possible violations and increase awareness of our community guidelines and benefits guidelines.


Why am I seeing this?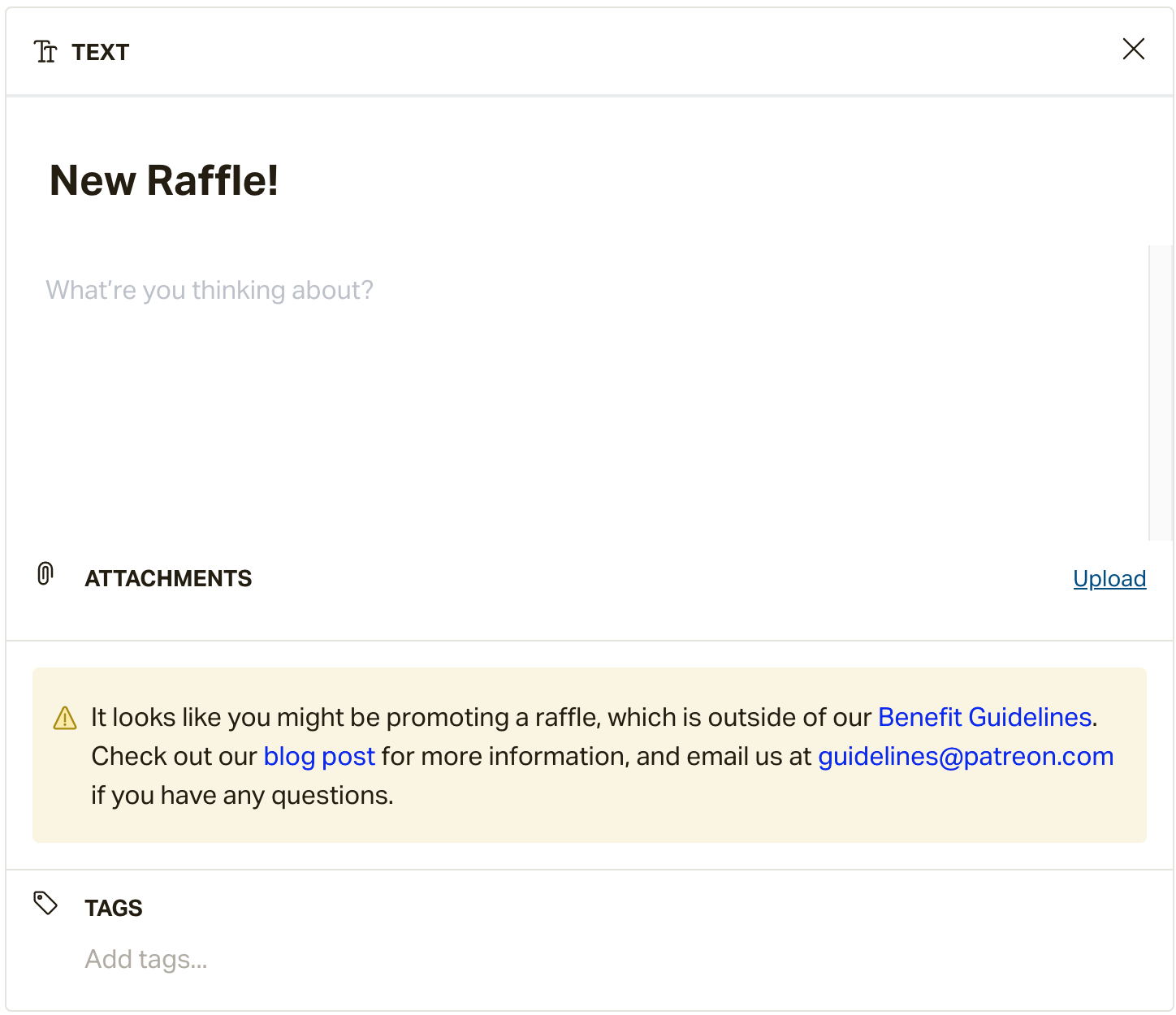 If you find the warning as you're trying to make a post, there's a chance that the content you're about to upload is outside our guidelines. This feature works by using a tool that analyses text and images in the content and warns creators about potential violations. If the system detects anything that might qualify, you'll find the warning.
We're aware that this method isn't perfect 100% of the time. Because of this, the warning doesn't prevent you from finishing the post – we just want you to be aware of potential guideline violations so you know how to contact us if you're not sure.


Does this mean that I'm in trouble?
This feature is meant to help creators better understand how to keep their content within guidelines and isn't part of the regular content moderation process. It means that the warning message is not the same as a reform or suspension – there's no practical effect on your post or page.
In the usual content moderation process, when our team finds a page that has content outside the guidelines, we will reach out and provide further information and guidance about the required changes. A banner will be shown at the top of your page. In case you're curious about our content moderation process, please read our blog post How Patreon Moderates Content.
If you need any further guidance about our community guidelines, benefits guidelines, or terms of use, or if you're not sure if your content is in compliance with our guidelines, please contact our Trust and Safety team here.