Since Patreon only provides the venue upon which transactions between users are made, we do not issue refunds on behalf of creators.

If a patron would like to request a refund, they will need to contact the creator in order to do so. Creators can issue refunds from their Patron Manager by going to the patron list for the paid post or post month a refund is due for and click the refund button on the right-hand side of the patron's information.

If a creator wishes to issue a refund but is having difficulty in doing so, they can reach out to us for assistance.
Please note: once a refund is issued, it can take up to 5-7 business days to process.

I'm finding refunds I didn't initiate listed as "Refunded by Patreon"
While Patreon does not handle refund requests from patrons, there are instances in which an automated refund might take place due to fraudulent activity. These are considered fraudulent refunds and will be listed as "Refunded by Patreon" in the Patron Relationship Manager, under your patron's payment history.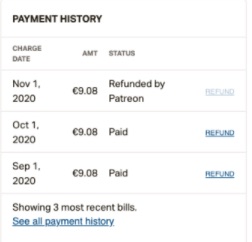 When a patron is suspected of fraudulent activity, their account is disabled and the funds from their pledges are returned to the cardholder if we do not hear back from them within 10 days of the notice.


Please note that while these examples show a Euro (€) amount, this can also show in any of our supported currencies, depending on the currency you choose to bill in. To learn more about our supported currencies, please visit this help center article: Patreon's supported currencies.
What is a failed refund?
A failed refund can occur if you attempt to refund a patron without having funds in your account balance. It can also occur if there was a technical error on our end. You'll find these failed refunds as refunds of $0 in the refund column of your refunds dashboard. You have the ability to reattempt a failed refund at any point from your Patron Relationship Manager.