If you prefer to listen to your favorite podcasts on the go, the Patreon mobile app offers a range of features that can take your listening experience to the next level. Keep reading below to find out more.
Audio tab
The Audio tab lives in your home feed and is where you can find all of your creators' audio posts.
You can use the filter menu at the top right corner to toggle between different play states.
If you want to download, archive, or share an audio file, click on it from the Audio tab. After clicking on the audio file, you can access the Audio post menu(three dots) at the page's top right corner. This will bring out a drop-down menu with different actions to choose from.
Shortcuts:
Once you've finished listening to an audio file, it is automatically archived and hidden from this view (IOS)
Swiping right on a file reveals the download action (IOS)
Swiping right on a downloaded file reveals the remove from download action (IOS)
Swiping left on a file reveals the archive action (IOS)
Pressing and holding the audio file reveals the archive action (Android)
Check below how to go through the different play states through the Filter menu and how to access the Audio post menu: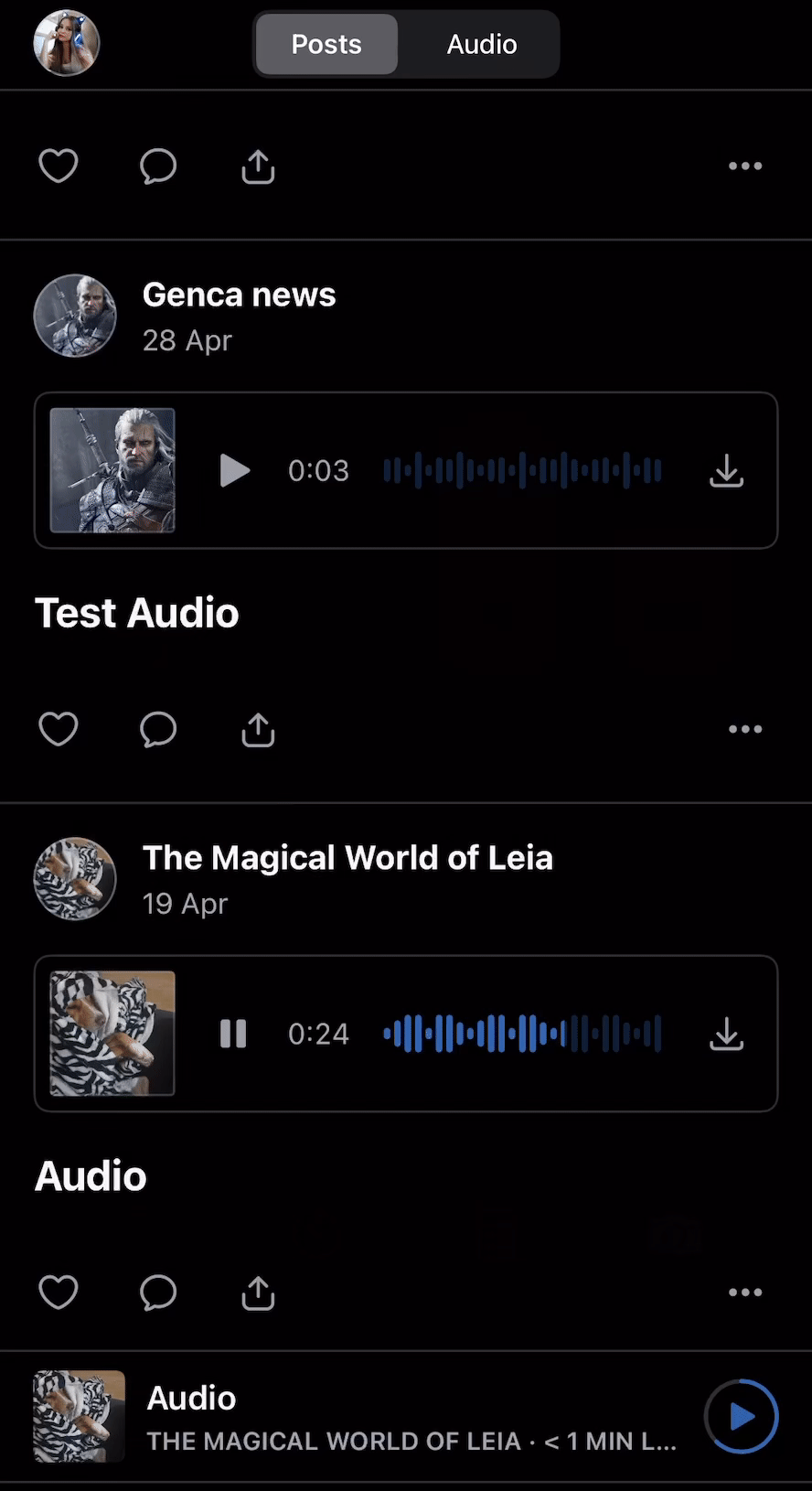 Podcast Player controls
There are several ways patrons can interact with our podcast player to enhance their listening experience:
Jumping in where you left off: This means that if you have to pause and come back to your audio files later, you can resume playback right where you left off
Skip forward and back: By tapping or clicking on the forward or backward skip button, you can easily skip ahead or go back in 15-second intervals
Adjust the audio scrubber: You can move the playback position forward or backward by dragging the slider left or right or by clicking on a specific point on the timeline of the audio
Adjust playback speed: The Patreon podcast player offers different playback speeds (1x to 2x), allowing you to adjust the speed to your liking
Sleep timer: You can set a timer for the audio file to stop playing after a set amount of time.
Casting Audios from a mobile device (IOS): You can cast audio using iOS Airplay
Download to app: The ability to download audio files to listen offline. You can download your files directly to the Patreon app and listen to them even when you don't have an internet connection