A complete guide to creating your tiers, including; creating benefits, setting member limits, requesting shipping addresses from your members, and setting up Discord roles for tiers.
What are tiers?
Tiers are how you set your membership price. You can start with a single tier or create multiple tier offerings for fans to choose from. Members who join your tiers pay monthly or per creation, depending on your payment settings. If you don't set up membership tiers, you can still go live with your page so fans can start joining your community without needing to pay.
Already have your tiers and benefits created? Learn about managing your benefits
How to make your first tier
Once you've created your creator account, creating your first tier can be done in three quick steps:
While logged in, visit the Membership tab of your page
All you need to get started is the monthly price and tier description — you'll find these are prefilled with $5 and "access to exclusive content and more," which you can keep or edit


You can click the More options button to add things like a name for your tier, and structured benefits; however, these settings are optional and are not required to start getting paid

Click the Save button to start with paid membership
More tier options
Tier name: potential members will see this name when they join your page. This name will help you identify members in your Relationship manager — this is also how we count members in your Membership dashboards
Tier cover image: You can get as silly or literal as you want with your cover image. Show your personality, whether that be examples of your work, fun illustrative adaptions of your tier names, or a goofy GIF — be your authentic self
Structured tier benefits: Tell your members what they'll get when they join your tier! Monthly behind-the-scenes videos? The first draft of a chapter? The benefits you add here will be displayed in the tier option. In many locations, we're required to add tax to members' membership payments depending on the benefits the patron receives. We take a creator-first approach, and add tax based on the benefits you add to your tiers and each patron's location. So, you'll need to add at least one benefit to each tier, even if it's just General support — visit our About Advanced Sales Tax Settings article to learn more about what's taxable
Advanced tier options: in this section, you can


Collect members' shipping addresses for physical benefits
Limit the number of members who can join the tier
Add Discord roles
Configure sales tax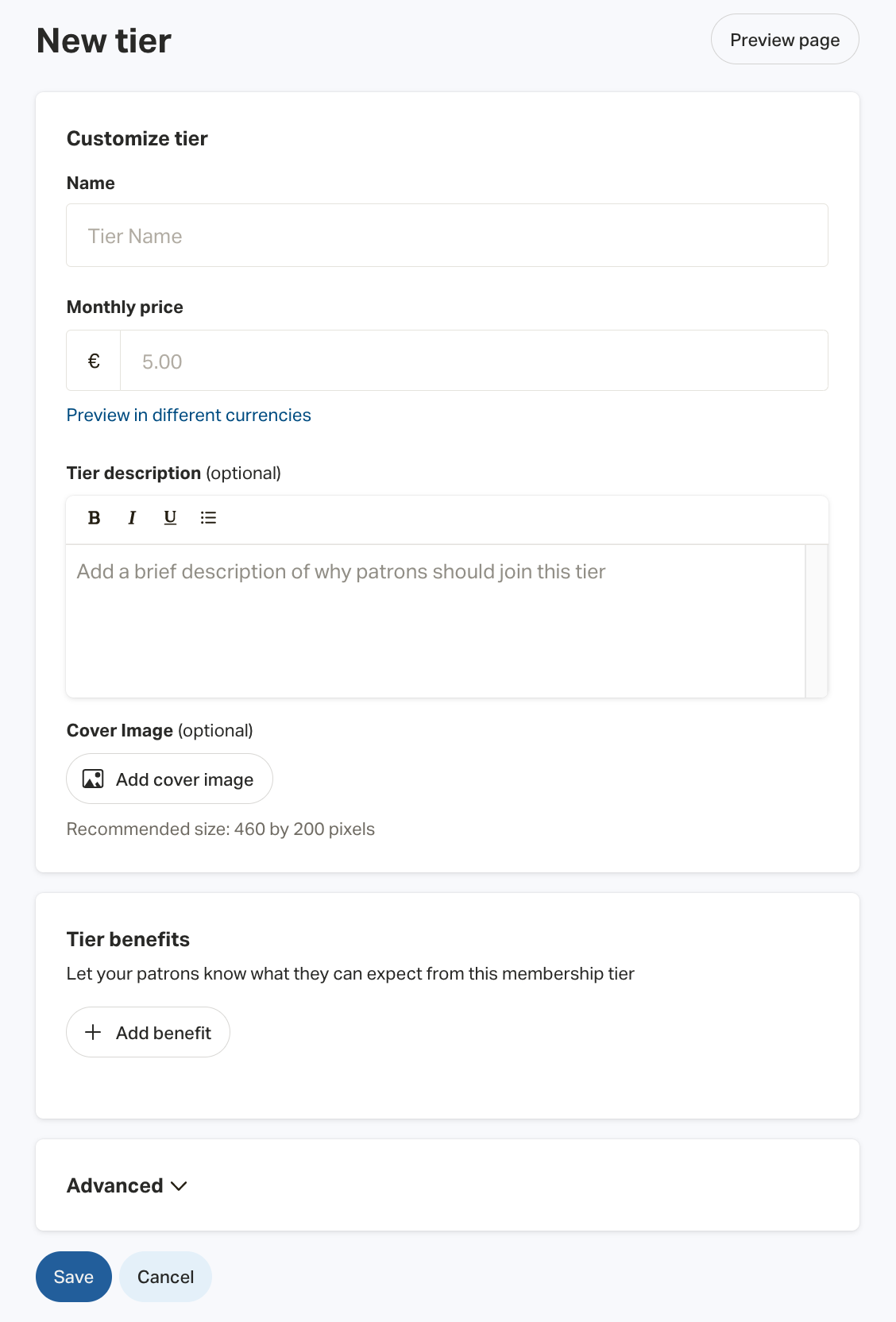 Please note that if you launched your creator page on or after May 20, 2020, your benefits will be visible in a list within your tier description so you don't have to itemize these here.
Adding structured benefits to your tier
Benefits are what members receive for joining a specific tier and paying on their specified plan cadence. You can add multiple benefits to tiers, or keep it simple with fewer, big-impact benefits.
Your benefits can be physical things like merch (stickers, t-shirts, etc), postcards, or a collectible item. Benefits can also be digital like Livestream attendance, or a mention in the credits of your upcoming video. As a brainstorming exercise, ask yourself: what's something unique to me that I can offer members?
Here's how to get started with your first benefit:
Visit the Membership tab for your page
Scroll down and click the Edit button for your tier
In the Tier benefits section, click the Add benefit button
You can choose from benefits you have already added, browse recommended benefits, or create a custom benefit
If you choose to create a custom benefit, a form will populate where you can fill in the benefit title and category. Once you've added a title and category, click the Add benefit button
If you launched your page on or after May 20, 2020, you can drag benefits to reorder them in the order you want them to appear on your tier description
Click the Save button to finalize the process
Need to remove a benefit from your tiers? Here is a step-by-step guide: Deleting benefits from tiers
⚡️Pro Tip: Add a Promo code as a benefit to give paid members in that tier a discount.
Advanced tier options
The Advanced tier settings are 100% optional. We recommend reading through these options to find what might work for you.
Limit the number of members who can join
You can limit the number of members who can join your tiers. Simply click the Patron limit checkbox, and enter the maximum number of members who can join your tier.
Planning on adding physical benefits in the future? Ask for your members' shipping addresses now. You can add this requirement to your tier later. That said, existing members' will need to edit their pledge to add this information.
You'll already need a Discord account and server set up before connecting in your Tier. Once you've done that, you can connect to Discord and add roles directly from the individual tiers.
The sales tax settings give you control over how sales tax and other similar taxes around the world such as VAT, JCT, GST, and QST, are applied to your membership. By using these tax settings, you will give us further detail on exactly what benefits you offer and how much those things should be valued for sales tax purposes. To learn more about these tax settings, please check advanced sales tax settings.
If you're working on a tier, but aren't quite ready for it to be live, you can always unpublish it once you've saved your changes. Once you've saved your tier:
Visit the Membership tab for your page
Scroll down and click the Edit button for your tier
Click the Unpublish tier button. Your tier will still be editable, but it won't populate on your page for members to choose from