When you become a patron to a creator, they'll often have different perks, or "benefits" they've crafted just for your Tier. This is their way of thanking you for being a part of their community.
How do I know what benefits I should get?
You can see what benefits are included in your membership by reviewing the description of your Tier in the details of your Active memberships
page, and on your creator's page.
If you aren't sure whether or not you've received your benefits, check in with the creator.
Learn how to get in contact with a creator
here
.

In this guide, we'll walk you through some of the common ways that creators share benefits, including:
Accessing posts
---
Many creators share patrons' benefits via posts. Posts will either be shared directly with your Tier, or for
"Patrons
Only."

There are a few different ways that you can view your creators' posts:
Where can I get my Discord role?
---
If your creator offers Discord roles as a benefit, connect you
r
Discord account to Patreon from the Apps section of My profile settings

page
.
Our integration does all of the work behind the scenes, and will automatically invite you to the creator's server and assign your role!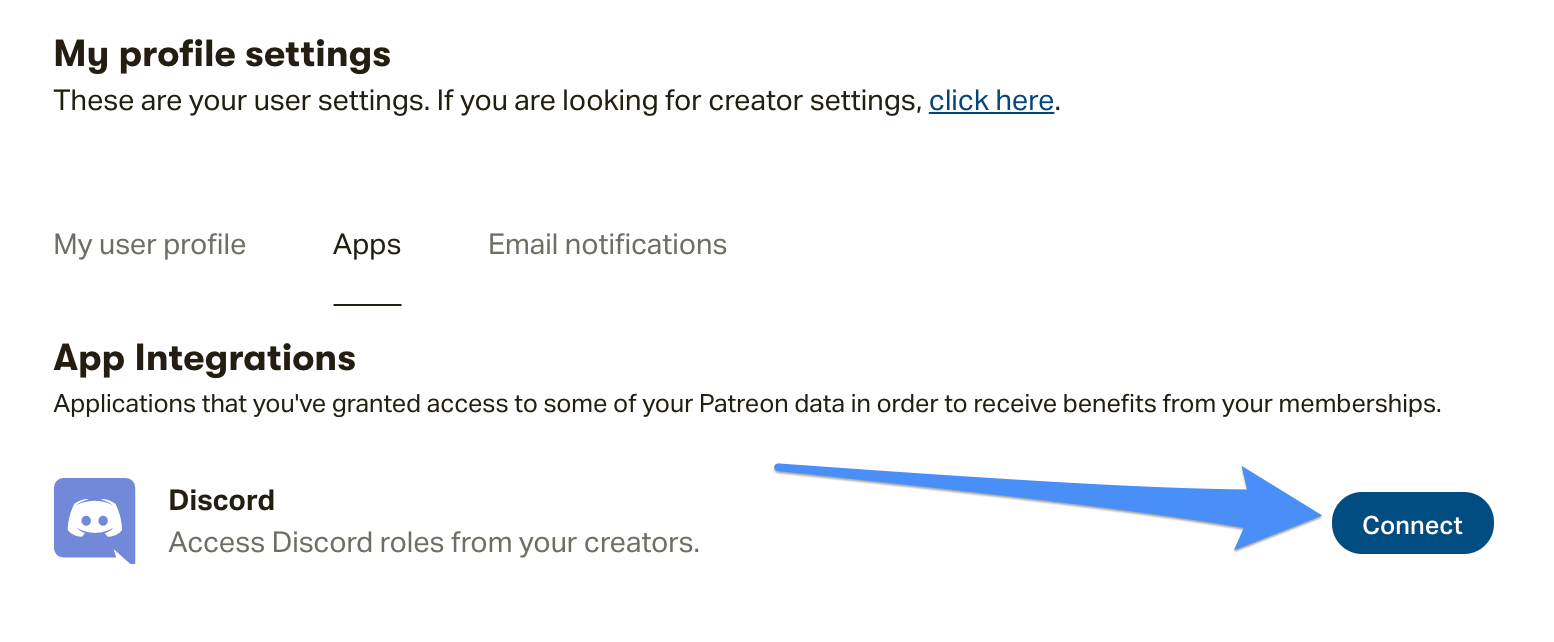 If you're running into any issues with seeing your creator's server with your role, we've outlined some troubleshooting steps,
here
.



Where can I get my custom audio RSS link for my creator
---
Most creators will let you know in the Tier description if your membership comes with a custom audio RSS feed for patrons.

If your creator has our Audio RSS feed feature enabled for patrons, you can find your customer RSS link via email when you confirm your membership.

If your creator enables this feature after you've become their patron, don't worry, you'll still have a link generated for you – you can find your custom RSS link by visiting your creator's Overview page directly on desktop of mobile web
(i.e.
Chrome, and Firefox).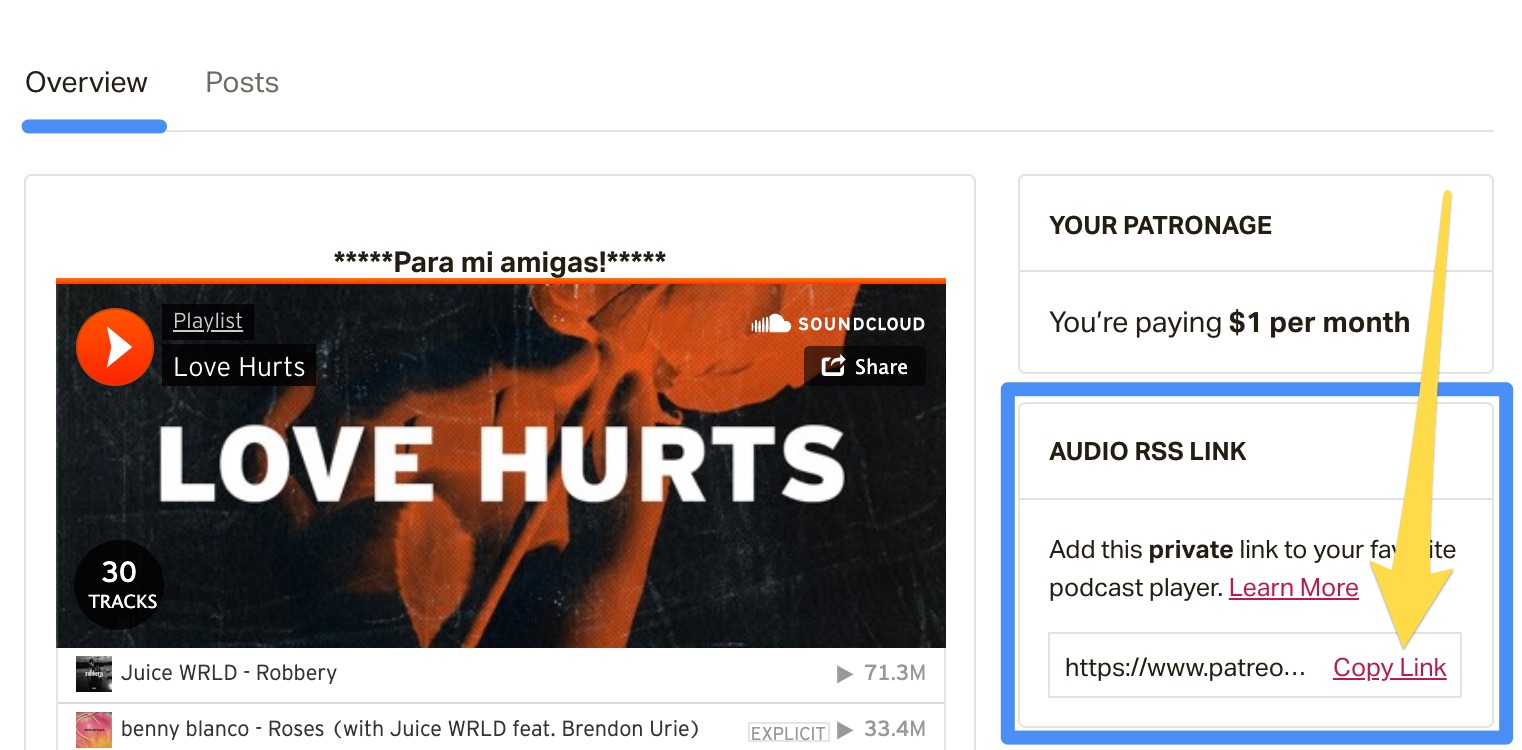 Need more assistance? We've created this guide to help you subscribe using your RSS link.



What do I do if a creator didn't deliver the benefit or stopped posting content?
---
We strongly believe in self-policing by patrons. The creators that make patrons happy receive support, and the creators that do not will lose support.
Creators are entirely responsible for benefits and content distribution.
It is not a violation of our terms if a creator doesn't deliver benefits or they're not as expected.
Read more about our legal terms
here
.
If a creator you're a patron of stops creating content or fails to deliver the benefit as promised, here are few steps we suggest you take:
Investigate the creator's other content distribution channels. Some creators post their creations on Patreon, but sometimes they do it through other websites or services. If you don't see anything on Patreon you may want to look around first.


Contact the creator.

It's possible that they forgot to send out a specific benefit, or maybe they have a good reason for not creating anything recently. Reaching out can be a good way to get information if they haven't provided any. Learn how to contact a creator

here.


Ask the creator for a refund. If you feel that you haven't received your money's worth, you can always ask the creator for a refund. They are not obligated to provide a refund, but you can always ask and the creator can make the decision to refund your most recent pledge.


Cancel your membership.

If you can't get in touch with the creator, or if you don't think they have a good reason for not creating anything recently, then we suggest you

cancel

your membership. Once you remove your membership, you'll receive an exit survey that goes directly to the creator, so feel free to give a reason for why you're deleting your membership!
Here are a few steps we do not suggest taking:
Ask Patreon for a refund.

Patreon will not grant refunds for a creator that is not producing content or delivering benefits. As mentioned above it is difficult to judge the creative output of a creator and we do not want to impose our judgment here. Learn more about our refund policy

here.


Continue to support the creator if you are not happy with them.

If you don't believe the creator is worthy of support, then please do not continue to support them and expect a refund at some point in the future

.