If you received a suspicious email and aren't sure if it's really coming from Patreon, here are a couple ways you can check it's legitimacy:


Is it promotional?

If someone is offering you a service in exchange for money, it most certainly is a scam. We would never ask you to pay us money in exchange for promotional services. Below is an example of a real scam email that has been sent to creators in the past: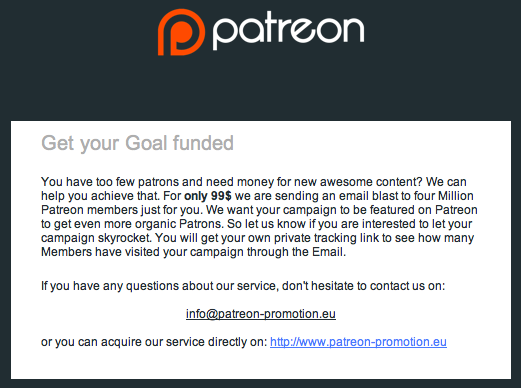 Are you being asked for sensitive information?

If you receive an email asking for your tax info, credit card number or other private information, make sure to double check that the email is coming from a Patreon email domain (@patreon.com). If the sender does not have a Patreon email address, DO NOT send over your personal information. 
Note: If you're ever unsure if an email you received is a scam, send us a note at the start of patreon.com/faq with a full-screen screenshot of email you received attached and we can confirm the legitimacy of the email.