You can spice up the text portion of your post or about section by adding inline images to it. You have a couple of options for uploading inline images. 
This article will show you how to do this from image sharing sites like tumblr and flickr. 
Adding an Inline Image to a Post
Step 1: Click the Post icon on the left sidebar.
Step 2: Create a new post and click into the post field to populate a camera icon.
Step 3: Add an image straight from your desktop or grab a URL from where the images are hosted
(Inline
images can be hosted by a third-party site like
Tumblr
. Please double-check your image URLS before going to the trouble to upload all your content to a 3rd party service. If you use Google Photos - please note they expire their links after a certain timeframe: they may work for a while, but will not work long term.)
Step 4: Click confirm and you are all set. Add another image - or three!
If you are using photo links from Tumblr here's how to upload them on Patreon 
Step 1:
On Tumblr, copy the image address.
Step 2:
Insert that URL into the field that popped up when you clicked the camera icon.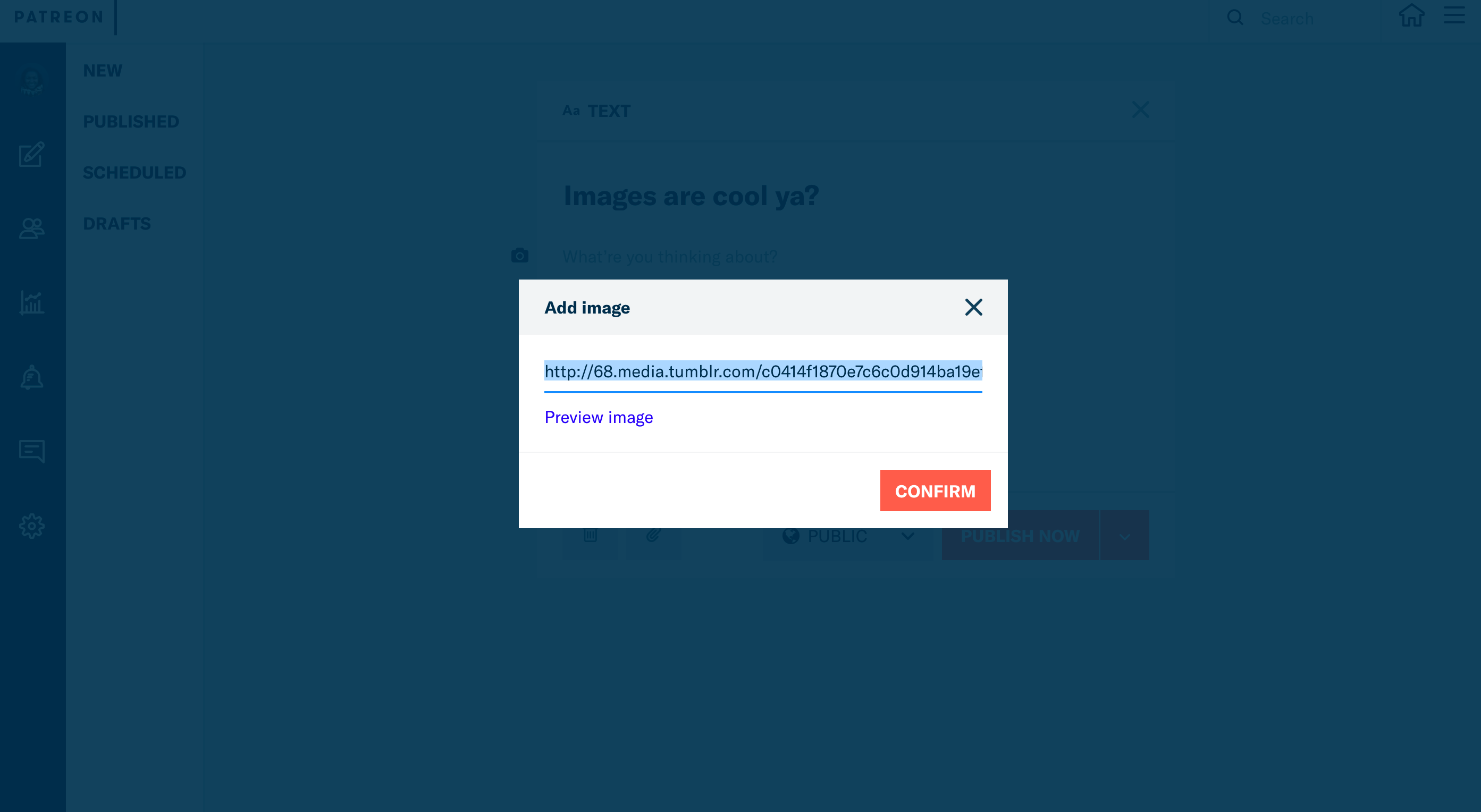 Step 3:
Click confirm and you'll see your image populate.
Adding an Inline Image to your About Section
If you have an account at
flickr.com
(or
set up one) you can use their embed option to add a photo to your about page.
Step 1:
Open the photo you want to use on flickr and click on the
share
arrow icon:
Step 2:
A pop-up window will appear.
B. Click on the menu to select the size you want to embed.
C. Copy the embed URL available.
Step 3:
Go to your about page editor,
here
.
Step 4
: Click on the
</>
icon in the upper left to reveal the html code
(a
black window with white text). Paste the embed URL here where you want it to appear.
When you click back over on the
</>
you will see the photo embedded in your page. 
Step 5
: Be sure to scroll up to select
save changes
.