Your
Relationship Manager
is a simple, and powerful tool for messaging, and managing your patrons. Here you'll find membership, billing, and contact information for active, and former patrons. You can also access your blocked patron list to keep tabs on things. 

What's included in my Relationship manager?
Let's break down the aspects of your
Relationship Manager
into sections to help you better utilize the information available. Below we'll go through the following:
Managing patrons with Relationship manager filters
---
Unfiltered, your Relationship manager will is a full list of all active, and former patrons. You can use the available filters to get more granular information on groups of patrons. 
You can filter your patron list by:
Membership type

(active,

former, declined, blocked)

All rewards

(filter

by patrons with no Tier, or

"No

reward," or by your Tier levels)

Pledges value

(payment

amount)

Charge status

(Paid,

refunded, declined, or fraud)

Start from scratch by clicking "Clear filters" under the filters bar.


---
Once you've filtered to the patrons you're looking for, you'll see the list of patrons who fit your filters directly below the filters bar. The list view gives you a high-level view of your patrons.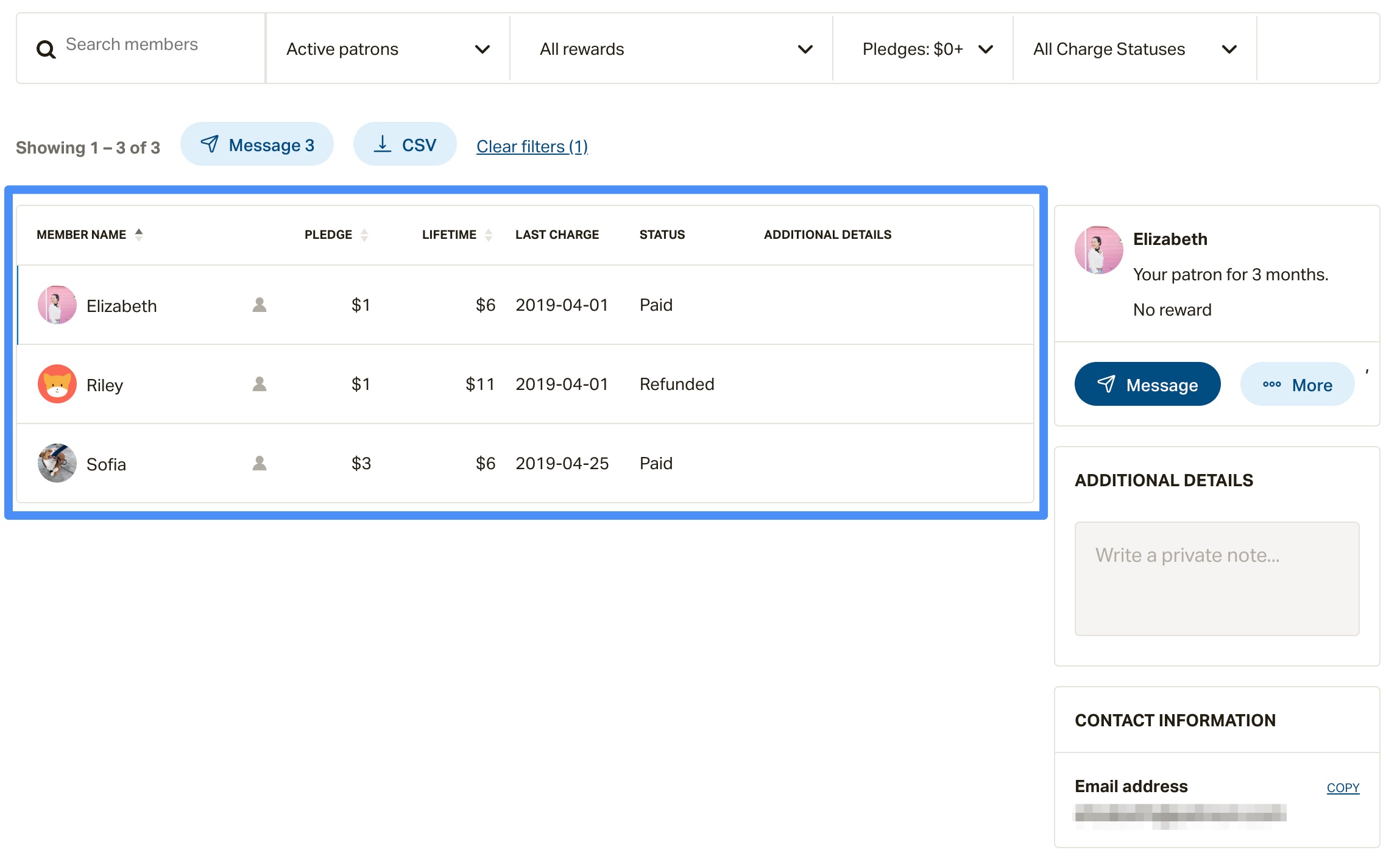 What do the columns of my patron list mean?

Member name

:

Your patrons' profile name. Patrons can be anonymous, just as creators can, so their profile name may not be their actual name. 

Pledge

:

Their current payment amount in USD. 

Lifetime

:

The total amount they've paid your as their patron in USD. Please note that the Lifetime dollar amount does not update immediately, and there may be a delay in this number updating for patrons particularly during billing processing on the 1st of each month. 

Last charge

:

The last time that we attempted to processes that patron's payment. You can see whether the attempt was successful, or not in the

"Status"

column directly to the right.

Status

:

This column will show you the status of the patron's most recent attempted charge.

Additional details

:

 

If you'd added any notes that might help you in your relationship with particular patrons, you'll see them appear in this column.  








Patron card: details about individual patrons
---
By clicking on a patron from the list, you'll see more details related to that patron on the right-hand side of the manager, in the
"
Patron
card
."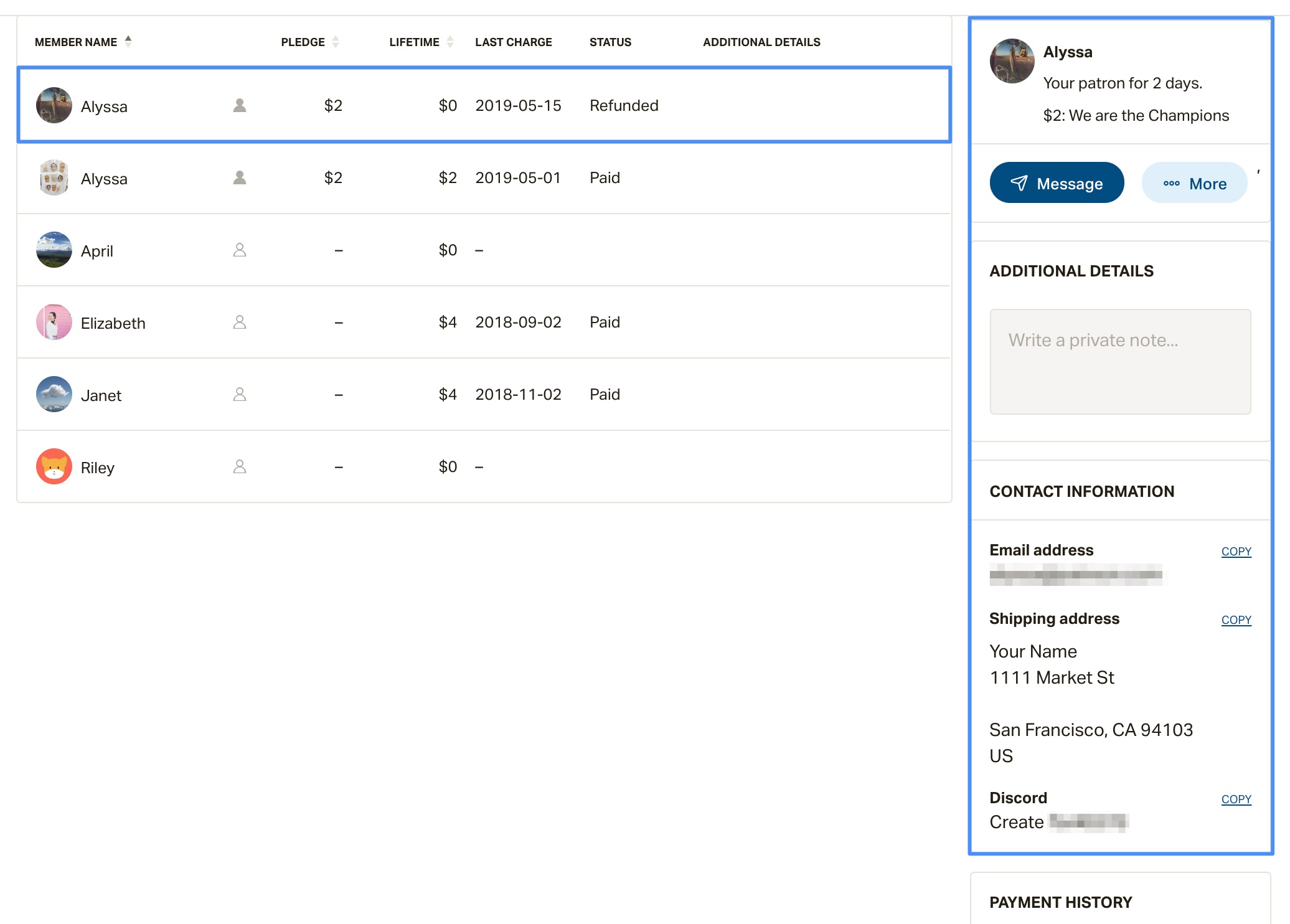 Membership details

At the top of a patron's card, you'll see their profile name, length of time as a patron to you, and their Tier level. If you see
"no
reward" listed under a patron, it means that they've not joined a Tier, and instead made a custom pledge. From here, you can send the patron a private message, or block a patron using the
More
option, and selecting
"
Block
user
." Learn more about blocking, here.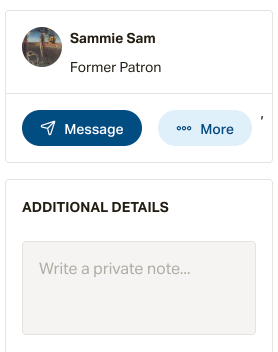 Additional details
You can add details specific to your relationship with this patron, or any information that might make it easier to deliver benefits to them. These notes are private, and for your use only — patrons will not see the details you add in this section.

Once added, you'll be able to see your details in the
"Additional
details" column of your
patron list
.

Contact information for patrons
In the patron card, you'll see your patron's profile name, a place to add additional details, and the following contact information for each patron
(if
the patron has supplied it):
Email address

Shipping address, if they've opted into providing this information

Discord username, if you offer this benefit

(Pro,

and Premium plans)


---
You'll always be able to see a patrons
3 most recent bills
with you, as well as the status of those bills in the
"
Payment
history
" section of a patrons' details.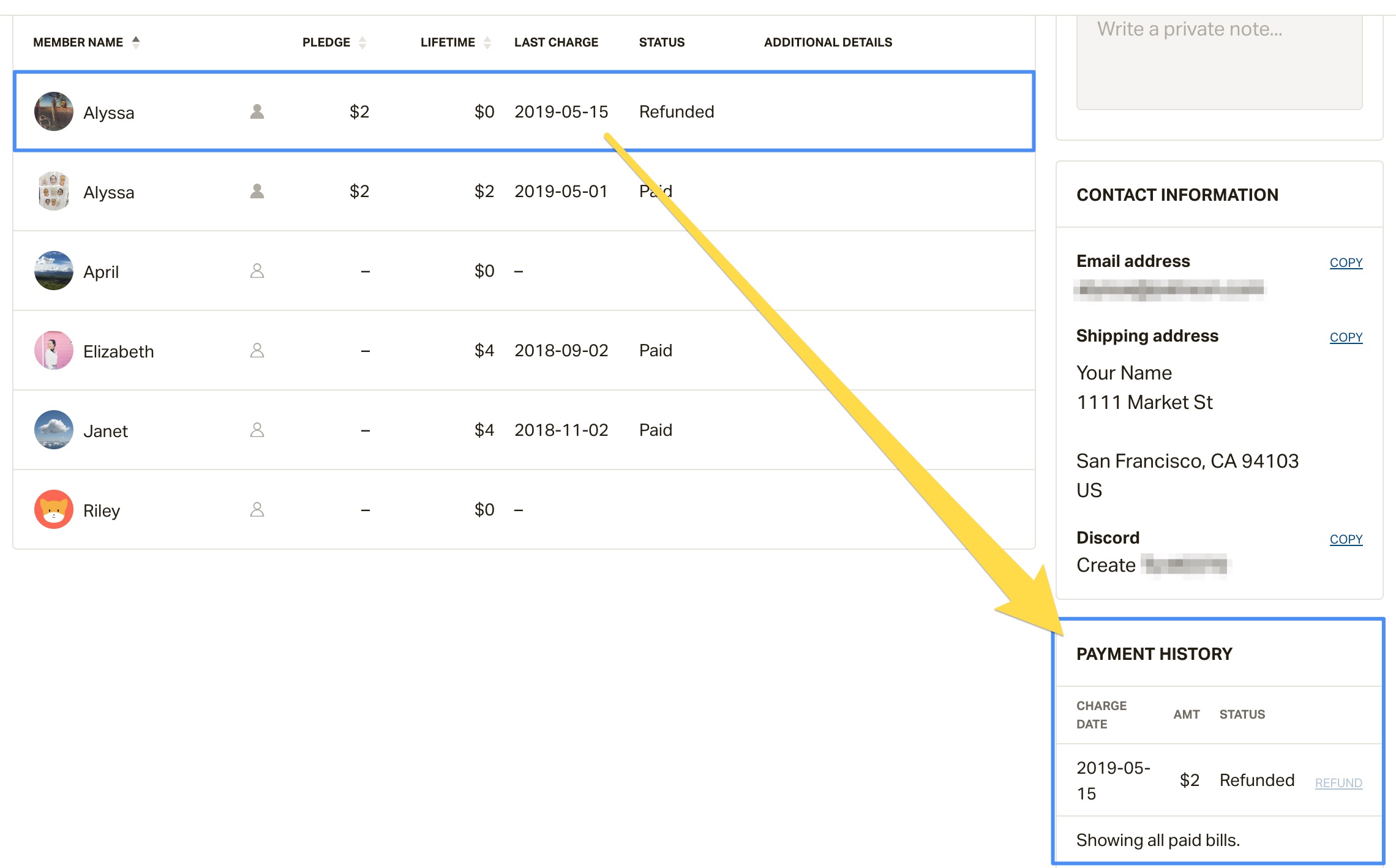 What do the statuses in my Relationship manager mean?


Paid

:

If you see the status of

"Paid"

next to a bill in a patron's

"

Payment history

" they were successfully charged for that bill.

Declined

:

If you see declined, it means that we've attempted to process their payment, but their bank has declined the charge. We regularly reattempt declined payments, however, often times, the patron will want to contact their bank to ensure nothing is blocking the payment. Feel free to share this with patrons in a declined state: Why did my payment decline? How do I retry my payment?
Refunded

:

 

If you see that a bill has been

"

Refunded

"

it indicates that that particular bill has been refunded to the patron. You can see a full list of refunded patrons on the Refunds page of your

Income

section. 

Bulk messaging patrons & downloading your list for additional tasks
---
Bulk messaging groups of patrons
Whether you're messaging all declined patrons
encouraging them to resolve their payment
, or sending benefits to all patrons in a Tier, sending mass messages to patrons is a powerful tool for membership management. 

Once you've filtered your list of patrons, you can use the Message button above your patron list to message all patrons in the list. While you can send mass messages, each message is still private. This means that responses from patrons will be seen as separate messages in your inbox.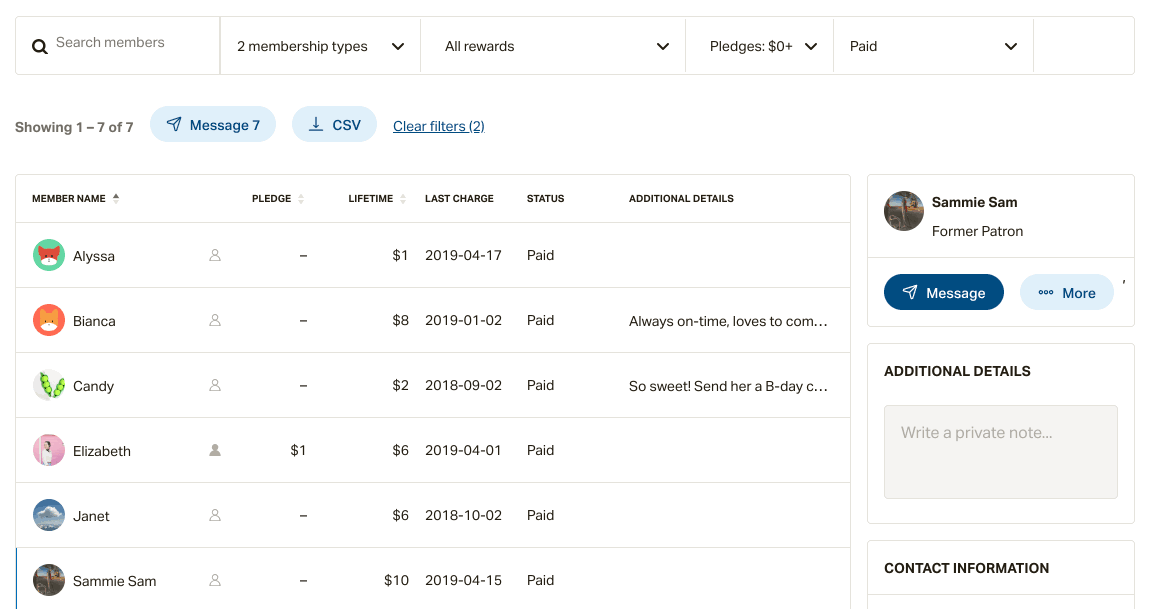 Note
: We advise you to filter your list to active patrons— without filtering your list to active patrons, you'll send your message to patrons who may no longer wish to receive content from you. 

Learn more about bulk messaging patrons,
here
. 

Downloading your patrons' information
Now that you have a list of similar patrons, you can download a CSV file of your Relationship manager data.