This article covers how to find information about your patrons - from their shipping address to their payment status, which patrons were charged, which tier they are in, and more. Think of this as your one-stop-shop for understanding patron status.
Please note that while these examples are in US Dollar ($), it is possible that you could be billed in any of our supported currencies, depending on the currency that the creator bills in. Learn more about Patreon's supported currencies in this help center article: https://support.patreon.com/hc/en-us/articles/360039589091
---
Status (active, declined, cancelled, refunded, fraud, follower)

All tiers (filter by patrons with "No tier," or by your Tier levels)

All benefits

Pledges amount and lifetime pledge amount (payment amount)

Join date

Completion status
Start from scratch by clicking "Clear filters" under the filters bar.

---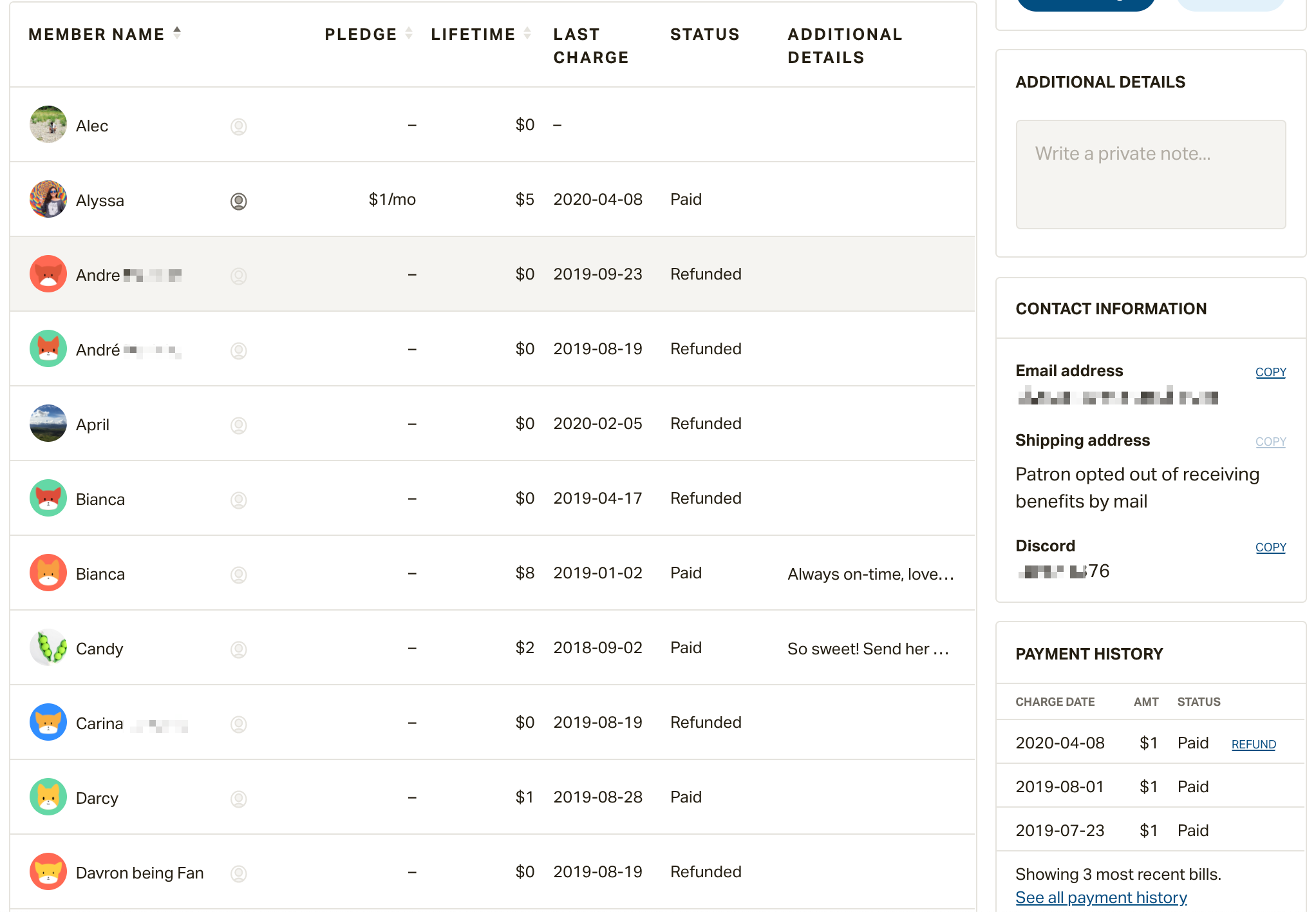 What do the columns of my patron list mean?

Email
The email address of your patron
Discord
The tier that your patron is currently on.
Address

Their current payment amount. If you are using annual memberships, you may also find patrons marked as "per year." Learn more about annual plans

here

.

The total amount they've paid you as their patron. Please note that the Lifetime payment amount does not update immediately, and there may be a delay in this number updating for patrons particularly during billing processing on the 1st of each month.

The last time that we attempted to process that patron's payment. You can find whether or not the attempt was successful in the "Status" column directly to the right.

Status

This column will show you the status of the patron's most recent attempted charge.

If you have added any notes that might help you in your relationship with particular patrons, you'll find them located in this column.





Individual patron detail
---
rom the list, you'll find more details related to that patron appear in the side drawer of the manager.

Membership details

---
You can find the complete payment history for individual patrons by clicking on them within the Patron Relationship Manager. Clicking on
See all payment history
will bring up a window with their complete billing history.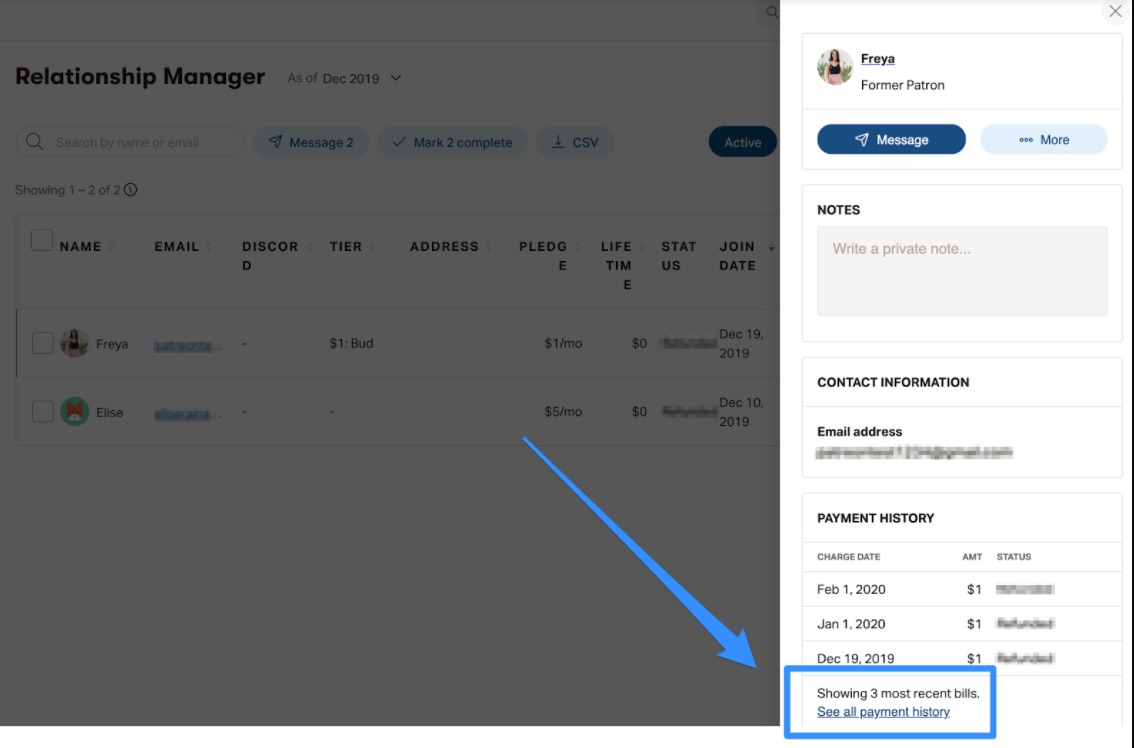 What do the statuses in my Relationship manager mean?


| | |
| --- | --- |
| | This means the payment was successful. |
| | |
| | The patron has successfully increased their payment amount or tier level. |
| | The patron has successfully decreased their payment amount or tier level. |
| | This means that the patron deleted their membership. |
| | This means they've become your patron again. |
| | This means that this particular bill has been refunded to the patron. You can see a full list of refunded patrons on the Refunds page of your Income section. |
| Tier deleted | When you've removed a Tier from your page. When you delete a Tier, it doesn't delete a patrons' payment, so be sure to communicate the change with patrons ahead of time. Learn more about retiring a Tier, |
| Refunded by Patreon | The pledge was found to be fraudulent in a fraud review and the funds for this pledge have been refunded to the cardholder. |