This article will take you through the steps of making audio posts and attaching audio files to any of your posts.
How to upload audio posts 
You can upload audio files from your device directly to Patreon. These uploads will show up as an audio player. The uploaded audio will also populate in members' RSS feeds if you've enabled audio RSS for your members.
Here's how to upload audio for a post:
While logged in to your

creator account

, click on the

Create

button from the left-hand navigation

Select the

Audio

post

Click the Select audio file button. Make sure your file is 512 MB or less and in one of the following file formats: .mp3, .mp4, .m4a, and .wav

You can add your own artwork for your player box thumbnail

Add your title (required) and a brief description of your audio post (optional)

Click the Next button to select your post audience, comment settings, edit your audio preview, and add additional post settings
On desktop, you can preview your post before publishing or scheduling your post by clicking the View button
By default, members can click the More actions button on your audio posts to download audio files.
How to remove the download link on your audio post
The ability for members to download files from your audio posts is enabled by default, however, you can disable this feature at any point. To disable audio file downloads, go to the Posts settings of your Page builder, scroll down to the Audio Settings, and uncheck the box.
To learn more about your audio link settings, please visit hide download links from audio posts.
Audio Previews
What is an audio preview?
An audio preview is a short audio clip that lets viewers tease their exclusive content on a creator's post page.
How do I enable it?
Audio previews are only available to SFW creators. Additionally, to qualify for a preview, your audio file should have a minimum length of 30 seconds.
Audio previews will be on by default. You can toggle the switch on or off to enable or disable it when editing/creating an audio post.
How do you customize it?
Clicking on Edit underneath the Audio Preview section will prompt a window to appear.
By default, previews are automatically set between 30s to 5 min based on the length of your content, but you can choose an audio preview clip from anywhere up to 50% of your content or a maximum of 30 minutes.
Drag the ends of the box parameters to choose the desired sections of clips you want to share.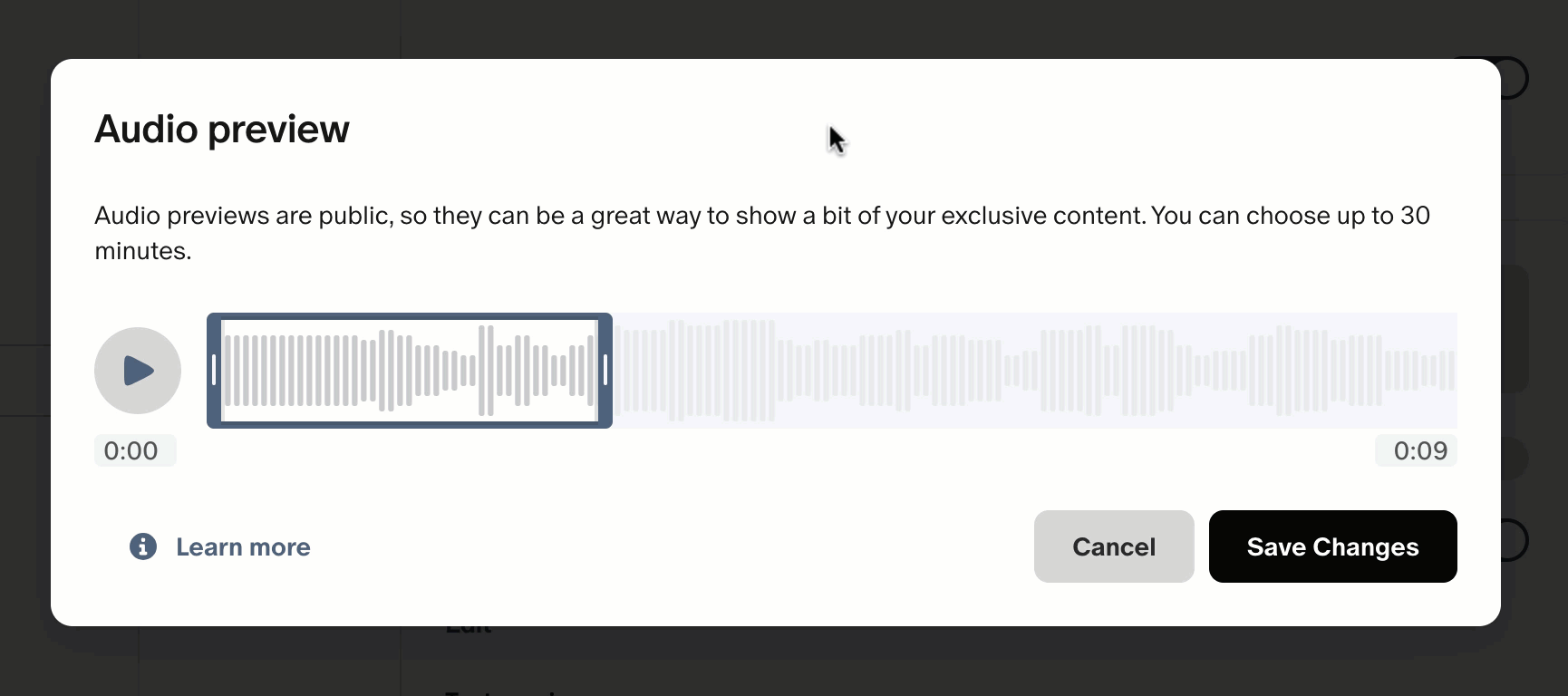 Who can see this?
This can be seen by anyone that visits the creator's page or if a link was shared to the specific audio post. Audio previews will only be available for locked posts(members-only or tiered posts).
How to make an audio post with an embed URL
If you've enabled custom RSS links for members, audio posts uploaded with a URL (e.g., Soundcloud) will not populate on members' feeds – only audio files uploaded directly to posts are hosted on members' private feeds. The section above will help you with
uploading an audio file directly
. 
You can link to audio players hosted on sites like Soundcloud via the link field. Follow these steps to share your hosted audio with members:
While logged in to your

creator account

, click on the Create button in the left navigation

Select the

Audio

button from the post types

Click on the Embed Audio URL link

Enter your URL in the textbox field. An audio player will populate

The artwork on your audio player is dictated by whatever artwork you've uploaded to the third-party audio host. You cannot change the thumbnail artwork directly from Patreon

On desktop, you can preview your post before publishing or scheduling your post by clicking the View button
We use embed.ly for embedded audio players. You can test your URL to ensure that your player will work. Add your URL in the field and click the arrow button. If you find an error next to "type," your URL will not post properly. 
Attaching an audio file to any post type
Last but not least, you can attach audio files to any post type. You can add audio files as attachments to; Text, Image, and Video posts as well. 
What audio file types can I attach to posts?
Your audio file must be 512 MB or less, and in one of the following file formats:
.mp3, .mp4, .m4a, .x-m4a, .mpeg, .aac, .ogg, .wma, .wav, and .x-wav files. 
To attach your audio file, use the Upload button near the bottom of the post creator/editor. You'll know your attachment is ready to post when the upload arrow disappears. 
Your attachment will show as a link at the bottom of your published post. 
If you have custom RSS feeds enabled for your members not all audio posts will populate in your members' RSS feeds. You can learn more about how to Enable audio RSS feeds for members. 
How do I post for certain members only?
Creators in our Pro, and Premium platform plans can publish your post for Select tiers. Use the drop-down under "Who can see this post?" to select the tiers that can access your post. The content of your post will be visible to members within the Tiers you select.
If you're a per-creation creator, you cannot simultaneously charge members and make a post for certain members only. You can find more information about how Posts work a little differently for you in the following article: How per creation billing works.