This article will cover how to go about making certain posts available to certain tiers in your account. It will go over how to troubleshoot with patrons having trouble and how to edit previous posts to be given access to specific tiers.
Our post creation workflow gives you power over who has access to your posts. Whether, you'd like to publish something publicly, for all patrons, or only for select tiers, our post creator offers flexibility to better target your content.
In this article, we'll go over:
How

do I set access to my posts?
Make a post by selecting New in the Posts section of your left-hand
navigation bar.
On the right-hand side of your post editor
, you'll find the option to make your post
Public
, visible to
All patrons (including patrons not in a tier), or Select Tiers.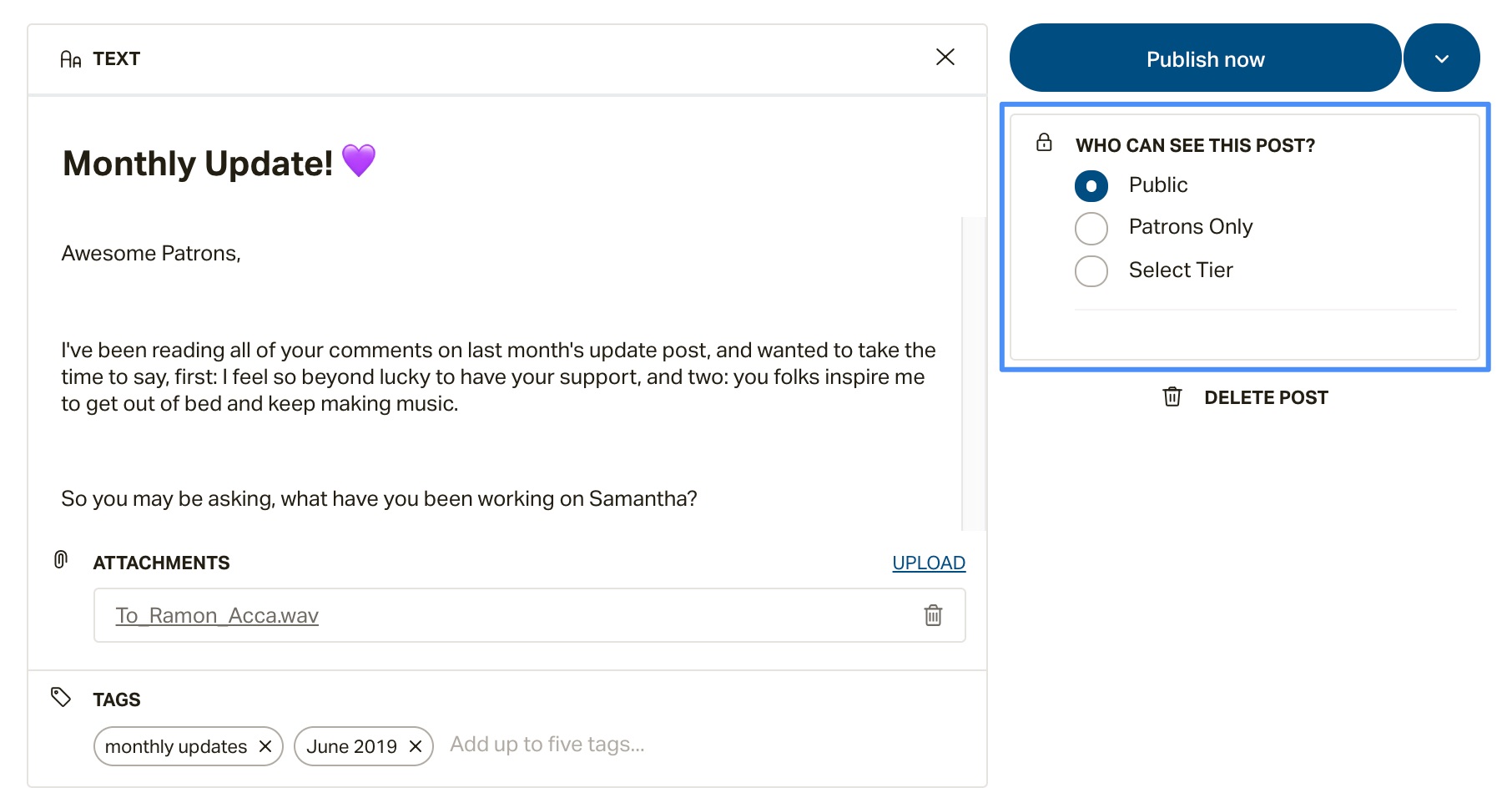 If you are in our Pro, or Premium platform plans

, and want your post accessible only by patrons in specific tiers, c
hoose
Select Tiers
.
You'll find all of your tiers appear. Deselect any Tiers that will not have access –– by default, all Tiers will be selected when you choose Select Tiers.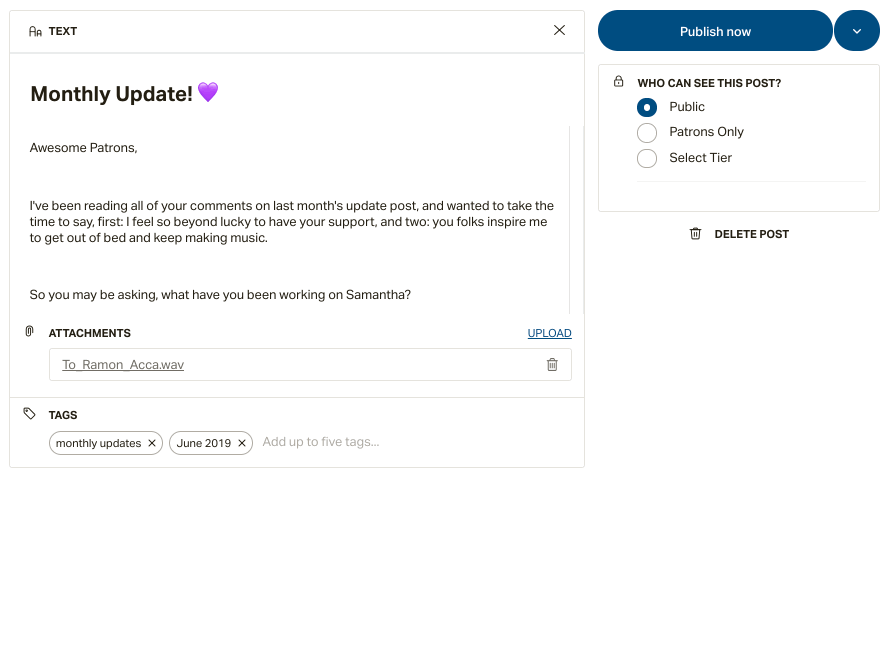 Here's what your post will look like after it's published: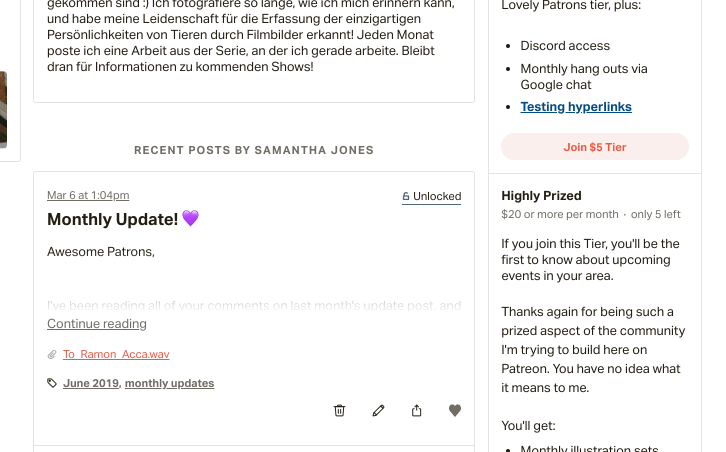 Why is posting for Select Tiers helpful?
---
It gives you more control over which patrons find your posts. When you publish posts by Tiers, rather than payment amount, you can post exclusively to patrons in one tier, instead of that tier and everyone above it.

Higher-paying patrons won't be spammed with notifications for posts for lower Tiers.

Do you have multiple projects, and w

ant

to offer different benefits at the same tier level? You'll have the option to offer content to multiple tiers at the same price. So you can have two $5 tiers offering completely different benefits.
You'll
easily find
all of your patrons organized into the tier that corresponds with their payment level within the Relationship manager–
s
o no more guesswork on what posts different patrons can view!
What does this mean for patrons?
---
The most important thing this means is: if you publish content for Select Tiers, patrons will need to be in that Tier (not just paying the tier price) in order to have access.
If you select

Public,

anyone can find your posts even if they're not a patron.

If you select All Patrons

, all of your paying patrons will find your post, regardless of the tier they are in, even if they selected

"

no

tier" when they signed up.

If you Select Tiers, then only the patrons in the tiers you select

will find your posts. That means patrons who selected

"N

o

tier" when they pledged are not actually in a tier, and won't find your post unless they update their membership with you. And patrons who are paying a higher amount than the tier they signed up for will only find the post if it's available to their tier.
If you have patrons in the "
no tier"
tier,
or patrons who are pledging more than the tier they're signed up for,
we suggest you reach out to them to inform them that they may not have access to all your posts.
Sample letters
---
Sample
l
etter to
"no
tier" patrons
I noticed that you created a custom pledge, or "no tier" when you joined my page. As a heads up, I post most of my content for the specific Tiers I offer. If you aren't in a Tier, you might not get to find all of the posts I'd love you to find.
If you'd like access to posts for my [TIER NAME] Tier, you want to select that Tier. You can make sure you're in the right Tier by going
here
in your Patreon settings and it will only take a minute.

If you need any additional help with this, you can find Patreon's guide to ensuring you have access to posts, here.
Thanks for your continued support!
Sample
l
etter to patrons pledging more than their tier
I'm messaging you because I noticed that you're currently pledging a higher amount than the membership Tier you're signed up for. I post the majority of my content for my specific Tiers only, so you might not find all of my posts with your current membership.
I want to make sure you have access to the posts and benefits you intended. To join my [TIER NAME] Tier, simply head
here. This will only take a minute.

If you need any additional help with this, you can find Patreon's guide to ensuring you have access to posts, here.
Thanks for your continued support!

What about my posts before November 7th, 2018?
All of your old posts will remain the same within the old model – so they'll be accessible to patrons based on the tier amount they're paying.

Q: When did this change taking place?
Q: Can I select post access based on the payment amount?
A:
N
o, you will only be able to select post access based on Tier or All patrons status.
Q:
Will selecting all patrons
populate check marks in all the
boxes in the post workflow?
A:
Yes, all the check boxes will be populated when you select
all patrons
.
Q: Can creators move patrons into tiers?
A:
No
, they cannot. You'll need to request your patrons do this themselves.
Q: Where do I send my patrons to join a new tier?
A: Patrons can find this by going to their Active memberships page, and clicking edit.
Q: Can people sign up for multiple tiers that add up to their membership?
A:
Patrons can only sign up for one tier
.