It's that time of year again
—tax
season! Below are forms and resources that can help you prepare for a successful tax season.


What is the W-9 Form?
---
The W-9 form is used in a wide range of payment situations, but most commonly, taxpayers fill them out when they are working as a freelancer or independent contractor rather than an employee. The purpose of collecting the W-9 form is to record your tax identification number, along with your name and address so Patreon can notify the IRS of the amount earned in a calendar year.
Patreon requires creators to complete the W-9 form once they meet qualifications to receive form 1099-K in a calendar year.
Where to find the W-9 form?
---
You can find the W-9 form in your Payouts and taxes page
in your creator settings. Below are the steps to find the form in your account.
Step 1:
Log into your Patreon account.
Step 2:
Once logged into your account, go to your creator settings page by clicking on the gear icon on the menu to the left.
Step 3: Scroll to the bottom of the page, then click on the, fill out or update W-9 form, button.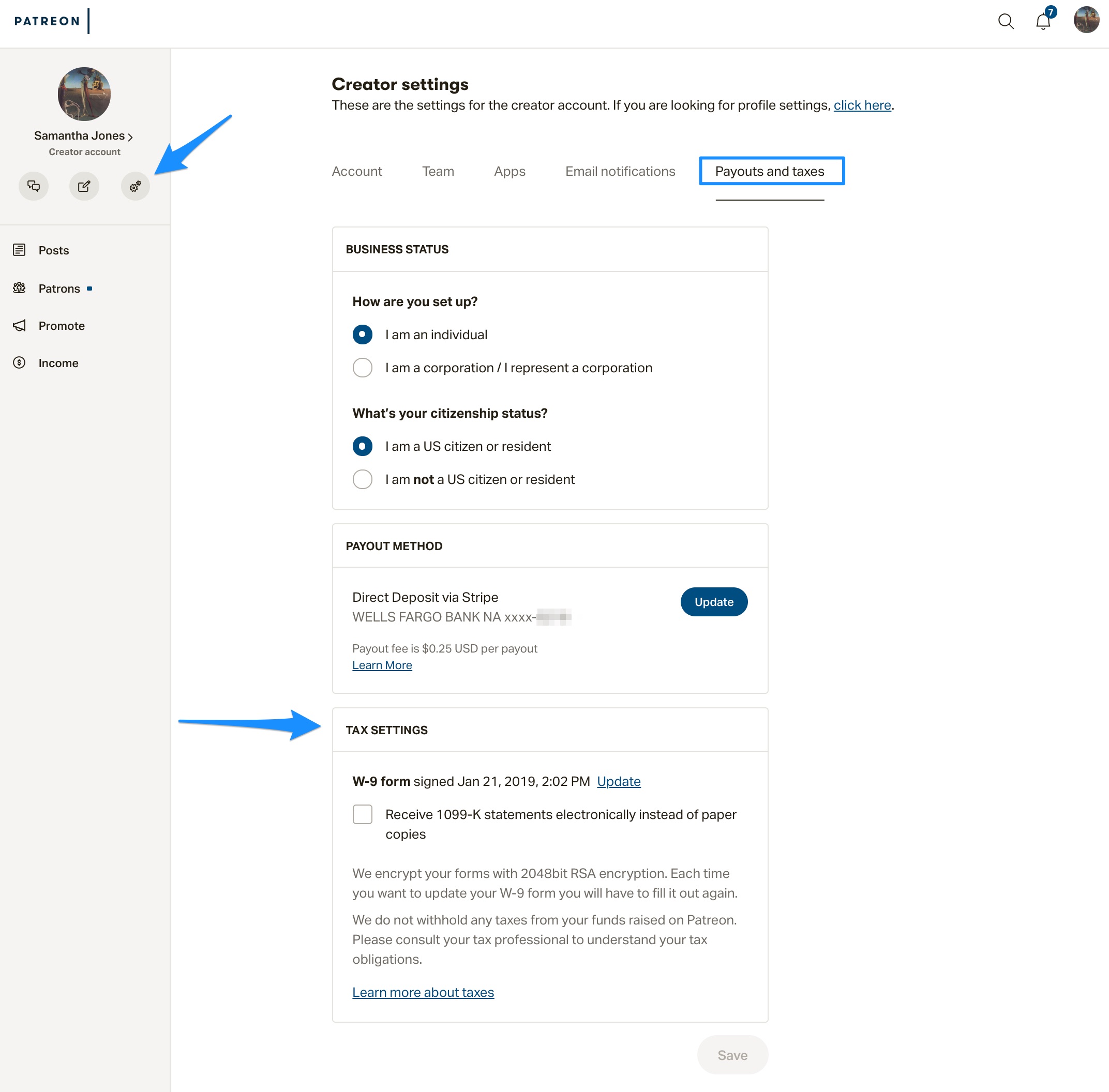 Step 4:
Once clicking on the button, you'll be prompted to fill out the W-9 form electronically.
Common errors when completing the W-9 form
---
Below are some common errors made when filling out a W-9 form.


Name and Taxpayer ID Do Not Match

This may happen if you use your personal name with your business ID
(TIN),
or business name with your personal Social Security Number
(SSN).
Wrong Name or Incomplete Name
This may happen if the name you entered doesn't match what the IRS has on record for your SSN. Please ensure that the name you submit is your full, legal name, and matches what is shown on your tax return.

Wrong Taxpayer ID or Social Security Number
Make sure the number you enter is correct, and has exactly nine digits. A business taxpayer ID
(TIN)
come up like XX-XXXXXXX and a social security number
(SSN)
come up like XXX-XX-XXXX. Please note that when you submit your TIN or SSN, you do not need to type or include the dashes.


Single Member LLCs
If you have created a business type called a
"Single
Member Limited Liability Corporation
("SMLLC"),
the IRS requires different information depending on how you set up your business. In some cases you will be required to input your personal name and SSN. In other cases, you will be required to enter the business name and TIN.



Creators living in the United States who earn over $20,000 in sales and have more than 200 individual transactions in a calendar year are subject to receive form 1099-K.
To receive the 1099-K form,
Patreon requires creators to submit
the
W-9
form
once they meet qualifications to receive form
1099-K
in a calendar year.
Note:
Creators living in

Vermont

or

Massachusetts

who earn over

$600

in a calendar year are subject to receive form 1099-K.

Learn more about

Vermont tax law

and Massachusetts tax law to find out if they pertain to you.
What is a TIN?
---
A
Taxpayer Identification Number
(TIN)
is an identification number used by the Internal Revenue Service
(IRS)
in the administration of tax laws. It is issued either by the Social Security Administration
(SSA)
or by the IRS. A Social Security number
(SSN)
is issued by the SSA whereas all other TINs are issued by the IRS.



Is my personal tax information secure on Patreon?
---
Real-Time TIN Verification makes it possible to proactively validate your information and check individual data against the IRS TIN matching database, Office of Foreign Assets Control
(OFAC)
list and Death Master File
(DMF)
as you submit your form.
All information provided is secure. We encrypt your forms with 2048bit RSA encryption.
Each time you want to update your W-9, you will have to submit an entirely new form.



The IRS limits three submissions in 24 hours. It is essential that you review the information provided on your W-9 to ensure you are
accurately
spelling your name, address, and tax identification number.
Taxpayer Identification Numbers