Are you trying to downgrade your Patreon plan from Pro to Lite? If so, here are a few things for you to consider and review beforehand to ensure a smooth transition for you and your patrons.

Once you downgrade to Lite,
your
creator page customization
settings will revert back to their default settings
. Additionally,
Benefits
,
Goals

,
and
Special Offers
scheduled to begin in the future will be automatically deleted.


If you currently have any membership tiers, you must delete all of these tiers before you can downgrade. Note that when you delete a tier, patrons of that tier will continue to be charged the same monthly fee.


Pro tip
:
Before deleting all your tiers, be sure to communicate to your existing patrons about the upcoming changes, and what they should expect.


Lastly, the Lite plan only allows for charge up front monthly payments. If you are not currently on
charge up front,
you'll want to update your payment settings to our charge up front billing option. Note that the change to charge up front is permanent and once enabled you cannot revert to per creation, or regular monthly billing.
Still want to downgrade? Follow these steps.
---
While logged into
Patreon
,
select
the settings link
from the
menu
on the
left-hand side
and you'll be taken to your
settings page
.


Under the
account
tab, click on the blue
Change plan
button then select
Downgrade button
. You will also need to confirm that you want to continue this process.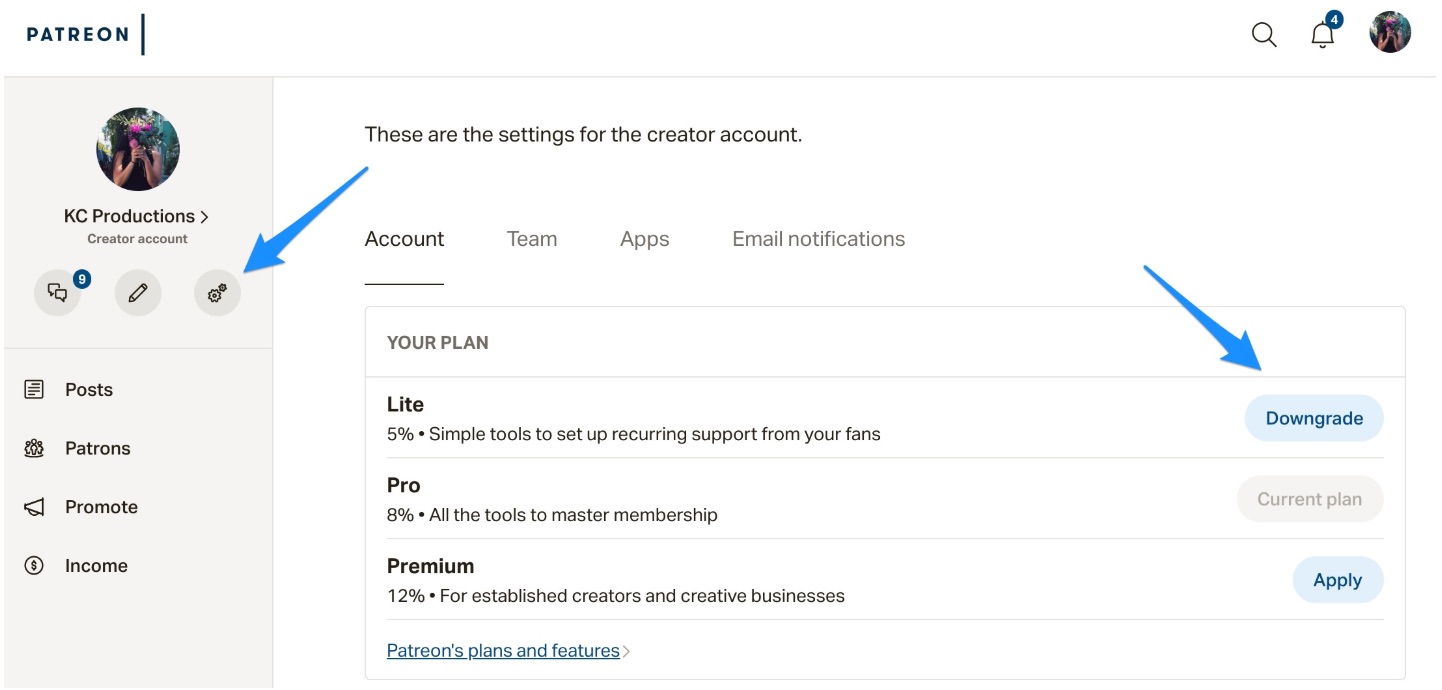 Important
: If you used a custom brand color for your Patreon page, you will be prompted to revert these settings to the default Patreon color under
Page Settings
. The default Patreon color is the first option within the
Custom brand color
section. If you're uncertain which is the default, hovering your mouse over the color will display the name
"Patreon".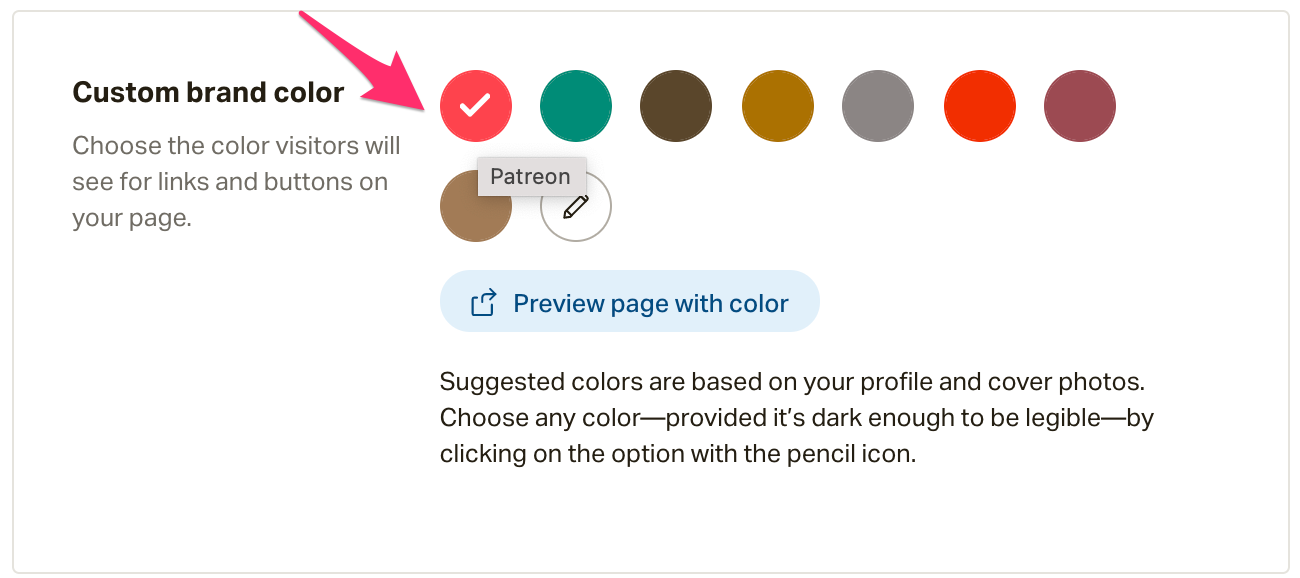 Please note the following changes:
Your goals will no longer populate on your page for fans and patrons.

Tags will no longer populate on your page or posts, which may make it difficult for your patrons to find the content they're searching for

You will no longer be able to track and manage monthly Benefits owed to patrons

If you need to process any necessary actions to complete downgrading, you will find a popup that lists out each action you need to take: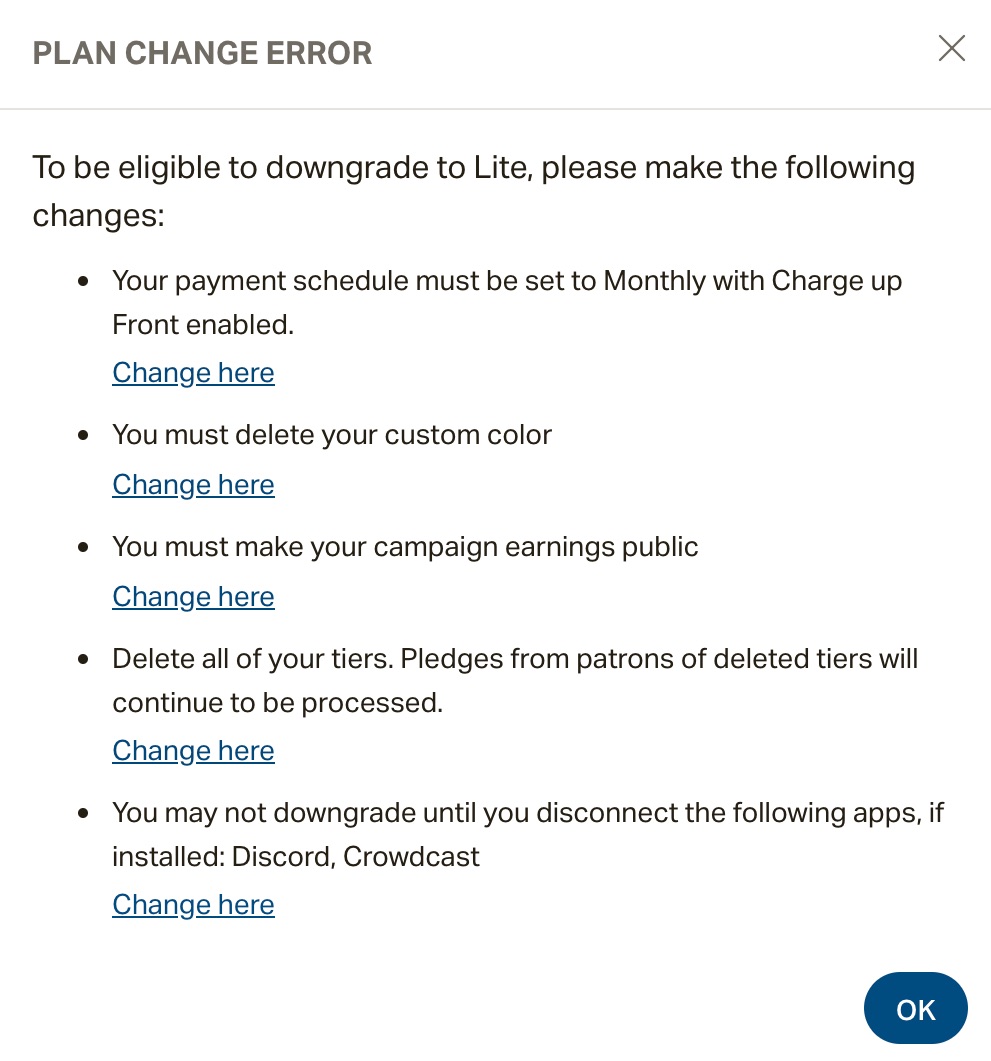 Downgrading from Premium
---
If you're the account owner of a Patreon account currently on the Premium plan, and wish to downgrade, you must contact your dedicated account manager. The account manager can help form a plan to wind down merch fulfillment, and guide you through changes to be made to your account
(i.e.
removing teammates' access, and membership tiers).


Once you downgrade from Premium you will lose access to your dedicated account manager.