Are you finding locked posts even after joining a creator's page?
Don't worry – we want you to get the most out of your membership with your creators, and we're here to help. Below we've gathered the most common reasons that a post might still be locked to you:
Double check that you're logged in
---
If you're accessing posts from your emails, and click
on the
"Check
it out" button you may be required to log in before being able to access the content of the post. This link will grant you access to the post
once without being logged in. If you follow the link additional times,
double check that you're logged in to your Patreon.
If you follow an email to a post and find that you're locked out, you can quickly log in using the
login
option in the upper-right corner.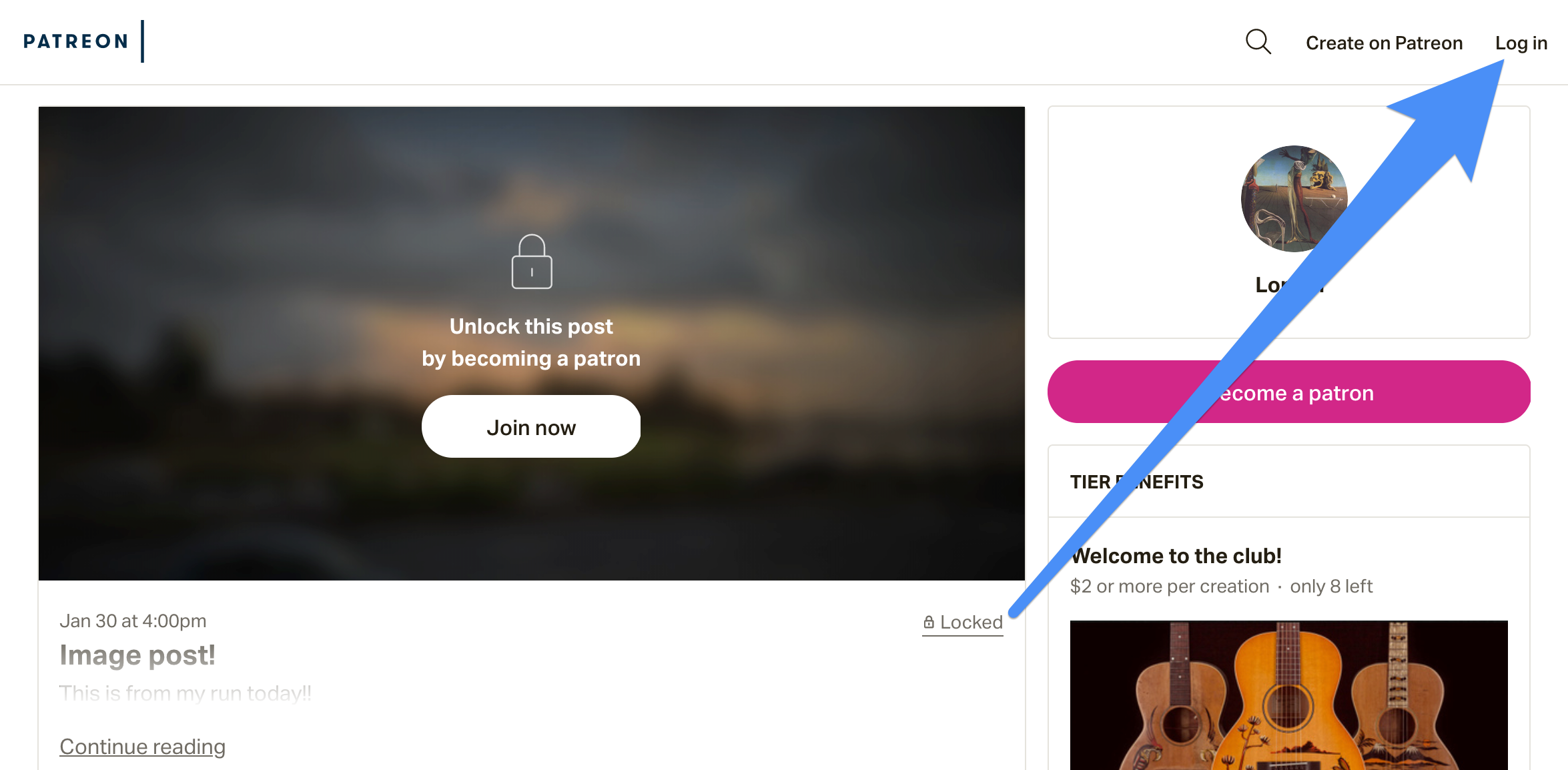 ---
If you've increased your membership with your creator, but can't view posts for that tier, check what tier you're in. You can double check your tier by doing the following:
Step 1: Head to your

Manage memberships page, and click on the Active memberships tab. Click

on the

"

Edit

" link

next to your membership.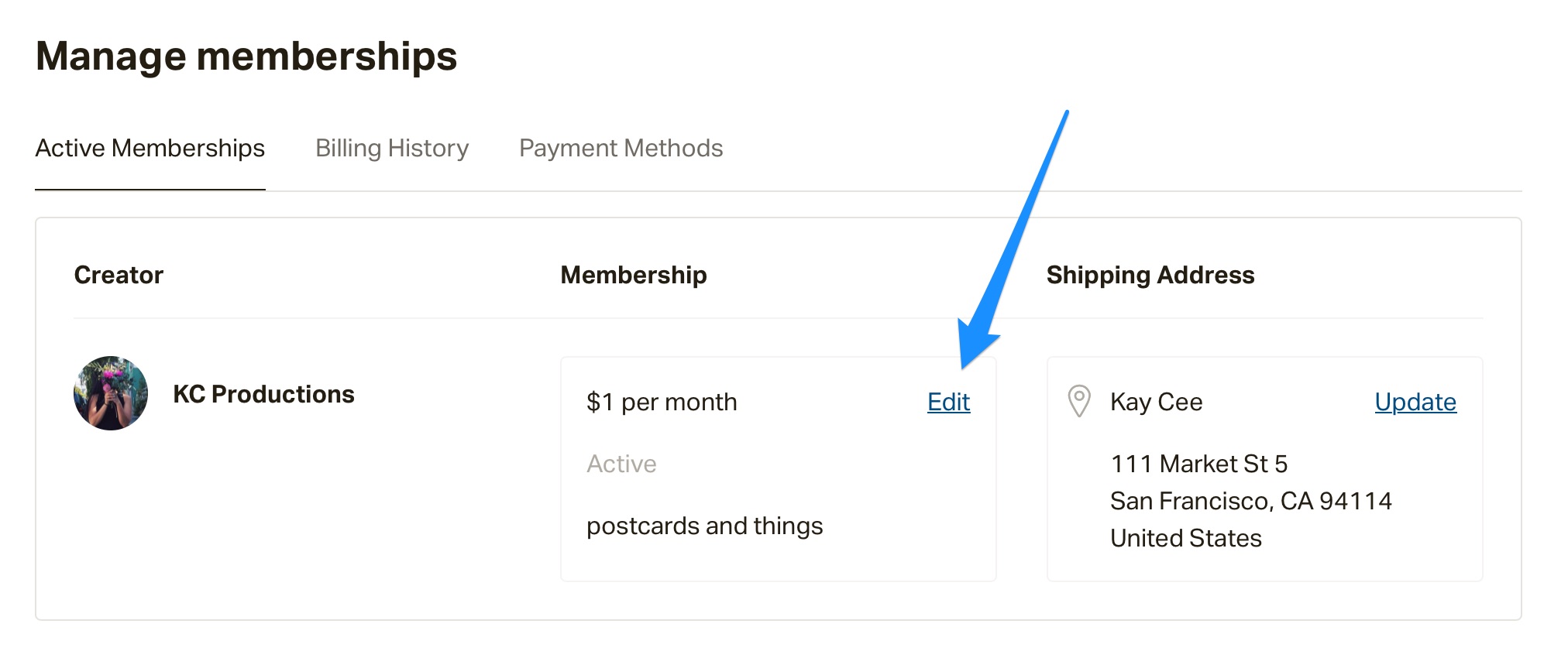 Step 2
: Your current tier will be listed to the right of
"
Your
Tier
" on the left side of the confirmation page. Not in the tier you thought you were in? Click on the
Edit button
to choose a different tier.

Important
: If you find
"Custom
pledge"
it means that you're not currently in a tier. If posts are locked to you, click on the Edit button and select your desired tier – this
will likely fix this issue for you.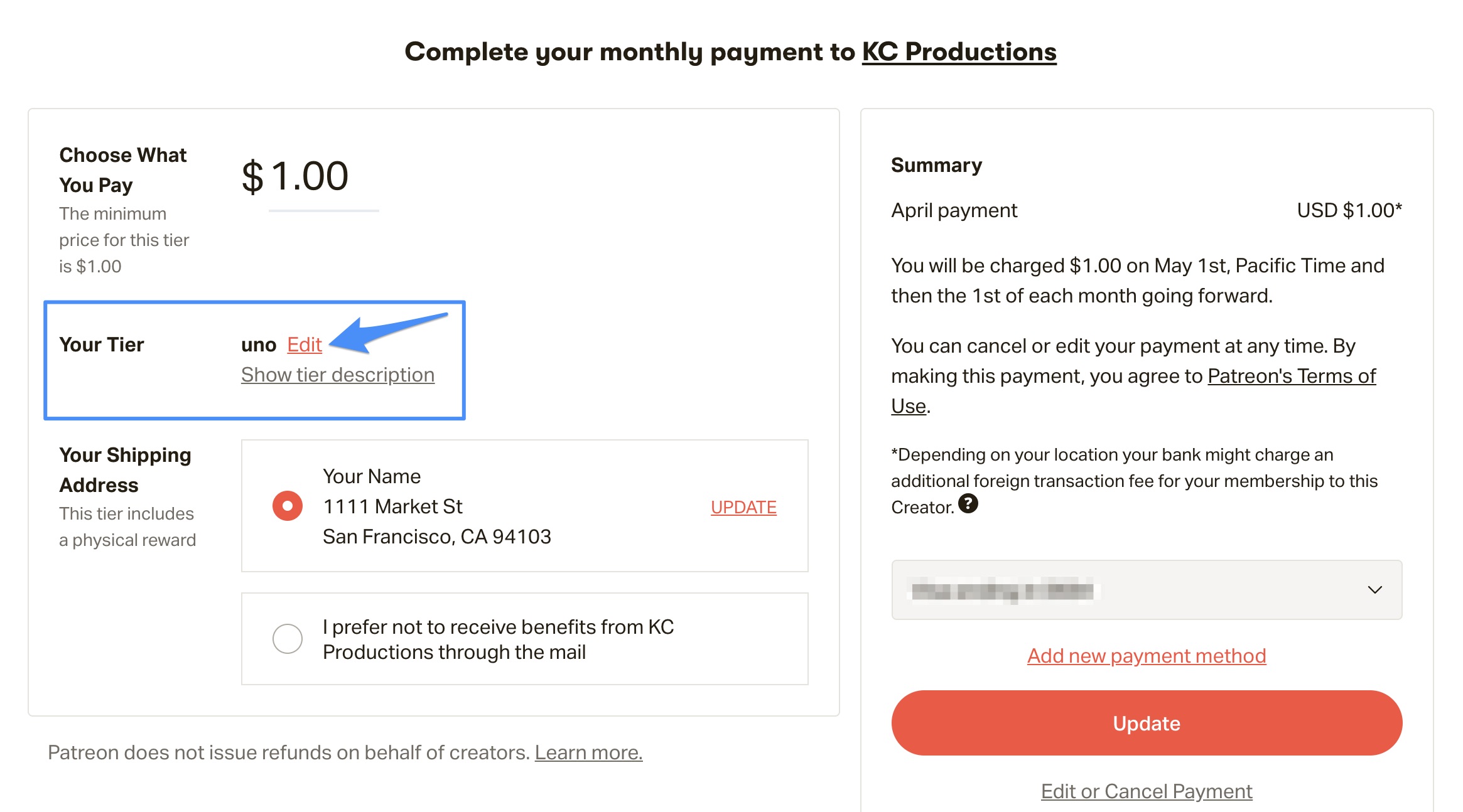 You can also double check your tier from the My membership tab of the creator's page
While on your creator's page, click on the My membership tab. Your Tier will be listed under the current tier.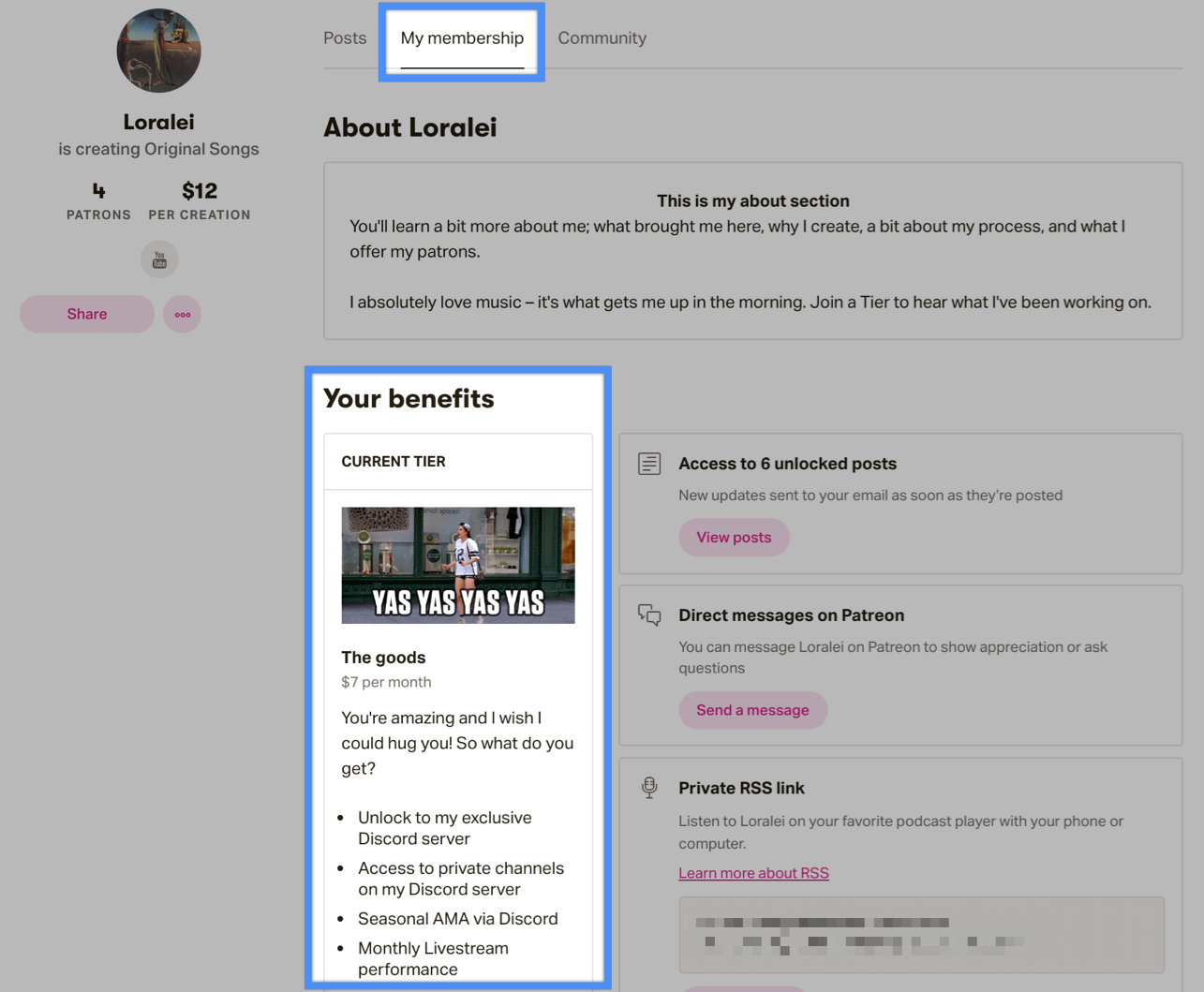 You can easily join the correct tier by clicking on the
"Join
now for $X per month" button to be taken to the confirmation page.
Don't worry –
if you've already been charged that amount for the current month
(without
being in the tier), you won't be charged again. Learn more about this in the FAQ section below, here.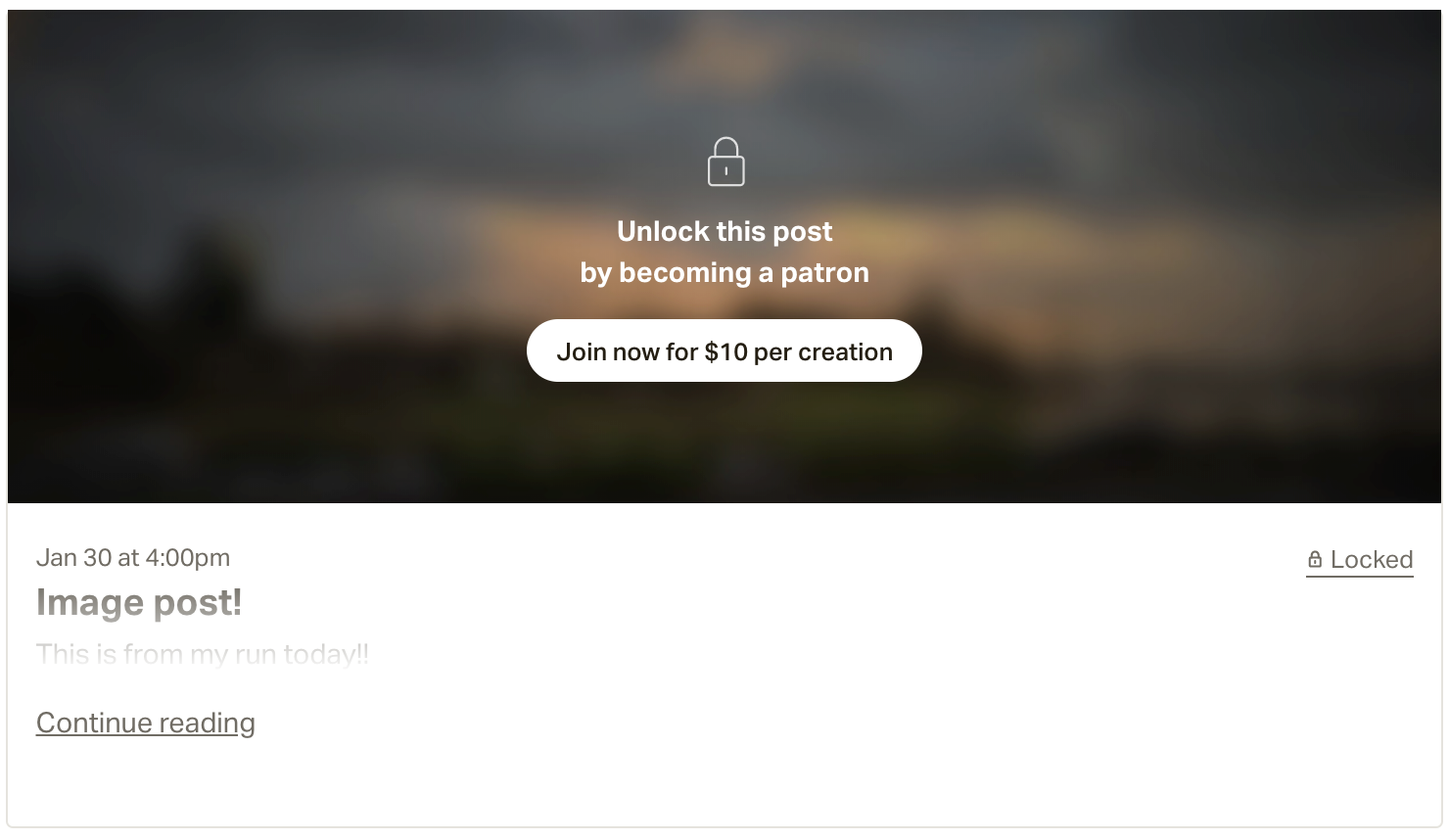 Has your creator given your tier access to the post?
---
If you've confirmed you're in the right tier to unlock access, double check that your creator has given your tier access to that post. Creators have the ability to lock posts for certain tiers. This means that posts that are available to lower tiers might not be accessible to you.
You can discover what tiers have access to a post by clicking the
"
Locked
"
badge.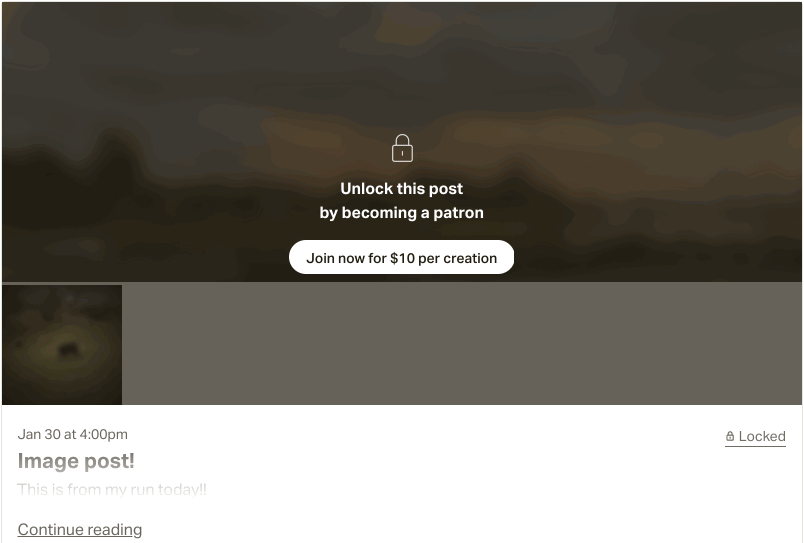 Not finding your tier?
Check your billing history
---
Go through your
Billing History
to discover if there are any declined
(failed)
payments with the creator.



If your membership payment declines, you'll lose access to any patron-only content the creator has posted.
Need help resolving a declined payment?
Check out our
guide on retrying declined payments
.


Have you recently cancelled?
---
If your creator charges their
patrons
up front
, then you'll have access to their patron-only posts for the remainder of the month after cancelling.
For many creators, you'll need an active membership to view their patron-only posts.

You can find wh
ich
month your payment was in support of from your
Billing History
page, under
"
supported
period
." If you find the previous month, you'll need an active membership with that creator, and can regain access by clicking on the
Repledge
button.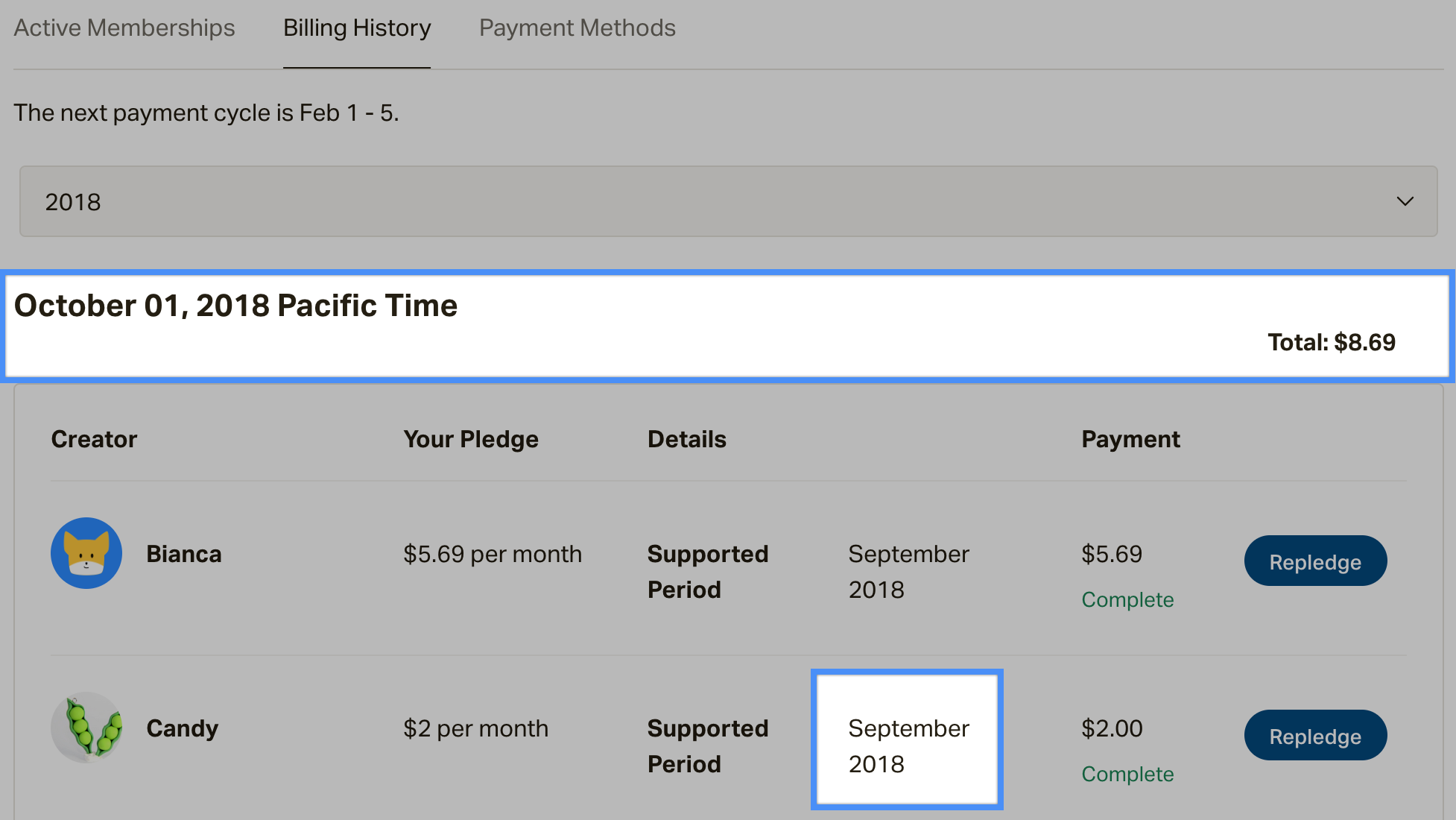 Having trouble accessing a site your creator runs outside of Patreon?
---

We offer a variety of posting options for creators to share their podcasts, videos, and images with patrons. Even so, we understand that many creators prefer keeping their exclusive content on a site they manage
outside
of Patreon.
If you find yourself locked out of content that your membership should give you access to, and you've gone through the checklist in this article, reach out to your creator for next steps in regaining access.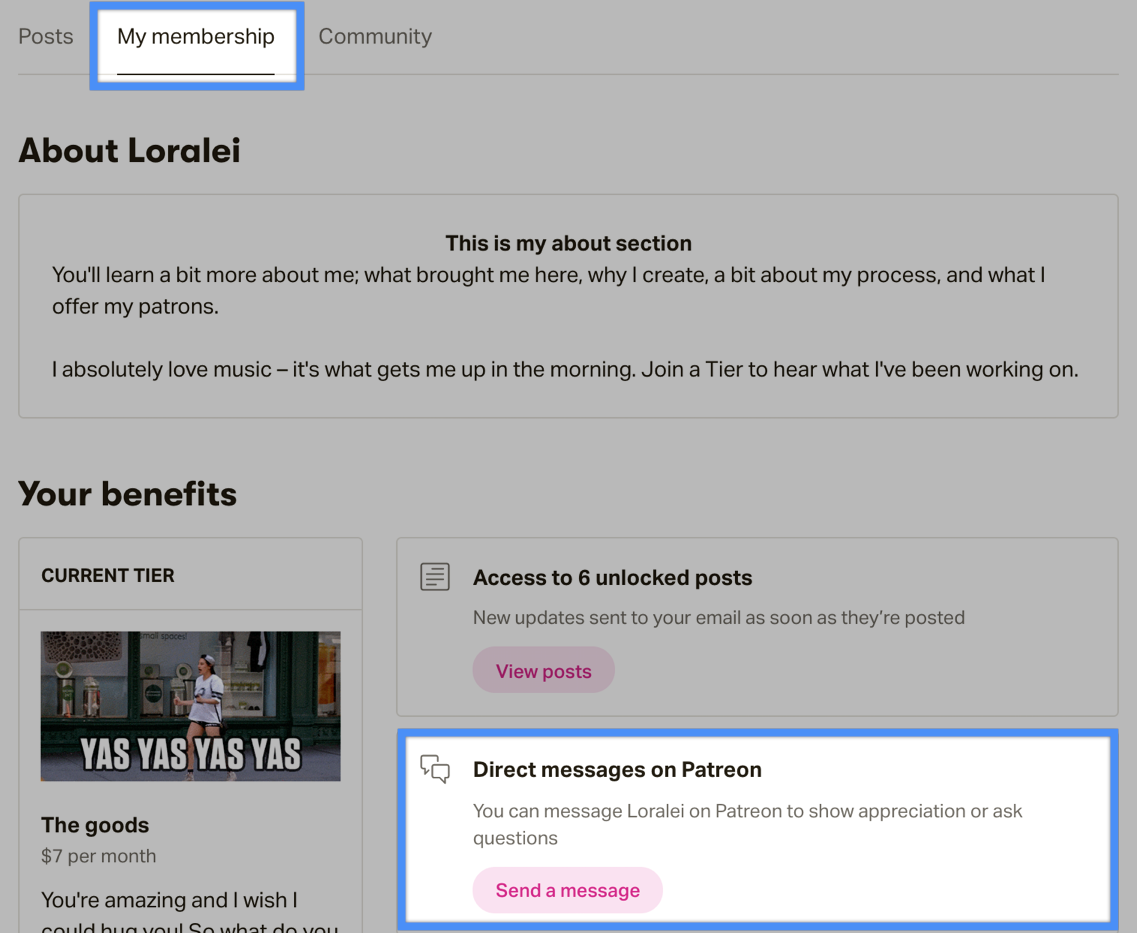 You can message your creator on Patreon directly from their page, or from the Messages section of your Patreon account.
---
Q: Why doesn't the payment amount unlock everything? In the past it has.
A
: In November of 2018, we gave creators more control over how they can publish their content. Creators can now set access to posts in the following ways:
Public

- A gift to the world from your creator!

All patrons

- Every single one of a creator's patrons will be able to view the content of the post. Even folks who are contributing, but aren't in a tier.

Select tiers

- Creators can select specific tiers that will have access to the post. This means that even if you're in a higher tier, you may not have access to the content of the post. Read through your tier description for more information on expected access to posts. If you're unsure, it doesn't hurt to

send your creator a quick note

asking for clarification.




Q: I thought that the higher tiers got access to everything the lower tiers got?
A
: If your tier mentions access to benefits from all lower tiers, check in with your creator. The post that's locked to you may not be benefit-related
(like
a call to upgrade), but it doesn't hurt to ask. It could be an easily fixed mix-up or a change to tier structure – your creator will have more information for you.
Q: How is it possible that I'm paying the payment amount, but I'm not in that tier?
A
: We give patrons the option to
"choose
what you pay" at every tier level. This is so that generous patrons can contribute more to their creators without needing to change tiers
(if
they prefer staying in the lower tier). When upping your membership, be sure to change the tier and not just the payment amount. Upping your payment amount without selecting the tier, will not unlock new post content.


A: Nope! If you've already been charged for the current month, and are joining a tier to reflect your monthly payment, you won't be charged again. You can confirm this on the right-hand side of your membership confirmation page. We don't want any surprises for you, so we list your charge amount and your next charge date under the "Summary" section.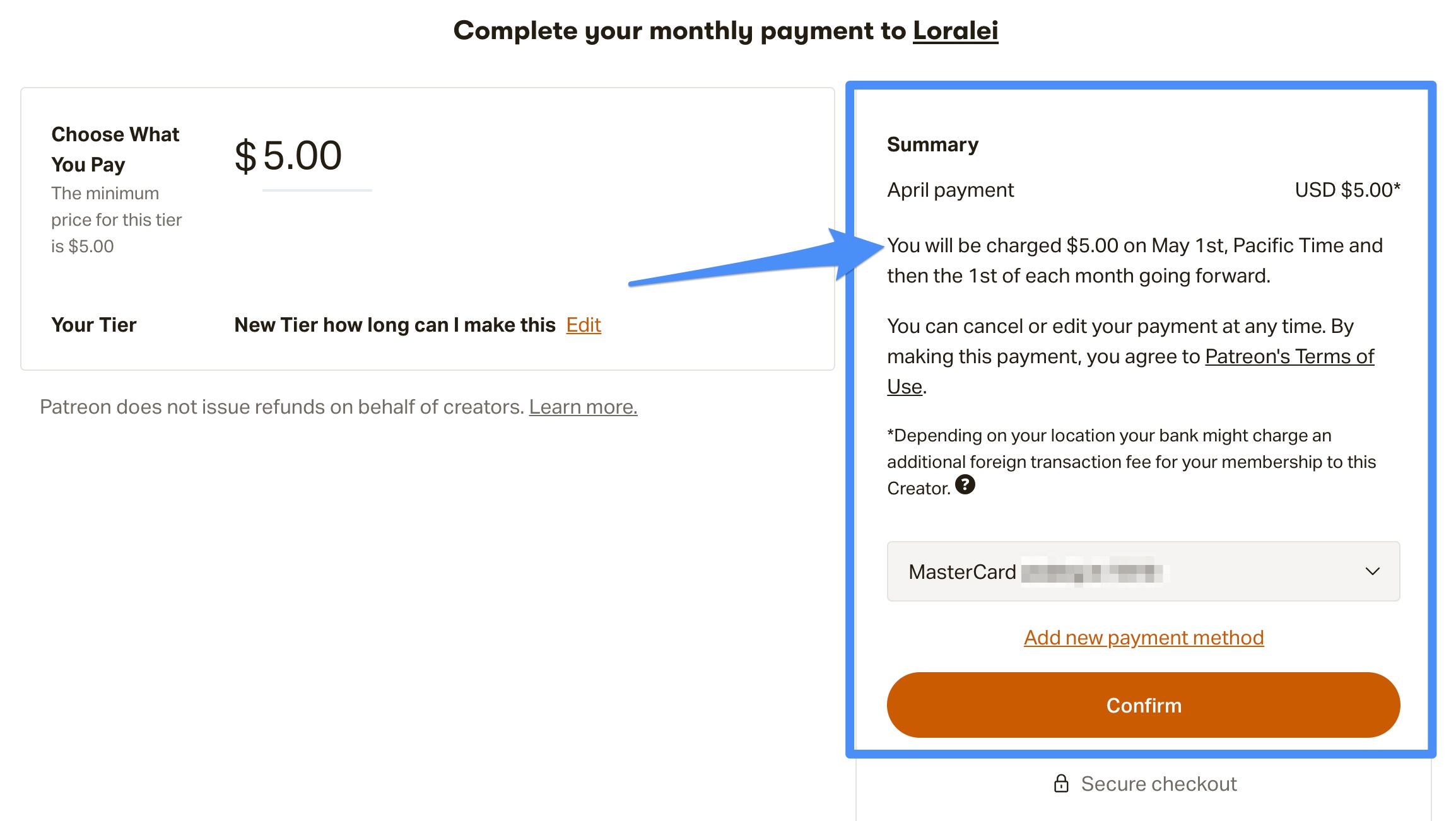 Q: Can I pledge to two tiers at once to get more access?
A
: At the moment, no. You can select one tier per creator.