In this article, we'll go over:
How the merch fee and billing works
---
When does the 3% fee to use Merch start?
You will begin
paying
the additional 3% fee
immediately
upon sign
ing
up
for Merch
. This
3%
fee
applies to your
total
monthly
earnings
on Patreon.


Most Merch orders are processed
on the 2nd,

4th,

12th, 20th, and 28th of every month
. If an order to ship an item cannot be processed
(often
due to a problem with a patron's address), we will not charge you for that item. We will attempt to retry an unsuccessful order for up to 100 days after an item has been earned.
You can find your merch
fulfillment
bill in your
earnings dashboard
.
Do I need to enter a credit card to pay for merch?

Nope! You will pay for the merch items with your Patreon balance.


I'm seeing a warning when I try to withdraw my account balance. What does that mean?
B
e
cause the
merch
you offer
is
funded
from your account balance, withdrawing your account balance c
an
delay merch shipments.

Merch orders are processed starting on the 2nd of every month. If you withdraw your entire account balance on the 1st, there is a risk that you could delay a merch shipment until more funds arrive in your account.
How does this warning calculate how much merch is waiting to be shipped?
Any Merch for Membership items that have been earned by patrons in the last 100 days but have not yet shipped will be included in this number. If an item does not ship successfully we keep attempting to ship the item for 100 days after it is earned, so the number of items that have been earned but not shipped may seem higher than expected. You can explore these items at any time by visiting your
Benefits
page. There are three reasons that an item can be earned but not yet shipped:
orders have not been processed since the item was earned

(see

the above schedule)

there has not been enough account balance to pay for the item when orders have been processed

the patron has not entered a valid shipping address

the patron has not entered a valid size selection

(if

the item requires one)
These factors, as well as how long ago an item was earned, are helpful to consider when deciding whether to withdraw your account balance. Recently-earned items that have a valid shipping address attached are ready to ship and would likely be delayed by withdrawing your account balance. Orders that are missing a valid shipping address or size selection cannot be shipped and are less likely to be delayed by withdrawing your account balance. However, Patreon automatically reminds patrons to update their shipping address whenever we are unable to ship an item to them, so these orders could be updated by the patron with a shipping address at any time. Items earned more recently are more likely to have their shipping address and size selection updated by patrons, and items that were earned less recently are less likely to be updated.

How do I learn what I've already paid for the merch items?

In your
E
arnings
D
ashboard
, you can find a monthly breakdown of the merch items paid for as well as the Patreon platform fee.



Estimating how much your merch will cost

How can I estimate how much I'll owe?

We help you out with estimation when creating
your merch
item, but there are other things you might want to estimate for
. Note: You will only be charged for merch items that have been shipped.


When creating your items
,

we estimate the cost of your merch items by multiplying the number of current patrons in the assigned tier

(at

that time) by the cost of the item.

Most creators pay less than this estimate because not all of their patrons enter a shipping address and/or size preference. We will email your patrons to remind them to enter their information, and you can also encourage them to update their information in

their memberships

.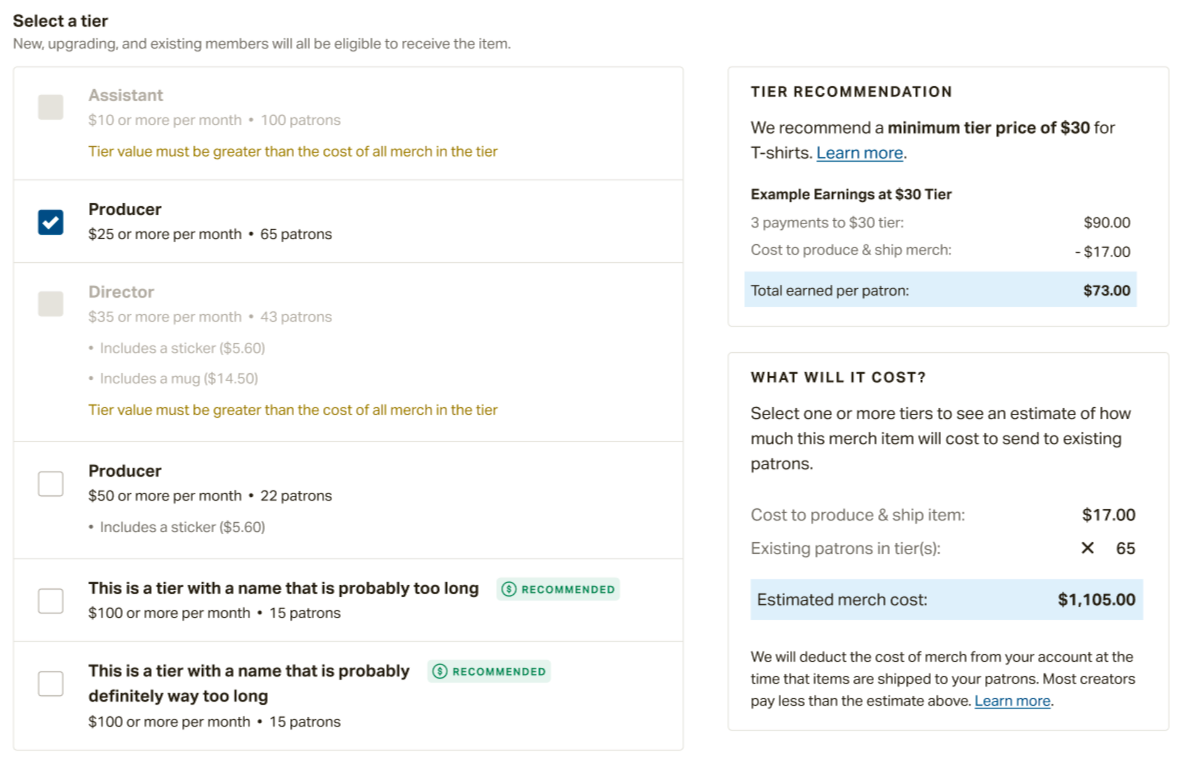 If you are publishing a one-time merch item
, your patrons must pledge for 3 consecutive
payments
before they become eligible for merch and the merch ships. If you are launching a merch loyalty program, your patrons will earn merch after, 3, 6, 9, and 12 months.
You can learn more about when patrons typically earn merch
here
. You can expect to pay for merch sent to be sent to existing patrons between 2 and 4 months after a merch item is added to a tier, depending on what time during the month you add merch to that tier and whether you charge your patrons for each month up front.
You can check
for
eligible patron
s
in
Benefit Tracker
and in the monthly merch email we send you: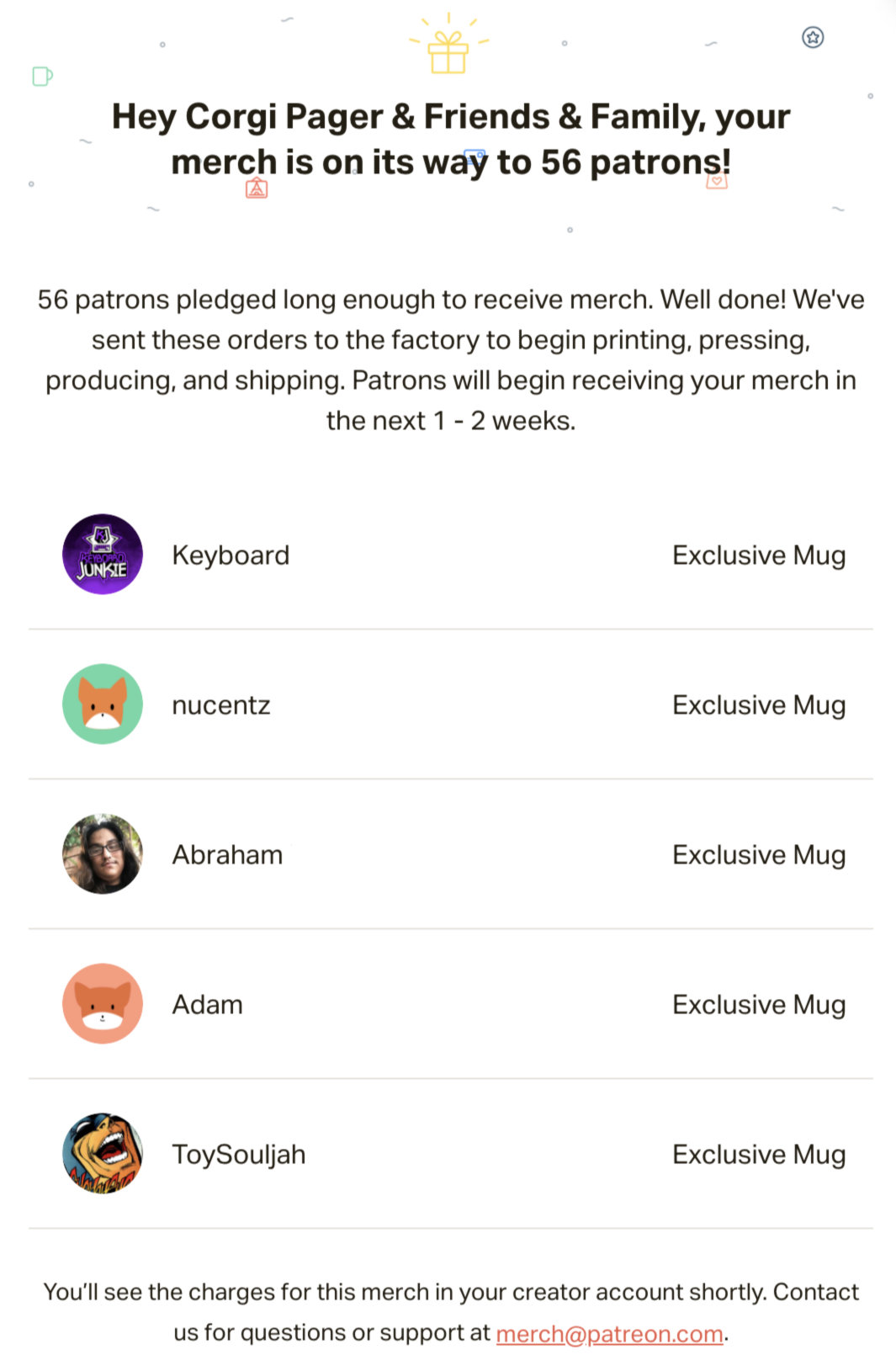 Why did I send more/fewer items than I expected?

Creators using Merch for Membership frequently send
and pay for
fewer merch items
to their existing patrons
than expected. Here are a few reasons why:
There are fewer patrons pledging to your tier now than when you created your merch

(i

.

e

.

patrons have stopped their membership),

Some patrons have

chose

n

to opt out of receiving

physical goods from that tier

Many patrons have not added a valid shipping addresses or selected a size for their merch item

. Patrons must have a

valid

address associated with their account to receive merch

.