Patrons who want to give more than their tier amount, or want to pledge to a creator on our Lite plan, can pay a custom pledged amount. New patrons won't have the option to make a custom pledge when they select a tier; however, there are three ways that new patrons can create a custom pledge:
For any new patron looking to join a creator on the Lite Plan or per post billing models will automatically have the option to Make a custom pledge
For any new patron looking to create a custom pledge before they join a specific tier, they can do so by visiting the creator's page and scrolling down to their posts. The Become a patron button will appear, directing them to the checkout process. They can choose the Make a custom pledge option there
For any existing patron looking to edit their pledge amount, they can do so by visiting their active membership settings page. To read more on how patrons can do this in this article on Editing your Membership
What happens when a patron gives a custom pledge?
If a new patron pledges through the Make a custom pledge option, they will not be automatically assigned any tier. That means no rewards will be attached.
If a patron chooses to edit their pledge amount to be a higher custom pledge to their tier, they will not be automatically enrolled into the nearest tier.
Some patrons may want to support a creator, but tier minimum might be outside of their budget. The custom pledge, or "No tier" status exists, so patrons can still support creators even if they can't join a tier. As the name suggests, there are no benefits, or "tiers" associated with custom pledges — regardless of the amount given. Lastly, $1 is the minimum to ensure that we cover processing fees.

No reward patrons (custom pledge patrons) only have access to posts you publish for "All patrons"
If a patron would like to edit their pledge and move to the correct tier, they can follow the steps in this help guide: I'm locked out of posts I should find
Note: If you'd like your posts to be locked to patrons who are paying you outside of your tiers, you'll want to publish your posts for "Select tiers." Learn more about posting for All patrons on this article.

Patrons who pay you with a custom pledge are not tied to a specific tier (if you've created tiers). These patrons can be found with the status "No tier" in your Relationship Manager because their payment is not tied to benefits offered within a tier. Because they're not part of a tier, they aren't tracked for benefits and won't have access to certain benefits, like Discord roles.
Using your Relationship Manager filters you can generate a list of all of your active no reward patrons.
To get your list of patrons, set the following filters:
You can set any time period you'd like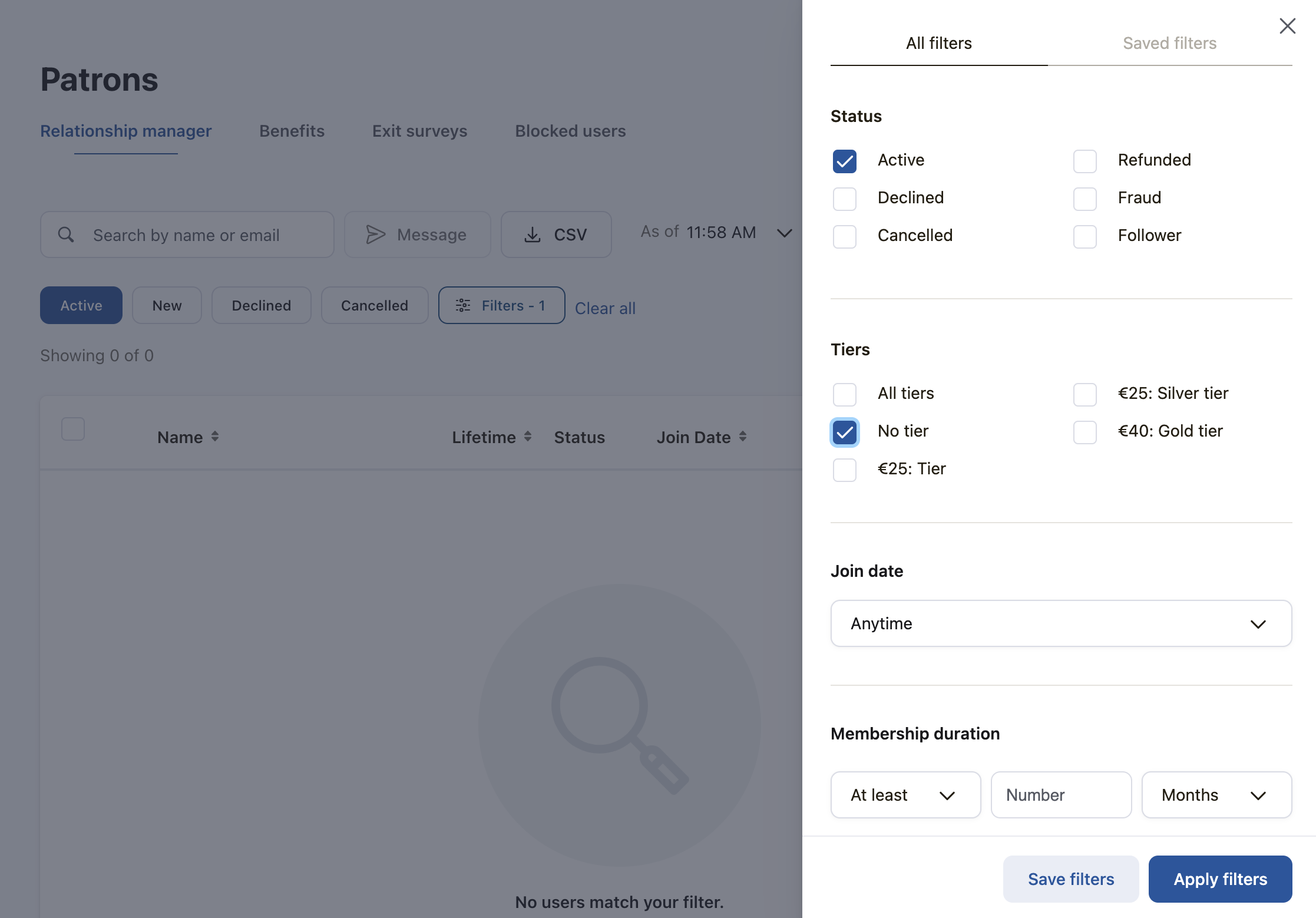 ---