A common and entirely legitimate concern often comes up around the license that creators grant Patreon with regards to Patreon's use of their creations. Specifically, this portion of our Terms: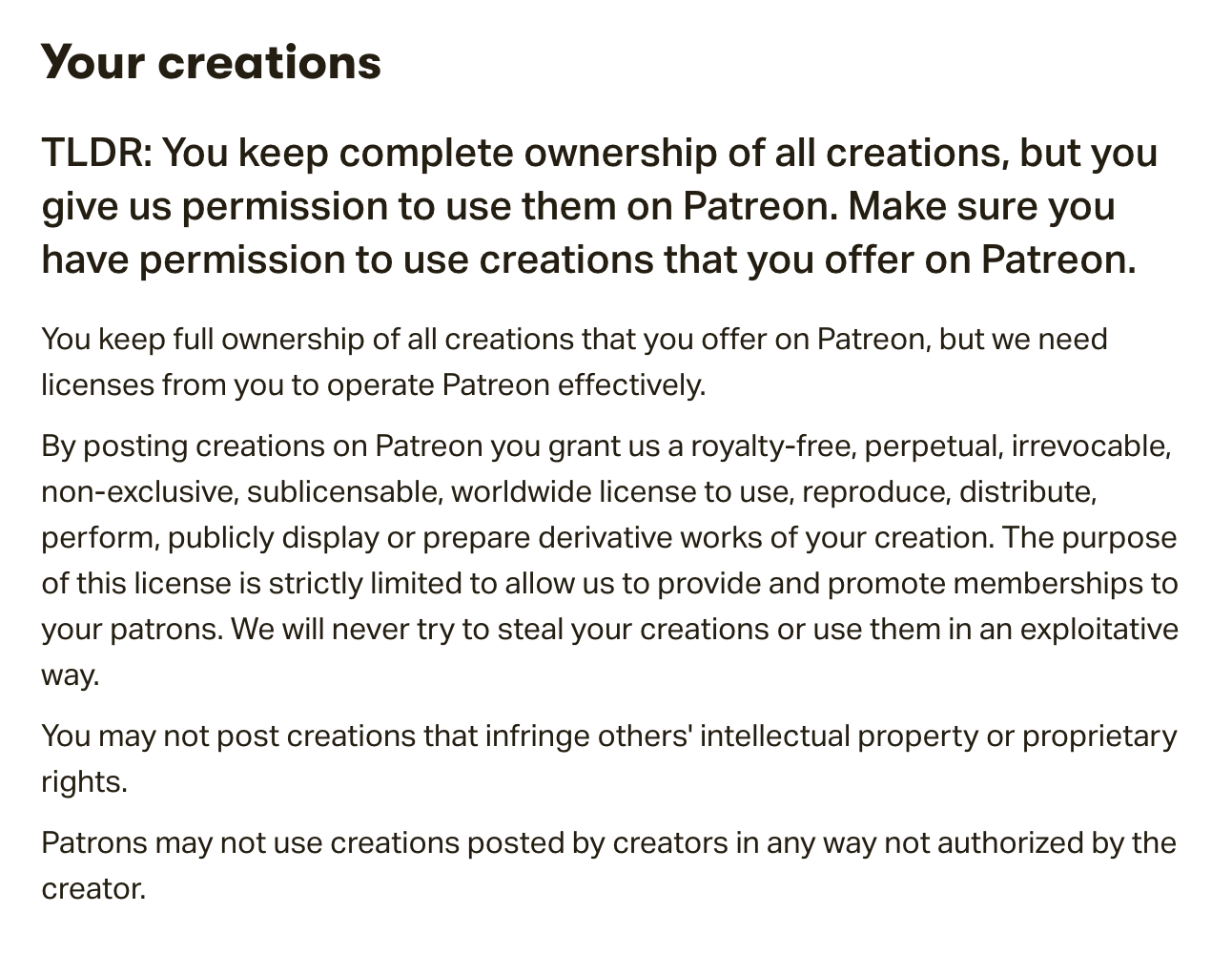 Patreon is a creator-founded company that understands completely the importance of retaining ownership over your creations. Creators should be downright skeptical of any agreement that seeks to share in or transfer any portion of ownership in your creations. We are definitely not attempting to claim any sort of ownership or control over your works.
Instead, this section is to ensure that Patreon has all necessary permission to upload, host, resize and display the creations of our creators worldwide. Like we say in the text, "The purpose of this license is strictly limited to allow us to provide and promote memberships to your patrons. We will never try to steal your creations or use them in an exploitative way."
The state of copyright law requires us to receive a comprehensive license in order to host the copyrighted works of our creators. Otherwise, our creators could sue us for copyright infringement for doing any number of normal things with their creations. If you review the terms of use for other content hosting sites you will find very similar licenses.
As to why we require the specific parts of the license:
royalty-free -

you can't ask us to pay you in the future if you decide you no longer want to have your creations hosted on our site.

perpetual -

once you post it on our site, we are not legally liable if a copy of it remains in our database even after you delete it.

irrevocable -

you can't post it, then change your mind and ask us to 'remove it or face legal liability.'

non-exclusive -

this is to ensure you can license it to anyone else you want to license it to

sublicensable -

we use all kinds of third party services to host our content. For example Amazon Web Services (AWS) hosts most of our data, we need to be able to sublicense the right to host your creations so they are protected from legal liability.

worldwide license to use -

if someone in another country loads

patreon.com

, we are not liable for copyright infringement.

reproduce -

we can make copies of this in more than one place in our database.

distribute, perform, publicly display -

these just cover different forms of showing your creations to patrons and internet users alike.

prepare derivative works of your creations -

if we do something as simple as resizing an image, that is creating a derivative work. When running a website there are tons of things that we do to slightly alter creations in various ways.
We hope this article allays any fear or concern that section of our terms may have caused. If you have further questions or concerns, please contact us at legal@patreon.com.