With a Vimeo Plus account (or above), Pro and Premium Patreon creators can upload gated videos directly in posts. This means your videos will be completely secure for your patrons, without the fear of content being shared or leaked via unlisted links. In addition, any video you post on Patreon will be securely updated to your own upgraded Vimeo account.

In this article, we will review:
---
To start using the Vimeo integration with your patrons today, subscribe to Vimeo Plus account (or above). If you don't have a paid subscription to Vimeo, sign up for their free 30-day trial for the Plus or Business plans and try it out.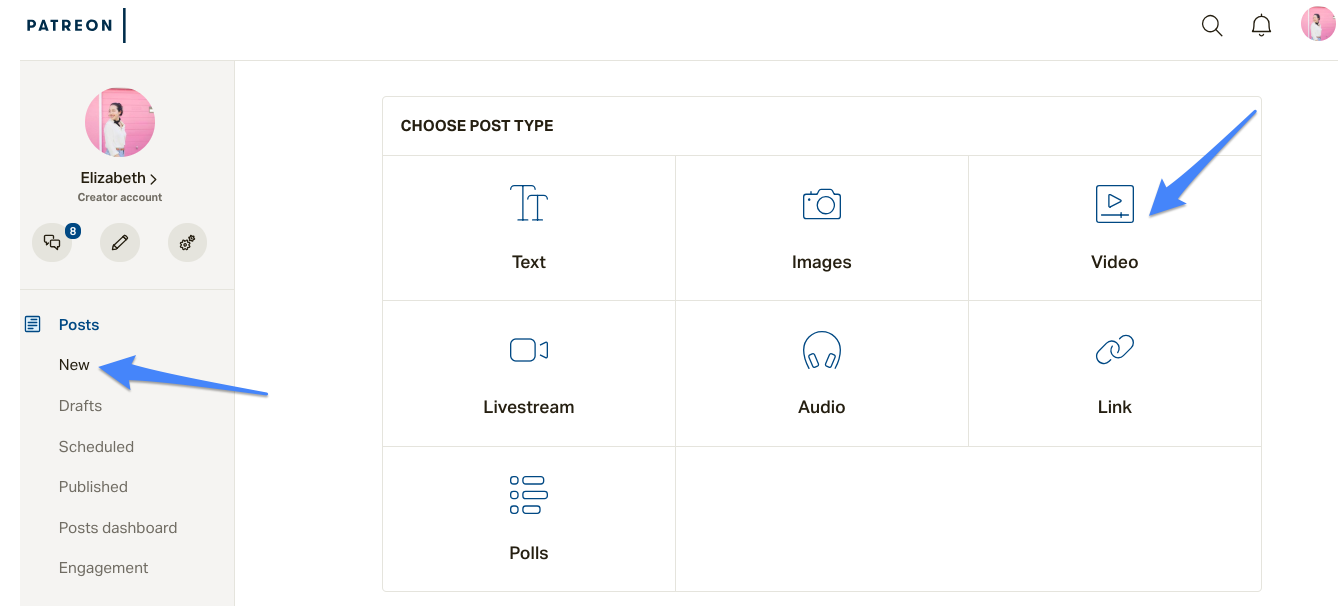 Step 2: You'll find an option to connect and select Vimeo.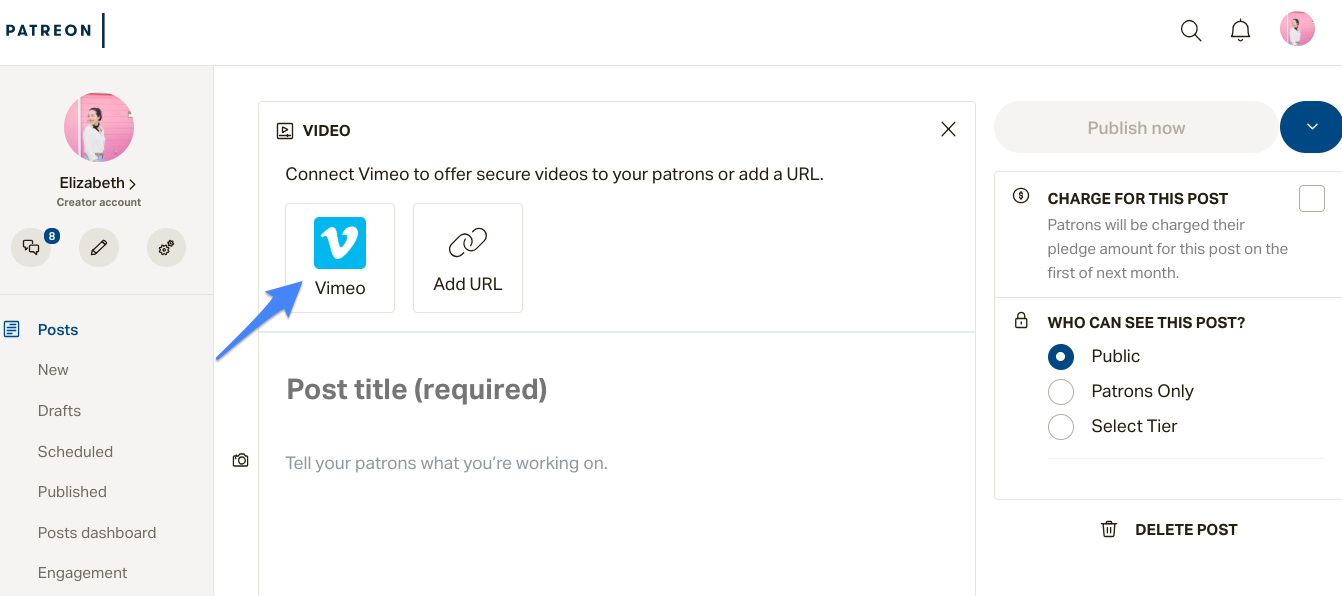 Step 3: Once you click Vimeo, you can log in to Vimeo (don't worry - you'll only have to do this once)
---
Step 1: After authorizing, you'll be able to upload a video directly to Vimeo from Patreon. Start by clicking the Upload to Vimeo button.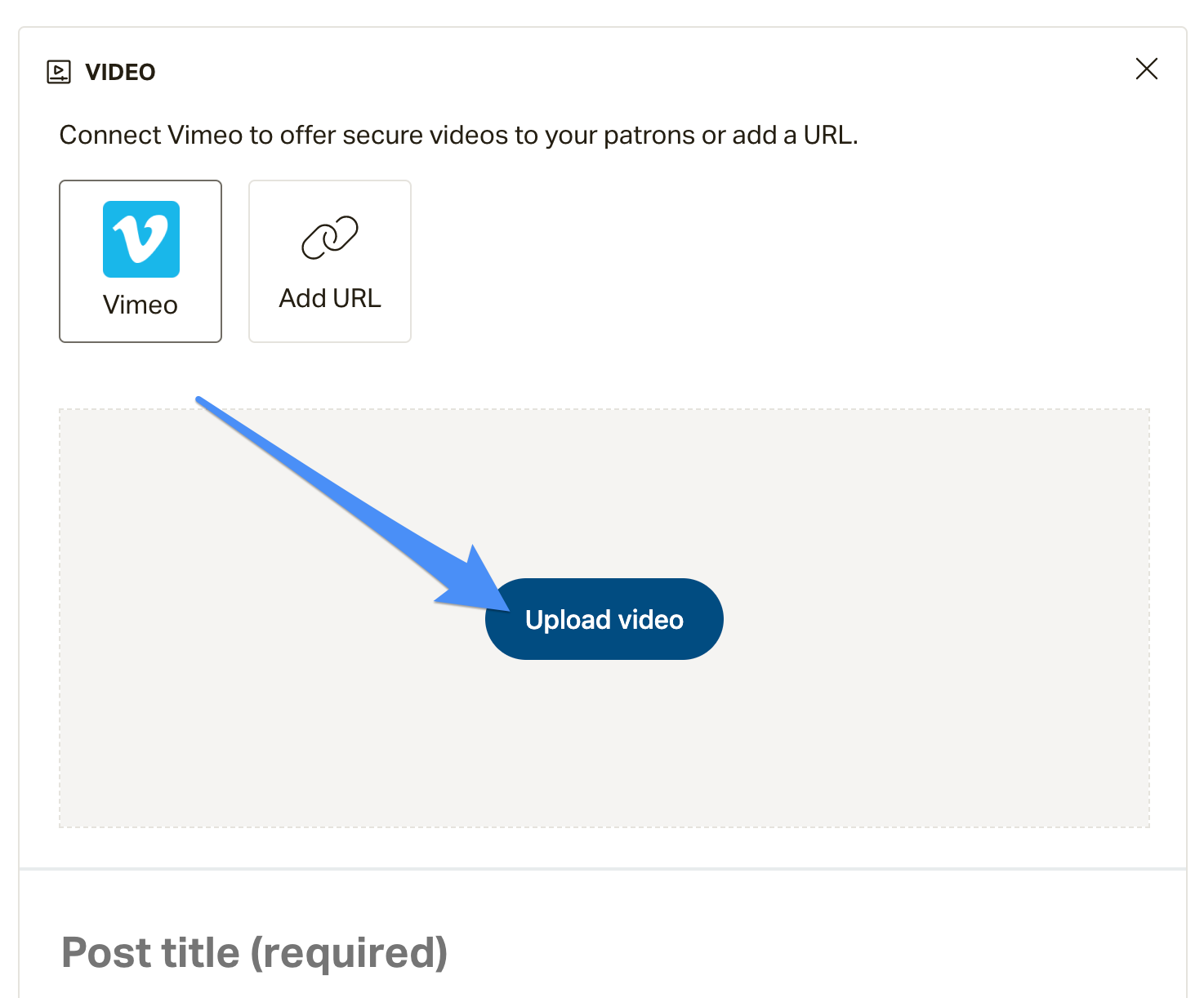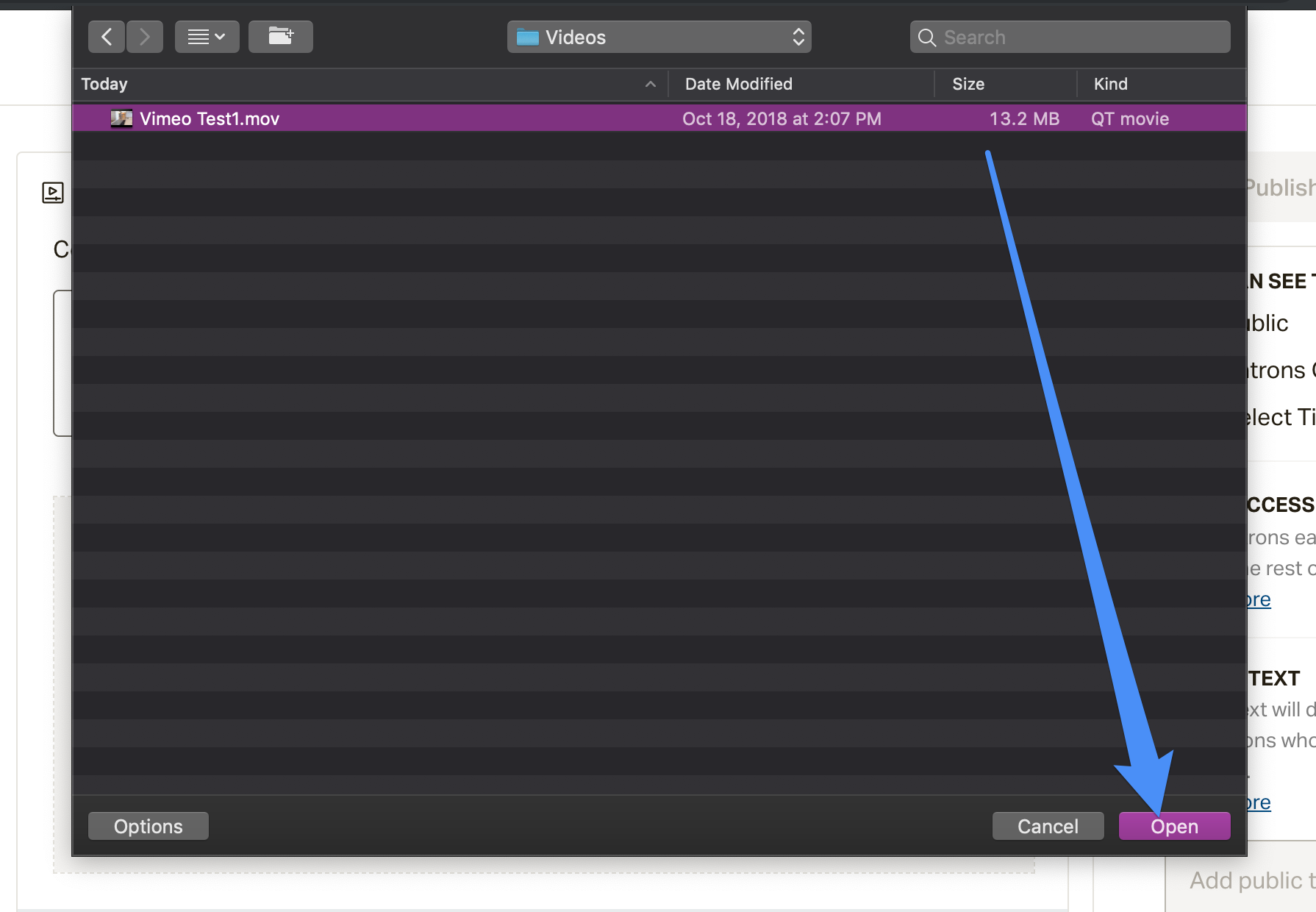 Step 3: The video will then upload directly to Vimeo from Patreon.

Important: Do not exit out of this window until the video is completely done processing. If you exit out, the upload will fail and you will need to start the upload process over.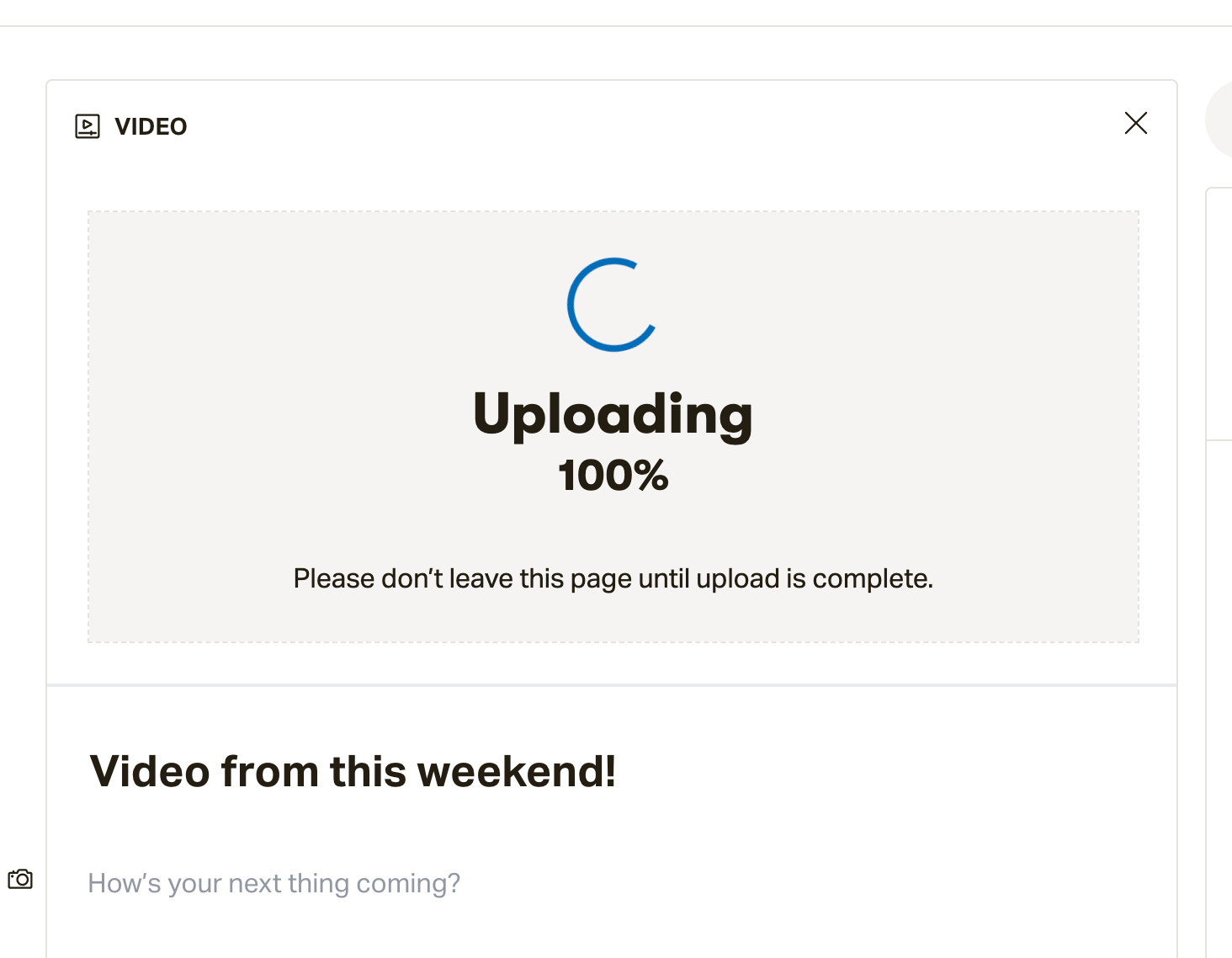 Step 4: Once the video is uploaded, it must be processed to generate a preview. At this point, you can wait for processing to complete, choose to schedule the post, which will automatically post at your chosen time once processing is complete, or save your post as a draft which will auto-populate with your video once processing is complete.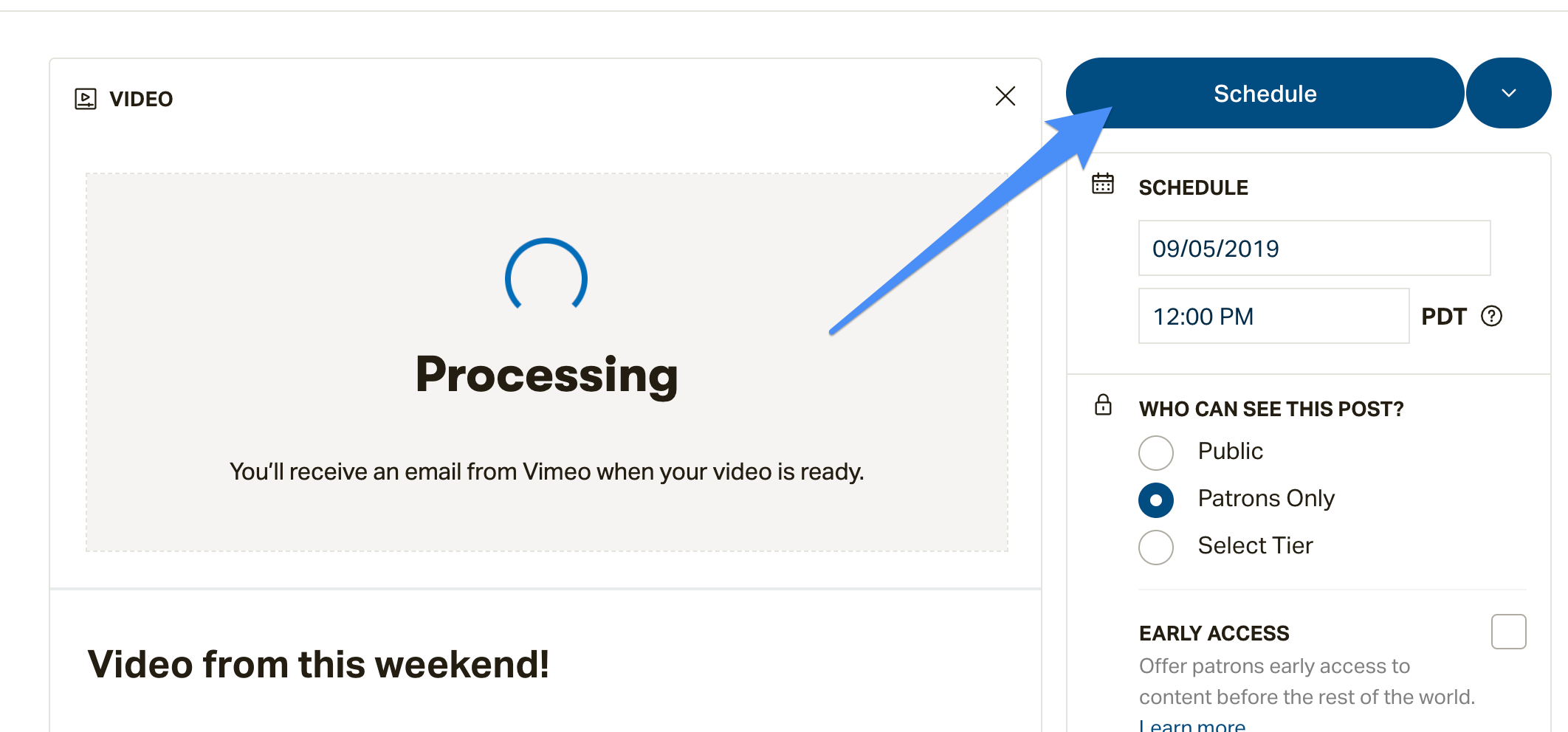 Step 5: You'll get an email notification if processing isn't done and you decided to publish or schedule the post to be published. If you decide to stick around and not queue up the post to be automatically published, you'll get an email indicating progress has completed and be able to preview the video.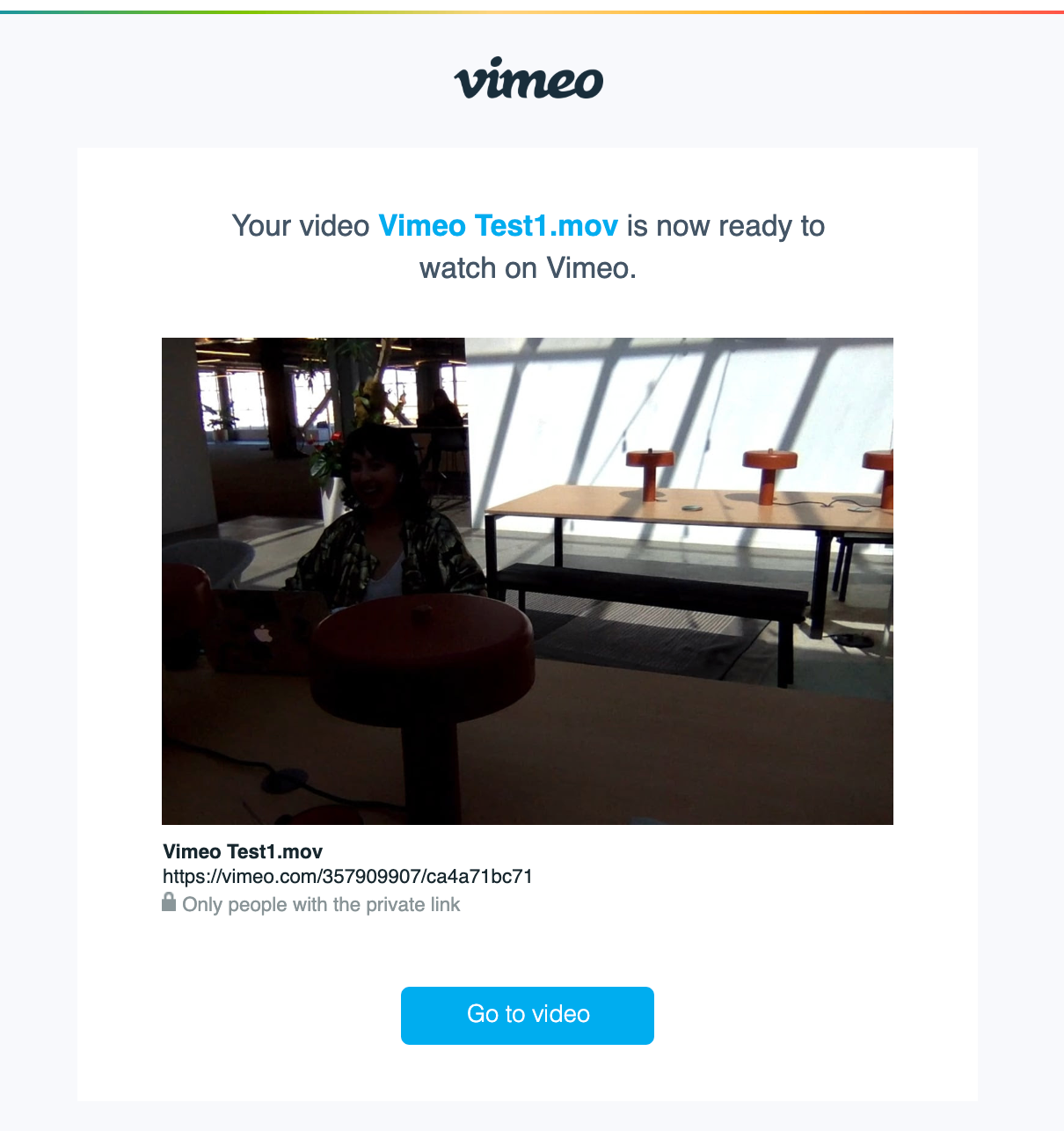 Step 6: Finally, the post is ready! You can post as you normally would and your patrons will be able to check the Vimeo video if they have access to the post based on their tier.
If you change the thumbnail for a video on the Vimeo side, it will also update to Patreon.
If you'd rather upload a video directly to the Vimeo side, copy and paste the video link into the textbox, it will whitelist the videos for your patrons in that tier if you have the Vimeo integration.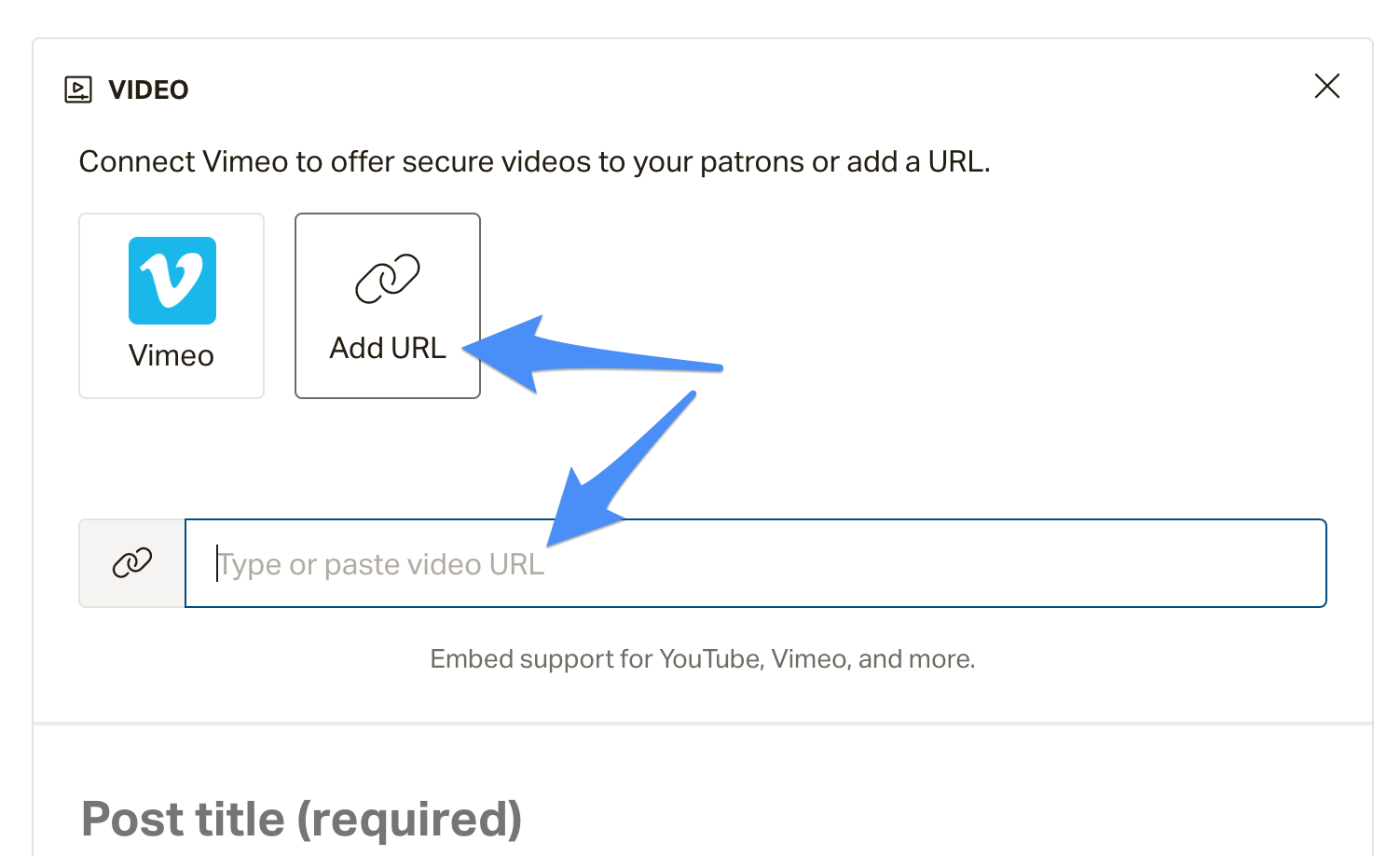 ---
To check on the mobile app, patrons must download the most recent version of the iOS and Android versions of the Patreon app. Download the Patreon app now.
Patrons, depending on which tier they're in, will either find a gated video preview or a fully unlocked preview of the video on your creator page.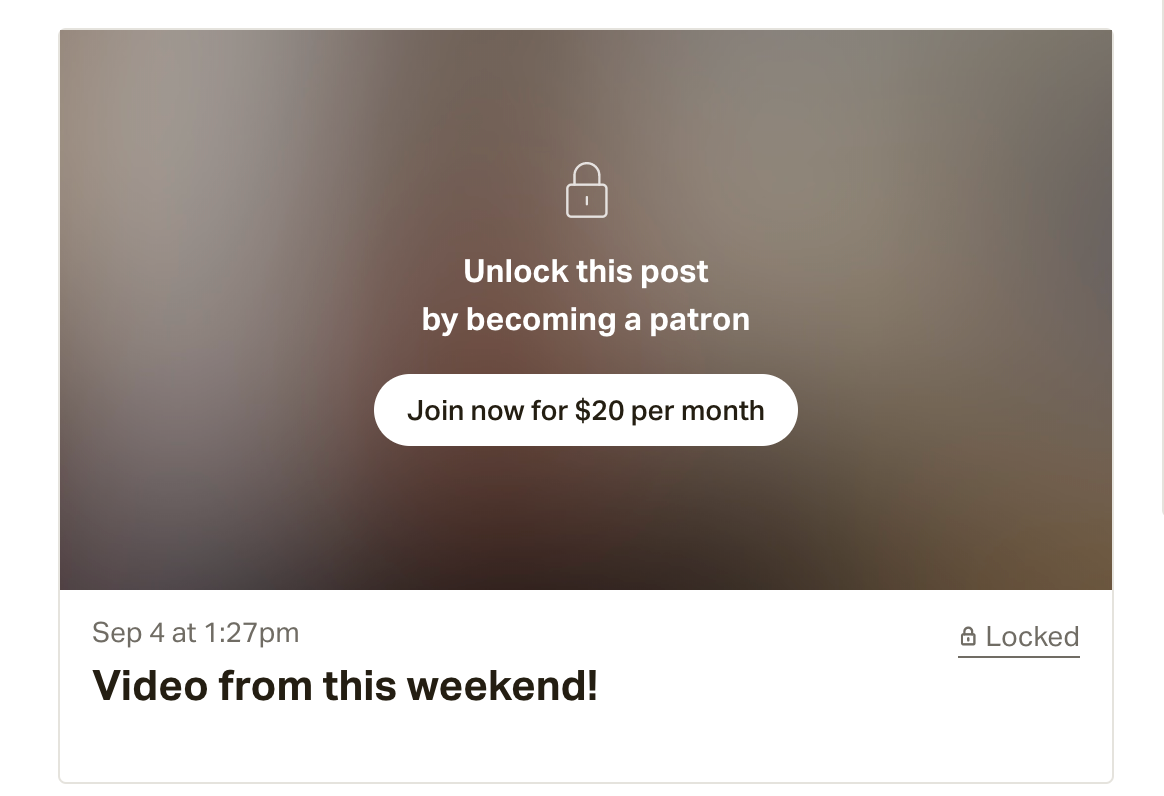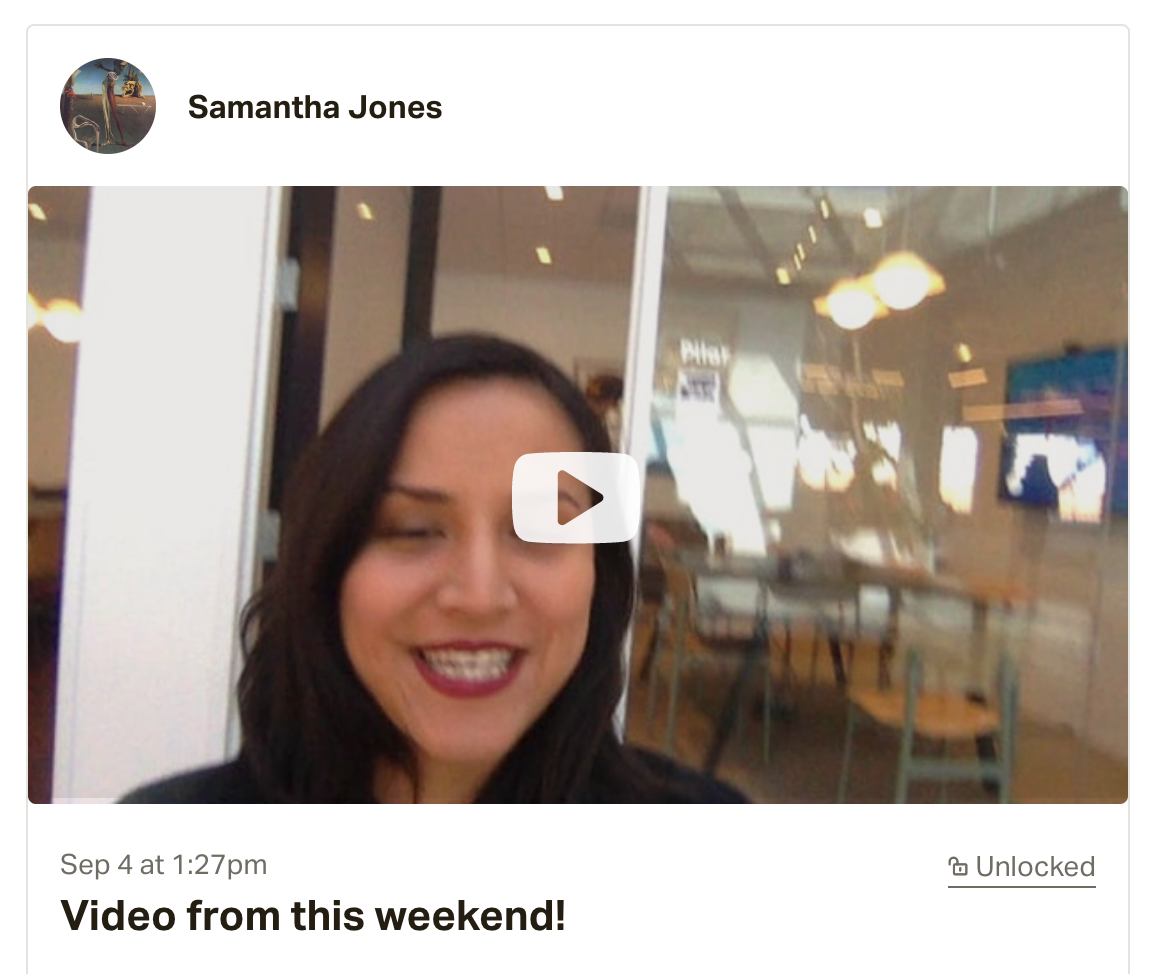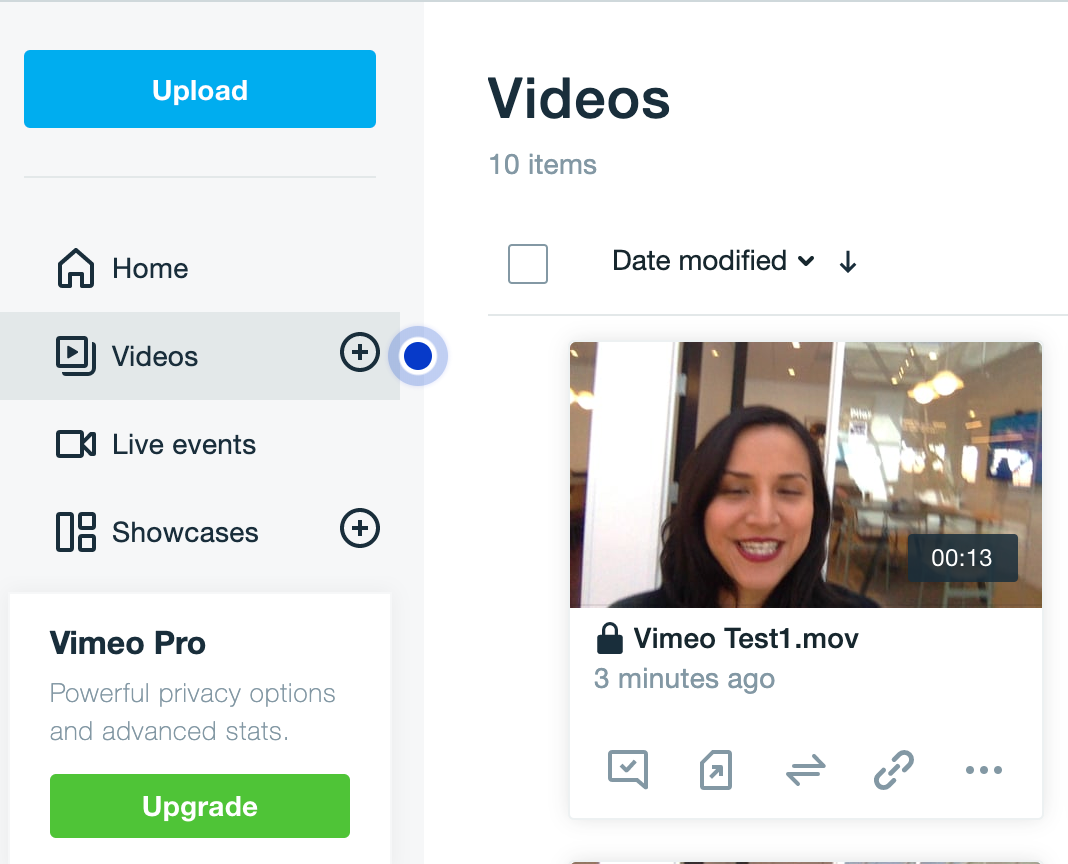 Patrons:
Since videos uploaded via Patreon will automatically be whitelisted/protected, these videos will not show up when a patron visits a creator's Vimeo page.


FAQ
---
Q: Do the videos I posted on Patreon using the integration take up space on my Vimeo account?
A: Yes. You'll find videos posted on Patreon in your Vimeo account. They'll be gated so that only patrons who can access a particular post can check the video.
Q: What should I do if posting with the Vimeo integration isn't working properly?
A: There are a few different troubleshooting steps that will likely clear up any issues with this integration. Please try the following:
Refresh the page

Disconnect Vimeo and reconnect

Try uploading directly onto Vimeo
Visit Vimeo.com and upload the video you want to post on Patreon. Then, make a post on Patreon by pasting in the link: "Video > Add URL." Your video will automatically be whitelisted.
Q: What happens if I end my paid Vimeo subscription?
A: Your videos will become private and you won't be able to check your previously posted content. In order to continue to access and post your private Vimeo videos, you need to have an active Vimeo subscription.

Q: What if I can't use Vimeo?
A: We recommend using YouTube if you are unable to use Vimeo. Learn more about How to share videos with Youtube. If YouTube, or Vimeo are not an option for you to host your videos, we have a recommended list of other Video hosting options that may work for you.