This article outlines key details about how multi-currency on Patreon works, how we're converting prices into new currencies, and the audience and patron experience.

You can skip ahead by clicking the links below:


Key things to know
---
Audiences who visit your page have your tiers priced in their choice of

supported currencies

. Patreon converts your tier prices into the audience's preferred currency. Visit this help article for more information: Patreon's supported currencies

When receiving a pledge in a different currency than your payout currency, Patreon charges you a 2.5% currency conversion fee.

Existing patrons who are already paying in your payout currency are not required to change anything at all.
How your tier prices are converted
---
Preview Tier Prices
You can preview your tier prices in other currencies in the tier editor by clicking the preview link right below your tier price.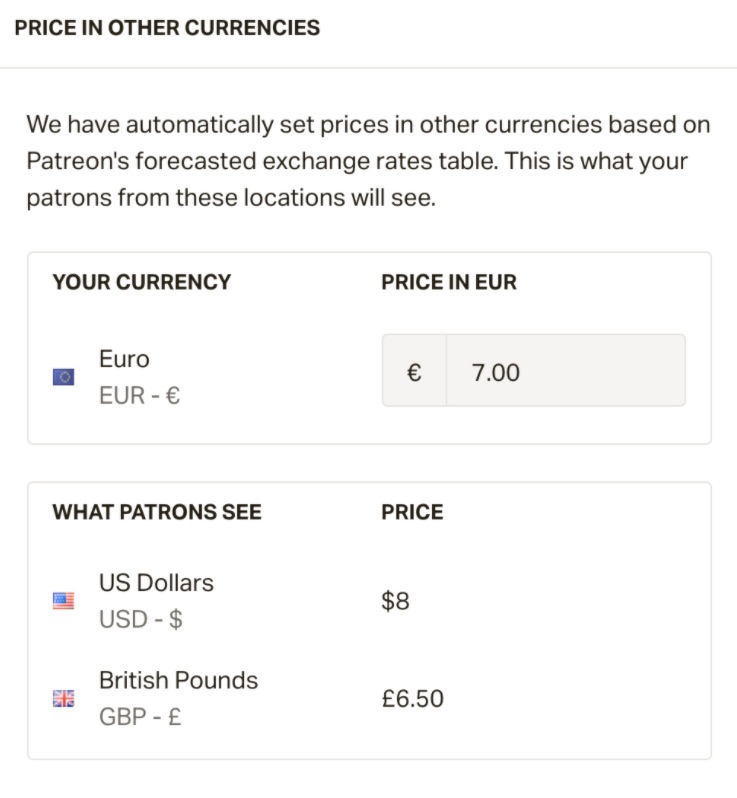 Previewing your page in different currencies
You can preview your public page and tiers in any of the available currencies. To do so, from your Creator Page click the button to view your public page. Scroll to the footer to view a Currency Selector next to the Region Selector, clicking the Currency Selector will allow you to choose which currency your page is previewed in. This is only visible to you and will not change any other creator or patron settings.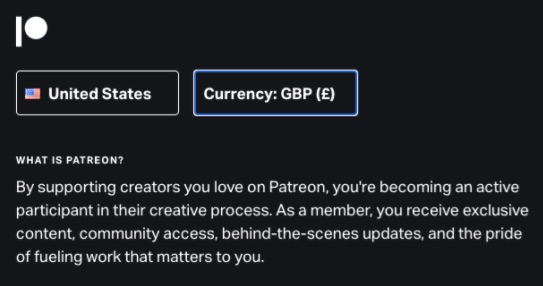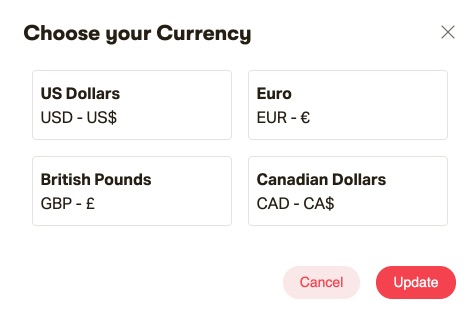 ---
To make your earnings easier to track, all of your earnings dashboards will show amounts in your payout currency, regardless of your patron's pledge currency.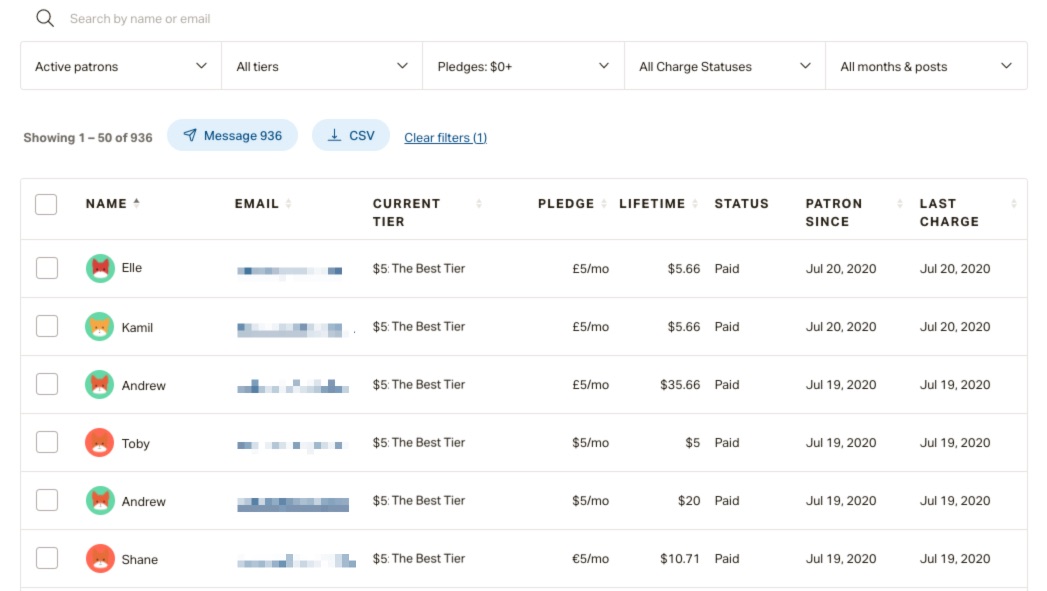 Patron Relationship Manager will display the patron's currency in their pledge amount. This is also detailed in the individual patron information, but each patron's Lifetime Value and the amount you receive is shown in your currency. Similarly, when you download your CSV report from Patron Relationship Manager, this will show amounts in your payout currency.

For more currency detail, you now have access to a CSV in your Income Dashboard with a row per patron payment breaking out basic earnings information, plus:
Patron amount and currency charged

Patron tax amount/currency

Daily exchange rate

Creator earnings

Currency conversion fee
To download this CSV, head to your Earnings dashboard and then in the top right of the screen click the "Download Detail CSV" button.

Existing patrons who are already paying in your payout currency are not required to change anything at all. Their pledge remains stable. However, if they prefer to switch to another currency, they have the option to do this by editing their pledge in the Manage Memberships tab of their dashboard.
Click here
for more information on the patron experience: Patron currency settings on Patreon



---
How is my tier price converted into other currencies?
What happens to the difference once it's rounded?
The rounding difference goes to the creator.

This fee is to cover the cost of Patreon handling the currency conversion. Currency conversion fees are commonly charged by any company converting currency such as payment processors, banks, or other platforms that process payments as part of their business, for example
Etsy
, or
PayPal
.

I'm not in the US and Paypal/Payoneer already charge a conversion fee. Will I be subject to both fees?
For creators in the UK and EU who are interested in switching their payout currency, in order to avoid being subject to additional conversion fees on your balance, we'd recommend waiting to opt in until we roll out the ability for creators to change their payout currency to GBP and EUR. We expect this to be available in the next couple of months.

Will I be notified if a current patron changes their currency?
To avoid inundating creators with notifications, we do not notify you when a patron changes their currency. You can check the currency choice of your patron in Patron Relationship Manager by downloading the .csv available to you.
How will my audience and patrons find out about newly available currencies?
We recommend letting your audience know about the ability to pledge in their local currency where supported. We've compiled some suggested messaging you can use to share a post with existing patrons, as well as some suggestions for how to message this across your socials.


Sample post or message copy
Post title: Pledging in your local currency
Hi everyone,
I want to share a reminder that you can pledge to my Patreon in your own local currency where supported. This will help prevent you paying extra conversion fees from your bank or card when pledging in a currency that's not your own.
Any new visitors to my page will see my tiers priced in their local currency if it's supported. For those of you who would like to switch your preferred currency you can follow these steps:
On

Patreon.com

, hover over your avatar in the top right of your screen.

Click Manage memberships.

Find this page, and click Edit.

Under Currency, choose your preferred currency.

Click Update to save your settings.
For those of you outside of these support currencies, you'll continue to see your pledge priced in my currency.
Check out this help center article if you have questions about changing your currency.