The Patreon app helps creators stay connected with their members and manage their Patreon on the go. With the app, you can create and share your work, chat with your members, monitor your business stats, and more.
To get started, download the latest version of the Patreon app for your device:
The app has a bottom menu that lets you access different features. In this guide, we'll show you how to use each one and how to make the most of the Patreon app as a creator.

Make sure you follow this guide while in your creator profile. Tap your profile picture in the top right corner of the home screen to use the profile switcher. This switcher button allows you to adjust your view of the app between creator view and member view.
Overview
When you log in, you will land on the Overview tab
where you can review your latest business stats and changes to your member list.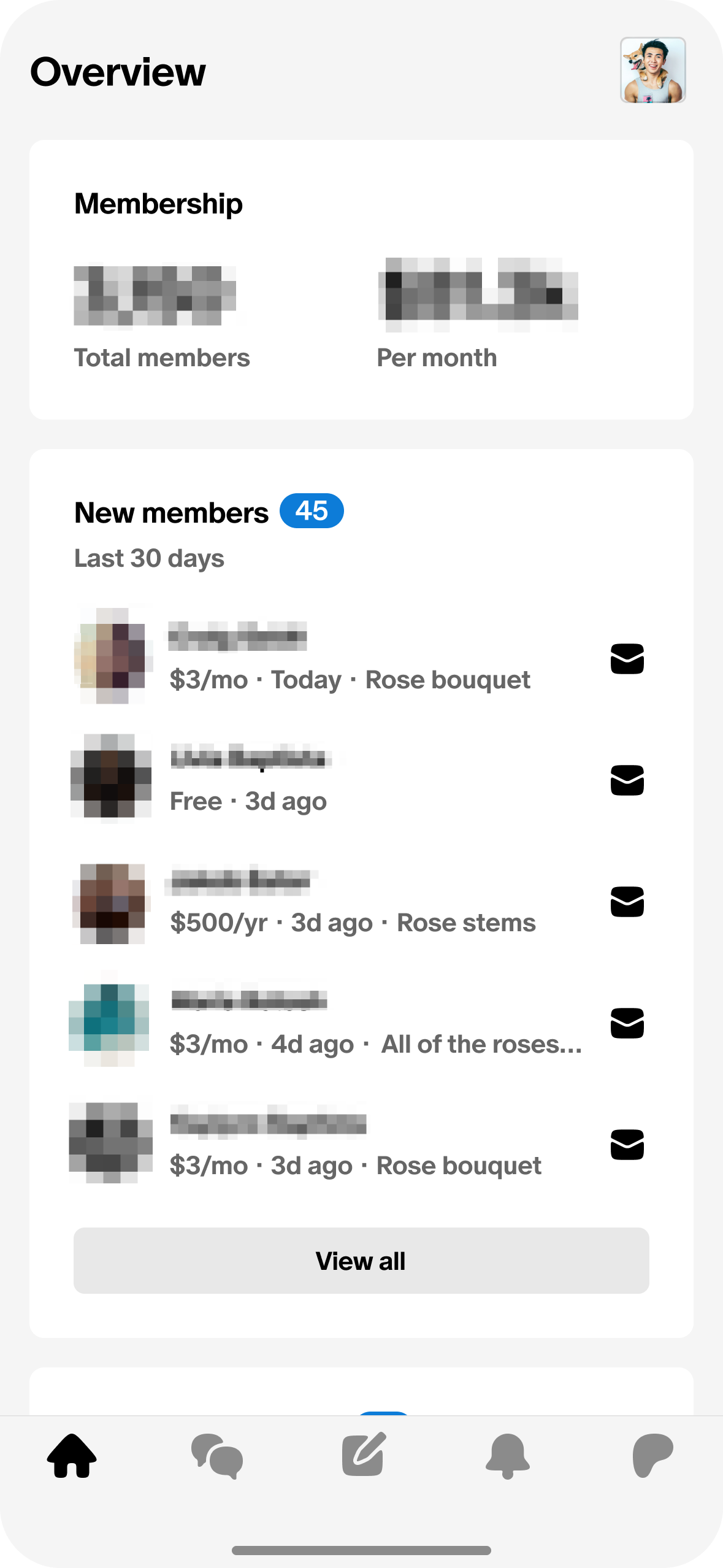 The overview screen is where you'll find your essential business stats, including total members and an estimation of your earnings per month. You'll also get updates on new and canceled members. You can welcome new members by sending them a direct message. Tap the envelope icon next to a member's name on the Overview tab to start composing a direct message.
Creator profile
To access more actions from the Overview tab
tap on your profile picture in the top right corner. This will open a menu with several options:
Switch to member profile




This is the profile switcher where you can alternate between member and creator profiles. If you are on your member profile, you'll see Switch to creator profile instead

Settings

This is where you can access your creator account settings. From here, you can:

Check the email you are using on your Patreon account

Enable your Full public profile

Enable or disable your Community profile

This is also where you can consult our Terms of Service and Community Guidelines

Support
The support screen is where you can consult our help center, submit a support request, and check the version and build of the Patreon app you are currently using

Log out

Select this option to log out of your Patreon account
Communicating with your members
The Community tab
in the bottom menu bar is where you can engage with your members in different ways. You can use the chat feature to start group conversations with your members or the direct messages feature to send individual messages to your members and customers.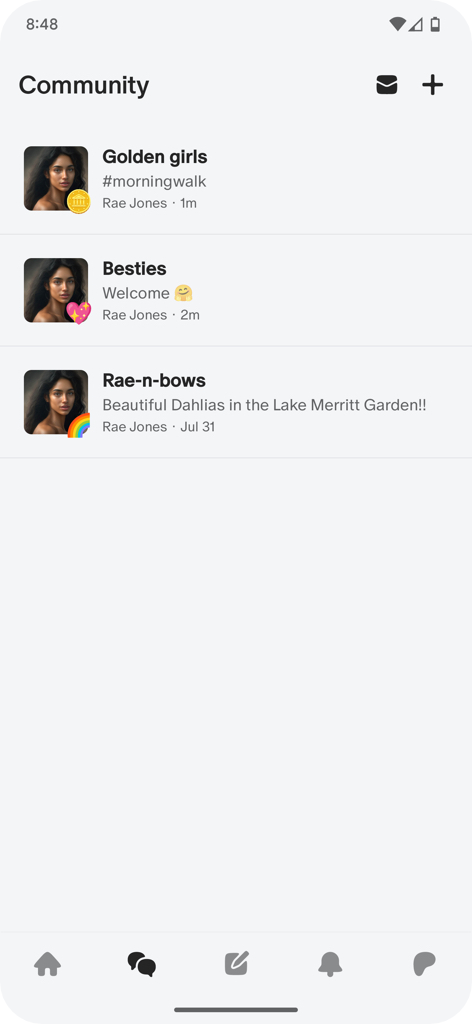 Chat with your members
A community chat is a space for group conversation among your Patreon community, helping you foster deeper connections among your members and allowing them to build relationships with one another.
Tap the Community tab in the bottom menu bar
You'll land on the Chats screen – If this is your first time creating a chat, you'll need to agree with the chat guidelines
From here, you can either tap on the + icon to start a new chat or tap on any existing chats to view and send messages to any existing chat
You can customize your community profile by tapping on your profile image after engaging with a message and tapping the three dots

menu > Edit profile

Learn more about how community chats work for creators.
Message your members and customers
From the Community tab
also have the option to check your creator inbox and message your members and customers directly.
Tap the Community tab in the bottom menu bar
To access your direct messages, tap on the Inbox tab in the top right corner – this will take you to your inbox, where you'll find responses from members and any new messages from members who have reached out directly to you
You can tap on an existing message to see a past conversation or tap on the + icon at the top right corner to start a new message thread
Creating a post
Creating posts is easy and convenient with the Patreon app, so you can create and share content with your members on the go.
​​Tap on the Make a Post tab from the bottom menu bar
You can create a text post, upload an image or video from your phone camera or phone library, or embed a URL
When typing the description of the post, a text formatting menu will appear at the bottom – From this menu, you can select different formatting options for your description or tap on the image icon to add an inline image
When you're happy with your post, tap Next, and this will take you to the Post Settings, where you can further edit your post – you can edit things like who can see this post, and you can also add the post to a collection
You can Publish, Schedule your post to publish later, or exit the post editor. We'll save your progress in Drafts if you exit
Viewing and Managing your Notifications
You can quickly check and manage your notifications by tapping on the Notifications tab

from the bottom menu bar. You will see a list of all your in-app notifications, ordered chronologically and separated between New (unseen) and Earlier (Already seen).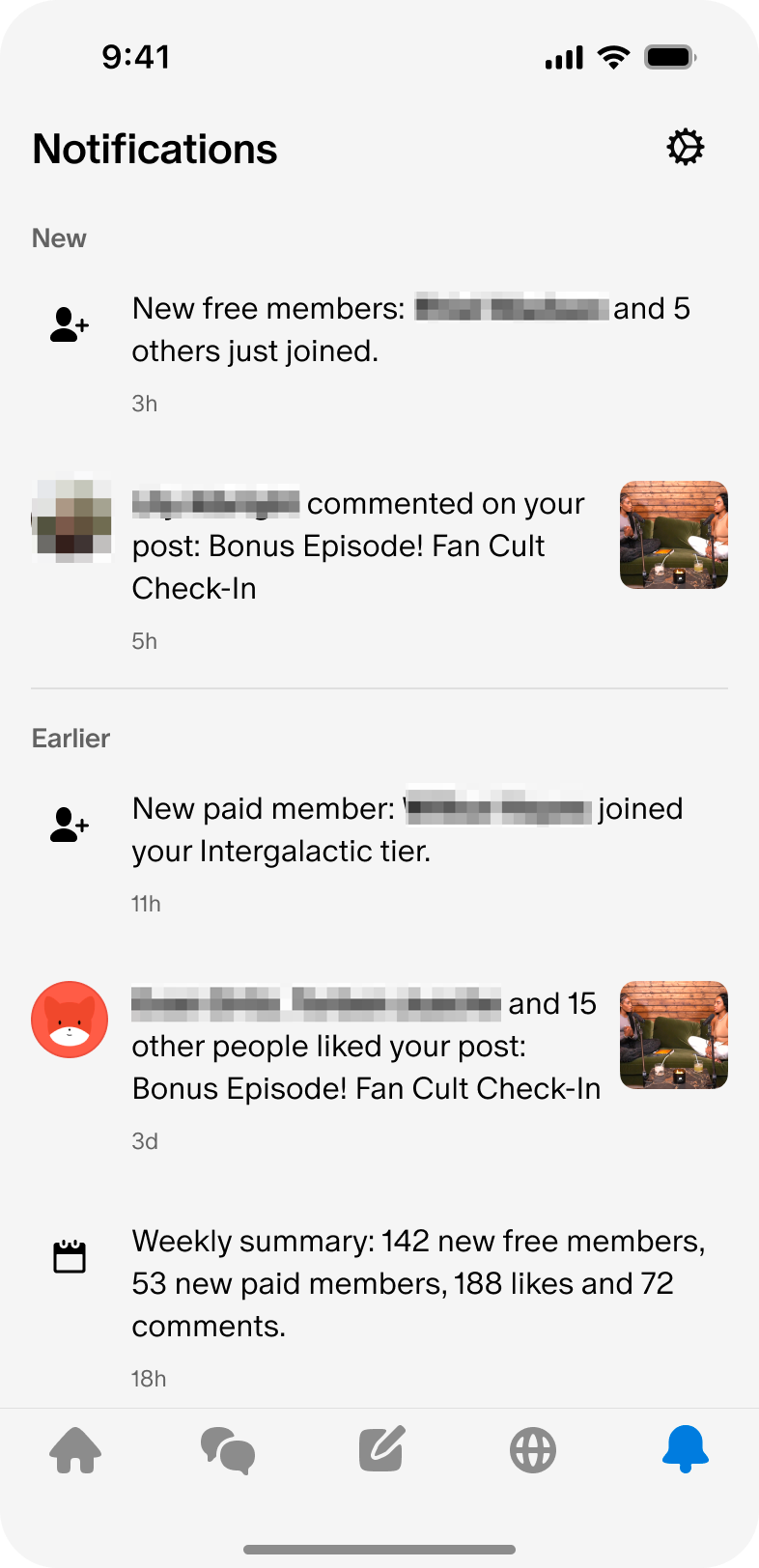 Notifications are aggregated daily and by the actions taken by members. For example, you'll receive one daily notification for all new members who joined that day. You'll also receive daily notifications for individual posts that your members engaged with (i.e., likes or comments).
Tap on a notification to review post engagement, respond to comments, directly message new members, or keep the conversation going in chats.
At the top right corner, you'll find a Settings tab

where you can review your email and push notification settings.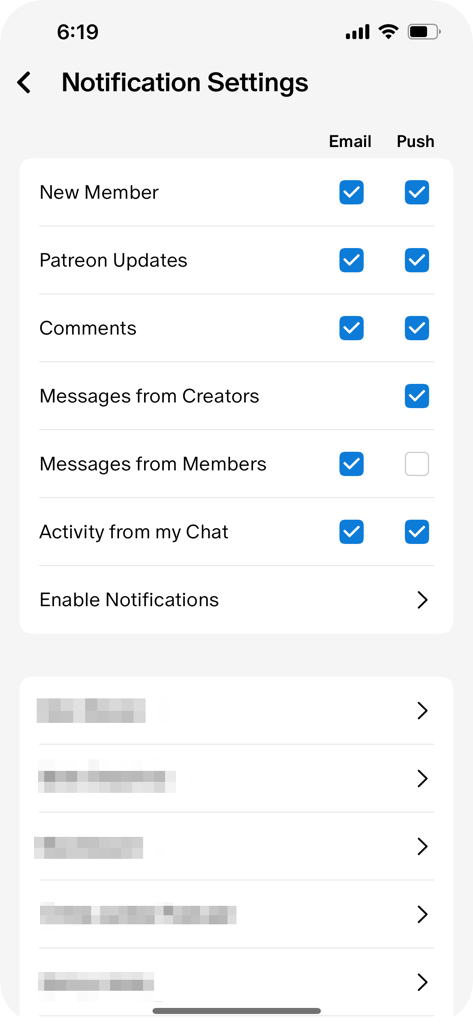 Viewing and managing your page
By tapping on the Self view tab

at the bottom menu bar, you can view your Patreon as a member would see it. This view allows you to view your own Patreon page, so you can manage your posts, pick up where you left off on drafts, schedule a post, and edit existing posts. This view makes it easy to see how posts, comments, and chats appear to your members.
In the self view

you'll land on the Home screen for your page. From here, you can see what your members see and access your Collections, Chats, and more.
If you're looking for a specific post, you can search and filter through your posts by tapping on the search

icon in the top right corner.
By tapping the three dots

at the top right corner, you can check your About screen, Share your Patreon with fans, and get your Audio RSS link.
Comments and Likes
Tap the self view tab from the bottom menu bar to view your Patreon
From the Home screen in this view, you'll see all your posts listed chronologically by post date
Tap on the post you want to interact with to comment or like that post, or to read and reply to member comments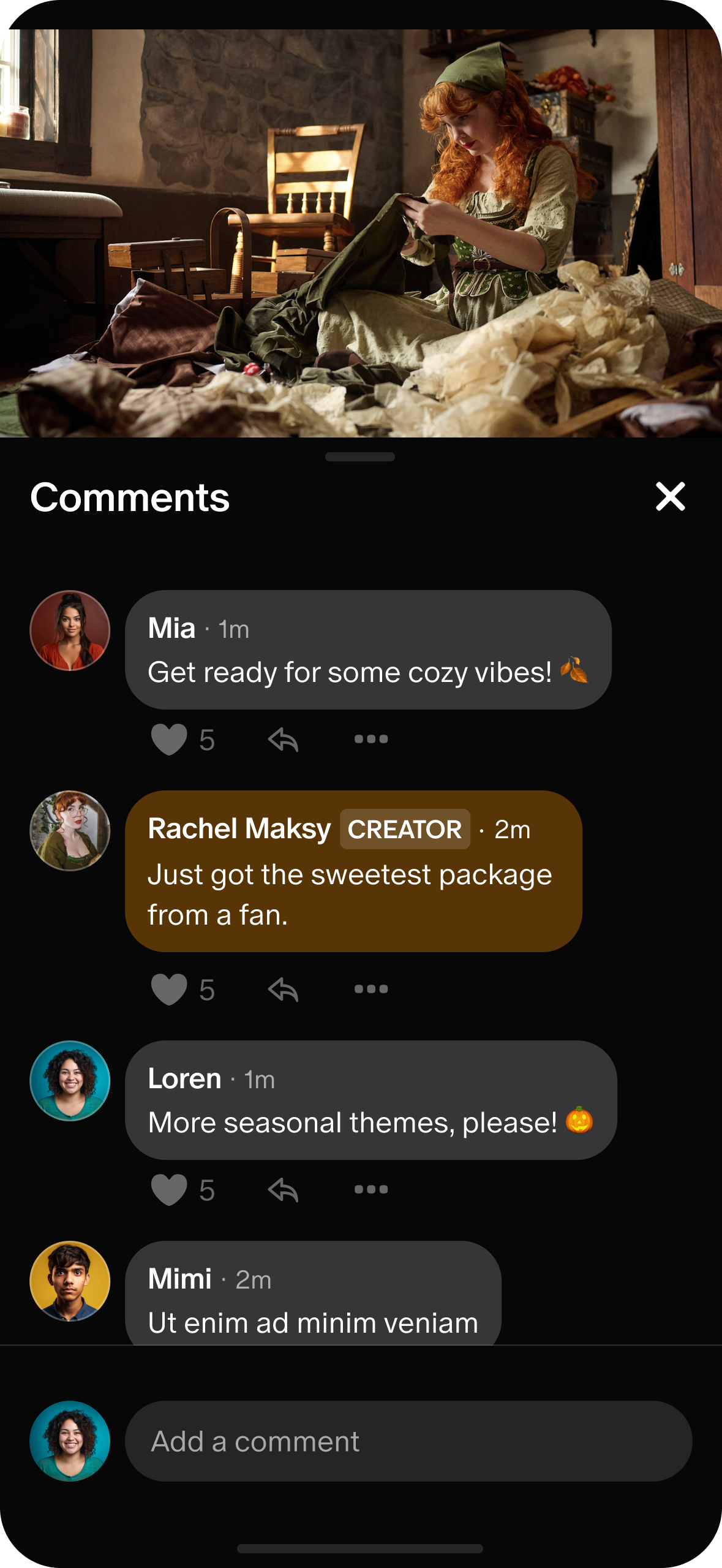 Manage posts
Tap the self view tab from the bottom menu bar to view your Patreon
Tap the Manage posts button at the bottom of the screen to view your list of Published posts, Drafts, and Scheduled posts
Select a post from the list and tap the three dots in the top right corner of the screen for a menu of actions. You can Edit, Delete, Copy the link, or Share a published post
If you tap on a draft post, you can resume the process of creating that post from where you left off and publish it when you're ready
Dark Mode
Adjusting your mobile device settings in your phone to "dark" will automatically apply Dark Mode to the Patreon app on Android and iOS.
Choose your app icon (iOS)
Available on the latest version of the Patreon iOS app, creators and fans can now select a version of the Patreon app icon that best represents their style. Here's how to customize your app icon on iOS:
From your Home screen tap on your profile image in the top right corner
Tap on your Settings
Tap on Choose your app icon
Browse the selection and tap on the one that resonates with you