VAT on Patreon is determined by the country of residence they've selected in their Profile settings or by the patron location at the time of making a subscription.

This article covers general sales tax that applies to memberships purchased by patrons located in the EU. If you are located outside of the EU, please visit this help center article: Patreon's Sales Tax Requirements outside of the EU

To learn the basics of VAT, we first recommend checking out these helpful starter articles:
How does Patreon handle VAT?
---
This is general information on VAT and how we handle it on Patreon. For more info and advice on your specific situation, we recommend you talk with a tax advisor or local tax authority.
VAT (Value Added Tax) is a consumption-based tax that's assessed on the value added to goods and services -- including digital. It's charged as a percentage of price (so on Patreon, a $1.00 pledge with 23% VAT will have a final cost of $1.23).


Starting in 2015, the European Union changed regulations for how VAT is calculated on sales of digital services. It is now determined by the location of the consumer, not the location of the business. This also applies to independent content creators like the ones on Patreon.


Beginning in 2020, the list of jurisdictions in which Patreon is collecting VAT (or GST, or QST, or Sales tax, etc.) has expanded and can be found here.


Instead of putting the burden on Patreon creators to collect and calculate VAT chargeable to eligible patrons, Patreon will handle it. We will automatically present and collect VAT at the applicable rate from eligible patrons, and we will also take care of the filing and remittance of VAT payments made by patrons for eligible digital services and goods provided by our creators through Patreon. Creators, your patrons' payments, and your account balances listed on Patreon will have VAT chargeable to patrons for digital services already deducted.


For creators based in the EU and elsewhere, you will not need to remit VAT charged to Patrons for digital services on your Patreon page because we are handling that for you. If your rewards include physical goods or other things besides digital services we recommend you consult with a local tax advisor or local tax authority for information on the VAT due for those goods. We also recommend that you consult with a tax advisor or local tax authority to confirm that by using the Patreon platform you will not be required to register for and collect VAT.


So in short -- creators, don't worry about collecting VAT from Patrons -- we've got you covered and are handling everything automatically, behind the scenes.


Here's an example of how VAT will be listed for France-based patrons before they confirm their membership: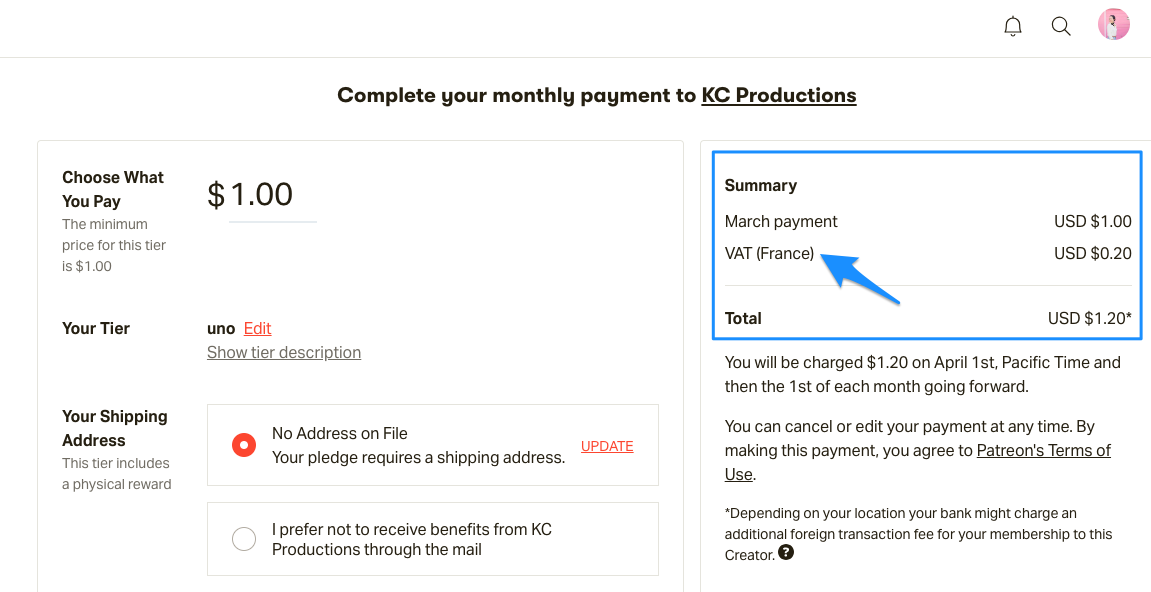 How can I find out how much VAT I pay?
The following table provides the VAT rate that each EU-based country requires (this list is not exhaustive, please speak with a local tax advisor on the VAT for your specific country)*:
| | |
| --- | --- |
| Country | Value-Added Tax Rate |
| Austria | 20% |
| Belgium | 21% |
| Bulgaria | 20% |
| Croatia | 25% |
| Cyprus | 19% |
| Czech Republic | 21% |
| Denmark | 25% |
| Estonia | 20% |
| Finland | 24% |
| France | 20% |
| Germany | 16% |
| Greece | 24% |
| Hungary | 27% |
| Ireland | 23% |
| Italy | 22% |
| Latvia | 21% |
| Lithuania | 21% |
| Luxembourg | 17% |
| Malta | 18% |
| Netherlands | 21% |
| Poland | 23% |
| Portugal | 23% |
| Romania | 19% |
| Slovakia | 20% |
| Slovenia | 22% |
| Spain | 21% |
| Sweden | 25% |
| United Kingdom of Great Britain and Northern Ireland | 20% |
Note: The VAT rate percentages listed above are based on information provided by the European Commission.

This article has covered some general information on VAT and how we handle it on Patreon. For more info and advice on your specific situation, we recommend you talk with a tax advisor or local tax authority.


What if I'm required to keep track of VAT my patrons pay?
---
We list the amount of VAT collected on your behalf on your creator taxes page.


Patreon is registered in the following jurisdictions, with the following registration numbers:
EU VATMOSS - EU372009942
Australia - ARN 300017729371
Belarus - 102399453
Canada (Quebec) - NR00014222
Iceland - 138338
New Zealand - Pending
Norway - Pending
Russia - 9909568799
Singapore - Pending
South Korea

- 572-80-01729

Switzerland - Pending
Taiwan - A030930804
Turkey - 7230798911
While Patreon will report and remit all funds collected from patrons to the home country/state of the patron, please check with your local authorities for information on any local filing requirements you may have as a creator.

Some jurisdictions may require that you report the location of your patrons.
You can edit your benefit tiers to require new patrons to provide a shipping address. This will allow you to know where new folks are coming from. Here's our guide to help you start collecting patrons' shipping addresses: Guide to get patron shipping addresses

Patreon does not have a way to provide the reports to you after the fact.

I shouldn't be charged VAT, how do I delete it from my pledges?
"U