In this article, we want to help you make the best settings for VAT, JCT, GST, QST, and Sales Tax. These settings do not affect your fees or payouts but they may help some of your patrons based on their locations. We'll go over: General information about Advanced Sales Tax Settings, Accessing and Using the Settings, Advanced Sales Tax Settings frequently asked questions, Other Sales Tax questions.
If you haven't read up on the new sales tax requirements on Patreon, you might want to do that first (read: Patreon's Sales Tax Requirements) before you dive into the advanced sales tax settings. If you're ready to learn about the advanced settings, read on!

In this article, we'll go over:
There are two steps you need to complete on each and every one of your tiers to finish the process successfully.
Step 1: List your Benefits
List all the benefits you offer on that tier by selecting each one from the drop down menu or entering details manually. This step only applies to tiers that were created before May 20, 2020. Tiers created on or after this date have a new tier builder that has this step automatically built in, to make this even easier. Once you've used the Advanced Sales Tax Settings to list your benefits on an existing tier and saved your work, the next time you edit that tier you will use the new tier builder that has the process of listing benefits built into the flow.
Step 2: Adjust benefit value
This step only applies if you have at least 2 benefits in a tier. This is where you tell us how much each benefit in that tier should be valued for sales tax purposes, using percentages. For example, if you have 2 benefits in a tier, you might decide that they are both equally valuable, and set them each at 50% of the tier's value.


Not all benefits are taxable in all regions. By giving us more detail about the unique benefits you're offering, you allow us to be more accurate about applying tax only where absolutely required. The settings allow you to choose from common benefit types or create a custom benefit if what you offer is not listed. When you're finished with this step, we'll have a clean, organized, and detailed list of what you're offering in each of your tiers in our database to make it possible for us to charge the most accurate, and in many cases, the lowest amount of sales tax possible for your unique membership. You can update this at any time and our sales tax logic will update along with it.
IMPORTANT: Listing "General Support" as a benefit
If your patrons are at all motivated by the idea of supporting your work, alongside or instead of wanting the benefits or content you provide, you can account for that fact in your tax settings. Pledges with the purpose of support are not taxable in some regions, but tax law cannot be applied based on your patrons' intentions. We can only apply tax law according to whether or not a patron is receiving something taxable in return for their pledge, and the value assigned to each thing.
If your patrons in one or more of your tiers receive no benefits, you should add General Support as the only benefit. That way we can consider those pledges to be support-motivated and we will not apply sales tax to them from patrons who live in the following countries: the US, Australia, Canada, New Zealand, Norway, and Switzerland. We are working hard to expand that list, but we have to obtain permission from taxing authorities in more countries.
If your patrons receive some benefits but they are also motivated by supporting your work, you should still add "General Support" as a benefit along with your other benefits. In Step 2, Adjusting benefit value, you will decide how much this support motivation plays a role in your membership. For example, if you have a tier that gets an exclusive video every month (taxable in most places), and has an element of support motivation (nontaxable in most places), you might determine those things are equally important to most of your patrons, and assign each item a 50% value. Then in the countries where support motivated pledges are not taxed, we will only apply sales tax to 50% of the pledge.


IMPORTANT: Some benefits are one-time gifts or giveaways. Set those to 0% value!
If you offer any benefits that patrons only get once after they join, or after a certain number of months, that should be considered a giveaway or thank you gift, like the tote bag you get if you support a public radio station. You can list that benefit, but set it at 0% value so it is not generally considered taxable.


Where do I find the Advanced Sales Tax Settings?
Advanced Sales Tax Settings are located within each individual tier you've created. Head to your Tiers settings page, and click Edit for each individual tier to access and use your tax settings.
Using the Advanced Sales Tax Settings
To customize your tax settings, follow the steps below. Patreon's CEO Jack Conte also made a great video where he demonstrates how to use the advanced sales tax settings: Learn how to use Patreon's advanced sales tax settings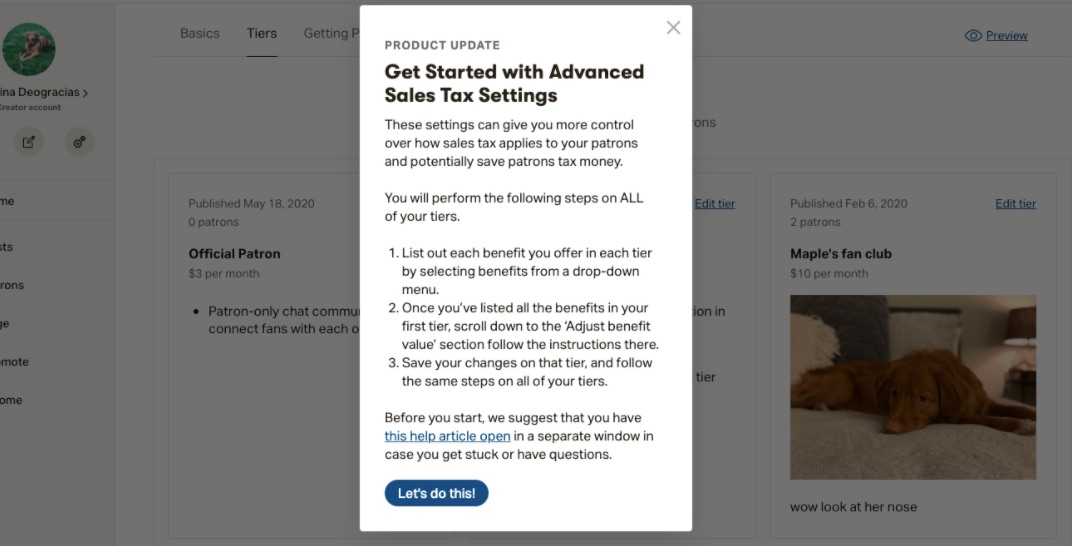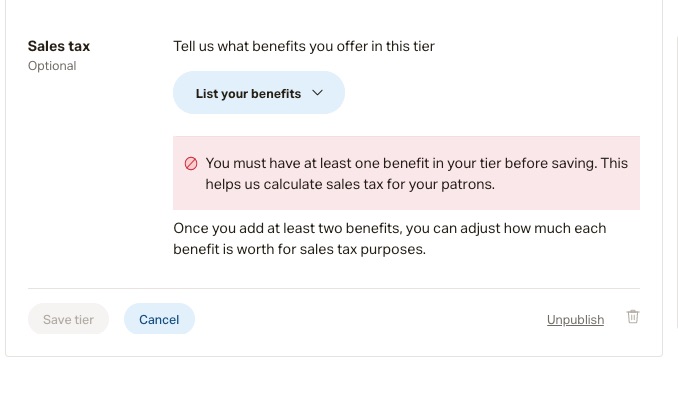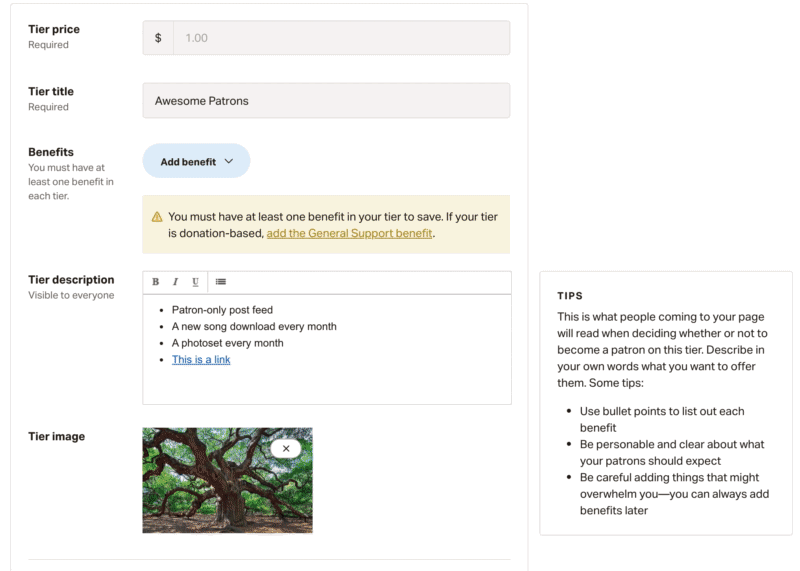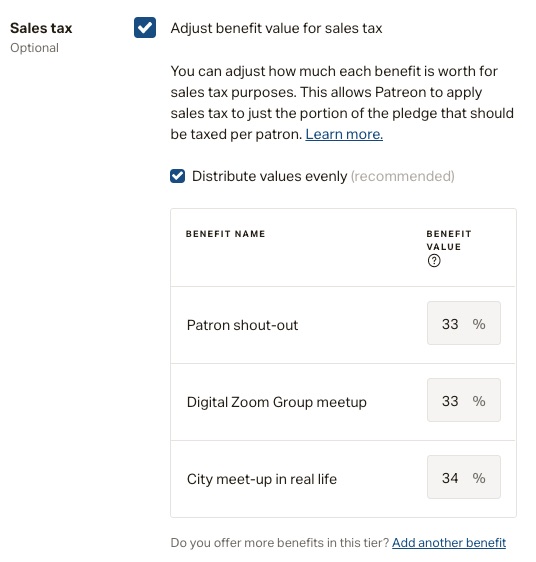 How do I determine what value to assign to my benefits?

What if I'm using Patreon's Merch for Membership product? How do I set sales tax settings?

I'm not sure which category to pick when listing my benefits from the drop down menu.

If I use the tax settings incorrectly, will I be liable for taxes?
I noticed that the amount of tax changed for one or more of my patrons. Why?
I don't believe my tier should be taxable, or I believe too much tax is being charged

What if I said there would be merchandise in a tier but then didn't send merchandise?

I want to issue a refund for sales tax you collected, how can I do that?
It is not currently possible to refund just sales tax. If you refund a patron, they will be refunded the full payment, including tax. If the patron is going to continue their membership, ensure they have set their accurate location in their patron settings. Encourage the patron to contact Patreon support and we can assist them in their sales tax concerns.

I am exempt from tax on my purchases (as a school, or Native American group, or other). What do I do?
Unfortunately, our system does not currently support this. However, please contact us if you would like more information.


Do I need to submit my own sales tax filings in all the places where my patrons are located?

Is the additional sales tax charged to the Patron reported on my 1099K?

What is Patreon doing to help?