Are you a patron of a creator who's enabled Audio RSS? If so, you should have received an email containing your private RSS link with the subject link, "Here are some rewards to go along with your pledge". 
If you can't find the original email, you can always get your RSS link on the creator's Patreon page. To find it, go to their Patreon page. From here, navigate to the 
"
Overview" section of the page. In that section, you'll find a card on the right side labeled
"
AUDIO RSS LINK."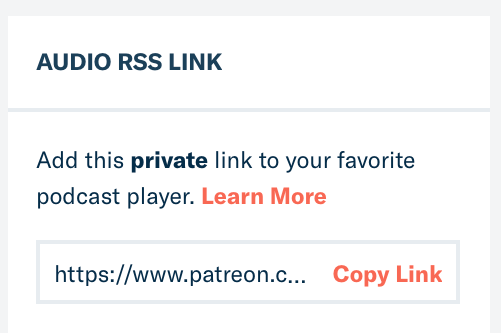 Click the

 

"

Copy link" button to copy the link to your clipboard, and paste it into your podcast app or RSS app of choice! You can now easily listen to your favorite creator's podcasts on the go! 
Note: Only audio posts that your creator has uploaded will populate in your private RSS feed. Video, and text posts will not appear in your feed. Additionally, audio link posts (like Soundcloud), will not appear in your RSS feed. Fear not, you can still access these posts by logging in on desktop, or on the app.