We introduced
Merch for Membership
in May with
limited availability
. This service allows creators to offer a merch item as a benefit on a tier., helping you reward your patrons even more. We take care of everything for you, so the item gets shipped automatically after 3 months of patronage.


Please note that at the moment, only creators billing in US Dollars will be able to offer Merch. We plan on expanding this to support other currencies in the near future


In this article, we'll go over:
---
Click on the
Create Merch
button in banner at the top of the tier editor.



Select the merch item you'd like to personalize. You can choose from a Sticker, Poster, Mug, or T-shirt. Depending on which item you select, we will recommend the minimum tier price based on the cost associated with producing and shipping the item.


For example, stickers are recommended for tiers
$12 and higher
because it costs $5.60 to produce and ship. This means after 3 months this item will be sent to loyal patrons who've paid at least $36 to be a member of your community on Patreon.


Once you have selected the merch item, click
Continue
.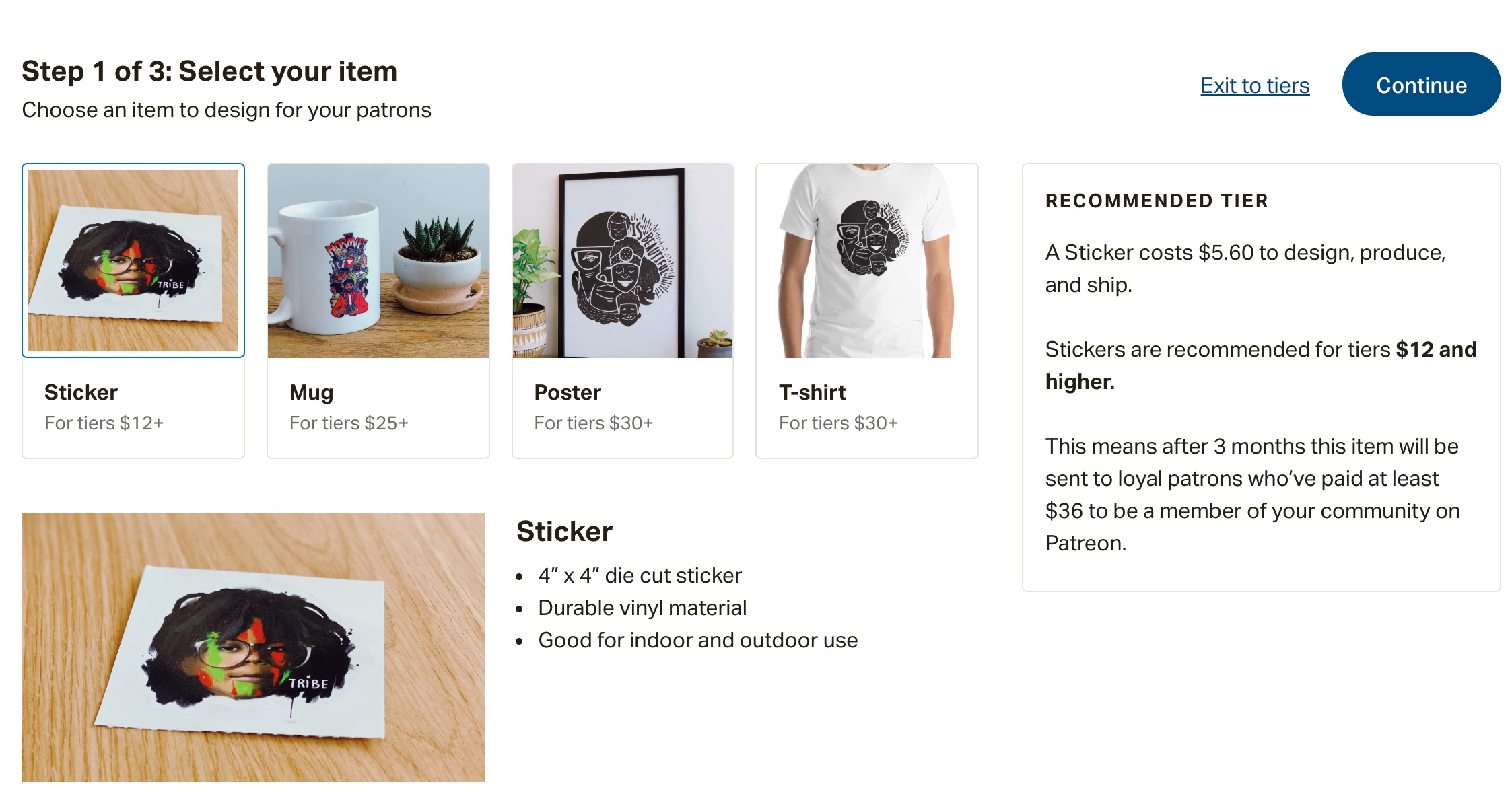 Now, you can start customizing your exclusive merch! Upload the artwork you want printed on your merch item and click
Continue
.



For best results, we've included templates that you can download and use to make sure your artwork fits the dimensions of your selected merch item. You will also receive a digital preview and the option to order a proof of the item once you finish this process.


Add a short description that describes the merch item and then select the tier(s) you want to include this in. You can choose as many tiers as you would like. Then click
Review
.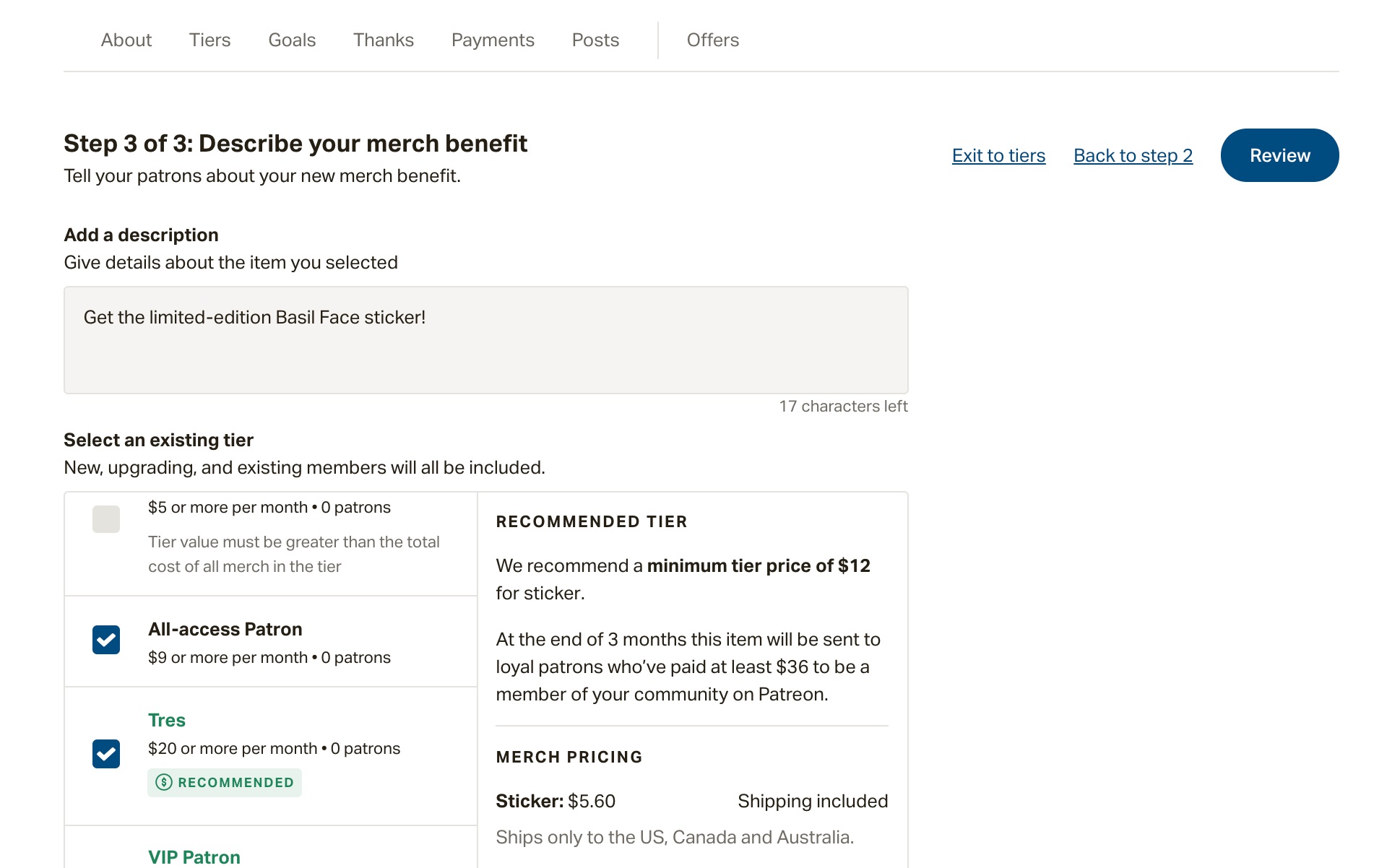 Once you've confirmed that everything looks exactly the way you want it to, hit Publish merch to complete and add to your tiers.



That's all there is to it!
---

What happens after I include merch in my tiers?
After you publish your, you'll get a high resolution preview from a real human designer in the next few days. If you need to edit or tweak something about the design, you can still do this as long as your item is produced.
The patrons in your merch tiers will receive an email announcing that you have included merch in the tiers that they are pledged to. If you'd like to let patrons on non-merch tiers know that you are now offering merch, you can let them know by
sending them a bulk message
filtered by tier or posting on your creator page.


All current and new patrons will receive your exclusive merch after 3 successful consecutive pledges. This does not apply retroactively to previous pledges, only going forward.


Be sure to ask your patrons to update their shipping address! At the moment, we ship merch to the US, Canada and Australia.



---
Additional questions about Merch for membership
When will my patrons receive their exclusive merch?

Your patrons will receive their exclusive merch after 3 successful pledges. For example, if they pledge on March 9, they will be eligible to receive their merch benefit after their June pledge processes successfully. This does not apply to retroactive successful pledges.
Where can my patrons track their exclusive merch shipment?

Once your patron is eligible for merch, they will receive an email notification letting them know this. Then when the item ships, they will receive another email containing a tracking number that they can use to track shipment.
My patron received damaged merch. What do I do?

Please let us know or have them contact us and we'll be happy to review if they are eligible for a replacement based on our policy.