Once you've created your merch items, you'll be able to v
iew, edit, and end those items
directly from the
Merch tab
. This
article will explain
what you see on the merch tab and what actions you can take with your items
.
We'll show you how to:
---
To view an item you offer, log in and head to
the
Merch tab
of your page editor. You'll see a historical list of your merch items.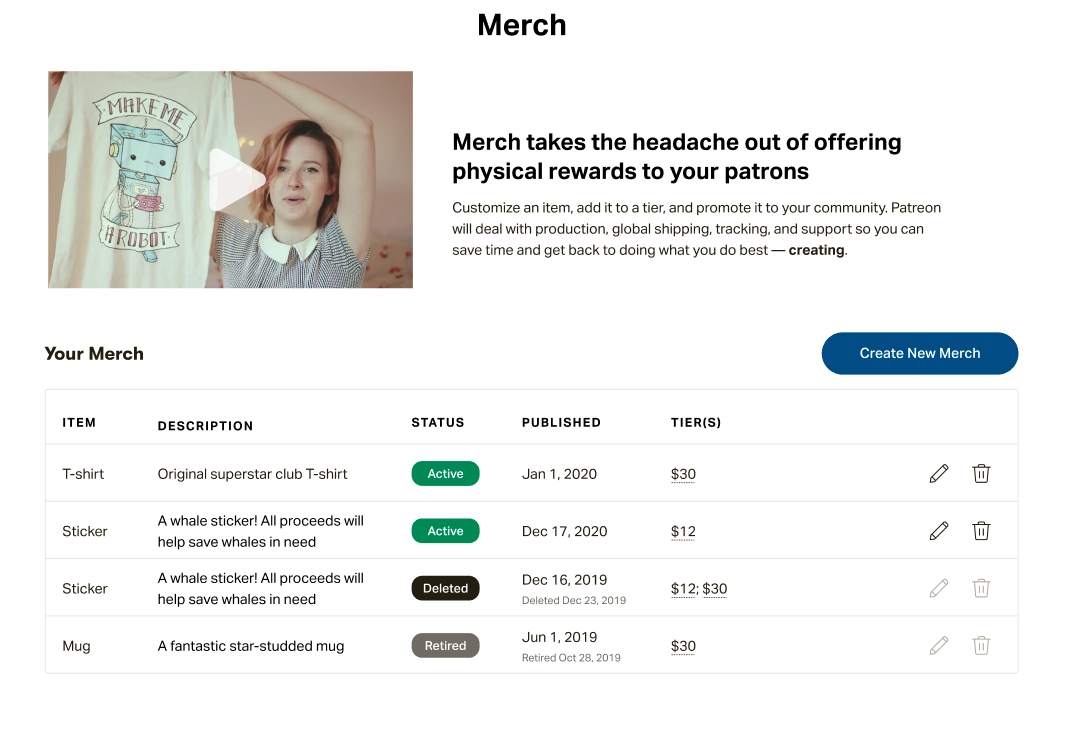 Here's
more information on
what these columns and statuses mean:
Item

:

the

type of merch item

Description

: the description you set when

you created

your merch.

You can edit this description by clicking the pencil icon.

Active

:

this

item is live and visible to patrons and fans on your Patreon page

.

P

atrons

may be

actively earning

this

item

.

Deleted

:

this item

has been

deleted

.

It is not visible on your page, and no patrons can receive the item.

Retired

:

this item has been retired.

Published

: the date you

first

published the merch item

,

and

the

date it was deleted or retired

Tiers

:

the

tier(s) your merch item is assigned to

. You can edit these by clicking the pencil icon.


---
You can edit an item's description

,

the tiers

it's assigned to

, and the artwork

by clicking the pencil icon

to the right of an item

.

Once you make your changes to your merch item, you must review the details in order to save the item and update it.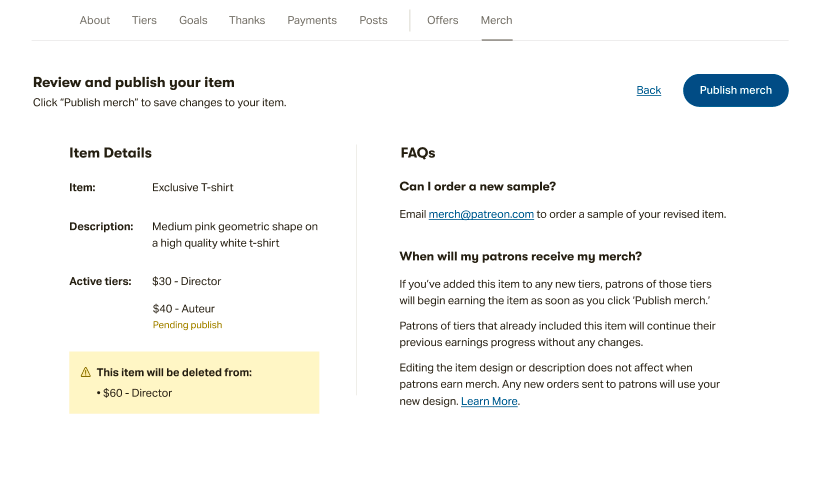 Can I order a sample of my new item?
Yes! Email merch@patreon.com to order a sample of your revised item.


When will my patrons receive my merch?
If you've added this item to any new tiers, patrons of those tiers will begin
their earnings progress when you
click
"Publish
merch".


Patrons of tiers that already included this item will continue their previous earnings progress without any changes.


Editing the item design or description does not affect when patrons earn merch. Any new orders sent to patrons
after you edit your design will use the new design
. Learn more
here
.


---
You can end your merch item by clicking on the trash bin icon to the right of a merch item on your Merch tab. You have the option of either deleting or retiring your merch item. To learn more check out: Ending a merch item