Many creators like to see recent patrons so they can send a welcome message, some want to search for patrons by name in order to check on their recent billing status, and others want to know which of their monthly patrons have successfully completed their payments so you they can deliver their benefits. Regardless of the action or the task at hand,
Patron Relationship Manager
is here to help you take action and understand your members.

In early 2020, we began the process of adding new features and functionality to the Relationship Manager in order to better serve creators and give you the tools you need to understand and manage your patrons. To learn more about the recent changes with Patron Manager and Patron Relationship Manager, please visit this help center article.

In this article we will explain and show you how to use the tool, as well as cover some of the most common use cases and best practices for managing your patrons and benefits.



What do the each of statuses mean in the Status filter?
---
The Status filter (formerly known as Membership Type filter or Charge Status filter) includes the following patron statuses:
STATUS

DEFINITION

The patron has paid or is scheduled to be billed

(eligible

to receive benefits)

The most recent charge attempt was declined

The patron has deleted their pledge and has not elected to renew payment

The most recent charge was refunded

(note:

patrons must also delete their pledge to avoid renewal)

The most recent charge was deemed fraudulent

The user can see your public posts but does not have access to patron-only posts or content. Followers receive updates when you make public posts on your Patreon page and they are not charged.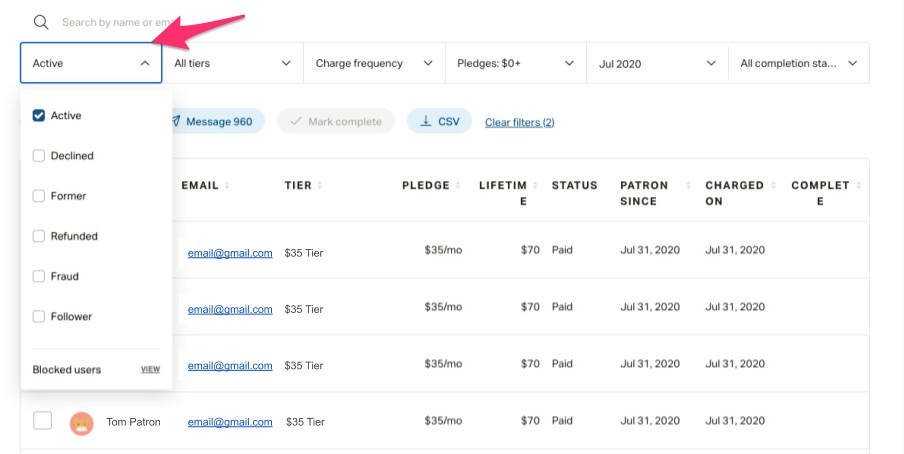 Where did the Charge Status filter go?
The Charge Status filter has been expanded to include additional statuses and was renamed the Status filter in early September 2020.
Why are some patron details not shown in Patron Relationship Manager?
When you use the Patron Relationship Manager Status filter, you will see a message letting you know that some patron details may be hidden because they were removed.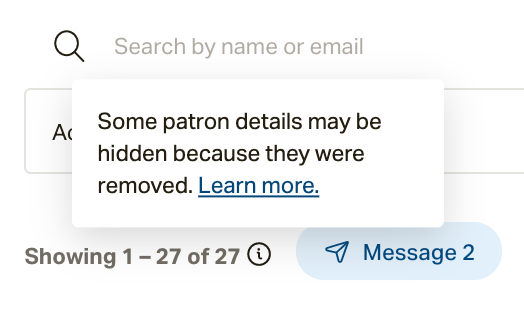 Some personal information
(e.g.
name, email address) about patrons may be hidden due to one or more of the following reasons:
The patron has been blocked by the creator

The patron has been removed by Patreon for violating terms of use

The patron has requested removal in line with GDPR compliance

The creator has been blocked by the patron

Common actions and how-to's
---
Here we'll show you the most common uses of Patron Relationship Manager and performed actions that help you understand and manage your new, active, and declined patrons, or take any actions to message and engage with them.
Jump ahead to the sections you're most interested in:
Action

I want to message my filtered list of patrons or an individual patron.

Once you create your specific filter view, click the check boxes to select your patrons you'd like to send

a message to individuals or groups of patrons.



I want to send all my new patrons an individual or group welcome message

The default list of patrons will show your newest patrons listed at the top

(see

"Patron Since" column). Select your new patrons by clicking the checkbox

(on one or more), and click

"Message" to send a group message or an individual message.



I want to

mark

my patrons complete

(ie

after delivering a benefit or sending a message)

.

To help you keep track of which patrons have received their benefits, use the check boxes next to a patron's name to

'Mark Complete' when you filter to a certain month or post.

(Note:

To keep track of benefit delivery for a month or post, first select the month/post and then mark the patron complete)



Patron payment information
Action

I want to see all my patrons that pledge $0-$100

Use the

"Pledges" filter to choose what range you'd like to see

I want to see all declined payments in a particular payment range.

Choose your date range

(either month or by post) and filter with

"declined"


I want to see current month/post and patrons with declined payments.

Filter by month/post, payment status

(Note: The filter works on the last status of the charge for that billing cycle or"month/post". So if you select Oct 2019, you are filtering on the last charge for each patron for Oct 2019's membership.)


I want to see a list of patrons with email address and

"have-not-paid"

status.

Sort by payment status and look for patrons that have

"--" or no value in the

"Status" column


I want to see my patron's max pledge.

(*only

available for per-creation creators)

In the pledge column, hover on the tooltip to see that patron's max monthly pledge.


I want to see patrons' whose pledge was deleted

In the

"All

Charge Statuses" filter, select

"Deleted". Here you can see all patrons deleted, or filter by a particular month, post, or tier.


Note:

"Deleted" means a few things depending on how your filter view is set up:

With no billing cycle selected, deleted shows patrons with repeated failed pledges. To see historically former patrons, you can filter in the far left drop down got "Former patrons"
With a particular billing cycle selected

(ie month or post), you will see patrons with deleted pledges that was either initiated by the patron or blocked by the creator.

Recent patrons
Action

I want to see a list of my active patrons this month/post.

Filter by patron status and month

I want to see all patrons from a past month or post.

Filter or search by month or post

I want to see all patrons that have paid in a specific month.

Filter by month and

"payment status"


I want to view my

newest

patrons this month

(

so

I

can send a

welcome

message or deliver a benefit)

.

By default, we sort your patrons by

"Patron Since" date

(ie the date patrons first signed up for your membership)

You can sort by ascending or descending order—can easily see which patrons have been supporting you the longest.
Patron details
Action

I want to see individual patron details like: name, email, notes, shipping address, and payment history.

When you click on a patron in the list, we'll display that individual patron's data in a side panel format, including: shipping address, notes, and payment history.



I want

to search

my

full list of patrons, not just those on a certain page of results

(ie

"see

more" or

"see

all" patrons in one list)

.

The Search bar searches across all your patrons, not just those visible on the page. You can find patrons based on their name or email address.

I want to see patron email address in list view.

In the second column, next to the patron name, you can see their emails address, so it's easy to grab it in the list view. Long email addresses will be truncated, but you can copy the address by right clicking on it.

(To see shipping address, click on the patron to see full details.)

Email addresses are also included in the CSV download of your

patron list.


Patrons by tiers
Action

I want to filter and sort my patrons by tiers.

Filter by tier or price range



I want

to filter by multiple tiers at a time

(e.g.

select multiple tiers to get a list of all patrons on

my

top two tiers, etc)

Select multiple tiers at a time to get a list of patrons across multiple tiers.

This is helpful, for example, if you're working through your list of patrons to deliver a benefit

(mark complete) that is included in more than one tier.



Patron lifetime information

Action

I want to see a list of my oldest patrons.

Filter in the column

'Patron Since'

I want

to see my patrons who've pledged the most money in their lifetime.

Filter by

"Lifetime" for total pledge amount in a patron's lifetime– the amount they've paid you over time.