When you become a patron to a creator who is charging per-post, you have the option of setting a monthly limit to your payments. This prevents you from being charged more than you're comfortable with, if the creator makes several paid posts in a given month.


Please note that while these examples are in US Dollar ($), it is possible

that you could be billed in any of our supported currencies, depending on the currency that the creator chooses to bill in. To find a list of supported currencies, please visit

this guide here

.
This article will go over two ways that you can add a monthly limit:
After clicking Become a Patron to a per-post creator and choosing your tier, you will be brought to a membership confirmation page.

Step 1: To set your monthly limit, select the I'd like to set a monthly limit button. Enter the maximum number of posts you'd like to support in a given month at your membership amount (e.g. 2 times per month at my $10 amount is $20 max). This number indicates how many times you can be billed in a month, not the total monthly amount.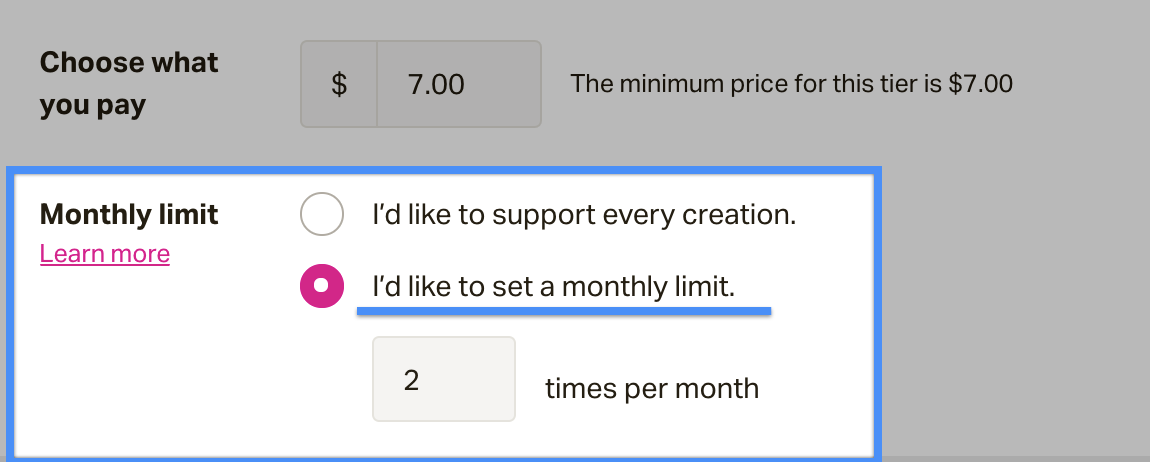 Example:
If you pledge $2.00 USD per post with a monthly limit set up to 2 times, your total pledge amount will be $4.00 USD.

Step 2: Click the Update button to confirm. You'll only ever be billed up to your monthly limit in a given month.
---
You can set up a monthly limit to your membership at anytime. You can also edit or remove your monthly max if you'd like.

Follow the steps below to set a monthly limit after you've already confirmed your membership:

Step 1: Hover over your profile image in the top right to open the "user menu." Click the "Manage memberships" link from the user menu.