You're a creative –evolution is a vital part of the creative process. Keep your Tiers updated with the work you're producing, and benefits you're offering.
First: Check in with yourself on a regular basis
Are you burnt out? Putting most of your energy into delivering benefits with low impact? Try to find balance. Think about what's valuable to your patrons, and what will be sustainable for you. Here's a great post from the Patreon Blog that discusses strategy for your business: 5 Steps to Predictable, Monthly Income for Any Creator with an Audience
Change is good– embrace it.
What's in this article?
How do I make changes to Tiers?
---
Before we get started, keep in mind that you cannot edit the price of a Tier with active patrons. That said, you can change just about everything else.
To edit a Tier
Visit your Creator Page Editor.
Select Tiers from the top menu.
Click Edit Tier of the individual Tier you're making changes to.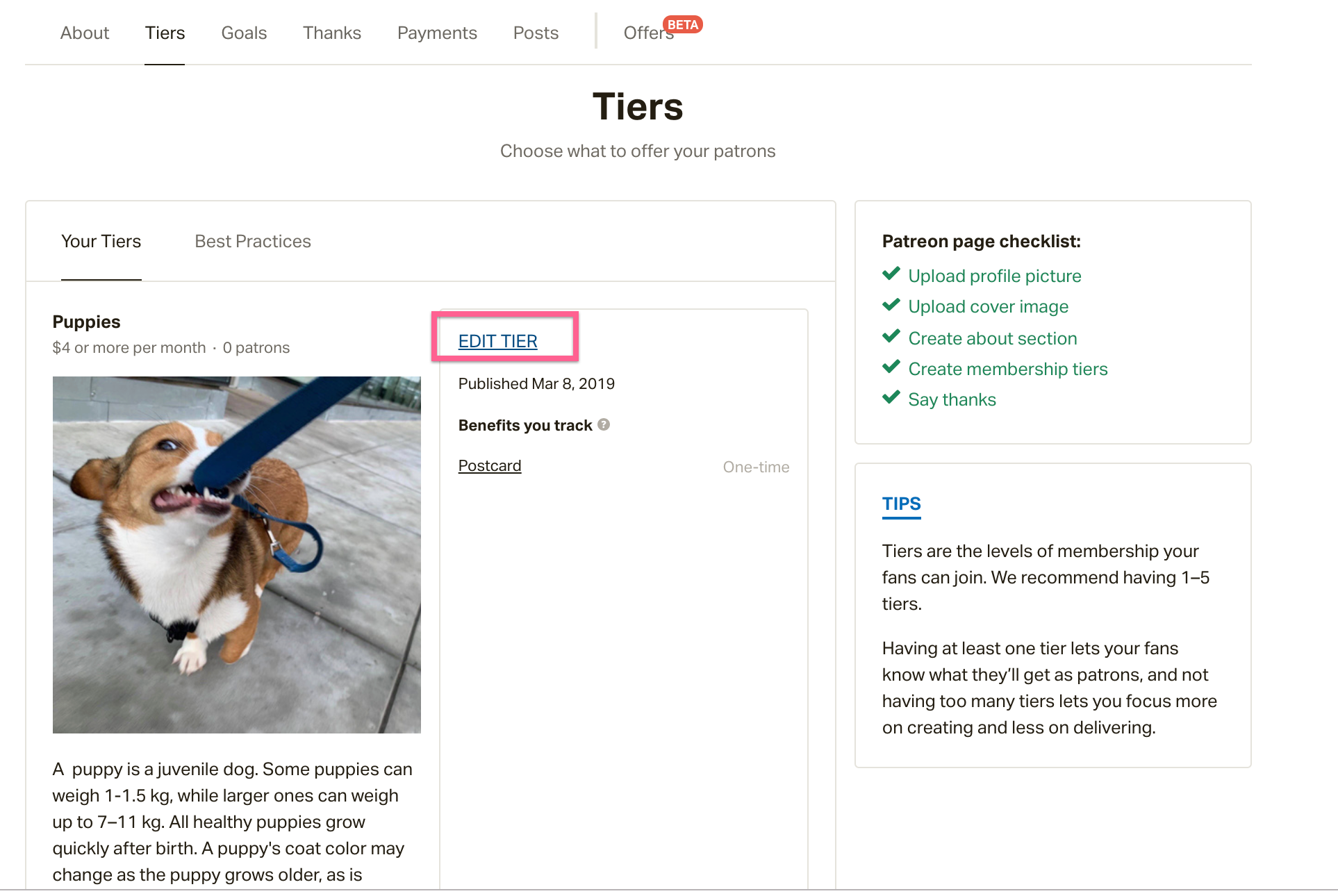 At the top of the Tier editor, you can change: Tier name, description, and benefits you track. You'll be able to edit the price of the Tier at the very top, as long as there aren't patrons currently joined.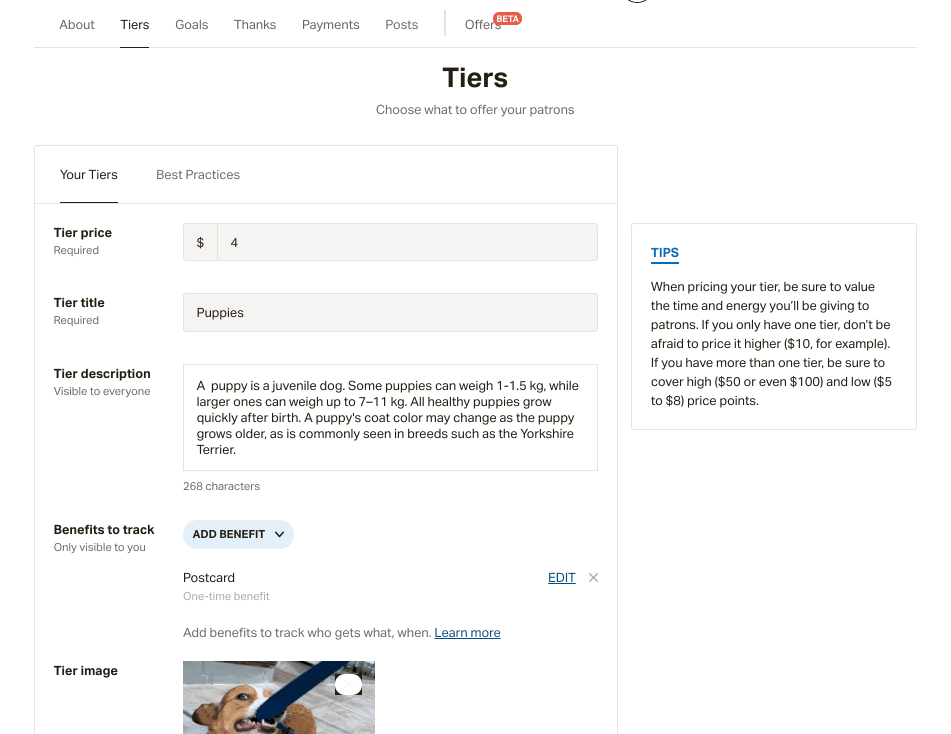 As you scroll down, you'll see where you can:
Change your Tier image by clicking the X in the current image.
Increase, or decrease the patron limit for a Tier.
Add, or remove a shipping requirement.
Change, or remove Discord roles.
Note: Whether you're making a minor change to your description, or completely relaunching a Tier, be sure to scroll down and Save your changes.
What if I want to edit the price of a Tier, or completely delete a Tier with patrons in it?
---
Are you sunsetting a Tier price, or no longer plan on completely relaunching the Tier? There are a few options for you to make the transition as smooth as possible.
Give your patrons time to adjust
Give your patrons time to edit their membership with you. How much information you give your patrons is entirely up to you, you know them best. The reason for the change, how this change benefits them, or simply a timeline of when they can expect changes– trust your gut with what information will make for a smooth transition
Here's an example note you can start teasing patrons with:
"Hey Lovely Patrons,
Starting March 3rd, Tier X will be deleted. Be sure to select one of my other Tiers before then! If you're still in Tier X when it's deleted, you'll still be my patron, but you'll be a "no benefit" patron, and won't have the same access as you currently do.
Here's how to select a new Tier: How do I edit my membership?
Have questions? Thread them in the comments!"
Un-publish the Tier you're sunsetting
New patrons won't see this Tier, they'll only see your published Tiers. Un-publishing a Tier ensures that no new patrons can join it, but gives existing patrons in the Tier a chance to edit their memberships accordingly.
Create a new Tier for patrons to join
Patrons can join your new, shiny Tier. If patrons don't join a new Tier, they'll be "no benefit" patrons once you delete your old Tier.
Patrons with a "no benefit" status will only have access to posts you've published for "All patrons," or "Public."
Important: Patrons already in an unpublished Tier will remain there, and you'll still be able to make posts for them, until the Tier is deleted.
Delete the tier
Deleting a Tier with patrons in it, will move those patron's into the no benefit section. If you've given your patrons a fair timeline, this part of the process should be fairly painless.
Note: Deleting a Tier is not a substitute for cancelling a patron's payment. A patrons has to cancel their membership to stop future payments.
FAQ
---
Q: Why can't I change the price of a Tier with patrons in it?
While a tier has patrons in it, you cannot edit the tier amount. We do this to prevent confusion. For example, imagine if you edited the $5 tier to the $10 tier - you would either have different patrons paying different amounts for the exact same benefit (not good), or you would raise prices on the $5 patrons without asking (also not good!)

Q: Can I move a patron to another tier?
Not at the moment. Only patrons can edit their membership Tier, so you won't be able to move patrons from "no benefit" to a Tier on your end.
Feel free to pass along this article from our Help Center to guide patrons through selecting a new Tier:

Q: Why are some patrons listed under "no benefit after" I deleted a tier and added one with the same value?
Patrons are never automatically moved into new tiers when you create them as it changes their billing and benefit selections, so they need to change this on their end to be included in anything new. They can edit their payment following these steps.

Q: How do I know if a patron is a "no benefit" patron?
You can use the filters in your Patron Relationship Manager to see who's not currently in a Tier.
To do this select the following from your Patron Relationship Manager filters
Membership types: "Active" > All rewards: "No Rewards"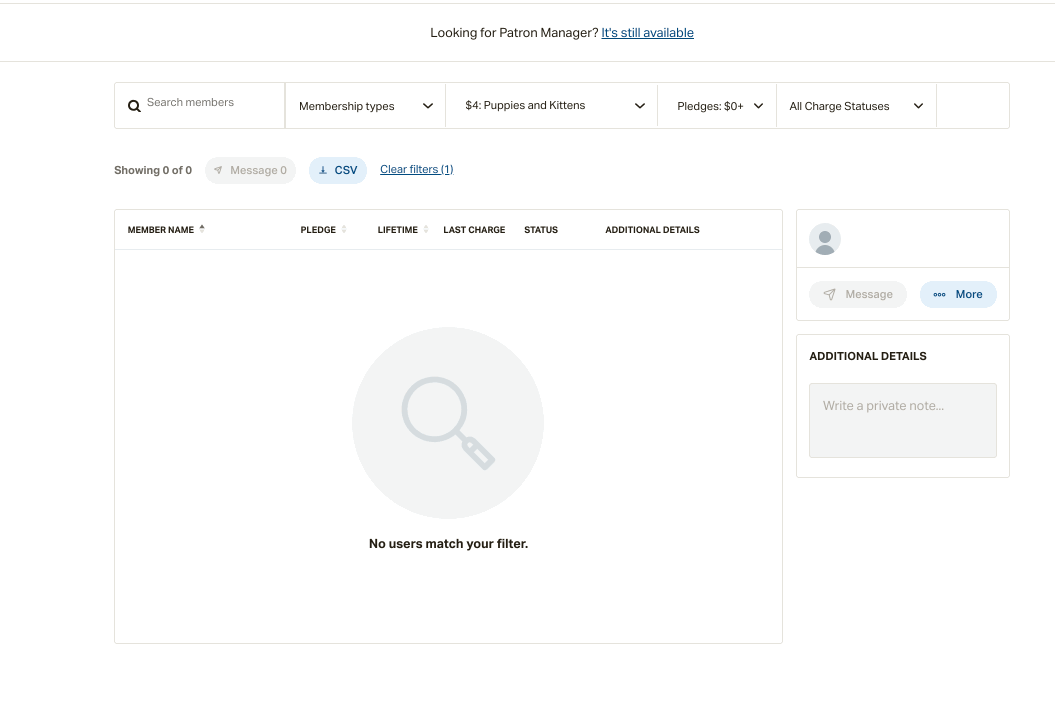 Q: Why can't I save my Tier?
Are there patrons in that Tier? If so, you won't be able to change the price of the Tier.
Check to see if you have an extra character in the field where only numbers are allowed (like $.) Try removing any extra characters and saving again.