W
e're so happy you're a part of our creator community
.
Welcome to Patreon
!
Now, let's get you one step closer to living out your dream
.
Step 1:
Sign up.
Hop on over to
patreon.com
and click
Start My Page.
From here, you can sign up with Facebook or your email.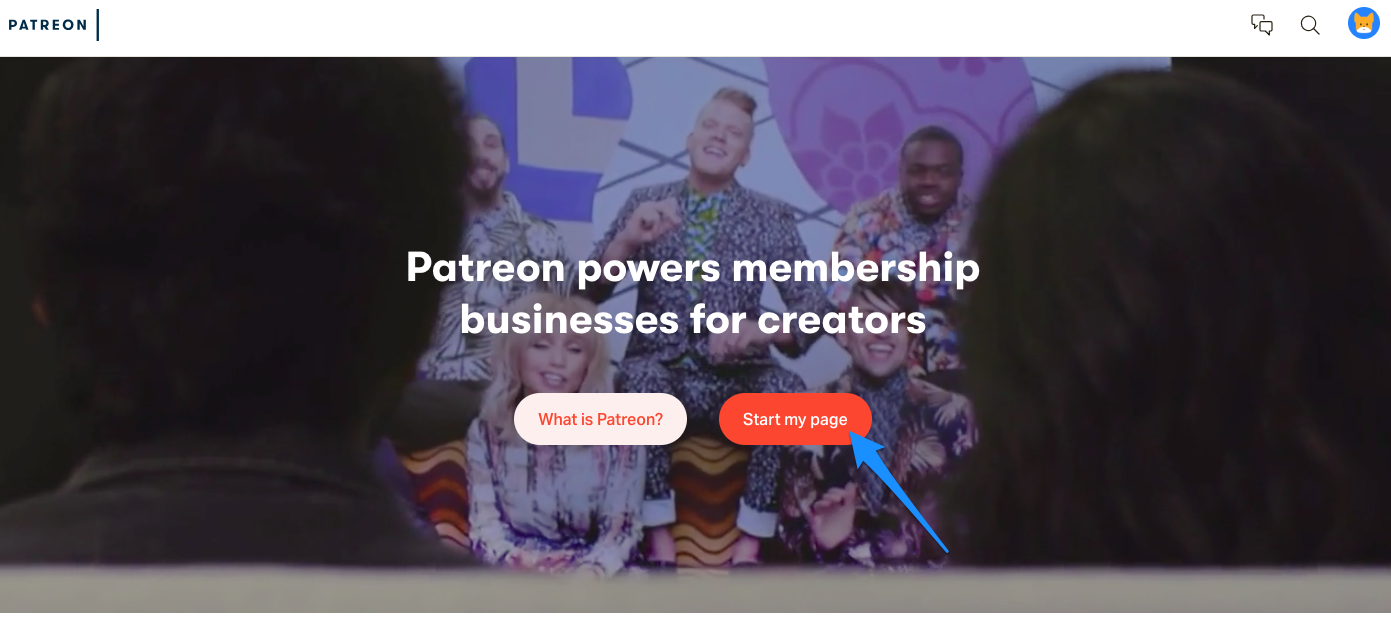 If you already have an account you can log in and click
Create on Patreon
from the drop-down menu in the upper right corner.
Step 2:
T
e
ll us a bit about your page.
After you click on
Start Your Page
, we'll walk you through a few steps that tell us more about what you're creating:
Enter the name your patrons know you by.

Enter what you're creating.

Select the category that best fits what you create

(don't

worry about this too much! It won't affect your discoverability on the site).

Let us know if any of your work features

adult content

.

Verify your email address. You'll need to click on the link within the email we send you from support@patreon.com to continue.

Bravo! Now that your email address is verified, here's a quick message from our CEO, Jack Conte. We're so glad you're here.
Now that we know a bit more about what you're creating, you'll be taken to your creator page editor, where you can start building out your page. The page editor is divided into five sections:
About
,
Benefits
,
Goals
,
Thanks
, and
Payments
.
About
You can use this section to update your Profile Picture, add a
Cover Image
, link to your existing social media accounts, update the category you've selected, and create a
custom URL
for your page.
You can also use this page to create an RSS Audio Feed for your audio posts. This gives each patron their own individual feed for audio posts you publish on Patreon. More on this can be found here.
If you already connect with your fans on Discord, you can also connect a server to your Patreon page, and offer roles to your patrons as Rewards. More on how to do this can be found here.
Tell the world who you are, what brought you to Patreon, and why potential patrons should subscribe to your page! Anyone that visits your page will see this section, even if they aren't pledged to you yet. Uploading an
Intro Video
is not required, but has been shown to help convert fans to patrons.
Benefits
What would you like to give your biggest fans? Creating new tiers for your patrons is yet another way you can convert fans to patrons.
When you create a new tier, you can set a tier price, title, add an image to your tier, and enter a description that gives your patrons a better sense of what they can expect to receive when they pledge to you. You also have the option of setting a limit for how many patrons pledge to this tier, and can request that patrons provide you with their shipping address if you want to offer physical items.
If you're not quite sure of what to offer,
this article
goes over a few options.
Goals
The
goals
you set get patrons excited about the next big step of your creative journey. You can use goals to help paint a picture of what you'll work toward together.
There are two different types of goals you can set: Earnings-based goals, and Community-based goals. Earnings-based goals are related to the amount of money you'll earn, while Community-based goals are related to the number of patrons you'll have.
Thanks
You can use this section to set up a custom thank you message that appears after patrons pledge to your page, and even add a thank you video to this section. This isn't required to launch your page, so you can come back to this again any time.
Payments
You can choose to either bill your patrons for their support monthly, or per-creation. If you bill your patrons monthly, they'll be billed on the first of each month for access to content they received during the month prior. If you bill your patrons per creation, they'll be charged on the first of the following month if you publish a
paid post
.
If you'd prefer to have the dollar amount you receive each month remain private, you can select this option next to Earnings Visibility.
Step 4:
Preview your page and Launch!
When you feel like your page is ready, click on the option to preview in the top right corner: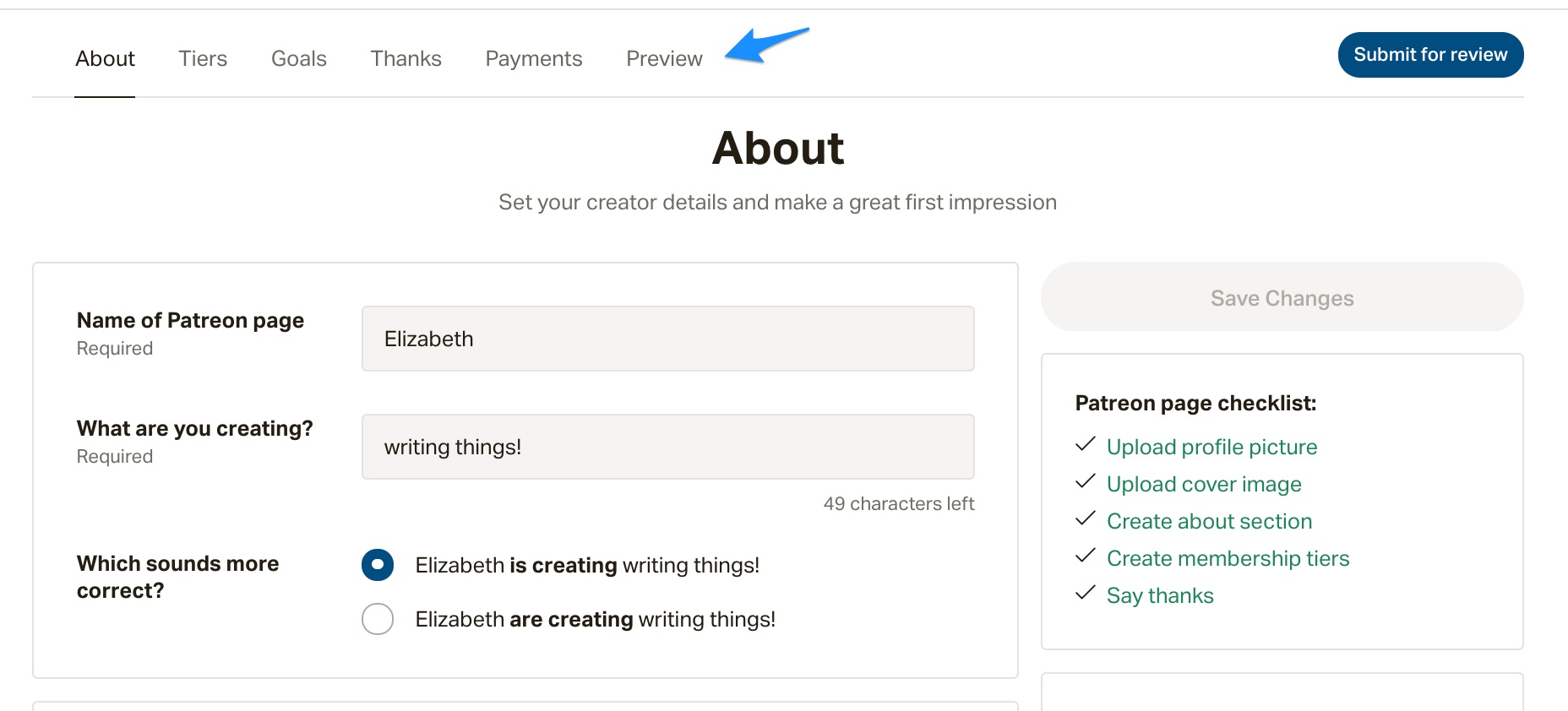 If you're feeling good about how your page looks, click Submit for review
here: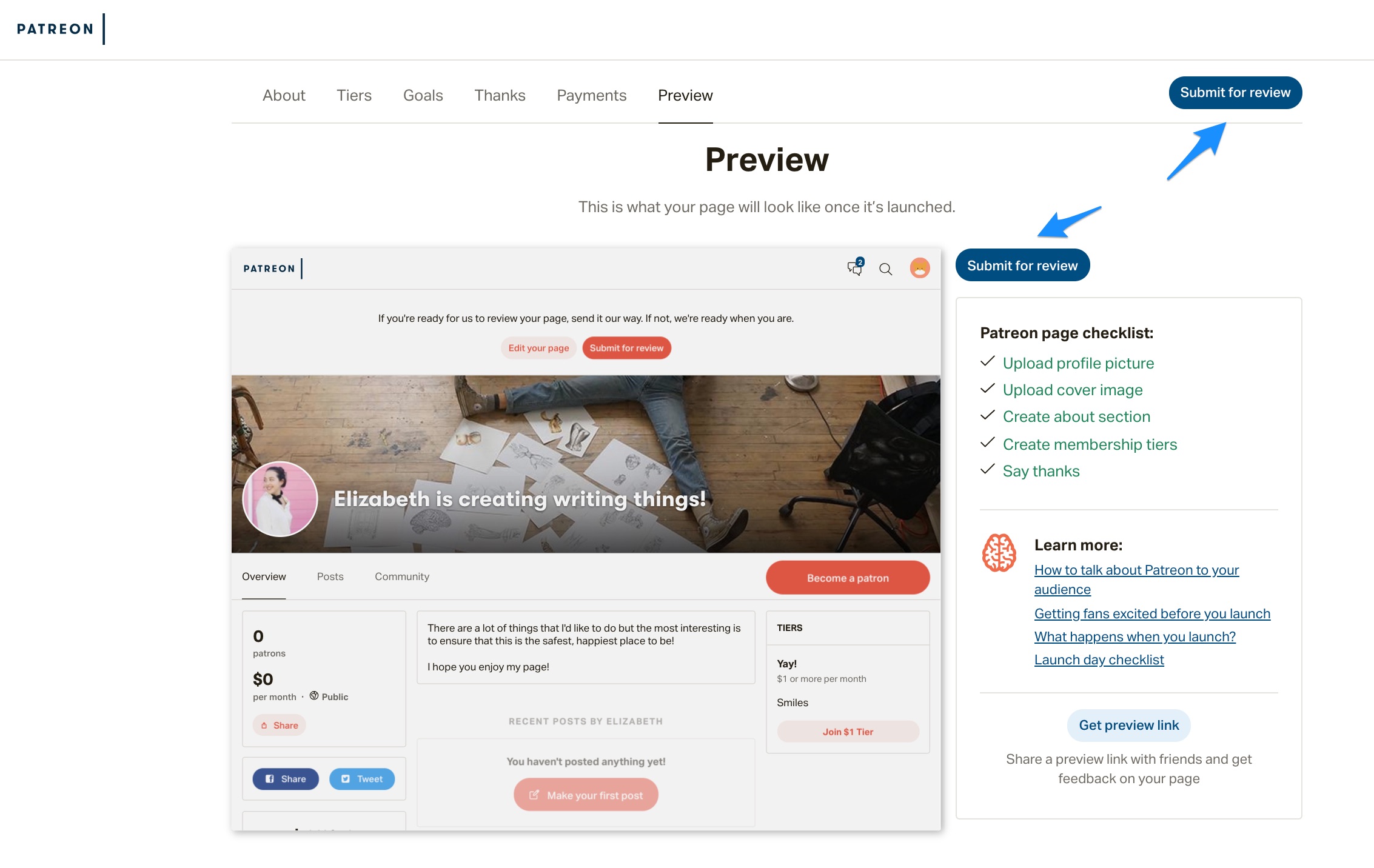 Once your page has been reviewed, you will receive an email letting you know that you are live.
Now that your page is live, s
end it to your friends, family, fans, neighbors and anyone else you think would be interested in what you're creating.
If you need some extra guidance with launching, we have a ton of great resources for creators on
our blog
!
We're stoked to have you here and can't wait to see what you create!
Note: By design, creators who have marked their pages as Adult Content will not be searchable on the site. Fear not– you can still select a unique URL and share it out with your network!