This article shares the steps for setting up a Discord server for your patrons. Discussed are connecting Discord to Patreon, setting up roles in your Discord server, including setting permissions for the Discord/Patreon BOT, and adding roles to your tiers. There are also Discord troubleshooting steps if your patrons are not getting their roles.

Give your patrons the gift of communication with Discord. Discord is a voice and text chat app where you can engage with your Patrons. Learn more about
Discord
. Our
Discord integration makes it easy for you to access your Discord server with special roles for patrons.


In this article we'll cover:
Note
: For the purpose of this article, we'll be showing screenshots of the Discord app, but know that you can do these things either in the Discord app or on the
Discord site
.



Connect my Discord server to my Patreon page
---

Step 1:
Before
getting started you'll need a Discord account with a server created. Learn how to set up your Discord server in the following article:
How to create a Discord server
.


Step 2:
Once you have your Discord account and server created, log in to Patreon and n
avigate to
your
Creator Page Editor
. From here select the
Tiers link
of your editor.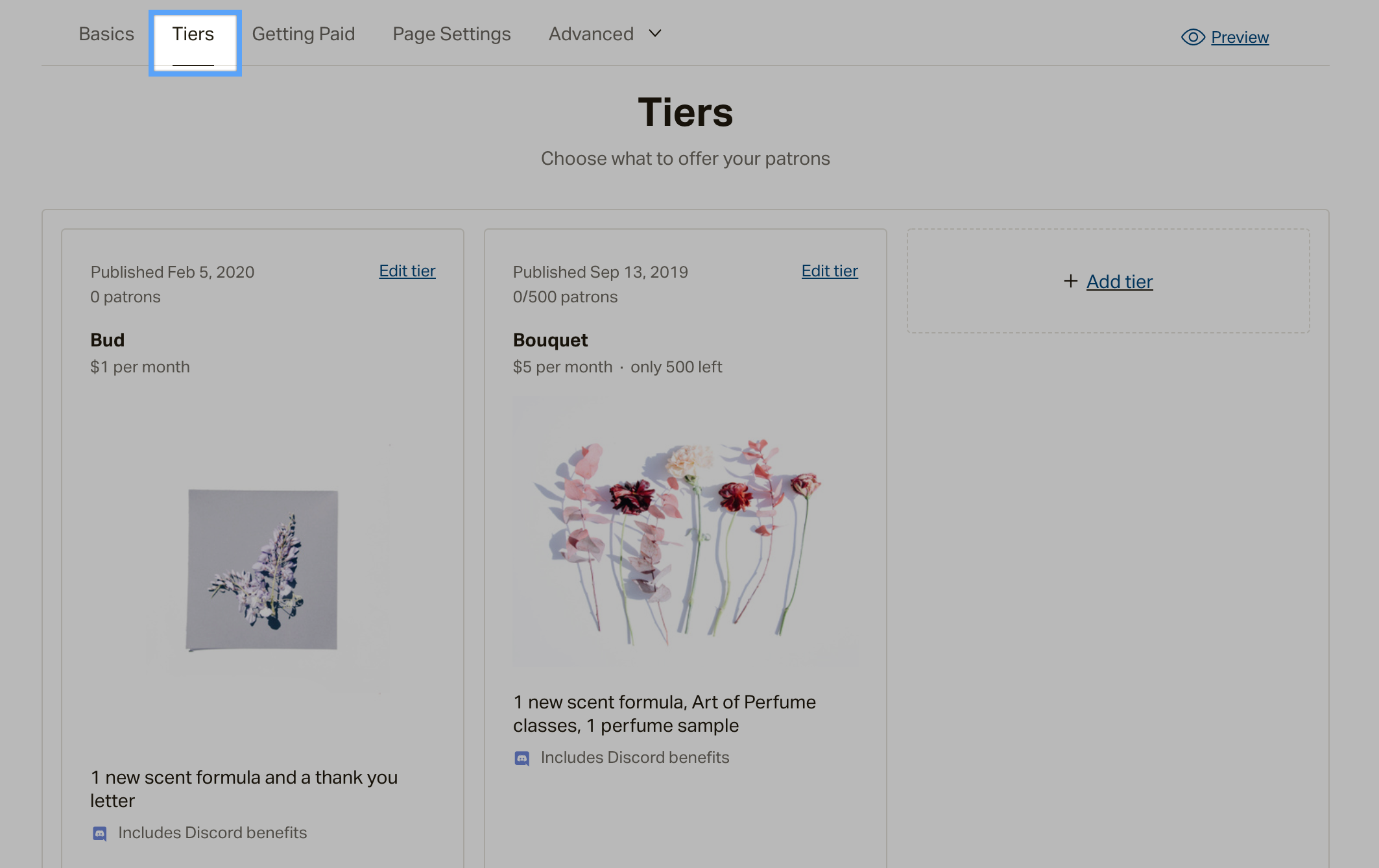 Step 3: Click the Edit tier button on a Tier you'd like to assign a Discord role(s) and click into the Advanced button. Scroll until you find the Connect to Discord button.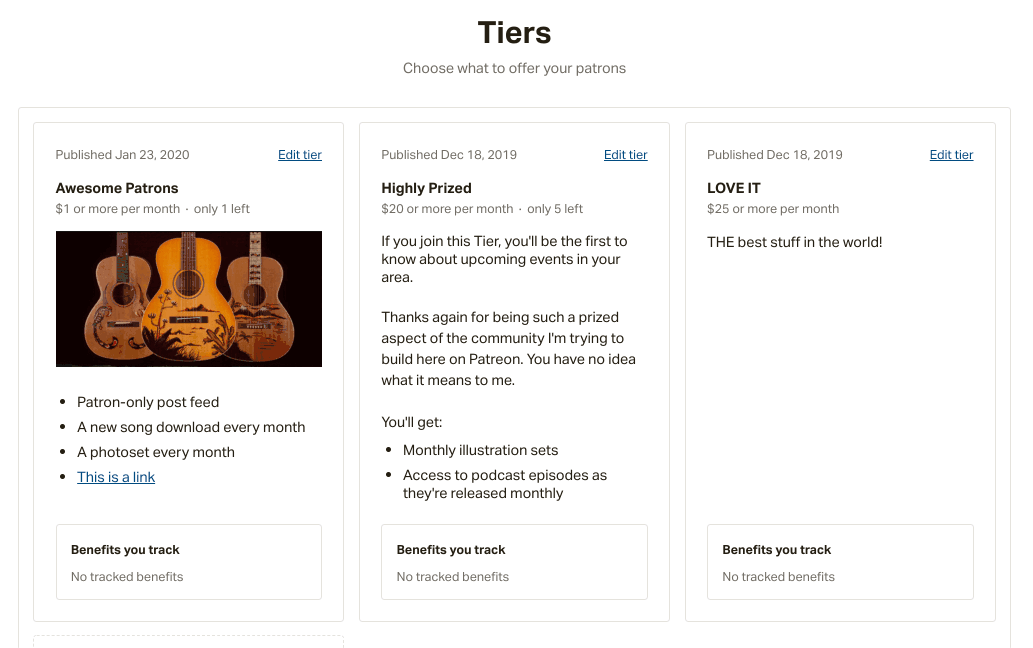 Step 4:
Click the
Connect to Discord button
and log in to your Discord account via the pop-up window that populates.
Be sure to keep
Manage Roles
and
Create Instant Invite
checked in the authorization screen!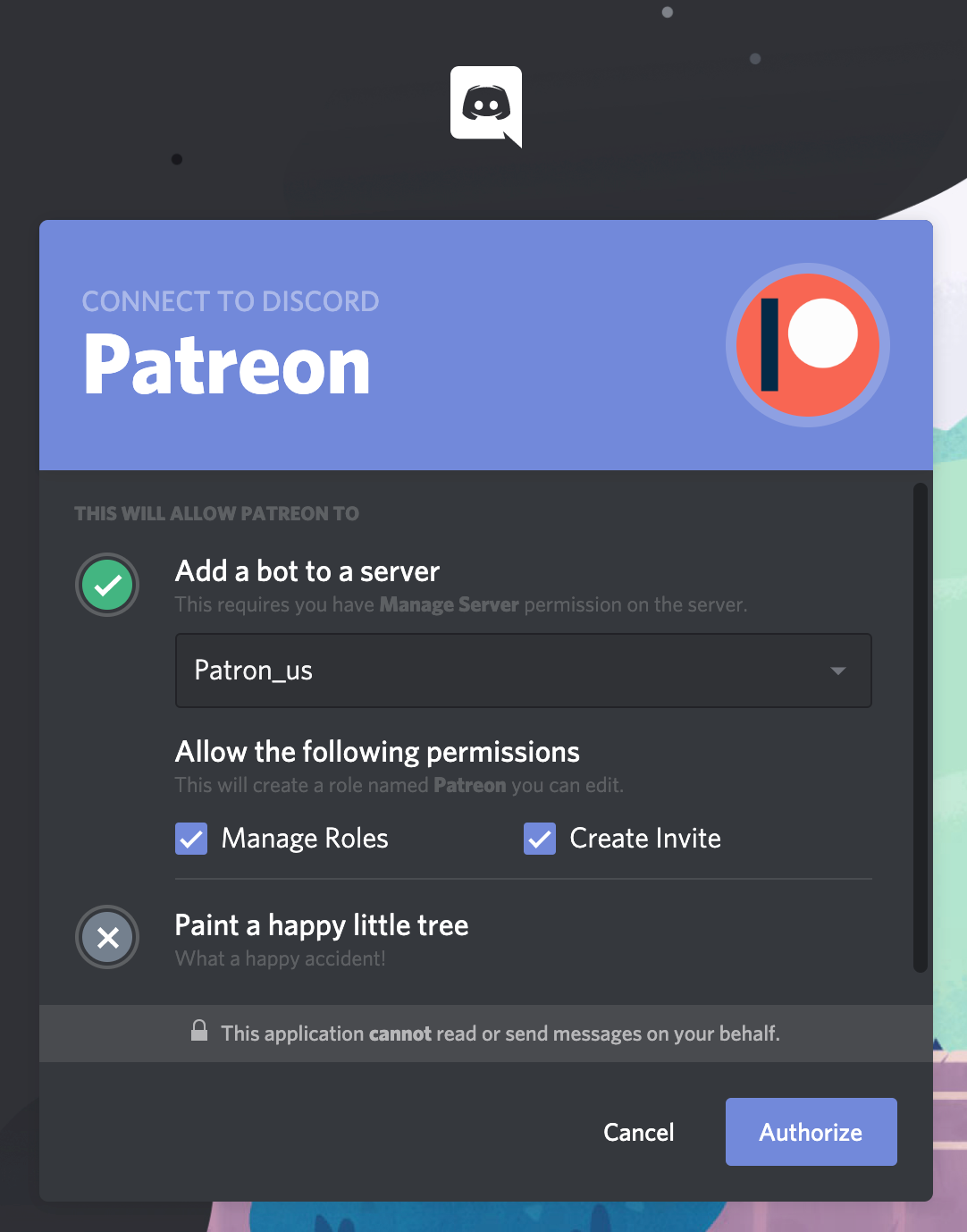 Step 5:
A red message will populate letting you know that you'll need to add a role to your Discord server and refresh this page. Click the
Save tier button
, and then refresh your editor. Leave this page open because we'll come back to it.
Set up roles in my Discord Server
---
Step 1:
Log in to Discord, and select the Discord server that you've just connected to Patreon.

Step 2: Add roles to your server
Head to
the Server Settings window and navigate to the
Roles
tab.
You'll notice a new
"Patreon"
role is in your server, go ahead and rename the role
"Patreon
Bot".


Click the plus sign

to
add
roles
to the server
– you'll be able to use any of the roles
you add to
your Patreon tiers.

Server management tips:
Rename your roles so that they match your Tier names

Give your roles a distinguishing color

Enable the

Display role members separately from online members

setting, this will help you distinguish Patrons from other server members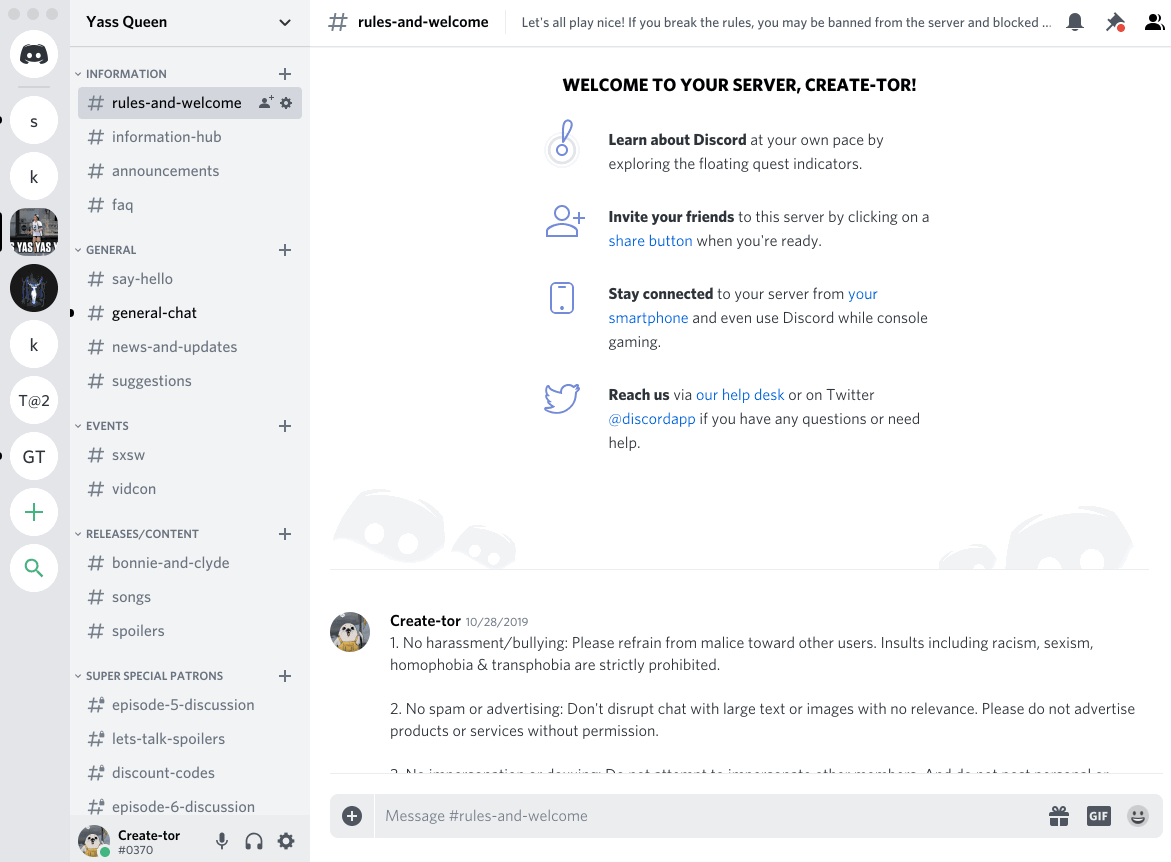 Step 3: Give the Patreon Bot the required permissions
Make sure that the Patreon Bot is above the roles you've just created for your Tiers. If you have existing roles you'd like to assign to patrons, be sure to drag the Patreon Bot above those roles. If the Patreon Bot is not above these roles, it will not assign that role to patrons.


Important: Do not deselect or add any permissions to the Patreon Bot! It has all of the permissions it needs, and adding any additional permissions may break the integration.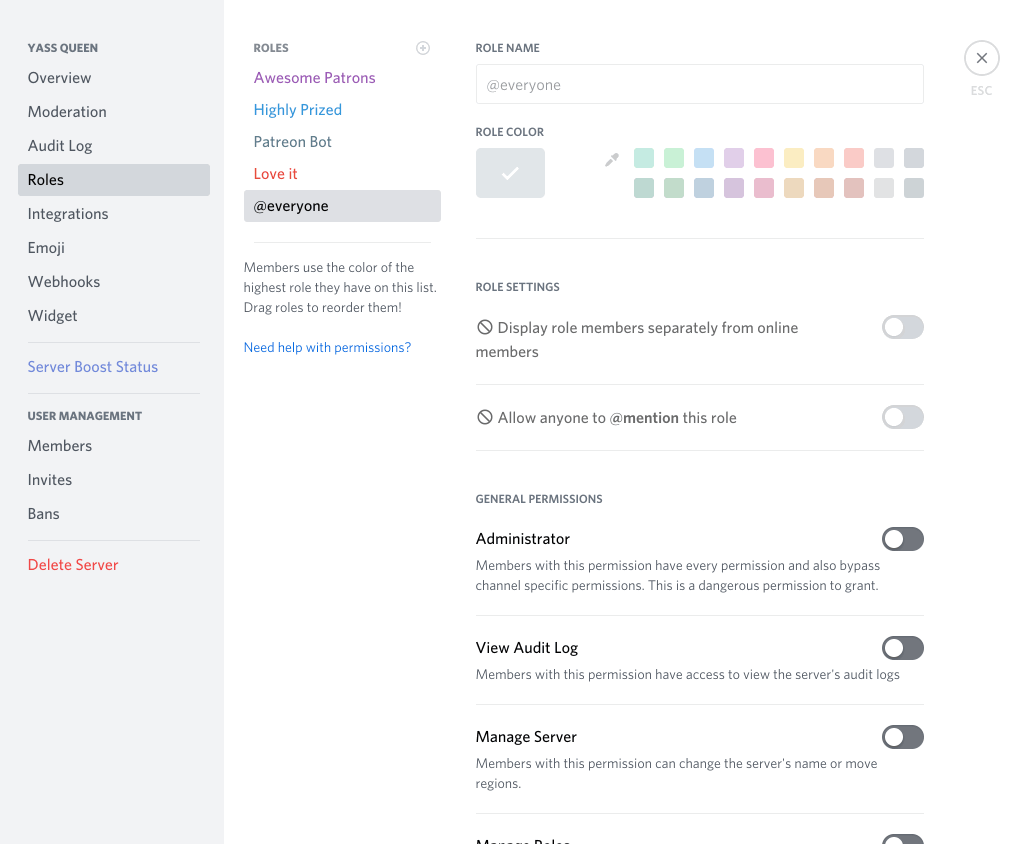 Is that it? – Almost!
Add Discord roles to your Patreon tiers
---

Step 1:
Log back in to your Patreon account and head to your
Creator Page
Editor
(if
you aren't already there). From here select the
Tiers link
of your editor.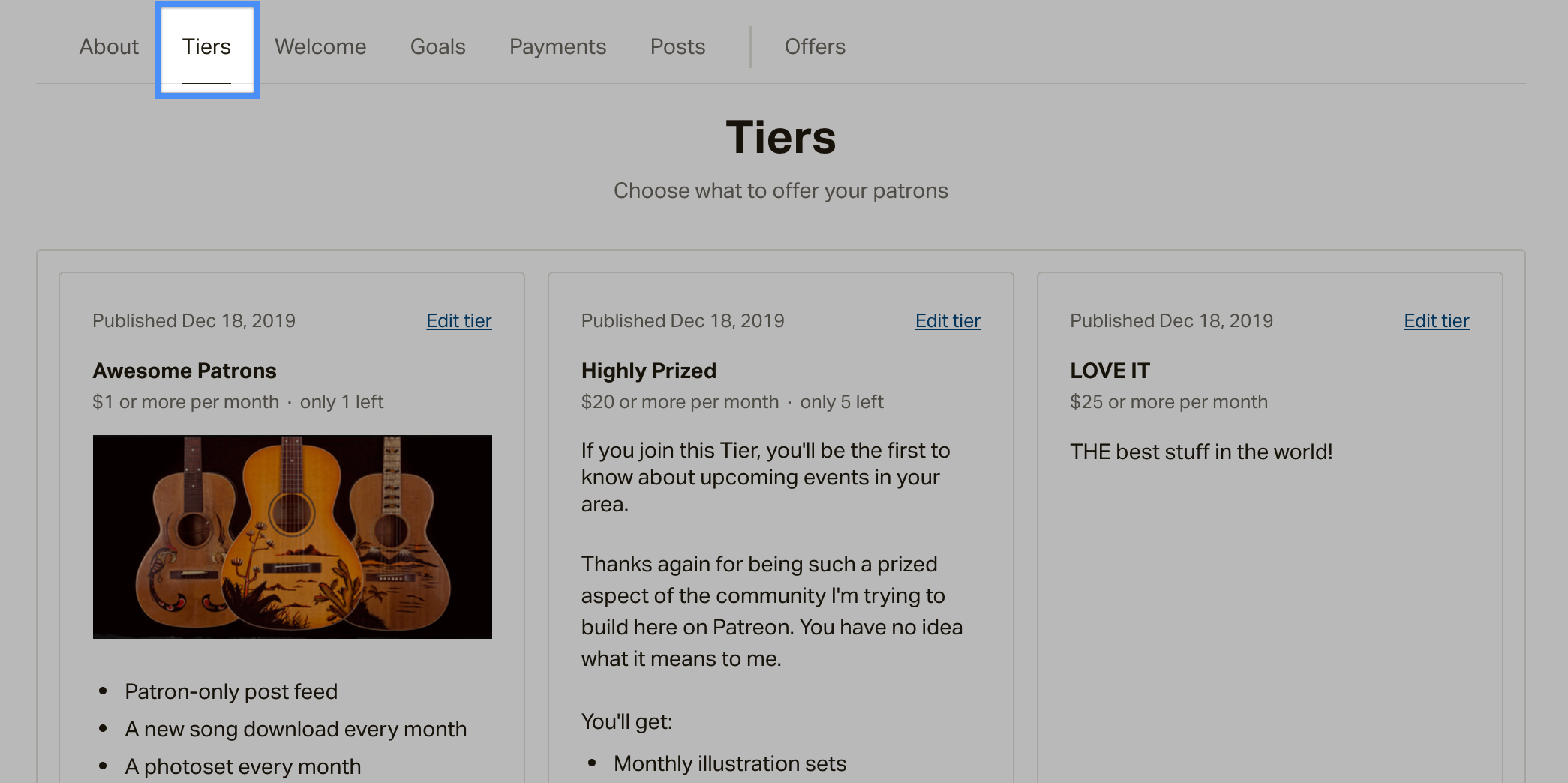 Step 2:
Click the
Edit tier button
on a Tier you'd like to assign a Discord role(s), and click into the
Advanced button
. Scroll down and select
Gives patrons access to selected Discord roles
. A drop-down menu will populate where you can select a role.
You can select multiple roles. This useful if higher tiers are meant to receive benefit that lower tiers do. When you've selected your role(s) click
Save tier button
.

---

We'll handle the rest from here! Once a new or existing patron connects their Discord account, we'll automatically invite them to the server and assign them the role(s) corresponding to their chosen tier. If a patron deletes their pledge or their payment declines, we'll remove the role(s) from their Discord account for you.


---

Q: Will non-patrons on my Discord server be affected?
A: We will only modify the roles of those who are your patrons. Additionally, if a patron deletes their pledge, we'll revoke the roles which you asked us to assign them.

Q: Will other roles on my Discord server be affected?
A:
Nope, w
e'll only modify the roles you've selected in your Patreon tiers. For example, if you have roles A, B, C, and D, but have only assigned A and B to your Patreon tiers, we'll never touch C and D.

Q: How long will it take for roles to be assigned in Discord?
A: Most of the time it will happen immediately. If you have a lot of patrons who have connected their Discord accounts, however, and you change the roles tied to their tier, it may take as many as a few hours for the roles to be reassigned.

Patrons who joined your membership before you added Discord, will simply need to connect their Discord account to their Patreon account from their Profile settings page and log back in to Discord to see their role!
Q: The Patreon bot is offline on my server. Is something wrong?
A:
You're all good!
The bot will display as offline on your server, but will still be able to invite your patrons and assign them the correct roles.
IMPORTANT:
Do not remove the Patreon Bot from Discord
. There will be no way to add the bot back after it has been removed. Additionally, if the bot is removed, you will not be able to disconnect Discord from Patreon as the bot is what manages this connection.
Also important to note
: The Patreon bot is delayed on the 1st of the month, so new patrons may not be added to Discord instantly. However, they will be added shortly and there's no action needed. If you are experiencing patrons with declined payments who have lost access, once their payment processes they will regain access.

Q: My patrons aren't being invited to the server, or aren't receiving their roles! What's wrong?
A: It might be due to the permissions the Patreon
B
ot has. Make sure that
(1)
you didn't add
Patreon Bot's role
(which
should be named
"Patreon",
unless you renamed it)
to a tier
, and that
(2)
that the Patreon Bot is
above
all of the roles
that you've added to your roles
.
The roles should display like,
this
.
If you've confirmed both of those and it's still not working,
there may be a
short dela
y, or there may be an issue
on our end. If you think it's the latter, let us know!

Q: My former patrons aren't being kicked from to the server, they only lost their roles! What's wrong?
A: The Patreon B
ot
manages your roles
and
not
the server. So if a patron deletes their pledge on Patreon, their Discord role will be removed, not their invite to the server. If you want to remove ex-patrons from the server
,
this must be done
via Discord
on your end for now
.