Do you publish a podcast, or post music on Patreon? Would you like to give each of your patrons their
own private RSS link
to listen to your audio posts in their podcast app of choice? Well, you have the power to do this! 
In this article we'll cover the basics to help you get started with offering your patrons unique RSS links: 
*
Hint
:
Not all audio posts will populate in your patrons' RSS feeds. You can skip ahead to learn more,
here
.
---
Step 1:
Navigate to your
page editor
from the top banner of your page or using the settings icon on the navigation menu to the left.

Step 2:
Once in your page editor, scroll to the bottom of the page and select the checkbox by
RSS Audio Feed.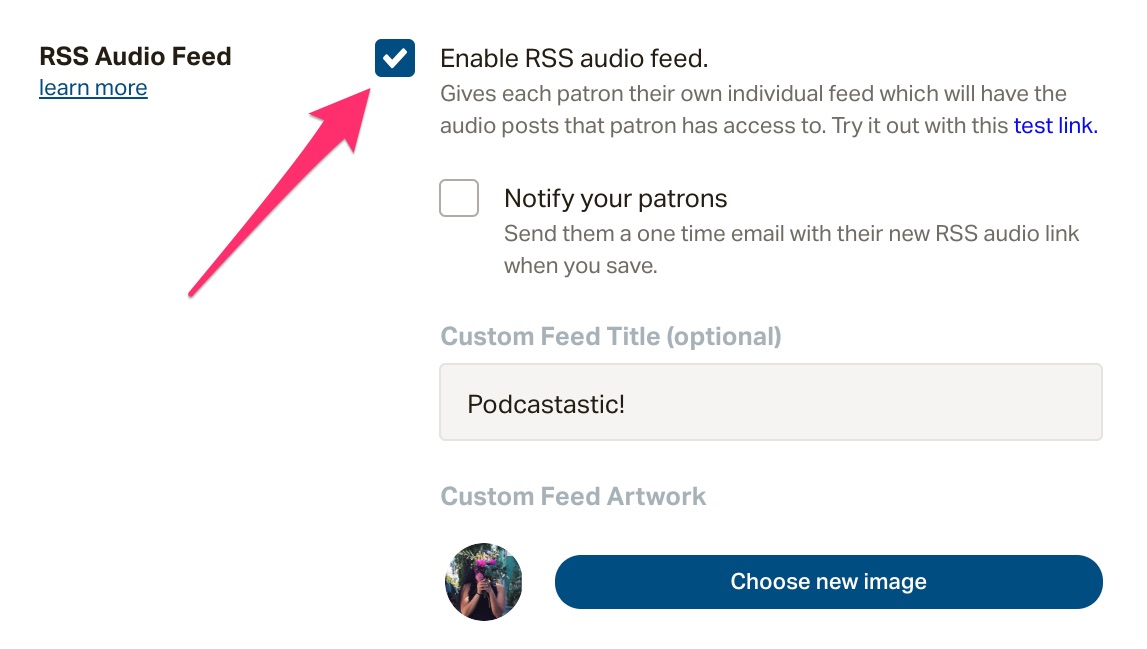 Optional
: If you'd like Patreon to email your current patrons their private RSS links, keep n
otify your patrons
checked.
Note: By default, the title of the RSS feed will be the same as the name displayed on your Patreon page. Feel free to enter a customer feed title if you prefer. 
Step 3:
Add a title and artwork! The title of your RSS feed will default to the name displayed on your Patreon page and your RSS feed artwork will default to your Patreon profile image. 
Once you enable the RSS feed, you'll be asked to come up with a title and to upload custom artwork for your podcast. You don't need to do this
now,
but be sure to do this because without a title and this art your podcast will just show as the default set by the user's podcast app.
Step 4:
Don't forget to scroll back up and
save
your changes!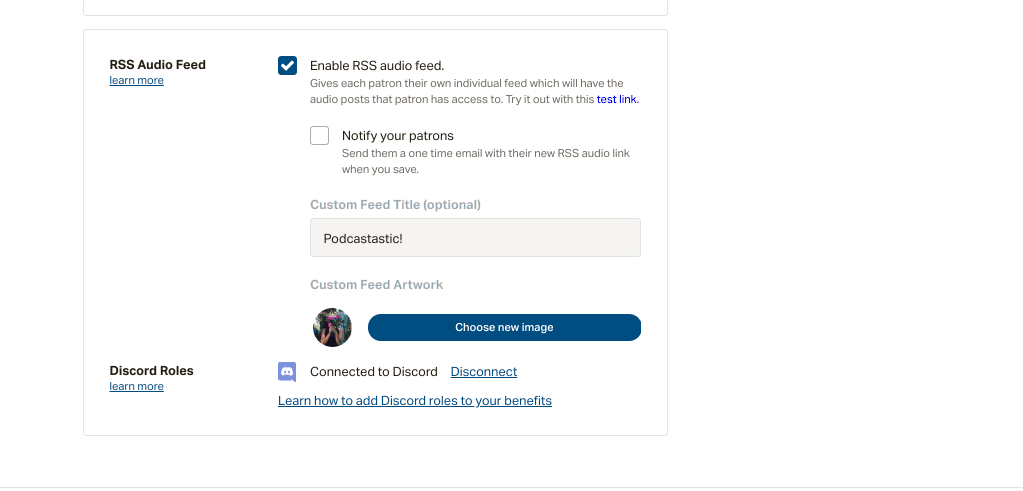 ---
How will my existing patrons get their private RSS link? 
If you opt to notify them when you enable RSS they'll receive an email that contains their unique RSS link.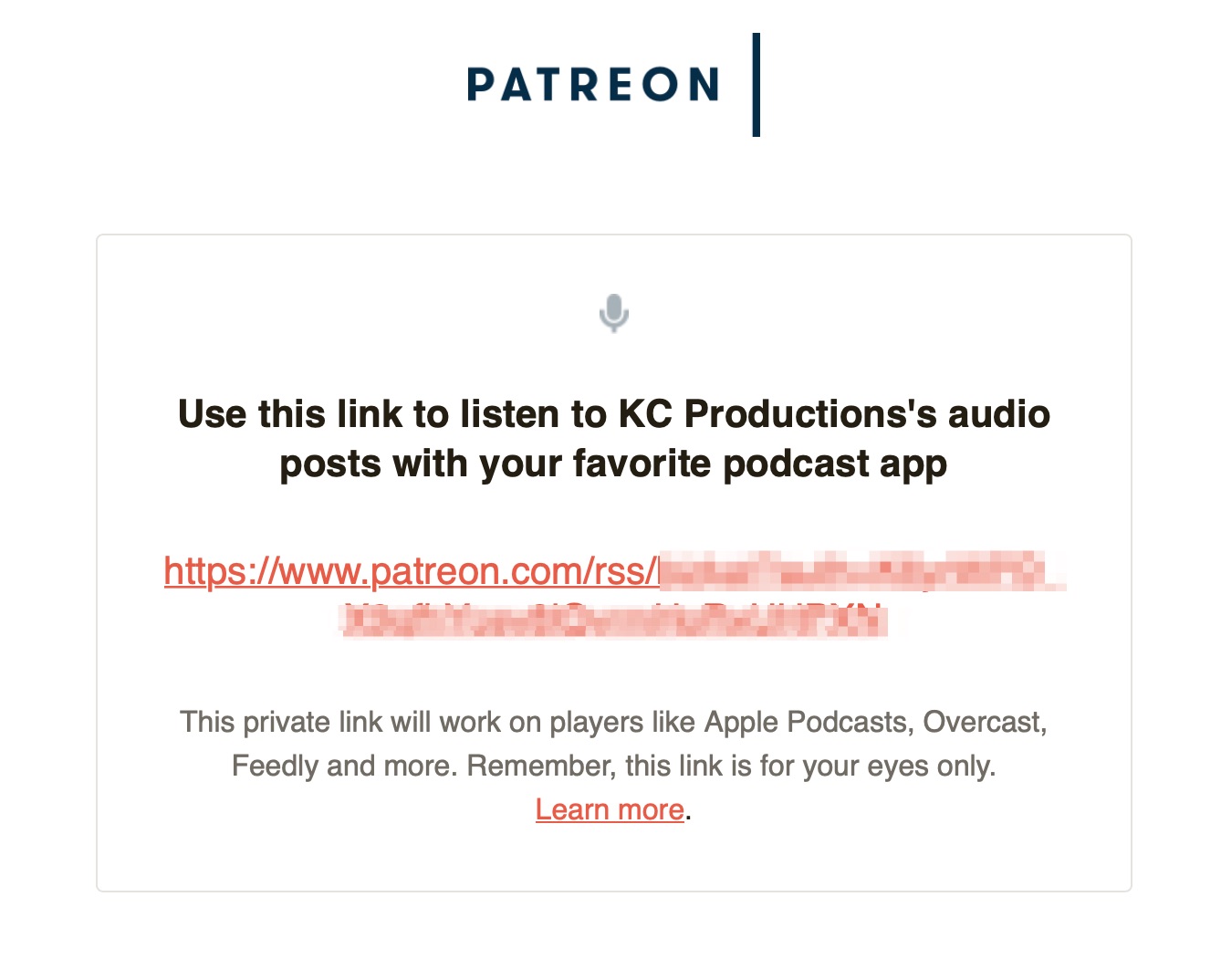 Additionally,
your existing patrons can find their private RSS link on the right side of the
overview
section of your Patreon page. They can copy the link provided in the card labeled 
AUDIO RSS LINK
.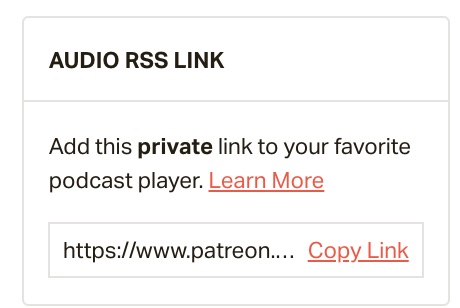 What about new patrons? 
New patrons will see their private RSS link displayed on your thank you page!

Additionally,
just like current patrons, your new patrons will receive an email and have access to their RSS link from the
overview
section of your page. 
---
Your patrons' private RSS feeds will include all audio posts with audio files uploaded before or after enabling the RSS feature. This includes audio posts with uploaded
 .
mp3, .wav, or .m4a files
. File attachments will not be included in your patrons' RSS feeds. 
Note
:
If you use links to third party audio hosting sites
(i.e.
Soundcloud, or Amazon) to make your audio posts, these posts
will not
populate in your patrons' RSS feeds.
Audio posts that you'd like to populate on your patrons' RSS feeds should look like this: