This article will cover how to add and publish your audio file on your Patreon account. It will go over what format we allow to be uploaded and all the different ways you can share your audio post.
Are you a musician, podcaster, or audio artist? You can deliver your sound to patrons as
audio posts as an added benefit
.
Feel free to click ahead if you know what you'd like to do! In this article we'll guide you through: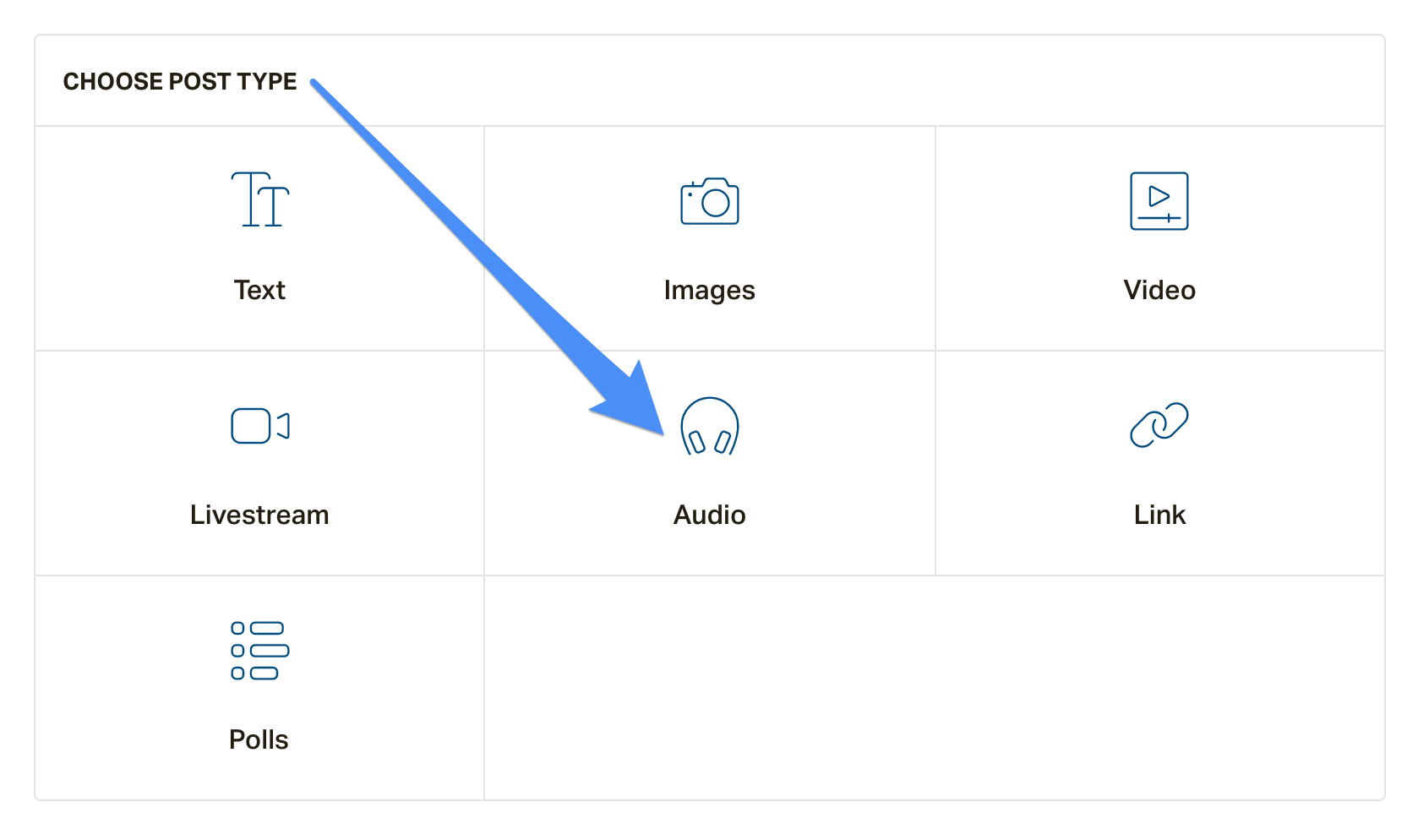 If you're interested in offering patrons custom RSS links to your posts, you can learn more about how to enable this perk, here: How do I enable audio RSS for my patrons?

You can
upload
audio files
directly from your device to your audio post. These uploads will show up as audio player boxes as the main body of your post. These uploaded audio posts will also populate in patrons' RSS feeds, if you have this feature enabled for them.
To make an audio upload post:
Select New from the Post

section on the left-hand side of your page.

Select the

Audio button

from the Post types.

Upload your file using the Choose file button

You can add your own artwork as the player box thumbnail.

Add your title, and a brief description.
What audio file types can I upload?
Make sure your audio file is 200 MB or less, and in one of the following file formats: .mp3, .mp4, .m4a, and .wav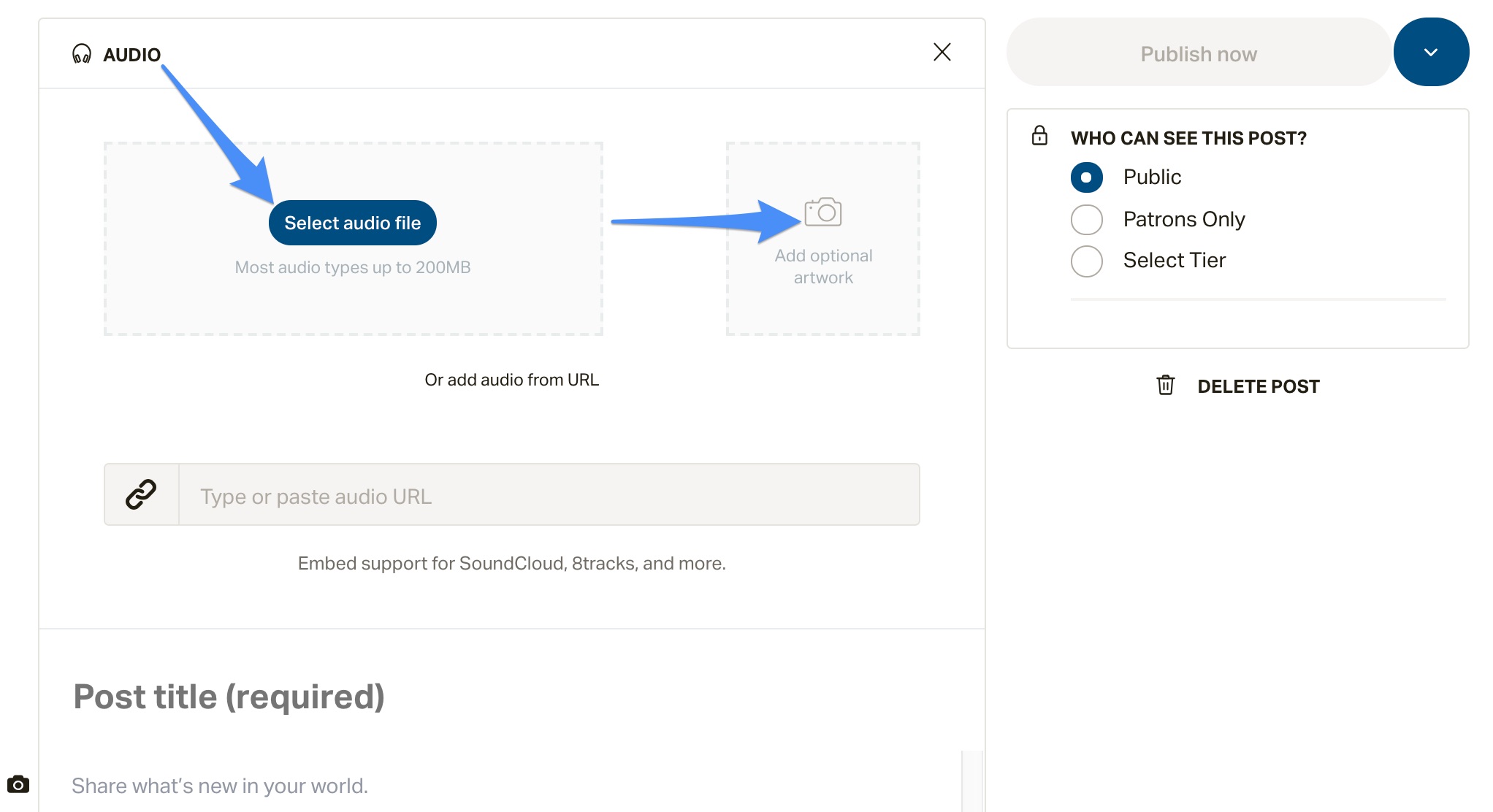 If you choose to have made your audio files downloadable, the uploaded files will also show as hyperlinks under your post title by default. Patrons can click this link to listen in a different browser window where they'll also find the option to download the file. To learn more about your audio link settings, please visit Hide download links from audio posts.

Here's how your Post w
ill display for patr
ons: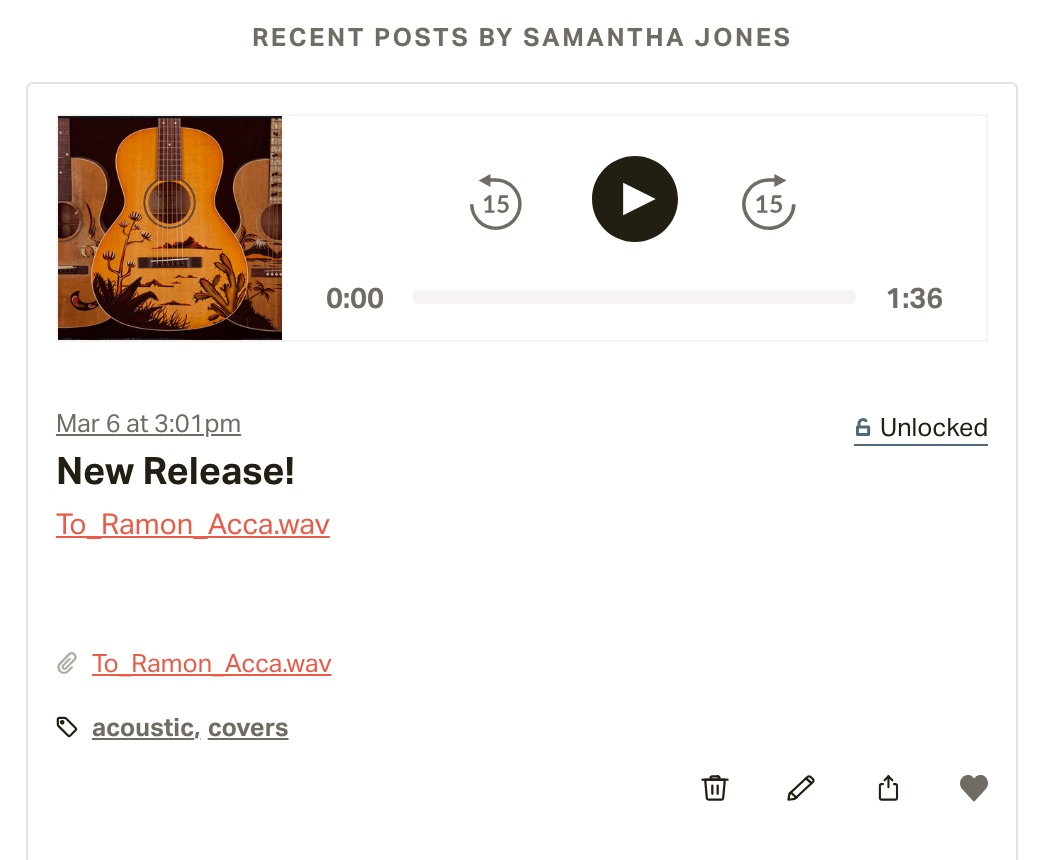 Make an Audio post with a URL
Note: If you have custom RSS links enabled for patrons, audio posts that use a link (e.g. Soundcloud) will not populate on your patrons' feeds – only uploaded audio file posts are hosted on Patrons' private feeds. Learn about how to Upload an audio file.

You can
link to audio
players
hosted on sites like Soundcloud via the link field. Follow these steps to share your hosted audio with patrons:
Click on the Post button of your left-hand navigation and select New.

Select the

Audio button

from the Post types.

Enter your URL in the textbox field. An audio player will populate.

The artwork on your audio player is dictated by whatever artwork you've uploaded to the third party audio host. You cannot change the thumbnail artwork directly from Patreon.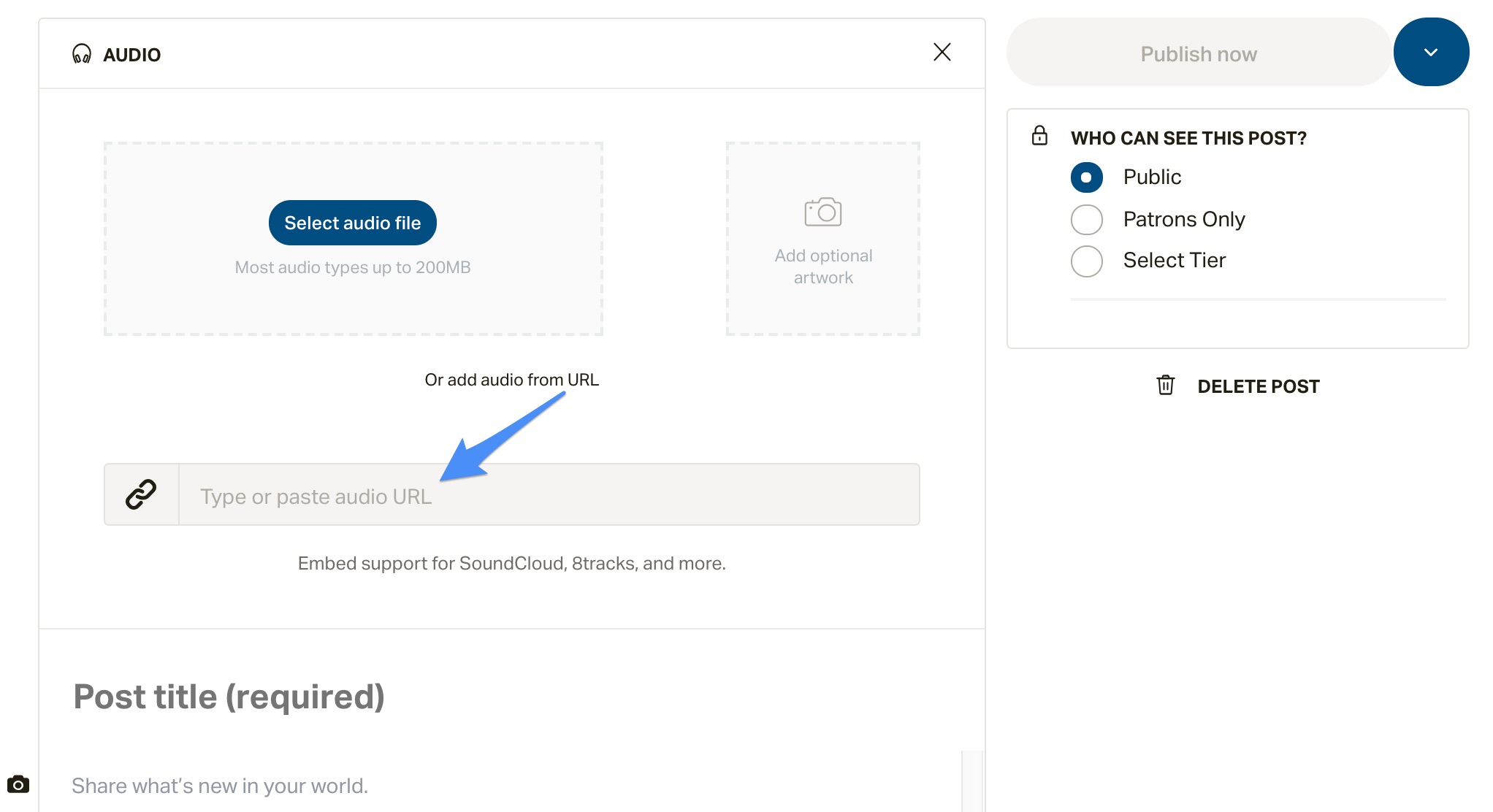 Note:
We use
embed.ly
for all embedded audio players. You can test your URL here to ensure that your player will work.
Add your URL and click the arrow button to the right. If you find
an
error
next to
"type,"
your URL will not post properly.
Attaching an audio file to any post type
Last, but not least, you can
attach audio files
to
any p
ost type. That's right, you can add audio files as attachments to; Text, Image, and Video posts as well.
What audio file types can I attach to posts?
Your audio file must be 200 MB or less, and

in one of the following file formats: .mp3, .mp4, .m4a, .x-m4a, .mpeg, .aac, .ogg, .wma, .wav, and .x-wav files.
To attach your audio file, use the
Upload button
near the bottom of the post creator/editor.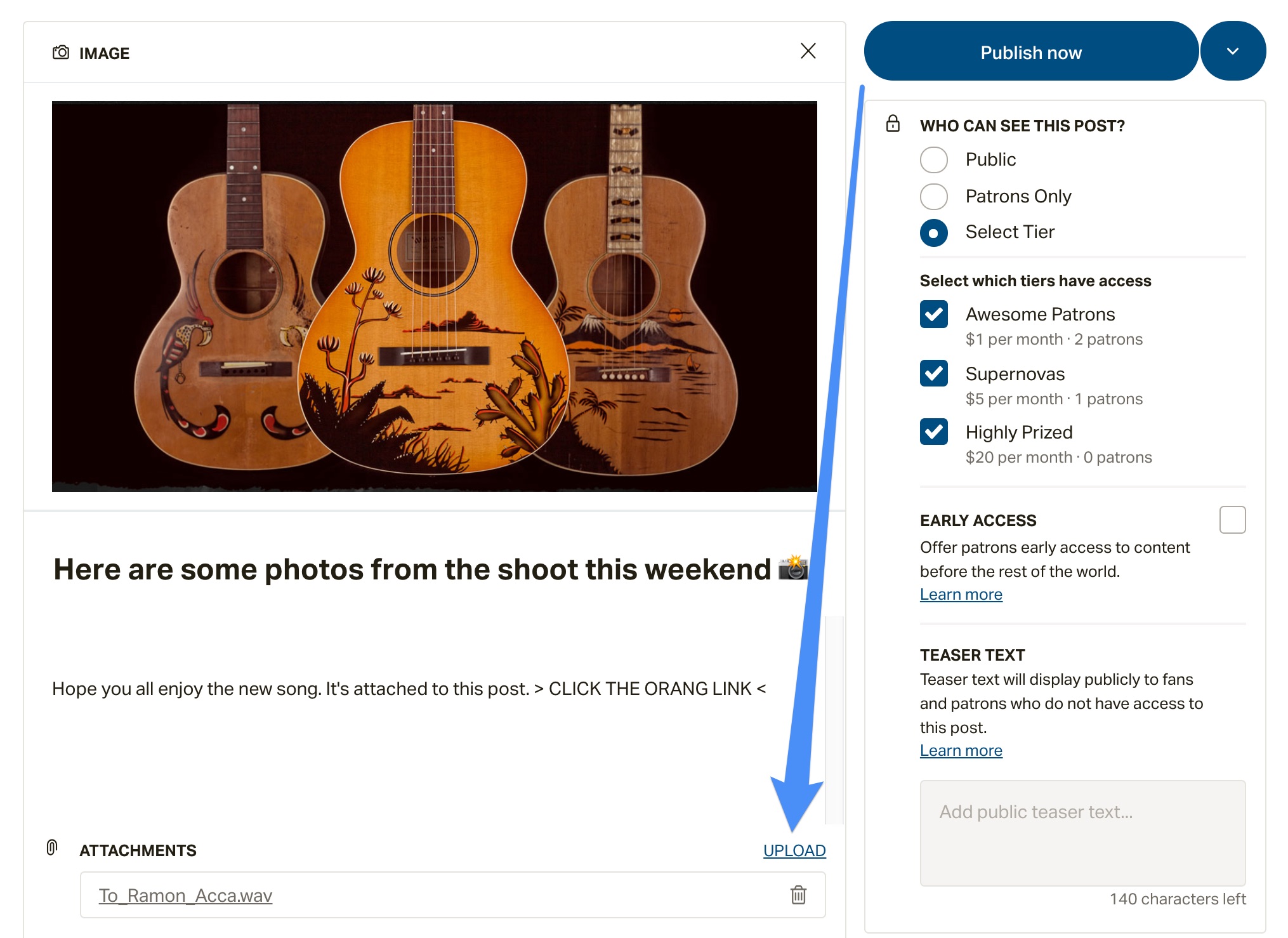 You'll know your attachment is ready to post when the upload arrow disappears. It should show like this: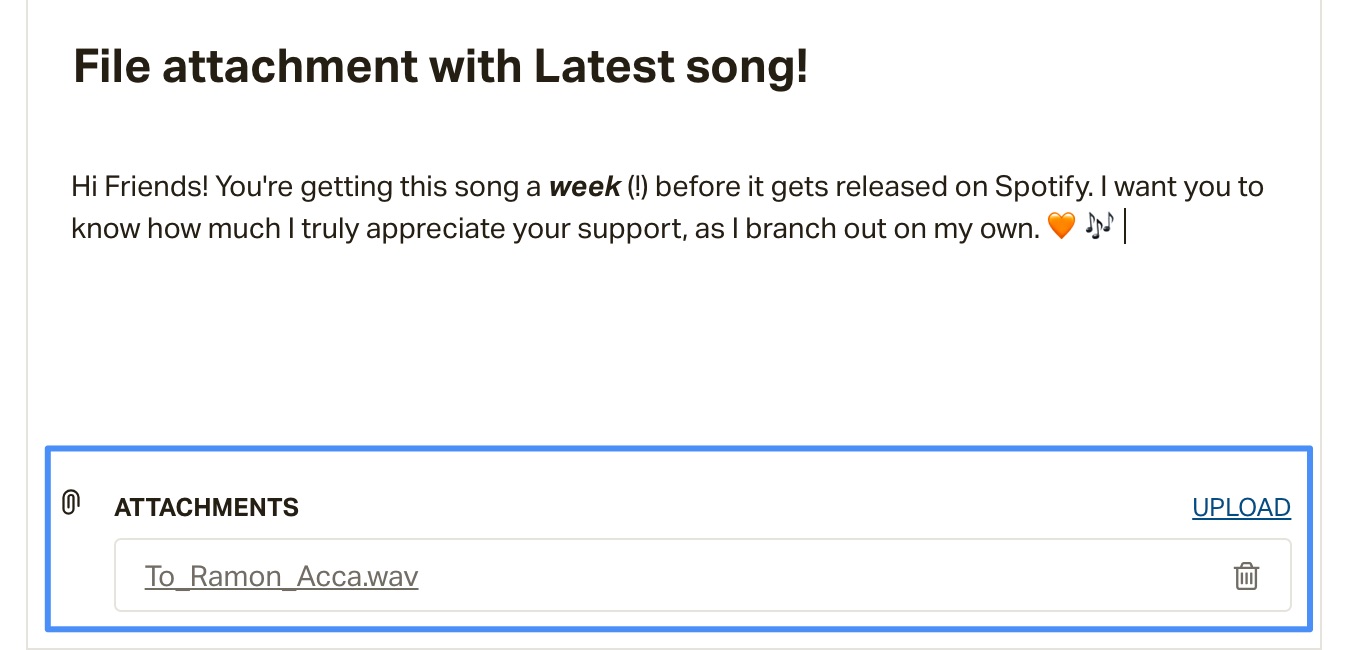 Your attachment will show as a link
at the bottom of your published post.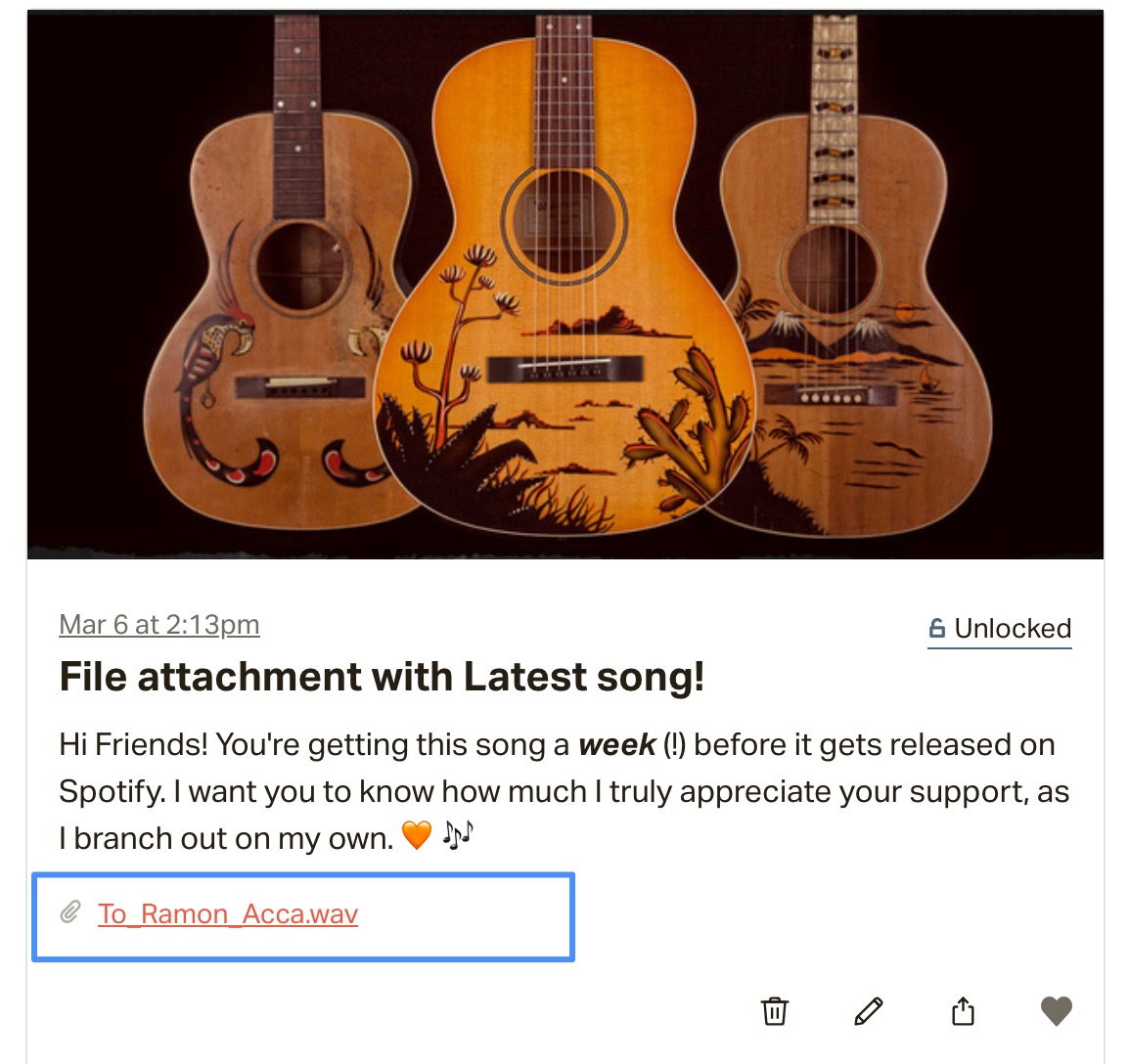 Note:
Have custom RSS feeds enabled for your patrons? Not all audio posts will populate in your patrons' RSS feeds. You can learn more about how to
Enable audio RSS feeds for patrons
.
How do I post for certain patrons only?
Creators in our Pro, and Premium platform plans can publish your post
for Select Tiers
. Use the drop-down under
Who can see this post?
on the right-hand side of the post editor to select the Tiers who can access your post. The content of your post will be visible to patrons within the Tiers you select
.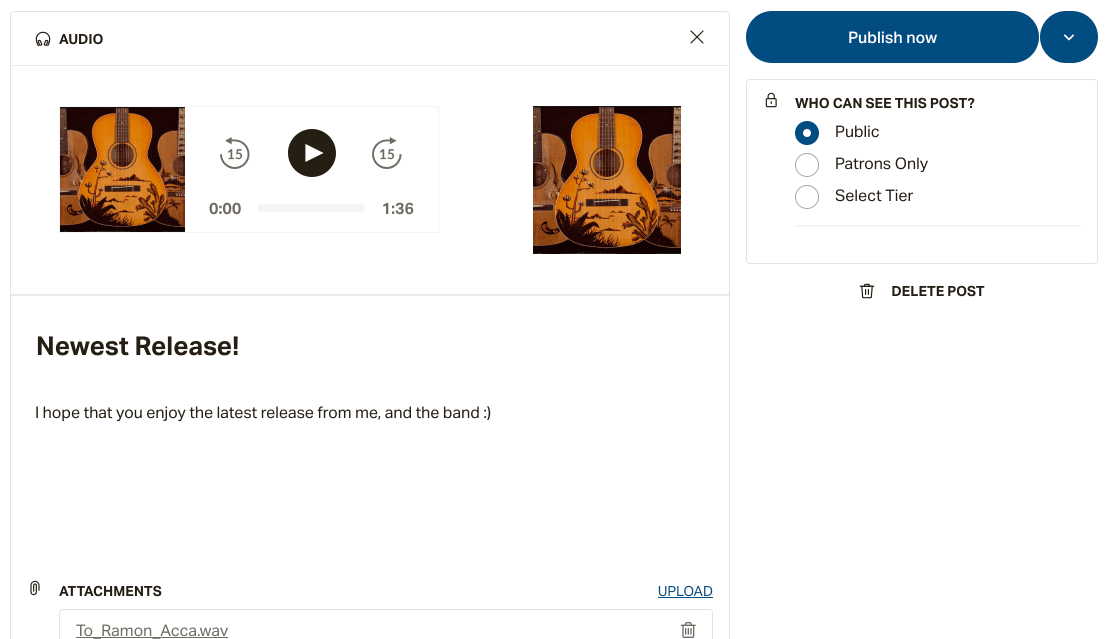 Note:
If you're a per creation creator, you cannot simultaneously charge patrons and make a post for certain patrons only. You can find more information about how Posts work a little differently for you in the following article:
How per creation billing works
.