Are you a musician, podcaster, or audio artist? You can deliver your sound to patrons as
audio posts
. There are 3 ways that you can share your audio content with patrons. 
In this article we'll walk you through: 
Feel free to click ahead if you know what you'd like to do!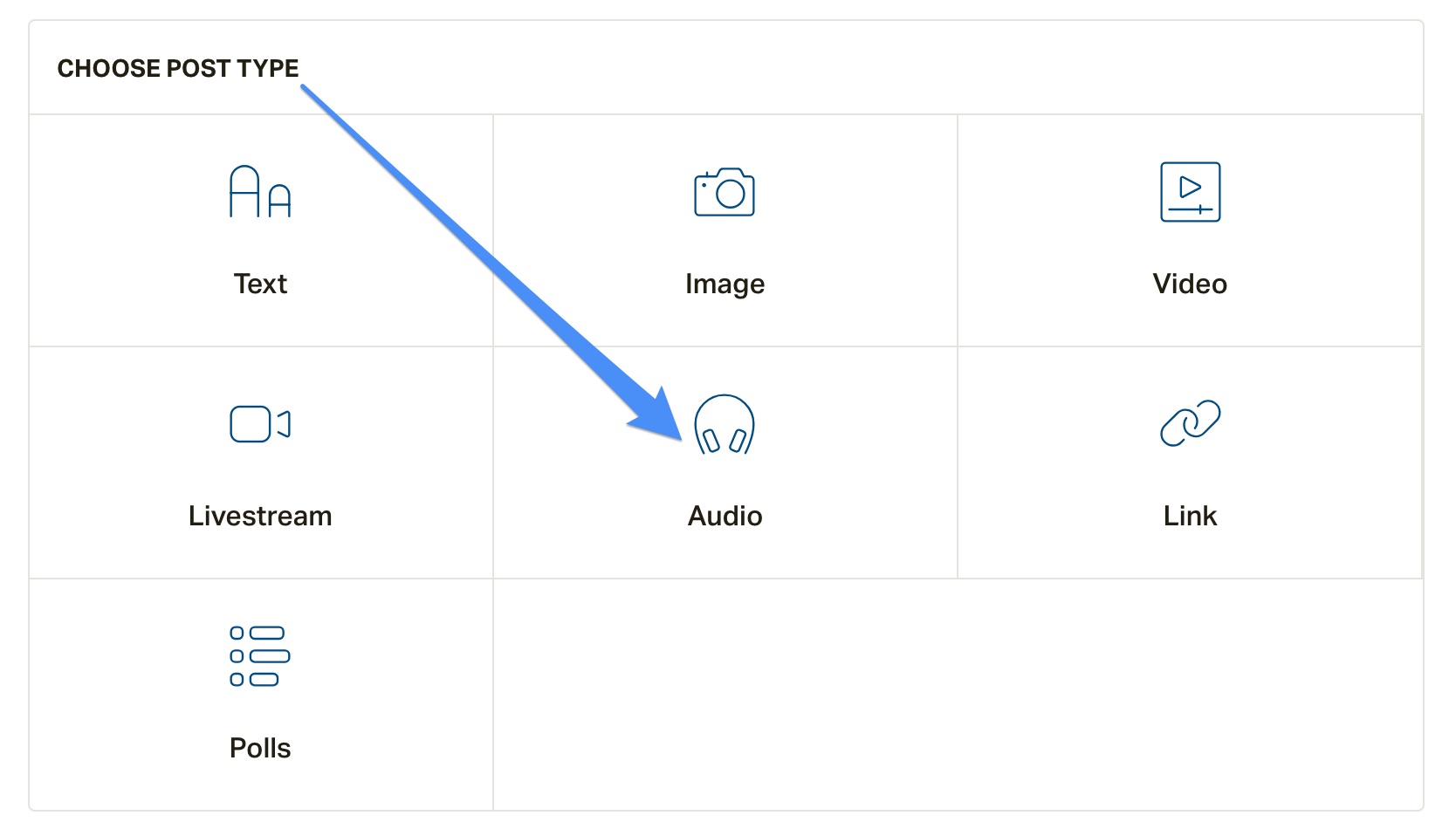 You can
upload
audio files
directly from your device to your audio post via the orange
select audio file
button. You also have the option to add your own artwork. Don't forget to add a title to your post, or else it won't publish. To start, click the New option of the Post 
section of your page then select
Audio
from the Post types.
What audio file types you can I upload? .mp3, .mp4, .m4a, and .wav audio files can all be uploaded as the main body of an Audio Post. Make sure your file is 200 MB or less.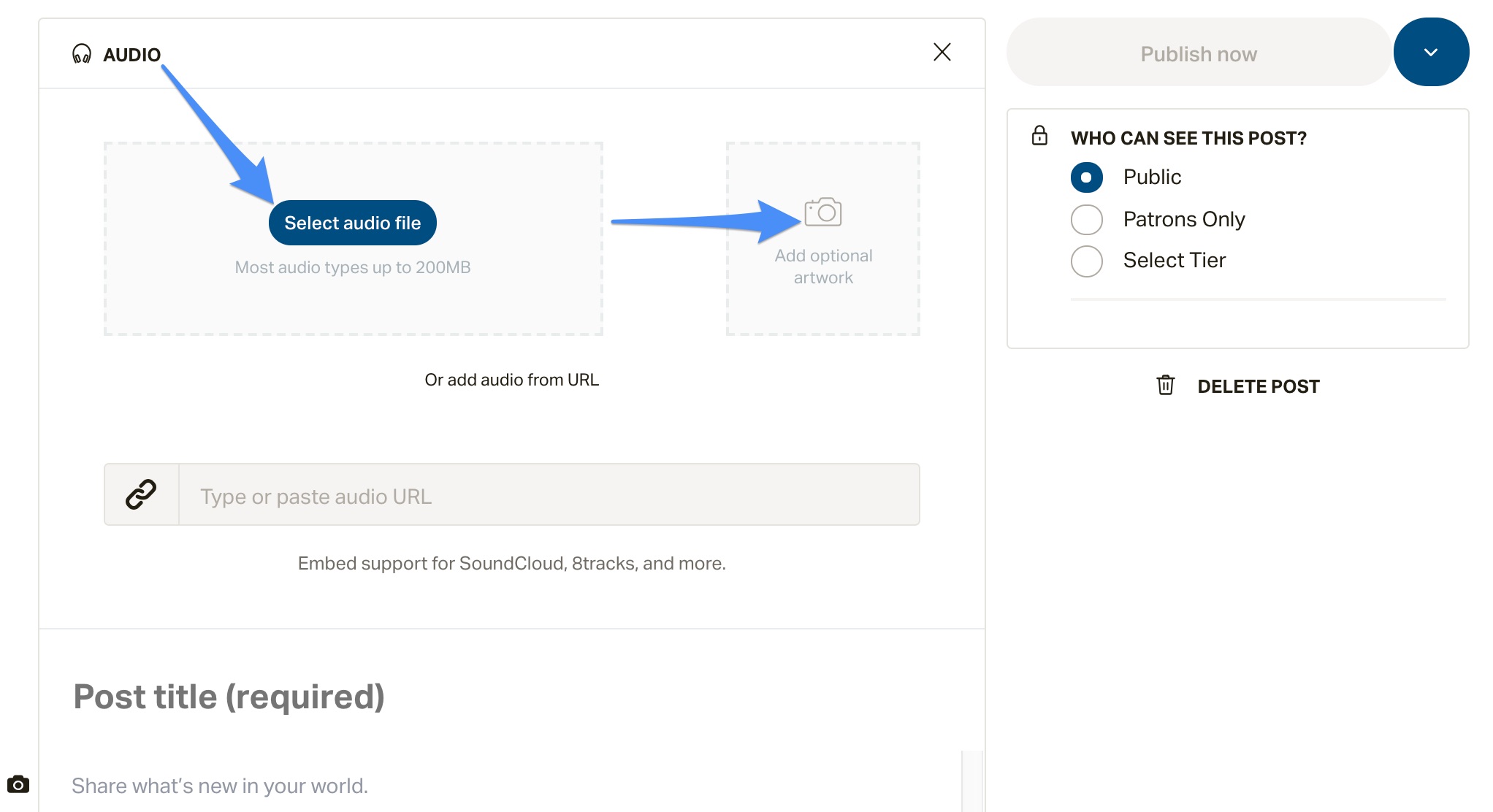 Uploaded files, will also appear as orange hyperlinks under your Post title. Patrons can click this link to listen in a different browser window where they'll also see the option to download the file. 
Here's what your Post w
ill look like to patr
ons: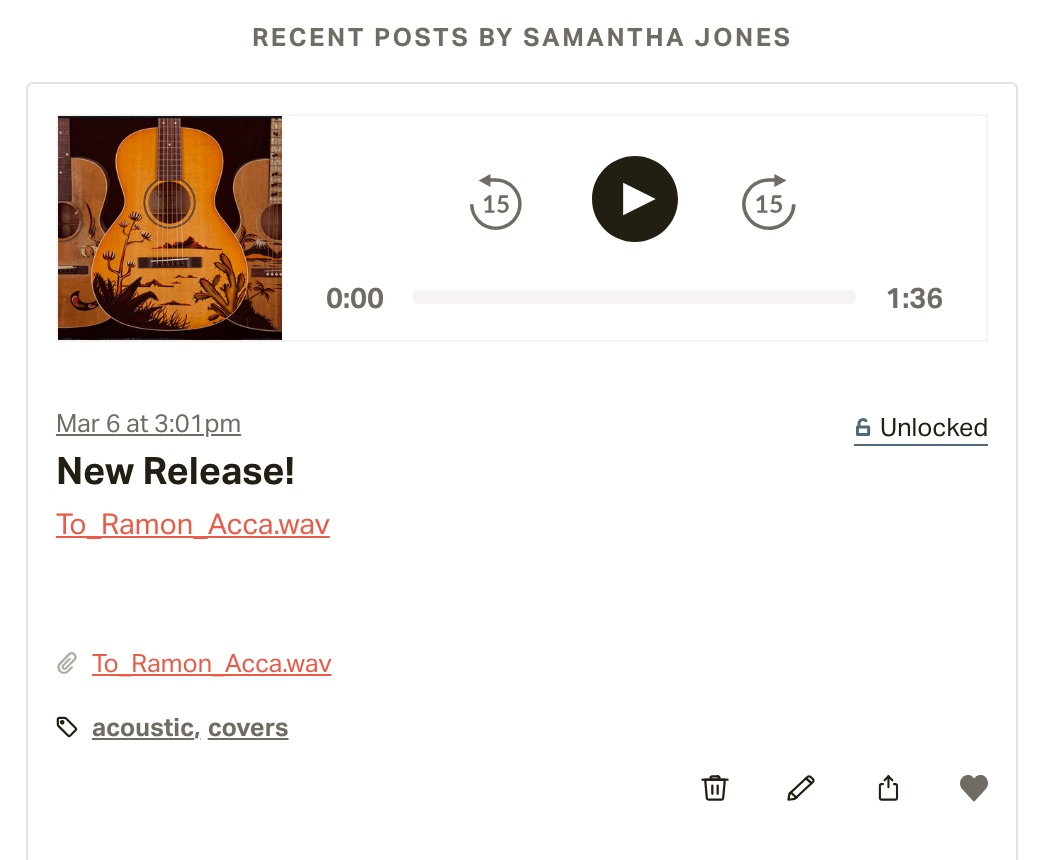 You can
link to audio
players
hosted on sites like Soundcloud via the link field. You'll want to start by heading to the Post 
section of your page, select New, and selecting
Audio
from the Post types. When you enter your URL, you'll see an audio player appear. The artwork on your audio player is dictated by whatever artwork you've uploaded to the third party audio host.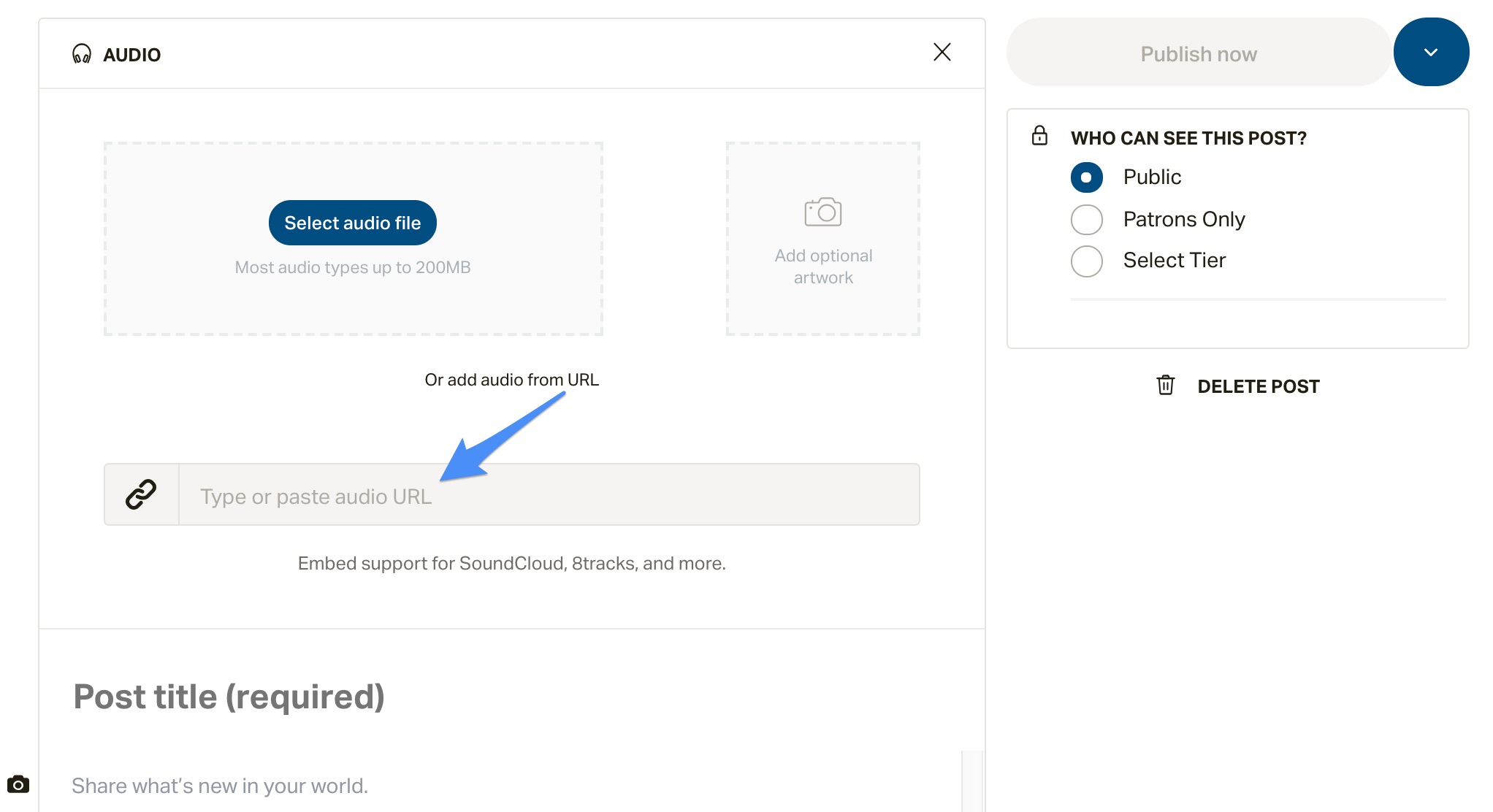 Important note
:
We use
embed.ly
for all embedded audio players. You can test your URL to ensure that your player will appear in your Post,
here
. Add your URL and click the arrow to the right. If you see
an
error
next to
"type,"
your URL will not post properly. 
Finally, you can
attach audio files
to
any
, Post type. That's right, you can add audio files as attachments to  Text, Image, and Video Posts as well. 
What audio file types can I attach to posts? We currently support thefollowing file types as attachments: .mp3, .mp4, .m4a, .x-m4a, .mpeg, .aac, .ogg, .wma, .wav, and .x-wav files. Keep in mind that there's a 200 MB max to your file size. 
To attach your audio file, use the
Upload link
near the bottom of the Post Creator.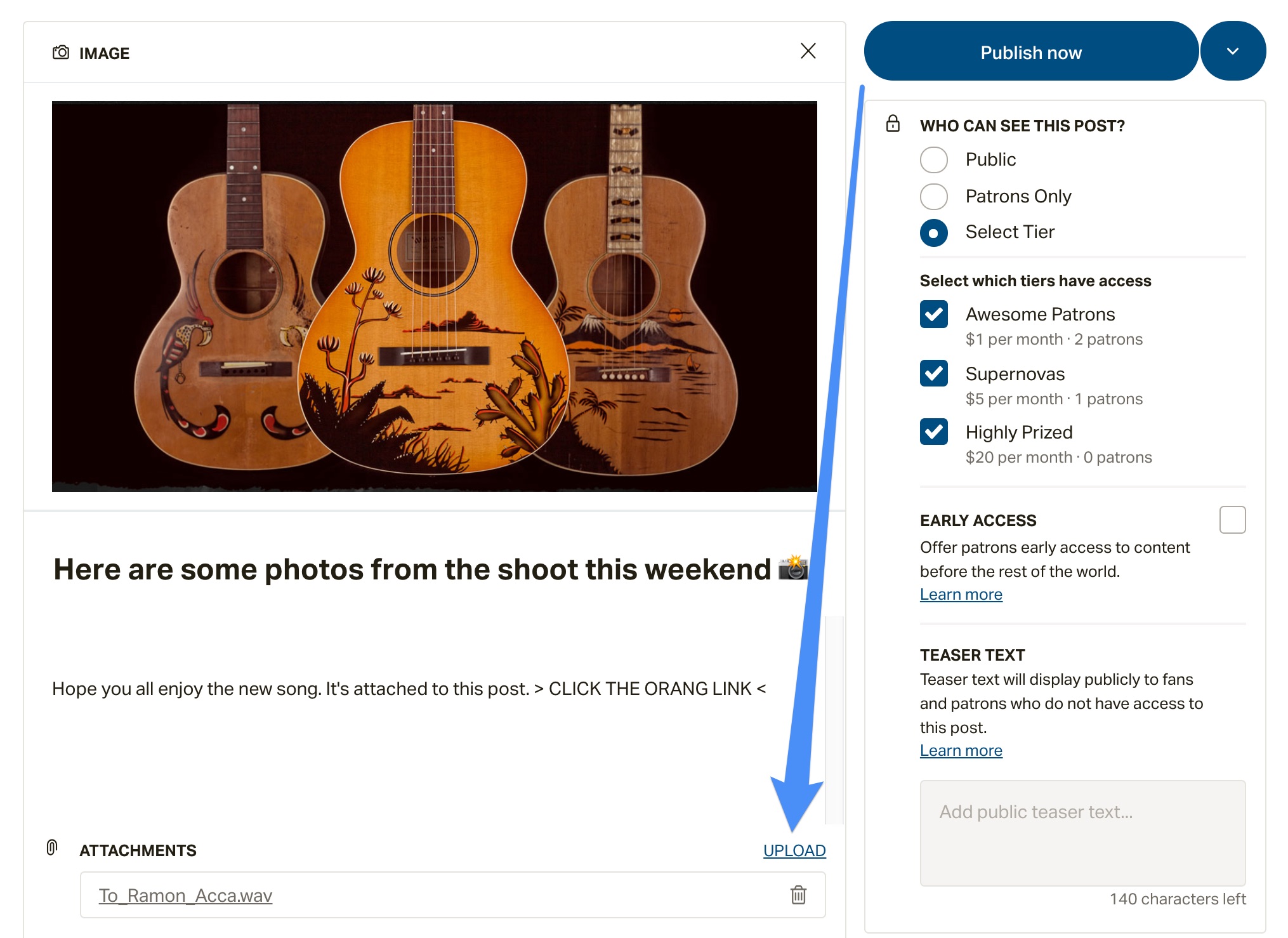 You'll know your attachment is ready to post when the upload arrow disappears. It should look like this: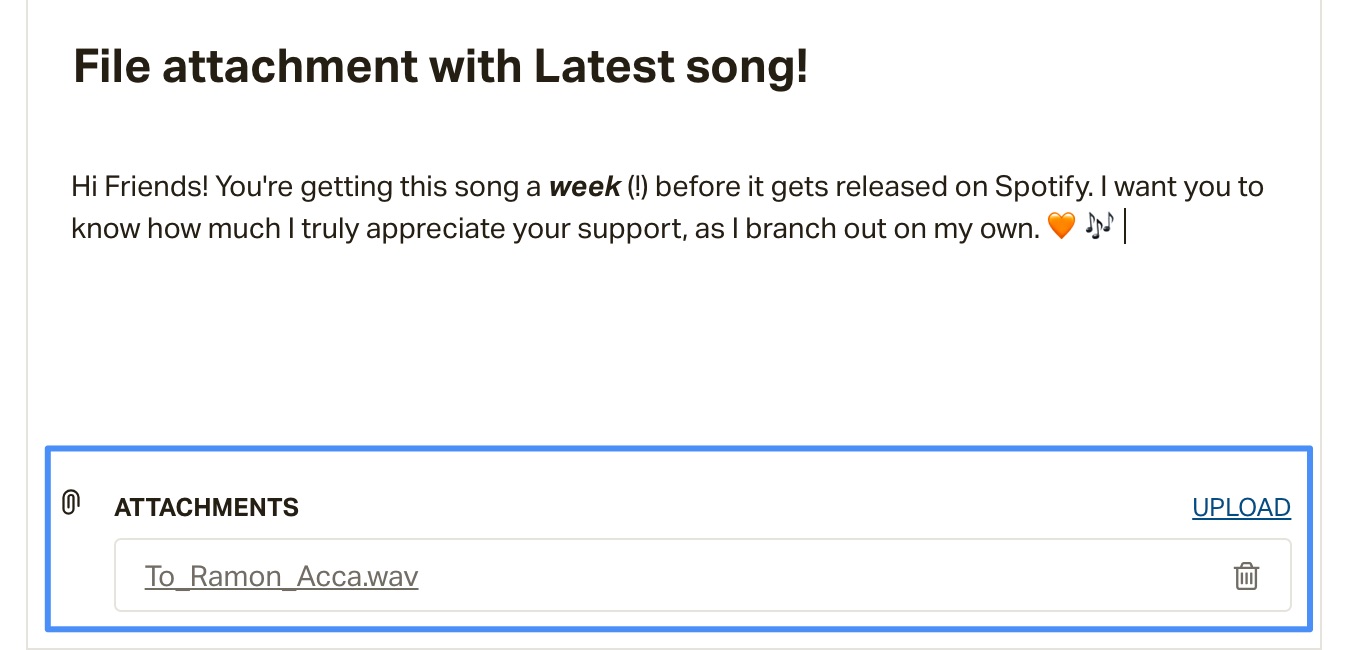 Your attachment will appear as an
orange link
at the bottom of your published post.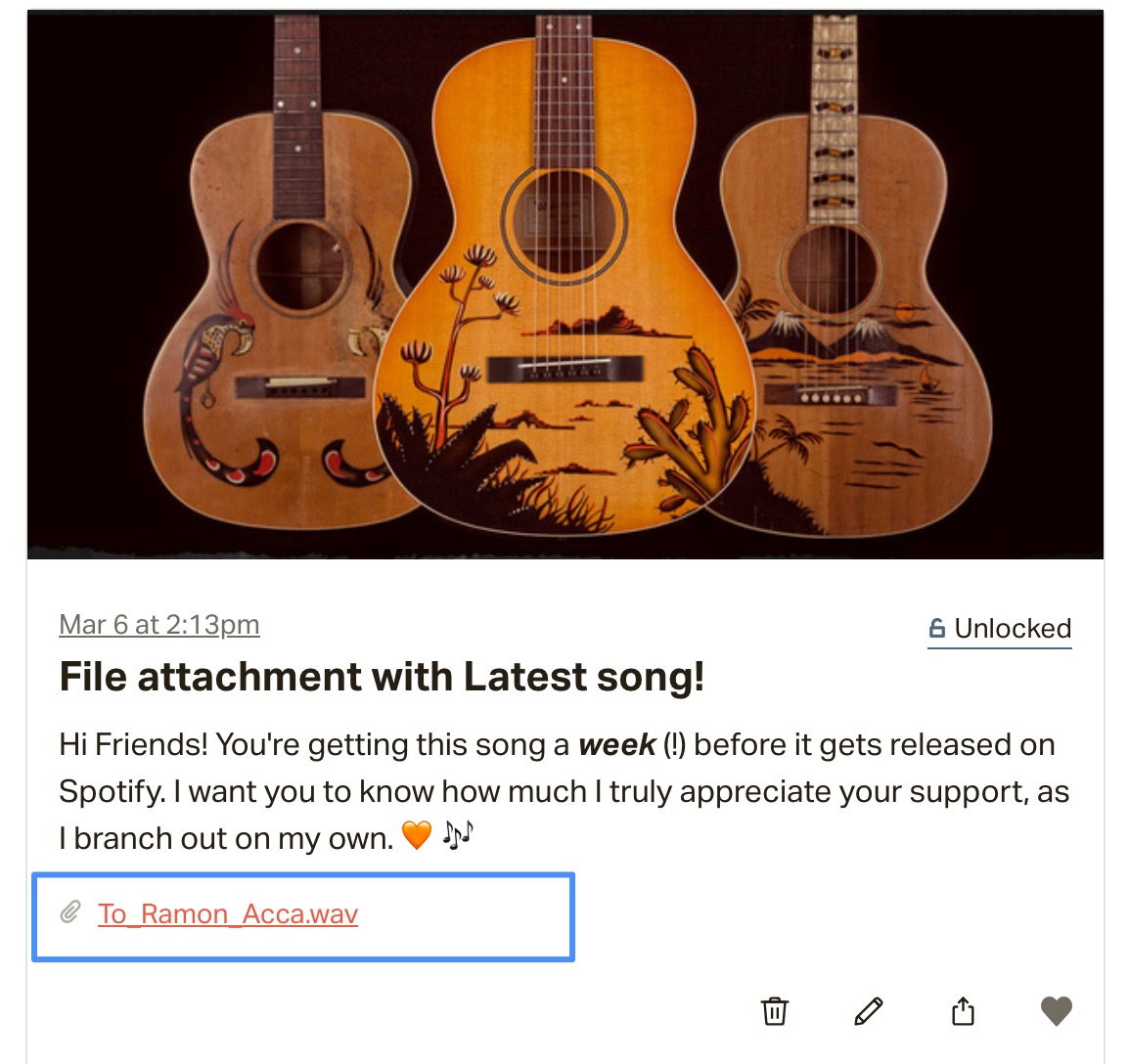 Note
:
Have custom RSS feeds enabled for your patrons? Not all audio posts will appear in your patrons' RSS feeds. You can learn more about our custom RSS feed feature,
here
. 
If you'd like to publish your Post
for specific patrons only
, be sure to select which patrons you want to have access to your Audio Post. Use the drop-down under
Who can see this post?
on the right-hand side of the screen to select the membership value who can see your Post. The content of your Post will be visible to patrons with a minimum membership payment of the value you've selected
(and
higher).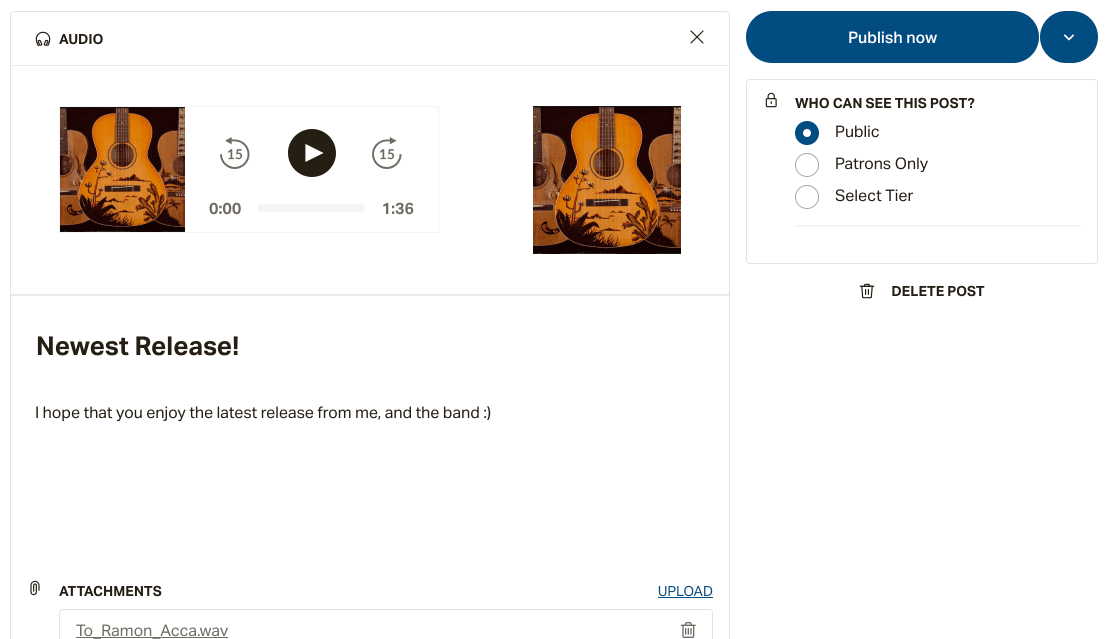 Note
:
If you're a per creation creator, you cannot simultaneously charge patrons and make a Post only for certain patrons. You can find more information about how Posts work a little differently for you,
here
.