Patreon has
began offering
a choice of 3 currencies for creators to receive earnings and price memberships: US Dollars
($),
Euros
(€),
or British Pounds
(£).
If you are setting up a new creator page or have never launched your creator page, you can select the currency you would like to bill your patrons in.
If your page launched prior to February 11, 2020, you will be able to switch to Euros
(€)
or British Pounds
(£)
by the second half of 2020.
In this article, we'll cover:

How to select your preferred billing currency
---
To begin, simply follow the steps to
start your creator page on Patreon
. Once you kick that process off and complete all prior steps, you'll land on the modal that will ask you to choose your
Currency
.


Here, you can select between US Dollars, British Pounds, or Euros.
The currency you choose is what potential patrons will see when they visit your page, and what you will be paid in.
Select the button of the currency you'd like to charge your patrons, then click
Continue
.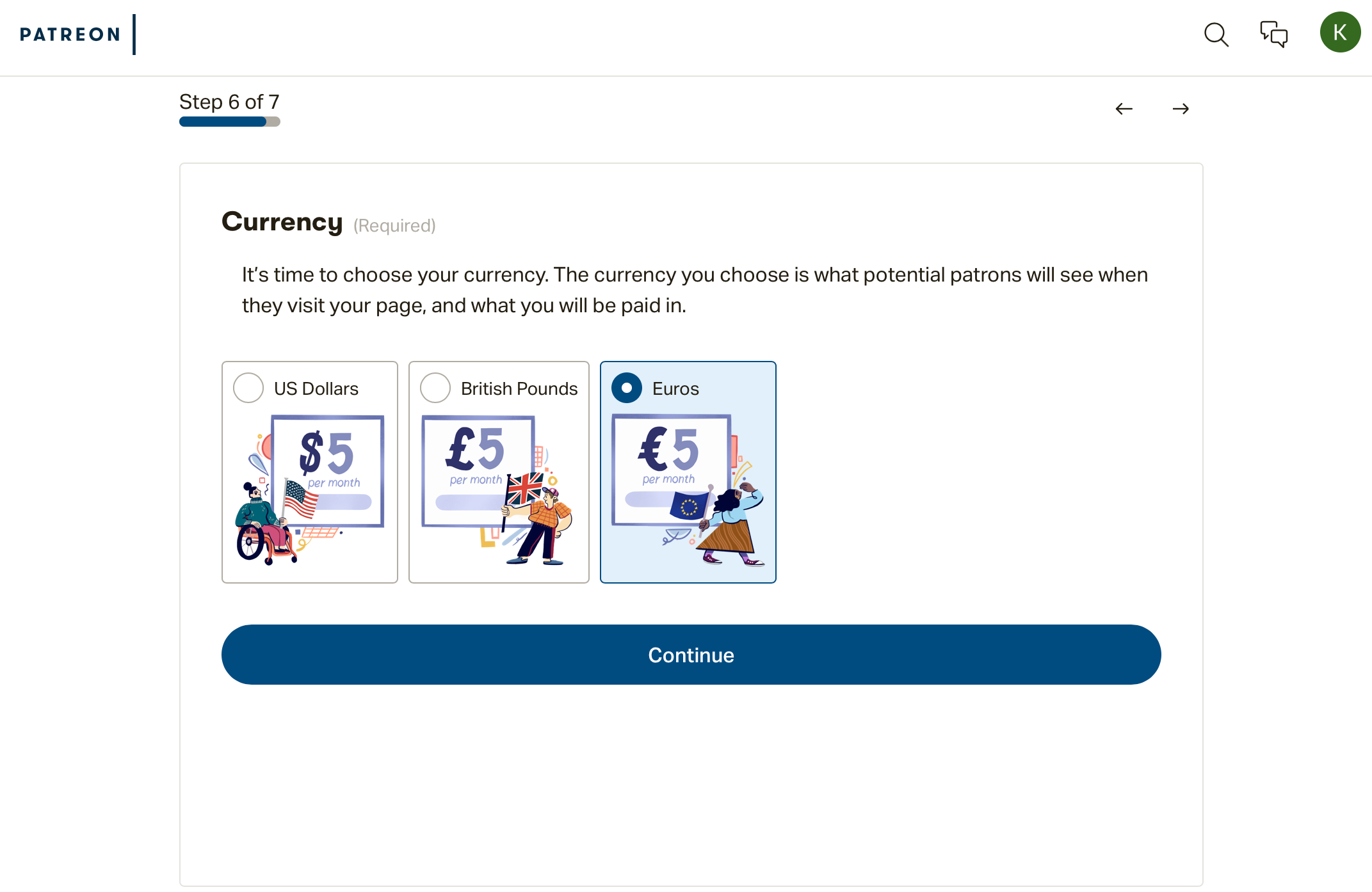 Then, continue the rest of the setup process to build and launch your page.

IMPORTANT: Please choose your currency carefully. Once your page has been launched and a payout method has been added, you won't be able to change your currency setting.


What your patrons will see
---
Your patrons will
see your tier prices in the currency you chose.
They will not have the ability to select
their own
currency at this time.


Once they decide to sign up as your patron and are billed, i
f their local currency is different
than yours
, they may see varying amounts due to
currency
conversion by their bank.
For example, if you are billing in Euros and your patron's bank is US-based, they may see a converted amount in US Dollars.


Please note that exchange rates may vary day to day
depending on the local banking institution and we cannot provide the exact amount that they will be charged in their local currency due to this.


Frequently asked questions
---
Why would I want to bill in a currency other than USD?
There are several reasons why you may want to bill in Euro or British Pounds. Perhaps you reside in the EU or the UK, and would like to receive your earnings in local currency. Or, a large portion of your patron base already transacts in one of these currencies. Either way, we would recommend taking both of these reasons into consideration when choosing what currency you would like to bill in.

What if I want to change the currency I want to bill in before I launch?
That's totally fine - as long as you have not added a payout method, all you have have to do is go back to editing your page, select the Payments tab, and choose the currency you prefer.

Can my patrons choose their own currency?
At the moment, no - your patrons cannot choose the currency they would like to pay in. This is something we're looking to offer in the near future.