---
---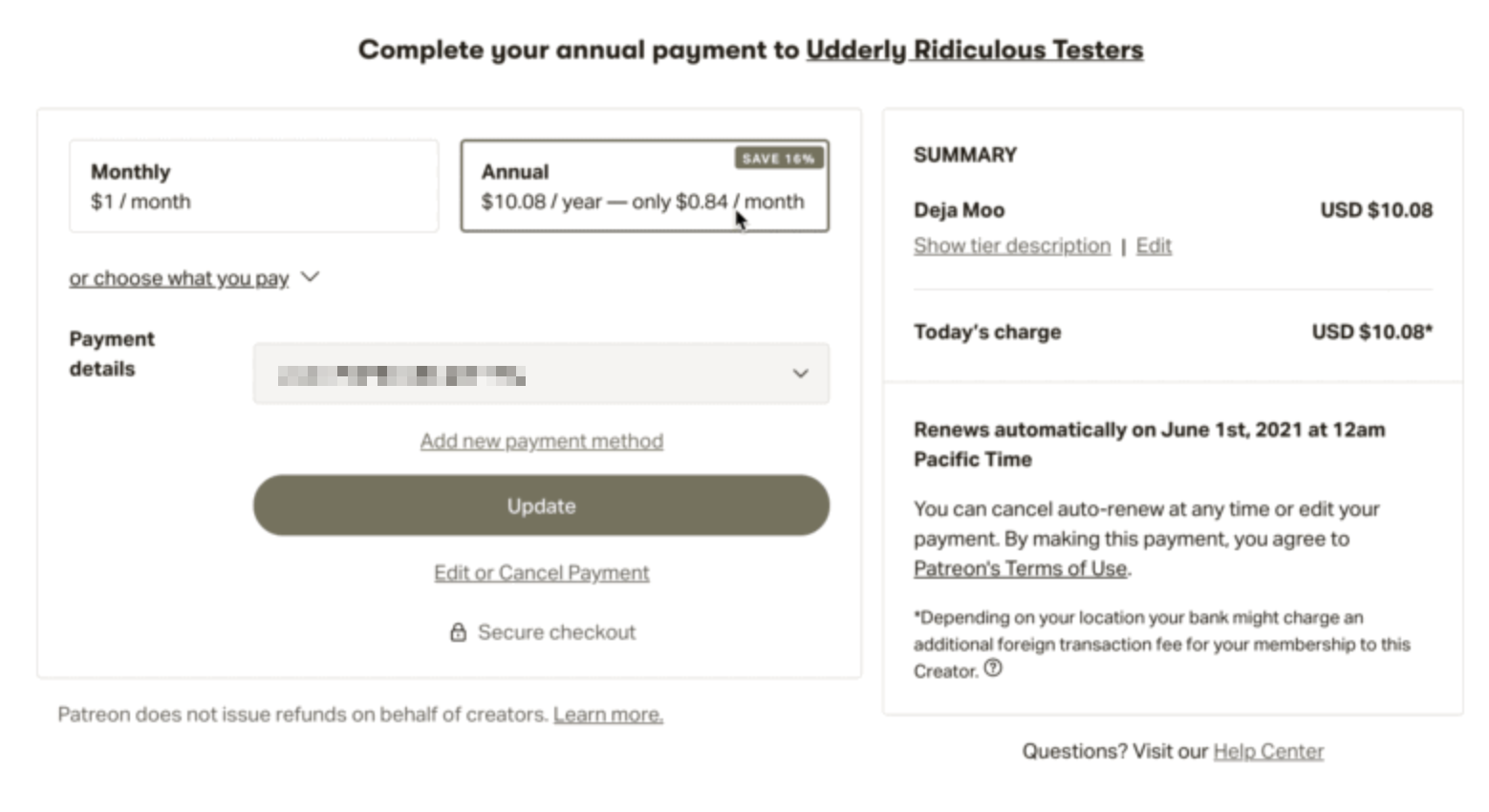 Please note, that you'll be charged for the entire year up front.

---
---
Can I switch to monthly from an annual membership?
I cancelled and would like to repledge – will I be charged?
Unless you cancel and rejoin in the same month you started your annual membership, you can expect a prorated charge for extending your annual membership. When you join or rejoin a creator's membership at their annual offering you'll have a year of membership starting from that confirmation.

Example:
Let's say you join a creator's annual membership for $20.16 USD for a year ($1.68/ month) on January 10th 2021. You cancel on January 10th because you only want a year of membership and your year of membership will complete at the end of January 2022. If come March you decide to rejoin and keep paying annually, you'll be charged $3.36 USD immediately. This charge extends your membership terms, and your membership will renew come April 1st 2022.
---
---
Patreon has a No Refunds policy for Annual Plans, absent extraordinary circumstances which are reviewed and granted at Patreon's discretion. You are supporting a creator for their past and future work, and getting access to content during your term. We cannot guarantee you will always like the quality or quantity of past or future work, or that creators will have completed new work within the year's period, and these factors do not provide you with an automatic refund.

If for any reason you need to request a refund for your annual membership, you'll need to contact your creator directly with that request. We will not make the decision to refund a patron on behalf of creators, however, you can read our recommendations on how to go about requesting one from your creator, here: Recommendations for requesting a refund

Can I get a prorated refund from my creator?