This article will cover how to stop your patrons from being charged come the first of the next month.
We understand that some months you get busy and might not be able to make a post. Or maybe you're taking a well-deserved vacation and don't want to charge your patrons while you're away. When this happens, you can choose to pause your creator page
for one month.


In this help guide, we'll cover:
What do I need to know about pausing billing for my page?
---
How long can I pause my page for?
When you pause your page billing, you skip one recurring monthly billing cycle.
If you are not sure you'll be ready to be back in action after one month, you
can
re-pause your page monthly until you are ready to do so.


Once you've skipped a month of billing, you won't have the option of going back and billing for that month in the future – it's been permanently skipped.


What if I want to take an extended break?
If you don't plan on returning from your break for quite some time, we recommend unlaunching your creator page until you are ready to regularly process membership payments again.
How does pausing effect monthly billing creators
(non
charge up front)?
I
f you bill patrons monthly and pause your page, y
our patrons won't be charged during the next billing cycle
. Y
our creator page will automatically resume
, or
"
un-pause
"
on the 2nd of the following month
.
W
hen the billing cycle is about to begin, we'll send you an email to remind you that your billing is paused.
Example

: On January 20th, you realize you didn't make a post at all in January and you don't want your patrons to be charged on February 1st. Instead of

unlaunching your page, you can pause your creator page to ensure your patrons are not charged on February 1st. On February 2nd your creator page will automatically un-pause and normal billing will continue on March 1st.
How does pausing affect charge up front billing creators?
If you are a Charge Up Front creator and pause your page, all
existing
patrons will not be billed the recurring monthly membership payment on the 1st of the month. Any new patrons who join your page while you are paused, will still be charged for joining, as they have access to your previous posts as soon as they become a patron.


Do you have annual memberships enabled?
If you annual membership enabled for patrons, please note that when you pause billing for your page, we will extend all active annual memberships by one month.
Can I pause my page billing if I'm billing my patrons per creation?
Since per creation creator
s
can simply stop publishing
paid posts
during your hiatus, the pausing feature is not built into per creation set ups. If you plan on taking a break and not billing your patrons for a bite, you may want to post a note, or
send a message
to your Patrons – keep your biggest fans in the loop!


Does pausing effect your page content?
If you like, you can still post content for the month while your page is paused and current patrons will have access to the new posts. Additionally, you and your patrons can still interact via comments and

direct messages

.


How do I pause my creator page?
---
Visit your

creator account settings link

from your creator navigation bar on the left-hand side of the page (the gear icon directly under your creator name).

You'll land on the account settings page.

Scroll to the "Account Management" section and click the "Pause (this month's) cycle" button.

Click the

Confirm button to pause your current billing cycle.
A yellow banner will populate at the top of your account settings page to confirm that the cycle is paused. This is also where you can resume your page. A banner at the top of your creator page will alert patrons that your monthly billing is paused.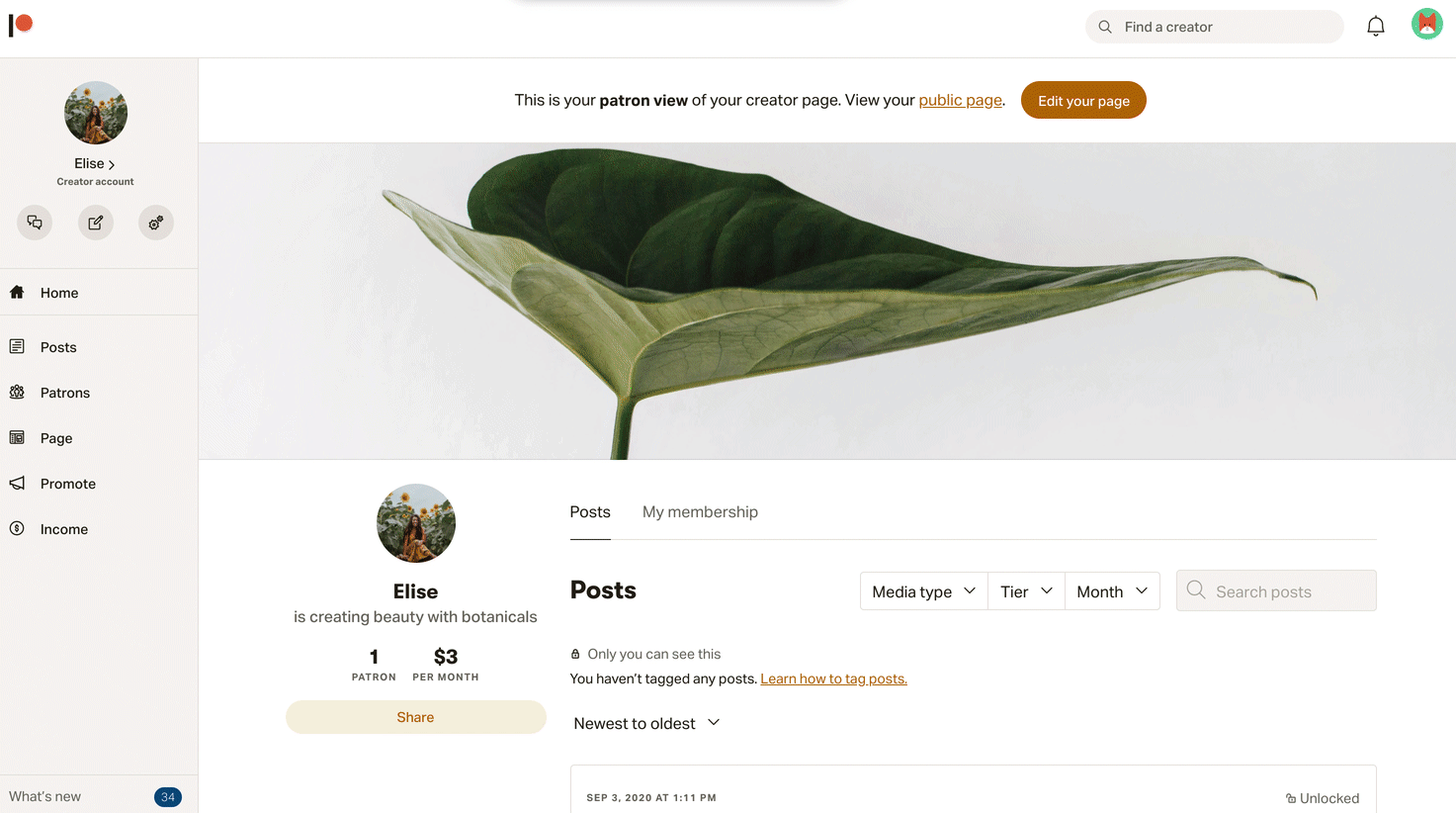 How do I un-pause my creator page?
---
All accounts that have been paused will automatically resume (un-pause) on the 2nd of the following month. If you had paused your account but decided to un-pause it within the same month, you can un-pause your creator page from your
creator account settings page
.
Click the

"Resume (this month's) billing cycle" button.

Click the "Confirm" button in the pop-up window

.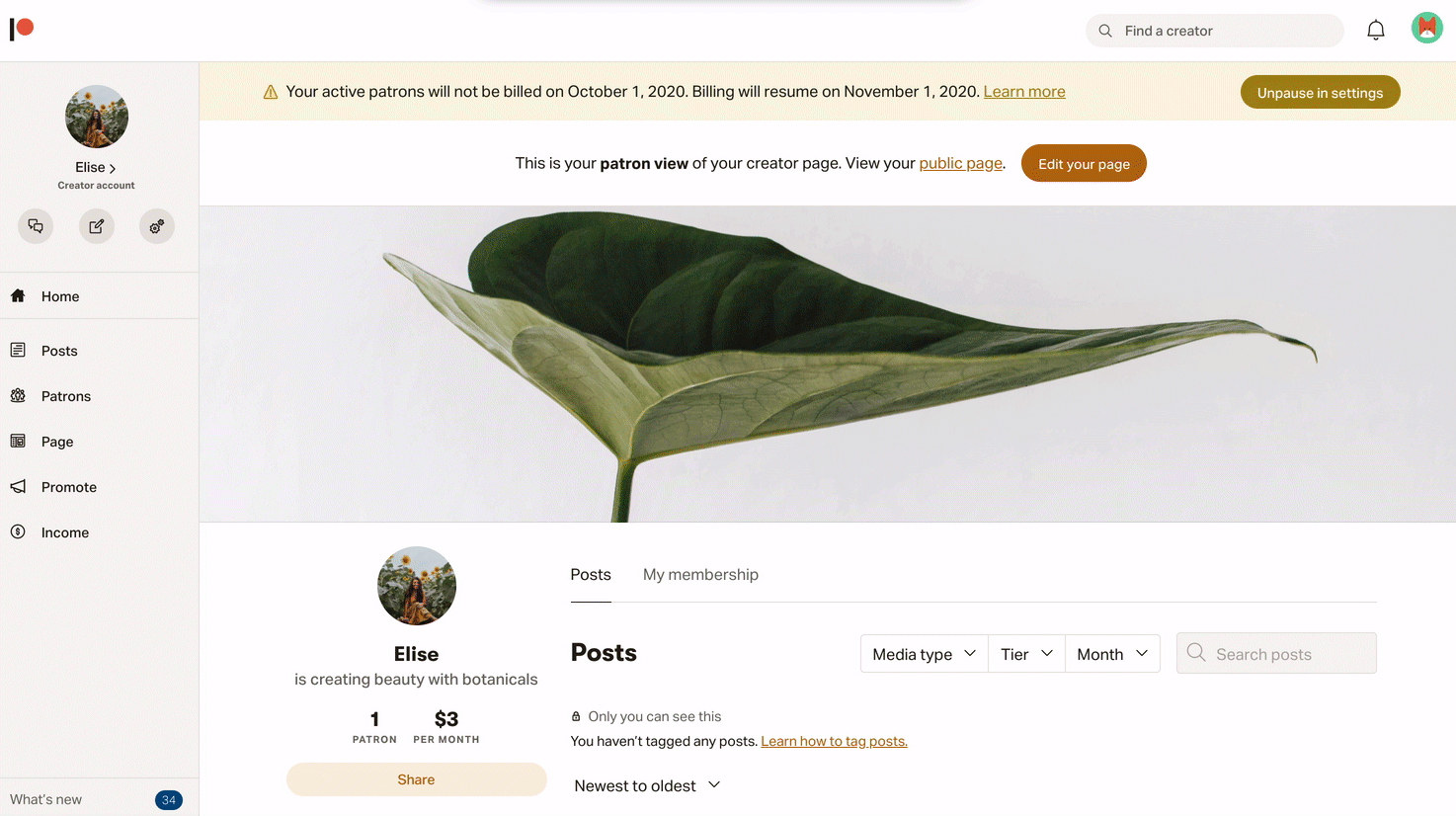 No matter how you go about taking a break from your Patreon page, be sure to notify your patrons. This can be done with a simple post or by sending a message through your relationship manager.
Enjoy your break and when you're ready to come back, we'll be here!