This article will cover how to make a new tier/price structure for your account. Tiers cannot be repriced with active patrons on them. You will learn how to create new tiers, add existing content to new tiers, and unpublish or delete old tiers.
When you have already setup your tiers but would like to change or edit them. This article will guide you through how to delete, unpublish, and create new tiers for your patrons.
It's served you well, but the time has come to switch things up. At Patreon we believe that change is good – it's an inevitability of being a creator. Even so, it's not always easy to say goodbye to a Tier that's served you well. We've created this how-to for retiring or repricing a Tier. Hopefully, this guide will make the transition as smooth as possible for you, and your patrons. Farewell old friend!
Please note that while our examples in this article show US Dollar ($), the information is also applicable to the currency you choose to bill in.


5 simple steps to retiring a Tier:
Find answers to frequently asked questions about retiring a Tier in the FAQ section below.


#1 Build your plan
---
Whether you're creating a brand new Tier, or want to simplify, having a transition path for your patrons can be key to retaining their membership. Identify where you'd like your patrons to move.
Patrons do not receive email notifications about changes made to your Tiers. For this reason, we highly recommend proactively communicating any changes with patrons in advance.

Not sure how they'd react?
Publish a poll post to what the majority thinks. Give them example new tier descriptions, and ask which they'd prefer. Including a
"I'm
happy with what I have" option is always a great option. Alternatively, you can send out a
Google form
to get informed ideas flowing. Patrons appreciate feeling like they're part of your process, and you'll feel more confident in your game plan.

Add a Special Offer to your transition Tier
Special Offers are currently available for creators on Professional and Premium plans. This feature cannot be used with our per creation payment method.

Increasing your Tier price? Using a Special Offer as an extra incentive to patrons can be a great driving force for migrating patrons from one Tier to the next.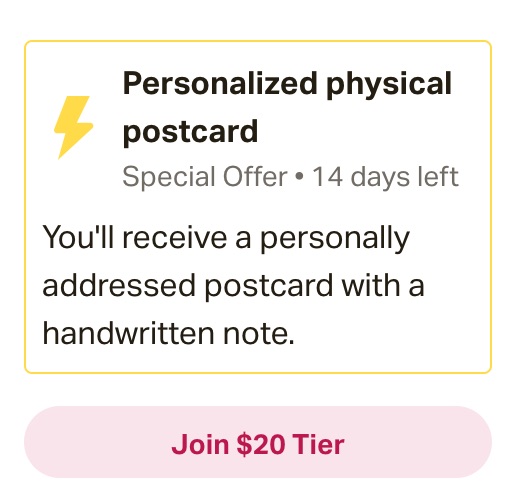 Give your patrons time to adjust
Give your patrons time to edit their membership to join your new Tier. The amount of information you share with your patrons is entirely up to you, you know them best – trust your gut on what information will make for a smooth transition.

We recommend letting them know:
The reason for the change

How this change benefits them

A timeline of when they can expect changes.
Here's an example note you can start teasing patrons with:



I'm so excited to announce my new
"New
Tier name" Tier! This Tier will be available for you to join
s
tarting March 1st.
"Retiring
Tier Name" will no longer be available to join starting March 10th, and will be completely deleted on March 25th. Be sure to select one of my other Tiers before then!

Special offer alert: If you join
"New
Tier name" Tier by March 31st you get a signed postcard from me.

If you're still in
"Retiring
Tier Name" when it's deleted, you'll still be my patron, but you'll be a
"no
benefit" patron, and won't have the same access as you currently do.

Have questions? Thread them in the comments!"

Note: If you're repricing, be sure to price your Tier at least $0.50 more than the current Tier. We're unable to process amounts less than this. So if you want patrons in your $5 Tier to join a higher, new Tier, be sure to make your new Tier price at least $5.50!



#2 Give your Tier access to posts
---
If you're creating a brand new Tier, we
highly
recommend doing this step
prior
to publishing the Tier for patrons to join. This step is vital for ensuring uninterrupted access to patron-only posts.
If you've set access to your posts using the
"Select
tiers" option, your new Tier, or transition Tier won't automatically have access to those posts. Give a new, or different Tier access to older posts with the following steps:
Visit the

Published

page of your

Posts

section.

Click the

Edit link

on the posts you want to add access to.

Select your new, or different Tier from the list of Tiers on the right-hand side of the Post editor.

Save

your changes.

Note
: If you select the option to
"Notify
patrons of this change" all patrons, including those who've already had access to this post will be notified. We recommend not selecting this option when adding your new Tier.



#3 Unpublish the Tier you're retiring
---
Potential patrons won't be able to find unpublished Tiers, they'll only find your published Tiers on your page. Unpublishing a Tier ensures that no new patrons can join, but gives existing patrons in that Tier a chance to edit their memberships
accordingly
.

Patrons in an unpublished Tier will still have an active membership to that Tier until they edit, or cancel their membership. You can still make posts for an unpublished Tier, until the Tier is deleted. Once you unpublish a Tier, it's a great opportunity to turn the volume up on announcements of your new Tier, and reiterating your timeline to deleting the Tier.
Log in

and visit the

Tiers

link of your creator page editor.

Click

Edit tier button

for the Tier you're deleting.

Select the

unpublish button

at the bottom of the Tier editor.

Select

unpublish button

to confirm.
---
When you delete your retiring Tier it will move any patrons who haven't edited out of that tier into a no benefits
("no
reward") status.

Once a Tier is deleted, patrons will still have their monthly payments at the same payment amount, but will be categorized as
"no
reward" patrons, and will lose access to posts previously accessible by that Tier. If you've given your patrons a fair timeline, this part of the process should be fairly painless.

To delete a Tier:
Log in

and visit the

Tiers

link of your creator page editor.

Click

Edit tier button

for the Tier you're deleting.

Select the

Trash can

icon at the bottom of the Tier editor.

Click the

delete button

to confirm that you'd like to delete the Tier.
Deleting a Tier is not a substitute for cancelling a patron's payment. Patrons can

cancel their membership

to stop future payments.

If you are in our

Annual memberships Beta

and have a tier with active annual memberships tied to it, we advise against deleting the tier. Patrons have paid for the year, so it's recommended you

unpublish the tier

instead.
#5 Message any patrons with a

"No

reward" status
---
Once your Tier has been deleted, you'll want to continue your patron outreach for any patrons who still have a
"No
reward" status.
Head to your

Relationship Manager

Using the filters, set your Membership type to

"

Active patrons

," and set the Reward type to

"

No reward

"

Click the

Message

button under the filter to mass message all patrons who are both active patrons, and have a

"No

reward" status.

---

FAQ
Q: What do I do if patrons are reporting that they've lost access to Tiers?
Q: Why do I have to edit every post to grant access to new Tiers?
A:
If you opt to select tiers specifically for access to posts, there's currently no way to automatically grant access for new Tiers. The way that post for
"Select
Tiers" access currently operates,
only the Tiers you've selected will have access
. Because your new Tier did not exist when you granted tier access to specific posts when they were published, they have to be granted once the Tier is created.


Q: Why can't I move my patrons to my new Tier for them?
A:
It's a security issue. Only patrons can decide which Tier to join, and more importantly how much they'd like to be charged. We don't want any surprise charges for patrons, and it can create a lot of confusion, and frustration if their membership changes without their consent/action.


Q:
How do I get patrons to move tiers?
A:
Giving your patrons a clear timeline of events is the best way to get folks to move to a new Tier. Today, it's easy to dismiss notifications, and plan on reading messages "later." This is normal, so it's best to have a communication plan– giving patrons a month prior to the next billing cycle is optimal, and be prepared to remind them. Including a Special Offer with your new, or update Tier, is a great way to incentivize patrons to move fast.


Q: What's the different between unpublishing, deleting, and retiring a Tier?
A: Unpublishing a Tier only hides the Tier from your page. Patrons who are in that Tier, are still technically in that Tier even if it's unpublished.


Q: How do I make the announcement?
A: We recommend making announcements in any spaces that your patrons are likely to find it– making a post is a great way to ensure all patrons have access to the information, and sending private messages with bulk messaging via your Relationship Manager
adds a personal touch that can often inspire patrons to take action sooner.


Q: How much time should I give patrons?
A: A month's notice before the next billing cycle is optimal, so in the first few days of the month, after payments have processed. This gives both you, and your patrons time to prepare.


Q: If I retire my Tier, what should I price my new Tier at?
A: You know your patrons best, and you know what it costs you to continue creating, and make income. If you're retiring a Tier, we recommend setting your sights higher– if you're offering more exclusive benefits, or just more, it's worth more. Retiring a $1 Tier? Think of what a $5 Tier would offer. It might be better to have a few high-impact Tiers that are priced higher, than a ton of Tiers with very slight differences.